Ever looked at your car tire with dismay, wondering how on earth you're going to inflate it with a broken valve stem? Don't despair! You're not alone, and you're not out of options either. There are ways around it, and we're here to guide you through them.
How To Put Air In A Tire With A Broken Valve Stem

If the valve core of your tire is still intact within the broken valve stem, you can use an air compressor and a valve core tool to inflate your tire. This involves removing the valve core, inflating the tire, and quickly replacing the valve core while the air tries to escape.
In this article, we'll explore the functions of tire valve stems, how to identify a broken one, and answer some common questions surrounding this issue. We'll walk you through a temporary fix using an air compressor and valve core tool, discuss the more permanent solution of replacing the valve stem, and consider when it might be best to seek professional help. We'll also break down potential costs involved, ensuring you're well-prepared to deal with a broken valve stem.
Let's take a closer look.
Understanding Tire Valve Stems
Tire valve stems… you've seen them poking out from your tires, but you may wonder, what's their deal?
Valve stems are tiny, yet vital parts of your vehicle. They're those small protruding pipes you see on your tire, where you connect the air pump. But trust me, they do a lot more than just sit there and look pretty.
The Big Job of the Small Valve Stem
In simple terms, the tire valve stem is like a gatekeeper. Its main job is to keep the air inside your tires while providing an avenue to adjust the tire's air pressure.
Valve Core: This is the heart of the tire valve stem. It's the inner part that actually controls the flow of air in and out of your tire. When you press the valve core, you can hear a hiss. That's the air escaping from your tire. When not pressed, it does an impressive job of keeping the air in.
Valve Cap: Now, this might seem like a tiny, insignificant piece, but the valve cap is important too. It serves as an additional seal to protect the valve core from dirt, moisture, and minor impacts.
Valve Stem Tool
The valve stem tool is specially designed to help you remove or tighten the valve core. It's a handy little tool that can save you in a pinch, especially when dealing with a leaky or broken tire valve stem.
Valve Stem Tools And Valve Cores
Why Do Tire Valve Stems Break?
So why do tire valve stems break anyway? Well, there could be a few reasons:
Age: Everything ages, even valve stems. Over time, they can become brittle and more prone to breakage.
Damage: Accidental damage, like brushing up against a curb or rough handling when checking tire pressure, can harm the valve stem.
Corrosion: Metal valve stems can corrode over time, especially if they're exposed to harsh weather or road salt.
Can You Drive With a Broken Valve Stem?
Can you drive with a broken valve stem? Well, technically, you could, but it's definitely not recommended.
Driving on an underinflated or flat tire can damage the tire beyond repair. It's also a serious safety risk. Your tires are your vehicle's only contact with the road, so any issue with them can affect your control over the vehicle.
I Recommend Every Keep A Portable Air Compressor In Their Car Or Truck
Temporary Fix for a Broken Valve Stem
So, you've discovered a broken valve stem, and it's let a bunch of air escape from your tire. Bummer! But hey, don't sweat it. You might be able to pull off a temporary fix. Now, let's clarify, this is not a permanent solution, but it can get you out of a tight spot.
Tools of the Trade
Before we start, make sure you have these trusty tools by your side:
Air Compressor: This is your lifeline. It's going to push the air back into your tire.
Valve Core Tool: This little superhero will help you remove and replace the valve core.
Ready? Alright, let's dive in.
Steps to Inflate a Tire with a Broken Valve Stem
Step 1: Remove the Valve Core
Using your valve core tool, gently unscrew and remove the valve core. Be careful, as the remaining air might rush out.
Step 2: Connect the Air Compressor
Now, connect your air compressor to the remaining valve stem. This can be a bit tricky without the valve core, so you might need to hold it in place.
Step 3: Inflate the Tire
Start the air compressor and begin inflating the tire. Keep an eye on the air pressure. You don't want to overinflate it.
Step 4: Replace the Valve Core
Here comes the tricky part. You need to quickly remove the air compressor hose and immediately start screwing the valve core back in. And yes, you'll be battling escaping air as you do this. It might take a couple of tries, so stay patient.
When Things Don't Go As Planned
Now, I won't sugarcoat it. This isn't an easy task. Sometimes, despite your best efforts, you might fail to re-inflate the tire. The damage to the valve stem might make it impossible to screw the valve core back in, or you might simply lose the core to the escaping air.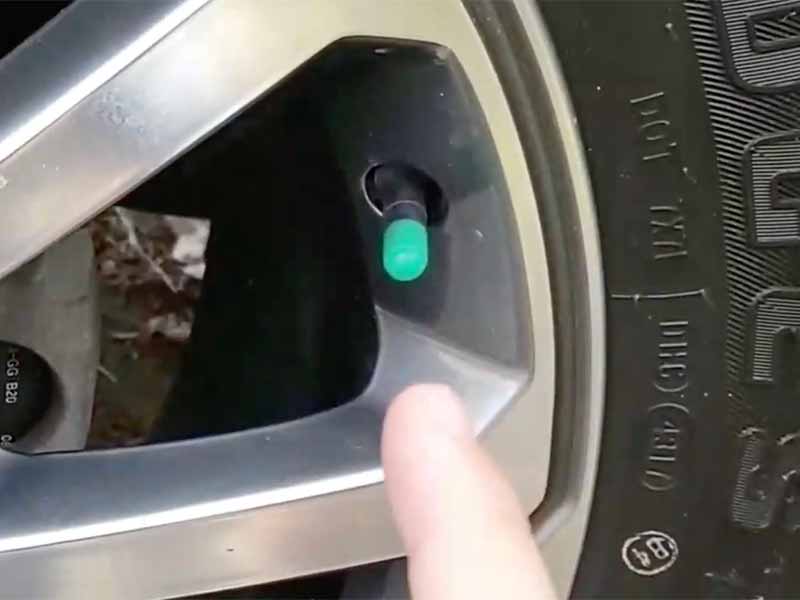 Replacement Valve Stem: The Permanent Solution
So, the temporary fix didn't work out, or maybe you've decided to skip it altogether. That's cool! Because there's a more solid solution to a broken valve stem — replacing it.
Step-by-Step Guide to Replace a Valve Stem
Alright, here comes the fun part. Grab your tools, and let's walk through the steps together.
Step 1: Remove the Tire
First things first, you need to remove the tire from your vehicle. This might sound like a big deal, but it's pretty much the same process as changing a tire.
Step 2: Remove the Old Valve Stem
Next up, you need to get that broken valve stem out of there. You can cut it off, or pull it out using pliers. Be careful not to damage the tire itself.
Step 3: Insert the New Valve Stem
Now, take your new valve stem and insert it into the hole where the old one was. You might need a special tool called a valve stem puller to help you get it through.
Step 4: Check for a Good Seal
Once the new valve stem is in place, make sure it's sitting flush against the rim and there are no gaps where air could escape.
Step 5: Reinflate the Tire
With the new valve stem securely in place, you can now reinflate the tire. Remember to keep an eye on the air pressure and not to overinflate it.
Step 6: Reattach the Tire
Once the tire is properly inflated, you can reattach it to your vehicle.
Keep That New Valve Stem Happy!
After all this hard work, you want to make sure your new valve stem stays in good condition. So, remember to cap it with a valve stem cap. This will protect it from dirt and damage, helping it to last longer.
Resources
Below are some links you may find helpful when learning about tires
Final Thoughts
For a temporary fix, you can use an air compressor and a valve core tool to reinflate your tire, even with a damaged valve stem. But remember, this is only a stopgap. The more permanent solution lies in replacing the valve stem. Whether you choose to do it yourself or opt for professional help will depend on various factors like the extent of the damage, your tool kit, and your comfort level with DIY tire repair.
Good luck and happy motoring.