Has your car been acting like it's on a perpetual slow leak diet, mysteriously losing tire pressure without any visible signs of a flat tire? It might not be a phantom issue; your tire's valve stem could be the culprit. Navigating the world of DIY tire repair can feel like you're going down a rabbit hole, but with the right know-how, you can fix a leaky valve stem and save your tire (and yourself) from a whole lot of trouble.
Leaky Valve Stem

Fixing a leaky valve stem involves identifying the issue, applying a temporary fix such as using a valve cap or sealant, tightening the valve stem with a tool, or performing a DIY repair with a valve stem kit. If DIY methods fail, seeking professional repair or replacement may be necessary.
In this article, we'll provide a comprehensive guide on how to fix a leaky valve stem, covering everything from temporary fixes, DIY repairs, when to seek professional help, and importantly, tips on preventing future valve stem leaks. We'll take you through every step, ensuring you have the knowledge and confidence to tackle this common but often overlooked tire issue.
Let's take a closer look.
Leaking Tire Valve Stem Symptoms & Causes
First things first, we need to understand what we're dealing with here. Valve stems might be small, but they're mighty important. They're the little tube sticking out of your tire, and they have a crucial job – keeping the air in your tires where it belongs.
Now, when you've got a slow tire leak, it's often the unsung hero, the valve stem, that's the culprit. Why does it leak, you might ask? Well, like anything else, it can get worn out or damaged. We'll cover the usual suspects below:
Valve Stem Leak Symptoms
Low Tire Pressure: This is your first and most obvious clue. If you notice your tire pressure keeps dropping but there's no clear puncture, then a valve stem leak could be your problem.
Slow Tire Leaks: This sneaky little issue isn't always noticeable at first. Your tire may seem fine one day and then be low the next. This often means there's a slow leak somewhere, and it could very well be your valve stem.
Hissing Sound: If you listen closely, you might hear a soft hissing sound coming from the valve stem. That's the sound of your tire's air slowly making a break for it.
Causes of Valve Stem Leaks
Broken Valve Stem: If your valve stem gets cracked or broken, air will escape. This usually happens because of a hit to the tire, like if you bump a curb or hit a pothole just right.
Valve Stem Damage: Sometimes, the valve stem just wears out over time or gets damaged. Extreme temperatures can make the rubber harden and crack, while dirt and debris can cause the valve core (the inner part of the valve stem) to wear out.
Loose Valve Core: Speaking of the valve core, if it's not screwed in tight enough, air can leak out. Don't worry, we'll show you how to tighten it later!
Teflon Tape
Temporary Fixes for a Leaky Valve Stem
Alright, we're diving into the world of temporary fixes here. Keep in mind, these are like band-aids. They might stop the bleeding for a bit, but you'll need a more permanent solution eventually. Let's take a look:
Quick Fixes at Home
There are a few things you might already have lying around the house that could help you out in a pinch:
Valve Cap: You know that little cap you unscrew when you need to inflate your tires? It can also help keep air in your tire if your valve stem is leaking. Just screw it on as tight as you can (without going overboard). It won't solve your problem, but it can slow down the air loss.
Sealant: Some folks have had success with a dab of sealant around the base of the valve stem. It's not a guaranteed fix, but it can buy you some time.
Teflon Tape: If you've got some plumbing tape (also known as Teflon tape) in your toolbox, you can wrap it around the valve stem to help seal up a leak.
Using Slime for Temporary Fixes
Now, you might've heard of this product called "Slime". It's a tire sealant that some people swear by for fixing a leaking valve stem. Here's how you use it:
Unscrew the valve cap.
Attach the Slime hose to the valve stem.
Squeeze the Slime bottle to inject the sealant into the tire.
Reinflate your tire if necessary, and then screw the valve cap back on.
Keep in mind, Slime is designed to be a temporary fix to get you back on the road quickly. It's not a long-term solution. You should still plan on fixing the leak properly as soon as possible.
When to Use a Temporary Fix
So, when should you opt for a temporary fix? These methods are handy if you're in a bind – like if you're on a road trip, far from a garage, or it's the middle of the night. But remember, these are just stopgap measures. Even with a temporary fix, you should get a proper repair or replacement as soon as you can. Leaky valve stems might seem small, but they can lead to big problems if left unchecked.
Valve Stem Tools And Valve Cores
Do-It-Yourself Fixes
Roll up your sleeves, because it's time for some DIY action. These methods are a bit more hands-on, but don't worry, we'll walk you through each step. Let's start with tightening the valve stem:
How to Tighten a Valve Stem
You might need a special tool for this, called a valve stem tool or a valve core tool. If you don't have one, don't fret! We'll cover what to do without a tool as well.
With a Valve Core Tool
Unscrew the valve cap and put it in a safe place. You don't want to lose it!
Insert the valve core tool into the valve stem. It should slot in easily.
Gently turn the tool clockwise to tighten the valve core. Be careful not to overtighten; that could damage the valve core.
Recheck your tire pressure and inflate if necessary. Put the valve cap back on, and you're good to go!
Without a Valve Core Tool
If you don't have a valve core tool, you can try using a small pair of pliers or even a screwdriver to gently tighten the valve core. Just be extra careful not to damage it!
Fixing the Leak with a Valve Stem Repair Kit
If tightening the valve core didn't fix the problem, you might need a valve stem repair kit. These kits come with new valve cores and a tool to remove and install them.
Use the valve core removal tool from the kit to unscrew the old valve core. Remember, lefty loosey!
Put the old valve core aside and take a new one from the kit.
Insert the new valve core into the valve stem and use the tool to screw it in place. Righty tighty this time!
Check your tire pressure and inflate the tire if necessary. Then, put the valve cap back on.
Replacing the Valve Stem
If the leak persists even after trying to repair it, you might have to replace the valve stem. This is a bit trickier, as it requires removing the tire from the rim, but with the right tools and some patience, you can do it:
Deflate the tire completely by removing the valve core with your tool.
Break the bead – the seal between the tire and the rim. You'll need a bead breaker tool for this. Be careful and follow the instructions on the tool!
Once the bead is broken, you can remove the old valve stem. Pull it through the hole in the rim from the inside.
Insert the new valve stem into the hole. You might need to use a valve stem installation tool to pull it through from the outside.
Reseat the bead using an air pump. Be sure to follow safety instructions, as this can be a dangerous step if done incorrectly.
Once the bead is seated and the tire is inflated, check for leaks. If everything looks good, put the valve cap back on.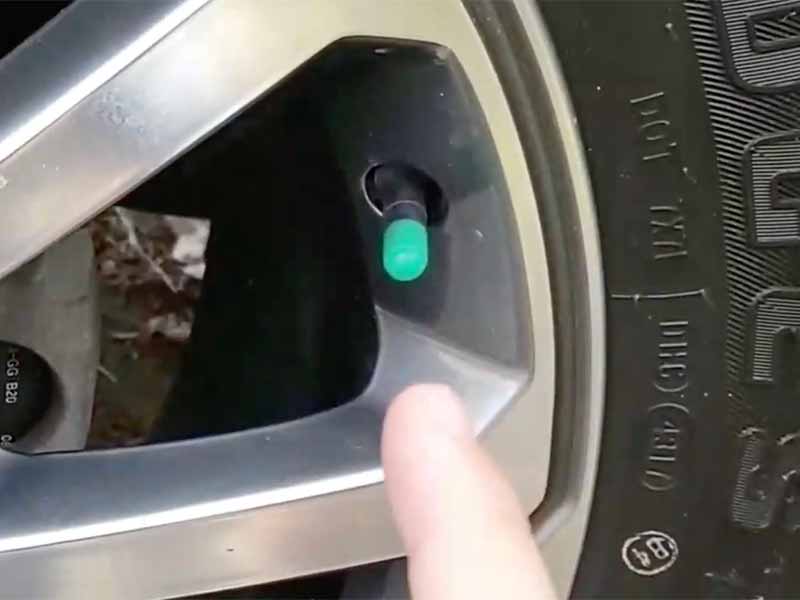 How Much Does It Cost To Fix A Leaking Tire Valve Stem?
The cost of having a professional repair your valve stem can vary quite a bit, depending on where you live and what type of tire you have. On average, though, you can expect to pay between $10 to $30 per tire. This might sound steep compared to DIY, but remember, you're also paying for a professional's expertise and the peace of mind that your repair is done right.
Resources
Below are some links you may find helpful when learning about tires
Final Thoughts
We've learned that a leaky valve stem can be responsible for persistent and annoying tire pressure loss, but it's a fixable problem. Whether it's a temporary fix using a valve cap or sealant, a more hands-on DIY solution involving a valve stem tool, or calling in professional help, there are several ways to tackle this common tire issue.
And remember, prevention is often better than a cure. Regular checks, ensuring the valve caps are secure, and using an air pump correctly can prevent many of these issues from arising in the first place. While the cost of professional repair might seem high, remember that it's also an investment in your safety and peace of mind.
Good luck and happy motoring.