Ever been ready for a weekend working on your car or truck, only to find your lug nuts seem… chunkier than before? It might sound bizarre, but swollen lug nuts are a thing, and they can seriously cramp your style (and safety).
Do Lug Nuts Swell?

Yes, lug nuts can swell. This typically occurs due to corrosion between the steel core and its outer decorative cap, often aggravated by moisture and road salt.
In this article, we'll dive deep into the world of lug nut swelling – uncovering causes, recognizing symptoms, understanding risks, and offering solutions to get you back on the road safely.
Let's take a closer look.
What Causes Lug Nut Swelling?
Let's dive into the real causes of this problem:
Two-Piece Lug Nuts
Most of us know lug nuts as those little caps that hold our wheels in place. But did you know some lug nuts are actually made of two pieces? Here's the deal:
The Inside: This is a steel core. It's sturdy, tough, and does the primary job of holding the wheel securely.
The Outside: It's a decorative cap. Often chrome plated, it gives our lug nuts that shiny, sleek look we all adore.
Now, the issue arises when these two different parts – the steel core and the chrome cap – don't play nicely together.
Dissimilar Metals
So, what happens when you wrap a steel core with a chrome-plated cap? Science, that's what! These are dissimilar metals – kind of like siblings with different hobbies.
Corrosion Party: When these metals meet, especially with a little help from moisture and road salt, they start to corrode. Think of it as a little rust party that we weren't invited to.
Swelling Symptoms: Over time, the outer chrome cap can start to bulge out. It's as if it's trying to escape from the steel beneath!
Moisture and Road Salt
To really drive the point home, it's essential to know who the real villains are in this swelling story.
Moisture: Like how our hair goes all frizzy in humidity, moisture can creep into the little space between the lug nut's core and cap. This speeds up the corrosion and makes the swelling even worse.
Road Salt: If you live in an area with snowy winters, you know all about road salt. It's great for melting ice, but not so great for our lug nuts. Road salt can fast-track that corrosion process, giving our lug nuts an unwanted makeover.
Ford's Lug Nuts
Now, it's only fair to mention our friend Ford in this discussion. You might have heard about the Ford lug nuts swelling lawsuit. Let's break it down a bit:
Specific Design: Some Ford vehicles have lug nuts that seem more prone to swelling. Remember those two-piece lug nuts? Yup, Ford was a fan.
Lots of Headlines: Because of the swelling, there were challenges in removing these lug nuts, leading to safety concerns and, eventually, that big lawsuit.
Recognizing the Symptoms of Swollen Lug Nuts
Swollen lug nuts might be a pain, but if you know what to look for, you can spot them before they become a major headache. So, what are the telltale signs? Let's break it down.
What Do Swollen Lug Nuts Look Like?
Your lug nuts might not binge on pizza and ice cream, but they sure can look like they've overindulged.
Rusty Rims: Notice any rust or corrosion creeping up around your lug nuts? That's a red flag.
Bulging Caps: If the decorative cap on the lug nut seems a bit out of shape or puffier than the others, you've got a sweller!
When Your Tools Just Don't Fit
Ever tried squeezing into a pair of jeans after Thanksgiving? Yeah, swollen lug nuts have a similar problem.
Socket Mismatch: Your regular socket might not fit over the lug nut anymore. It's like trying to put a round peg in a slightly-off-round hole.
Tire Rotation Troubles: If you're finding it hard to rotate your tires because of stubborn lug nuts, swelling might be the culprit.
Flat Tire Fiascos: The last thing you want when you've got a flat tire is a lug nut that won't budge. Swelling makes this scenario even trickier.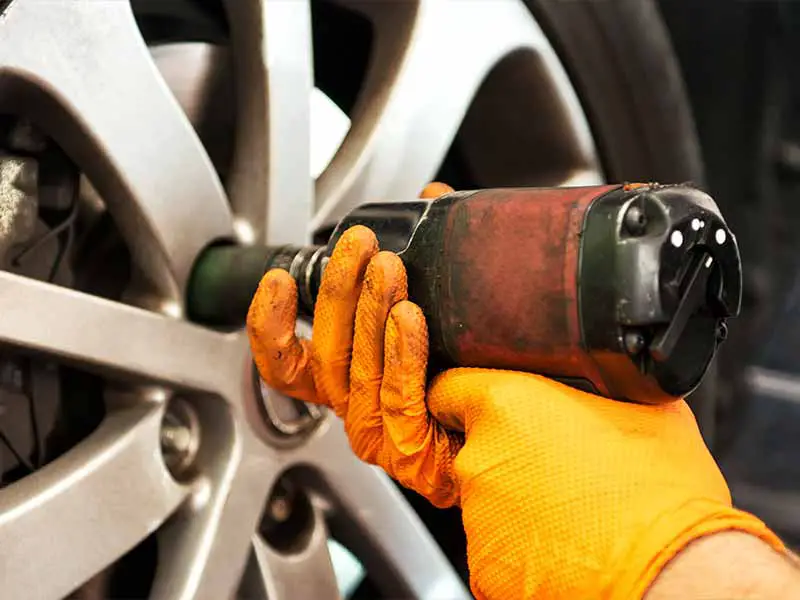 Why Your Garage Essentials Might Not Work
The tools you've always relied on suddenly seem like they're on vacation. Why?
Impact Sockets to the Rescue: Regular sockets might struggle, but impact sockets are designed for these tough jobs. They can grip swollen lug nuts better and help you get them off.
Twisting and Turning: If you need to exert way more effort than usual to get a lug nut off, or if it feels "sticky," you're probably dealing with swelling.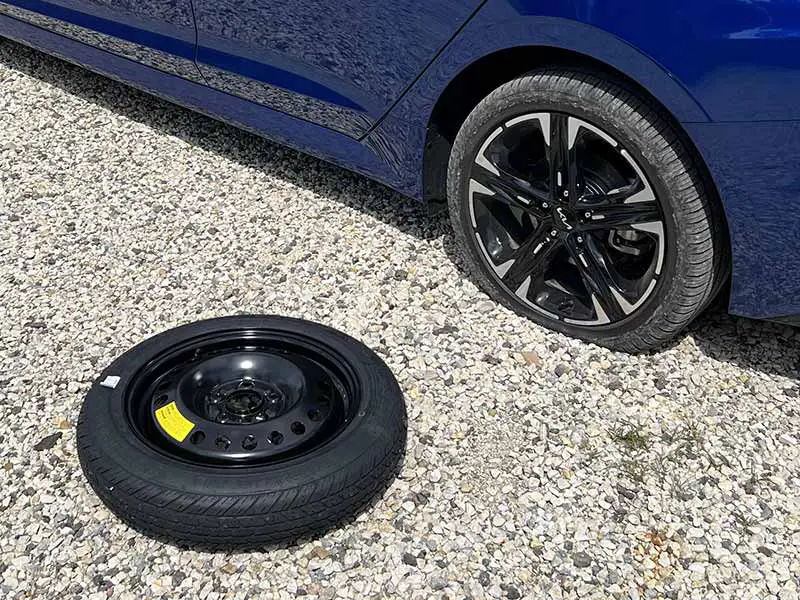 Are Swollen Lug Nuts Dangerous?
A bit of swelling might seem like a small thing, it can have some sneaky (and serious) consequences. Let's uncover the hidden dangers behind swollen lug nuts.
Dangers in Delay
When time is of the essence, the last thing you want is a lug nut refusing to cooperate.
Flat Tire Drama: Imagine being stranded on a lonely road with a flat tire. Now picture that your lug nuts won't let you swap that tire out. Frustrating, right?
Tire Rotation Delays: Regular tire rotations are key to keeping your ride smooth. Swollen lug nuts can turn this routine task into a full-blown project.
The Hidden Damage
Swollen lug nuts aren't just tough to deal with – they can be tough on your vehicle, too.
Wheel: Continually forcing a socket onto a swollen lug nut can scrape, scratch, or even warp the area around the nut. Not a pretty sight!
Broken Tools: Your tools are designed for standard lug nuts. Swollen ones can cause sockets to crack or wrenches to bend.
Lug Nut Lifespan: Just like how shoes wear out faster if they don't fit well, swollen lug nuts have a shorter lifespan. They're more prone to cracking or breaking.
A Serious Problem? You Bet!
You might be tempted to brush off swollen lug nuts as a minor annoyance, but here's why they're a serious problem:
Safety First: Lug nuts hold your tires in place. If they're compromised, it poses a risk every time you hit the road.
Unexpected Costs: Those tiny swollen lug nuts can lead to bigger expenses down the line, from damaged wheels to buying new tools.
Addressing and Fixing the Issue
With a dash of know-how and a sprinkle of elbow grease, you can tackle this issue head-on. Let's roll up our sleeves and get to fixing!
Quick Fixes
Caught in a bind and need to address those pesky lug nuts pronto? Here's what to do:
Right Tools for the Job: If your regular socket isn't fitting, it's impact sockets to the rescue! These are specially designed for tough lug nut situations.
Slow and Steady: Rushing can make things worse. Take your time, ensure your tools fit snugly, and gently work that lug nut until it loosens.
Planning for the Future
If you've got more time or want to be proactive, here's your game plan:
Swap 'Em Out: Considering replacing swollen lug nuts? It's a smart move. Using new lug nuts ensures a good fit and reduces future problems.
Cost Considerations: Wondering how much it costs to replace swollen lug nuts? Costs can vary based on your vehicle type and where you live. A quick chat with your local mechanic or auto parts store can give you an estimate.
Material Matters: Remember those two-piece lug nuts with the chrome plated cap? Maybe switch to a one-piece design or a different material to dodge future swelling issues.
Prevention: The Best Medicine
They say an ounce of prevention is worth a pound of cure. Here's how to keep swollen lug nuts at bay:
Regular Check-ups: Just like you'd check your oil or tire pressure, make it a habit to inspect your lug nuts. Look out for early signs of swelling or corrosion.
Rinse Away Road Salt: Live in a snowy area? Road salt is a big culprit behind lug nut swelling. A regular rinse during the winter can work wonders.
Right Tools, Always: Even if your lug nuts aren't swollen yet, using the correct socket size and type can prevent unnecessary wear and tear.
Resources
Below are some links you may find helpful when learning about tires
Final Thoughts
Swollen lug nuts might sound like car jargon, but they're a real issue affecting many vehicles, especially those with two-piece, chrome-plated designs. The sneaky combo of a steel core, decorative caps, and external factors like road salt and moisture can lead these tiny components to bulk up, making tire changes and rotations a challenge.
Key takeaways? Stay vigilant, inspect your lug nuts regularly, and remember that prevention is the best course of action. Choose the right tools, consider upgrading your lug nuts if swelling becomes a pattern, and always prioritize safety on the road.
Good luck and happy motoring.