Picture this: You're cruising down the highway, enjoying the freedom of the open road, when suddenly you feel a vibration. A rattling sound joins the chorus. Are the lug nuts tight?
If you've ever wondered about those small but mighty parts of your vehicle, or if you've felt the panic of a shaky wheel, you've come to the right place!
How To Tighten Lug Nuts

Start by hand tightening each nut onto the wheel studs, then use a lug wrench to tighten them further following a star pattern. Always finish by using a torque wrench set to the manufacturer's recommended torque specification to ensure they're not too loose or too tight.
In this article, we will dive deep into the world of wheel nuts, uncovering their role in vehicle safety, learning how to recognize the signs of over tightened lug nuts, and exploring the process of tightening them correctly.
We'll also discuss the importance of tightening patterns and how to choose the right torque wrench for the job.
Let's take a closer look.
Torque Wrench Example
Understanding Lug Nuts and Their Role
If you've ever had to change a tire or have simply taken a closer look at your car's wheels, you've likely encountered wheel lug nuts. But what exactly are these little guys, and why are they so important to our vehicles?
What Are Lug Nuts?
They are the special type of fasteners that secure the wheels of your car or truck to the axle.
Imagine them like the buttons on a shirt – without them, things would come apart pretty quickly! And in the case of a vehicle, that could mean wheels literally coming off, and we certainly don't want that to happen while driving.
Why Correct Lug Nut Tightening is Important
Ensuring your lug nuts are tightened correctly is crucial for a few reasons:
Safety: As we've already mentioned, correct lug nut tightening prevents wheels from separating from the vehicle. Ensuring they're tightened to the manufacturer's recommended torque (we'll talk more about torque later) is a key step in vehicle safety.
Preventing Damage: Over tightening can cause damage to the wheel, stud, or lug nut itself. It could also warp your brake rotors. On the other hand, under tightening can cause the lug nut to loosen over time, which could lead to a loose wheel or even wheel separation.
Ensuring Smooth Operation: Properly tightened lug nuts ensure your vehicle's wheels turn as they should, giving you a smoother and safer ride.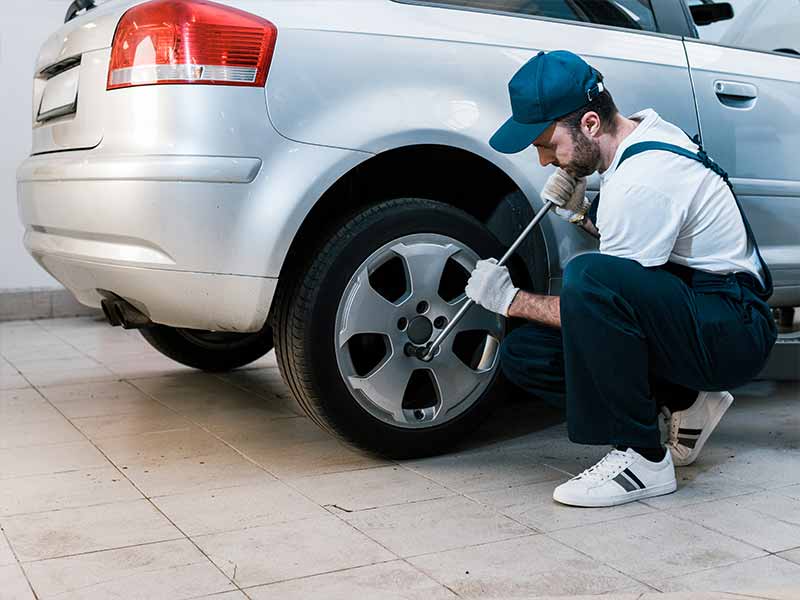 Recognizing the Signs of Over Tightened Lugs
Hello again, friends! Now that we understand what lug nuts are and their crucial role in our vehicles, it's time to talk about what can happen when they're a little too tight. Over torqued lug nuts can be quite the headache (or, well, wheel-ache), so let's dive in and learn how to spot the signs!
Symptoms Of Over Tightened Lug Nuts
You might be wondering how on earth you're supposed to know if your lug nuts are over tightened. Well, there are actually a few tell-tale signs to look out for:
Wheel Vibration: Feeling an unusual shake or vibration while you're driving can be a symptom of over torqued lugs. These vibrations can sometimes be mistaken for other issues, like tire imbalance, but if you've recently had your wheels serviced, over tightened nuts might be the culprit.
Noise from the Wheels: Hearing an unusual noise, such as a creaking or popping sound, from your wheels can be another sign. If lug nuts are too tight, they can put extra stress on the wheel studs, leading to these odd sounds.
Warped Brake Rotors: Incorrectly torqued lugs can lead to warped brake rotors. If your brake rotors are warped, you might notice a pulsing sensation when you apply the brakes.
Potential Problems Due to Over Torqued Nuts
Over tightening your lug nuts can lead to a few different problems. Here's what might happen if they're too tight:
Damaged Wheel Studs: Over tightening can stretch and weaken the wheel studs, which are the parts that the lug nuts are screwed onto. Damaged studs can break, causing the wheel to come loose.
Warped Wheels or Brake Rotors: When lug nuts are too tight, they can warp the wheel or the brake rotors. This can lead to uneven tire wear, an uncomfortable ride, and inefficient braking.
Difficulty Removing Lug Nuts: Over tightened lug nuts can be a real pain to remove when it's time to change a tire. You might need to use a lot of force or even a special tool to loosen them, which can be time-consuming and frustrating.
Lug Nuts Example
Knowing If Your Lug Nuts Are Tight Enough
Howdy, car enthusiasts! So far, we've explored the role of lug nuts and how to recognize when they're too tight. Now let's turn the tables and learn how to tell if your lug nuts are tight enough. Ready to become a lug nut detective? Let's get started!
How to Check If Lug Nuts Are Tightened Properly
Checking if your lug nuts are tightened correctly is simpler than you might think. Here are some steps you can follow:
Visual Inspection: First things first, take a good look at your lug nuts. If you see any that are visibly loose or misaligned, that's a sign they're not tight enough.
The Wiggle Test: This is a quick and easy test you can do. Simply try to wiggle each lug nut with your hand. If it moves, it's not tight enough. Just remember, this isn't a strength test – don't try to force the lug nut to move!
Use a Torque Wrench: The most reliable way to check if your lug nuts are tight enough is by using a torque wrench, a special tool that measures how much force is being applied. This tool will let you know if you've reached the correct tightness (or torque) recommended by your vehicle's manufacturer.
Using a Torque Wrench to Measure Tightness
If you're serious about ensuring your lug nuts are tightened correctly, a torque wrench is your best friend. Here's how to use it:
Find the Correct Torque Specification: Check your vehicle's manual to find the correct torque specification for your lug nuts. This is usually measured in foot-pounds (ft-lbs) or Newton meters (Nm).
Set Your Torque Wrench: Next, adjust your torque wrench to the correct setting. Most torque wrenches have a scale that you can use to set the desired torque.
Tighten the Lug Nut: Attach the torque wrench to the lug nut and tighten it. The wrench will make a clicking sound when the correct torque has been reached.
Double-Check: Repeat the process for each lug nut. It's always a good idea to double-check each one to make sure they're all tightened to the correct torque.
| Stud Size | Common Torque Range | Minimum Number of Turns |
| --- | --- | --- |
| 12 x 1.5 mm | 70 – 80 ft/lb | 6.5 |
| 12 x 1.25 mm | 70 – 80 ft/lb | 8 |
| 14 x 1.5 mm | 85 – 90 ft/lb | 7.5 |
| 14 x 1.25 mm | 85 – 90 ft/lb | 9 |
| 7/16 in. | 70 – 80 ft/lb | 9 |
| 1/2 in. | 75 – 85 ft/lb | 8 |
| 9/16 in. | 135 – 145 ft/lb | 8 |
How To Properly Tighten Lug Nuts By Hand
Hey there, DIYers! Now that we know how to tell if lug nuts are tight enough, let's learn how to tighten them by hand. It's an essential skill for anyone who wants to be able to change a tire or do basic vehicle maintenance. So, let's roll up our sleeves and get started!
Step-by-Step Guide on Tightening Lug Nuts by Hand
Tightening lug nuts by hand isn't a Herculean task, but it does require some careful steps. Here's a simple guide to help you out:
Place the Wheel on the Hub: Start by positioning your wheel on the hub. Make sure it sits flat against the hub surface.
Hand Tighten the Lug Nuts: Next, take each lug nut and screw it onto the wheel studs by hand. Do this until they're as tight as you can get them without using any tools.
Tighten with a Lug Wrench: Now, using a lug wrench (also known as a tire iron), tighten each lug nut a bit more. But don't go full force yet! You're just looking to make sure they're snug against the wheel.
Lower the Vehicle: If you're changing a tire, now is the time to lower your vehicle back to the ground from the jack. This ensures the wheel is fully seated against the hub.
Final Tightening: Now that the wheel is on the ground, you can do the final tightening. Use your lug wrench to tighten each lug nut as much as you can.
The Correct Amount of Force When Tightening Lug Nuts by Hand
You might be wondering, "How tight is tight enough?" Well, you want the lug nuts to be as tight as you can get them using a standard lug wrench, without straining yourself. A good rule of thumb is to tighten until you can't turn the wrench anymore using normal arm strength.
However, keep in mind that hand tightening is not a substitute for using a torque wrench. A torque wrench ensures you reach the manufacturer's specified torque, guaranteeing the lug nuts are not too loose or too tight. So, after hand tightening, always double-check with a torque wrench!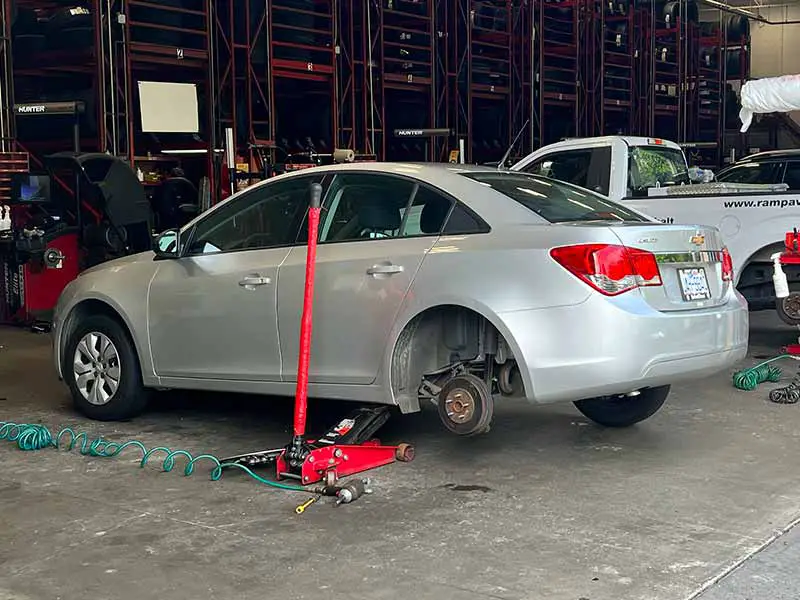 Lug Nut Tightening Patterns You Should Know
Greetings, future lug nut pros! We've covered a lot so far, from understanding lug nuts to tightening them by hand. But there's another piece to this puzzle: the tightening pattern. It's not just about how tight the lug nuts are, but also the order in which you tighten them.
What is a Lug Nut Tightening Pattern?
A lug nut tightening pattern, also known as a "star pattern," is the order in which you should tighten the lug nuts on a wheel. This pattern is essential for evenly distributing force across the wheel, which helps prevent issues like wheel imbalance or warped brake rotors.
Think of it like this: when you're tying your shoelaces, you wouldn't just tighten one side all the way before moving to the other. You'd go back and forth to make sure the tension is even. The same concept applies to tightening lug nuts!
Common Lug Nut Tightening Patterns
The correct tightening pattern depends on how many lug nuts are on the wheel. Here are the most common patterns:
Remember, when you're using these patterns, you're not fully tightening each lug nut on the first pass. You'll want to gradually tighten them in stages, following the pattern each time.
Choosing the Right Size Torque Wrench
Hello again, auto aficionados! Now that we're all up to speed on lug nuts, how to tighten them, and the patterns to follow, let's talk about a crucial tool in this process – the torque wrench. Specifically, we're going to discuss how to choose the right size torque wrench for your lug nuts. Buckle up and let's get started!
Understanding Torque Wrench Sizes
Torque wrenches come in a variety of sizes, each designed to deliver a specific range of force. The size of the wrench is determined by the size of the drive, which is the square connector that attaches to the socket that fits over the lug nut. Common drive sizes are 1/4 inch, 3/8 inch, 1/2 inch, and 3/4 inch.
But what size do you need for lug nuts? Good question!
The Right Torque Wrench Size
For most passenger cars and light trucks, a 1/2-inch drive torque wrench is typically the best choice. This size is robust enough to handle the torque specifications for most lug nuts without being too bulky or unwieldy.
Here's why:
Adequate Torque Range: A 1/2-inch drive torque wrench typically has a torque range that fits within the manufacturer's specifications for most vehicles' lug nuts. This usually falls between 50 and 150 foot-pounds.
Durability: These wrenches are robust and durable, designed to handle the higher forces needed when tightening lug nuts.
Availability of Sockets: There's a wide range of socket sizes available for the 1/2-inch drive, making it a versatile tool that can be used for different sizes of lug nuts.
Remember, it's always important to refer to your vehicle's owner manual or consult with a professional mechanic to make sure you're using the correct torque and tools for your specific vehicle.
Resources
Below are some links you may find helpful when learning about tires
Final Thoughts
Thanks to your newfound knowledge, you can ride with confidence, knowing that you've got the skills to keep your wheels secure and your journey smooth.
Wheel lug nuts might be small, but they play a big role in our vehicle's safety. Knowing how to tighten them properly, understand their role, and spot the signs of over tightening can make all the difference.
Good luck and happy motoring.