Walmart is popular for a lot of different purchases, including tire rotation services. One of the reasons is that it's really cheap!
It can be worth saving a few bucks if your budget is tight or you're trying to schedule it to coincide with a long shopping spree you need to make instead of sitting in a waiting room.
Walmart Tire Rotation Cost $2.50 Per Tire.

You can also purchase a lifetime balance and rotation service for $14 per tire that can be used every 7500 miles.
There are a lot of alternatives to Walmart, and some are cheaper. Also, there are lots of other services that Walmart's Auto Care Center offers you can also take advantage of while you're there.
Let's go over all of the important bits to keep in mind.
Is Tire Rotation at Walmart A Good Deal?
Tire rotation at Walmart is a good deal, but it isn't the best deal. Discount Tire offers free tire rotation whether you purchased your tires from them or not.
Pep Boys also offers free tire rotation but only if you bought your tires from them originally.
$2.50 per tire to rotate your tires is about as low as you're going to find anywhere, other than Discount Tire.
Discount Tire's free tire rotation policy is a service that is for the public good but also what some might classify as a "loss leader".
While it doesn't cost Discount Tire much to rotate your tires, it definitely costs them the labor. Loss leader pricing (in this case, free) is designed to bring customers to your shop to hopefully sell other services.
My experience with free services at Discount Tire is that they don't hard-sell you. They're happy to provide the free service in hopes that you'll be grateful enough to come back when you need their pay services.
Is The Walmart Lifetime Balance And Rotation Package Worth It?
If you follow through with regularly having your tires rotated and rebalanced every 7500 miles and your tires last long enough to have your tires rotated 6 times, it will pay for itself. This means your tires need to last at least 45,000 miles.
You will also want to make sure your tire warranty doesn't have a requirement that the tires be rotated more frequently. The tire warranty will refund you the prorated amount for the miles not met by the warranty guarantee.
The tire manufacturer requires proof of regular rotation service being performed at or before a maximum amount of miles. The amount of mileage required to have your tires rotated before reaching varies between tire manufacturers so be sure to read the paperwork that was given to you at the time you purchased your tires.
Often, this amount is less than 7500 miles and can even be as often as every 5000 miles or less.
Also, Discount Tire will rotate your tires for free which is obviously a greater bargain for rotations, but they won't rebalance them for free.
Rebalancing regularly is less critical than regularly rotating your tires, but can help account for imbalances that occur as tires wear down.
Tire Rotation Cost At Other Stores
Walmart is known for low prices, and for good reason. While not the cheapest option we found, it's one of the least expensive options you'll find.
Prices for rotating 4 tires:
Discount Tire – Free
Pep Boys – Free* (If you purchase your tires from them)
Walmart – $10
Costco – $20
Firestone – $20
Jiffy Lube – $25
Valvoline – $25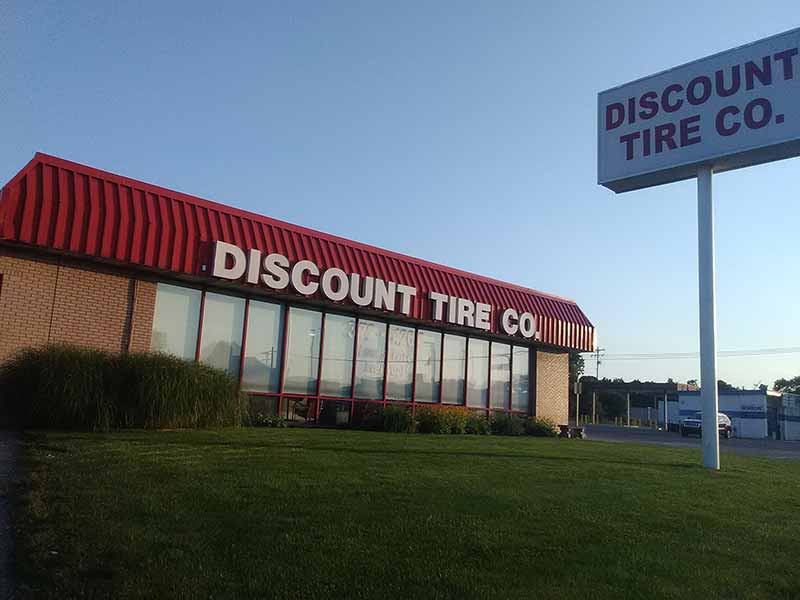 Other Walmart Auto Care Center Services
Walmart Tire Services
Tire Balancing
$5 per tire for new tires purchased from Walmart. $10 per tire for tires brought into the Auto Center from a different supplier.
Valve Stem Installation
$3 per tire.
Tire Pressure Monitoring System Rotation Reset
Free resetting of the TPMS system after tire rotation to ensure the system registers each pressure sensor at the proper location.
This free service is only meant for customers that have purchased services that require TPMS resetting.
Free Re-Torquing Of Lug Nuts After 50-Mile Break-In
Every car and truck should have the lug nuts properly torqued to the specification the vehicle manufacturer recommends with a torque wrench. This will help prevent your brake rotors from warping as well as other potential problems from over or under-tightened lug nuts.
Having the lug nuts re-torqued after 50 miles is generally recommended to ensure they are still properly seated and torqued after remounting.
This free service is only meant for customers that have purchased services that required torquing the lug nuts.
Flat Tire Repair Service
$15 if repairable and tubeless.
Other Walmart Auto Center Services
Oil Change
Windshield Wiper Replacement
Battery Replacement & Service
Engine Air Filter Replacement
Cabin Air Filter Replacement
Light Bulb Replacement
Fuel System Service
Chasis Lubrication
How To Make An Appointment At Walmart Auto Center
The best way to make an appointment at your local Walmart Auto Care Center is to do so by phone. You can quickly find your nearest Walmart Auto Care Center on the Walmart website.
We should point out than an appointment won't guarantee that your car or truck will be serviced at that specific time, but it will help shorten your wait time.
Walmart's Auto Care Center get's very busy and anything you can do to help shorten the wait time is smart. I'd also recommend asking when the best times are to schedule an appointment and try to be flexible since those spots are likely less desirable.
Walmart Auto Center Hours
Most Auto Care Centers are open 6am to 11pm 7 days a week. For the exact hours your local Walmart Auto Care Center is open, use the Auto Care Center Finder on the Walmart website.
Final Thoughts
If you're wondering if having your tires rotated at Walmart is a good value, rest assured that it is. If you want to know if it's the cheapest, it isn't. Discount Tire is free with no strings attached.
If you go with a tire rotation at Walmart, schedule an appointment and try to add on any other services that need to be performed at the same time to save money and time.
Maybe even plan on shopping while you wait instead of sitting in the waiting room playing some time-waster game.
Resources
Below are some links you may find helpful when learning about tires