Did you know that nearly 200,000 car accidents in the United States each year are caused by tire-related issues? The safety of your vehicle often starts with the condition of its tires, and one area that's especially vulnerable to damage is the tire sidewall.
Small Chunk Of Tire Sidewall Missing

A small chunk missing from a tire sidewall could indicate potential tire damage or weakness, and it's crucial to inspect the tire for further damage.

If the damage exposes the tire's inner layers or causes air leaks, it's generally unsafe to drive, and the tire should be replaced to ensure safety on the road.
In this article, we'll explore the various aspects of tire sidewall damage, how to identify and address it, and the importance of preventive measures in ensuring a safe driving experience.
Let's take a closer look.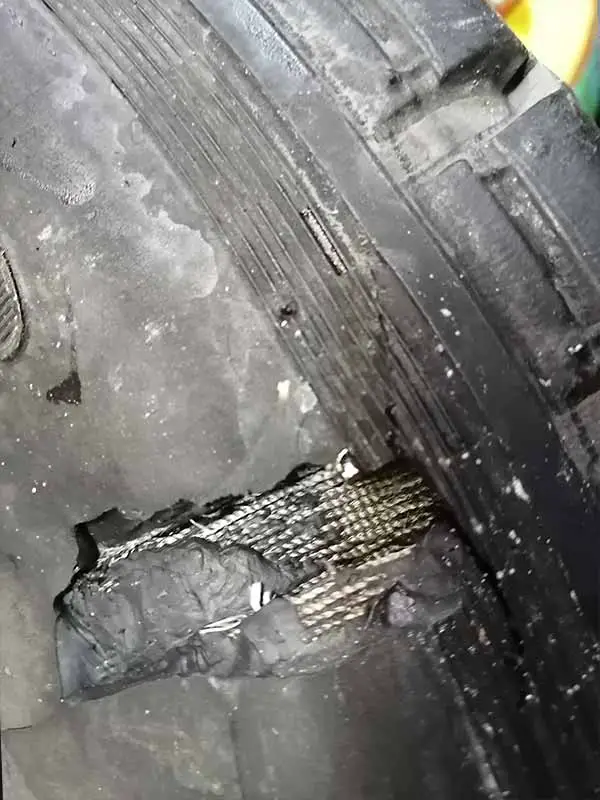 Identifying Sidewall Damage
When checking your tires, it's important to keep an eye out for signs of damage. Here are some common types of sidewall damage you should be aware of:
Small Punctures: These can be caused by nails, screws, or other sharp objects on the road. Small punctures may not cause immediate tire failure, but they can weaken the sidewall over time and lead to bigger problems.
Gashes: A gash is a deep cut or tear in the sidewall. Gashes can be caused by sharp objects, like rocks or metal debris, or by scraping against a curb. These can be especially dangerous since they weaken the tire and can cause a blowout.
Bubbles and Bulges: Bubbles and bulges can form on the sidewall when the inner layers of the tire are damaged. This can happen from hitting a pothole or other hard impacts. Bubbles and bulges are a sign that the tire's structure has been compromised and may fail.
What Is Considered The Sidewall Of A Tire
The sidewall of a tire is the part between the tread (the part that touches the road) and the bead (the part that connects to the rim). It's made from rubber and other materials, and it has important information printed on it, like the tire size and load capacity.
Tires With Built-In Rim Protectors
Some tires have a built-in rim protector, which is an extra piece of rubber that sticks out slightly from the sidewall to help protect the rim from damage. These are not structural and are solely for the purpose of providing a minimal amount of protection to the wheel lip.
If you have tires with rim protectors, you might notice some damage on the protector itself, like scuffs or scrapes. You may even see a rubber flap on the sidewall here due to curb strikes. This is usually just superficial damage, and as long as the actual sidewall isn't damaged and the damage is isolated to the rim protector, your tire should be fine.
When inspecting your tires, make sure to check the entire sidewall, including the area near the rim protector. If you see any signs of damage, like punctures, gashes, or bulges, it's important to have a professional assess the tire to determine if it needs to be replaced.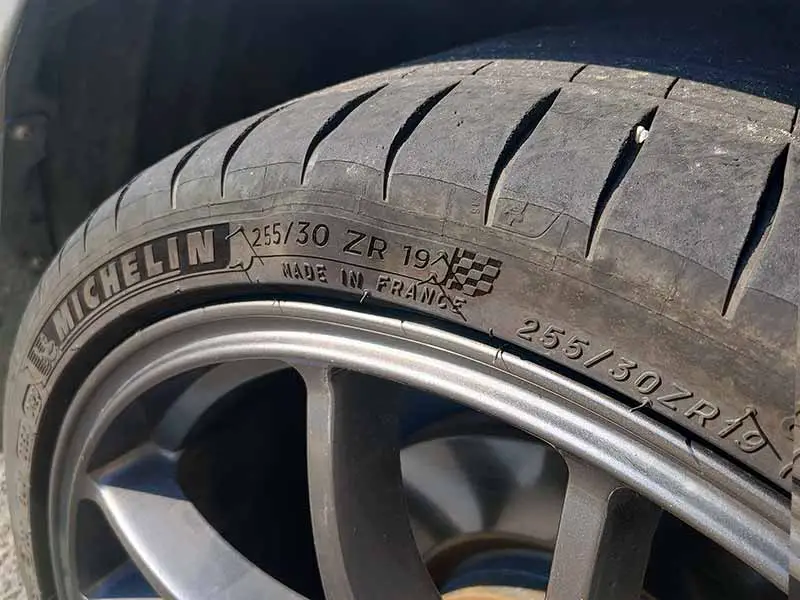 Dangers Of Sidewall Damage
While the sidewall is not necessarily the weakest part of the tire, it is more vulnerable to damage than the tread area. The tread is designed to withstand the constant wear and tear from driving on the road, while the sidewall is built to be flexible and absorb impacts. However, its thinner composition and lack of reinforcement make it more susceptible to punctures, cuts, and other types of damage.
Effects Of Sidewall Damage On Tire Performance
Sidewall damage can have several negative effects on tire performance, including:
Decreased Handling and Stability: A damaged sidewall can affect the tire's ability to maintain its shape and provide the necessary support for your vehicle. This can lead to reduced handling and stability, making it more difficult to control your vehicle, especially during turns or sudden maneuvers.
Increased Risk of Blowouts: Damaged sidewalls can weaken the tire's structural integrity, making it more prone to blowouts. A blowout occurs when the tire suddenly loses air pressure, which can cause a loss of vehicle control and potentially lead to accidents.
Loss of Air Pressure: Punctures or cuts in the sidewall can cause slow air leaks, leading to reduced air pressure in the tire. Low tire pressure can decrease fuel efficiency, negatively impact tire wear, and even cause tire failure if left unchecked.
Vibration and Noise: Sidewall damage can cause uneven tire wear or internal damage, which may result in noticeable vibrations and increased road noise while driving.
Risks Of Driving With Sidewall Damage
Driving with sidewall damage is risky and can lead to several issues, such as:
Tire Failure: The most significant risk of driving with sidewall damage is tire failure, which can happen suddenly and without warning. Tire failure while driving can result in loss of control, making it challenging to steer or brake effectively and potentially leading to accidents.
Reduced Safety: Damaged sidewalls can compromise the tire's ability to provide adequate support for your vehicle, reducing handling and stability. This can make it harder to avoid obstacles, perform emergency maneuvers, or maintain control in adverse weather conditions.
How Much Sidewall Damage Is Acceptable
Any sidewall damage that exposes the tire's inner layers, compromises the tire's structural integrity, or causes a loss of air pressure should be considered unacceptable. When it comes to your safety, it's always best to err on the side of caution. If you're unsure whether the damage to your tire's sidewall is significant, it's essential to have a professional inspect the tire and provide guidance on the best course of action. In many cases, replacing the damaged tire is the safest and most reliable option.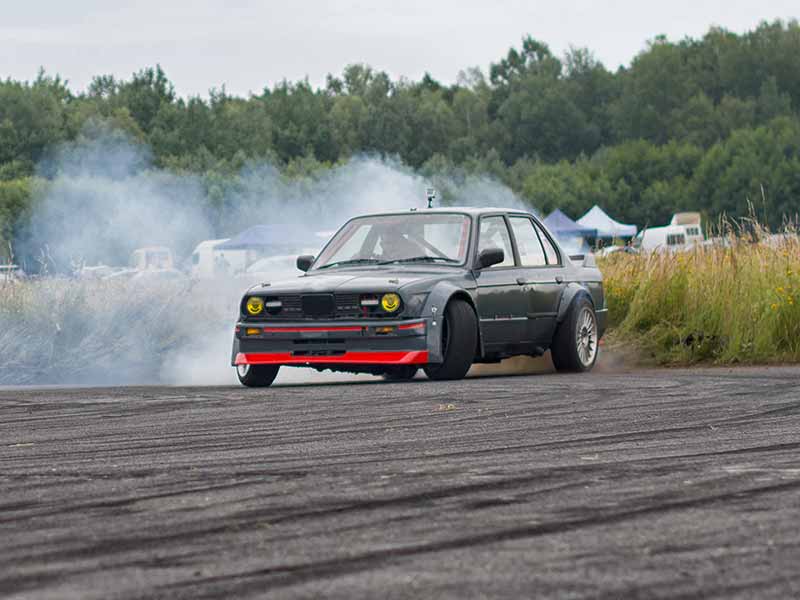 Repairing Sidewall Damage
Small sidewall punctures, such as those caused by a nail or a screw, generally cannot be safely repaired. The sidewall is subject to constant flexing and stress, and a repair could compromise the tire's structural integrity, potentially leading to a blowout. Most tire manufacturers and professional repair shops recommend against repairing sidewall punctures, and in some cases, it may even void the tire's warranty.
How To Fix A Tire Sidewall Gash
Fixing a tire sidewall gash is generally not considered safe or feasible. Gashes often indicate extensive damage to the tire's internal structure, which can't be reliably repaired. Driving on a tire with a gash in the sidewall poses a significant risk of tire failure, which can lead to dangerous situations on the road. In most cases, the safest course of action is to replace the damaged tire.
When To Replace A Tire With Sidewall Damage
If your tire has any of the following types of sidewall damage, it's time to replace it:
Gashes, deep cuts, or tears that expose the tire's inner layers
Bubbles or bulges that indicate internal structural damage
Punctures that penetrate the sidewall or cause air leaks
Extensive cracking or dry rot that could compromise the tire's strength
If you're unsure about the extent of the damage or whether a tire needs to be replaced, consult a professional tire technician for guidance.
How Far From Sidewall Of Tire Can You Puncture
The repairability of a tire puncture depends on its location and size. Generally, punctures within the central three-quarters of the tire's tread (the "repairable area") can be repaired if they are less than 1/4 inch (6mm) in diameter. Punctures outside the repairable area, which includes the outer tread and sidewall, are generally not considered safe to repair.
If you have a puncture near the edge of the repairable area, consult a professional tire technician to determine if it can be safely repaired or if the tire needs to be replaced.
Remember, your safety should always come first. If you have any doubts about the condition of your tires or their ability to perform safely, it's best to consult a professional for advice and, if necessary, replace the damaged tire.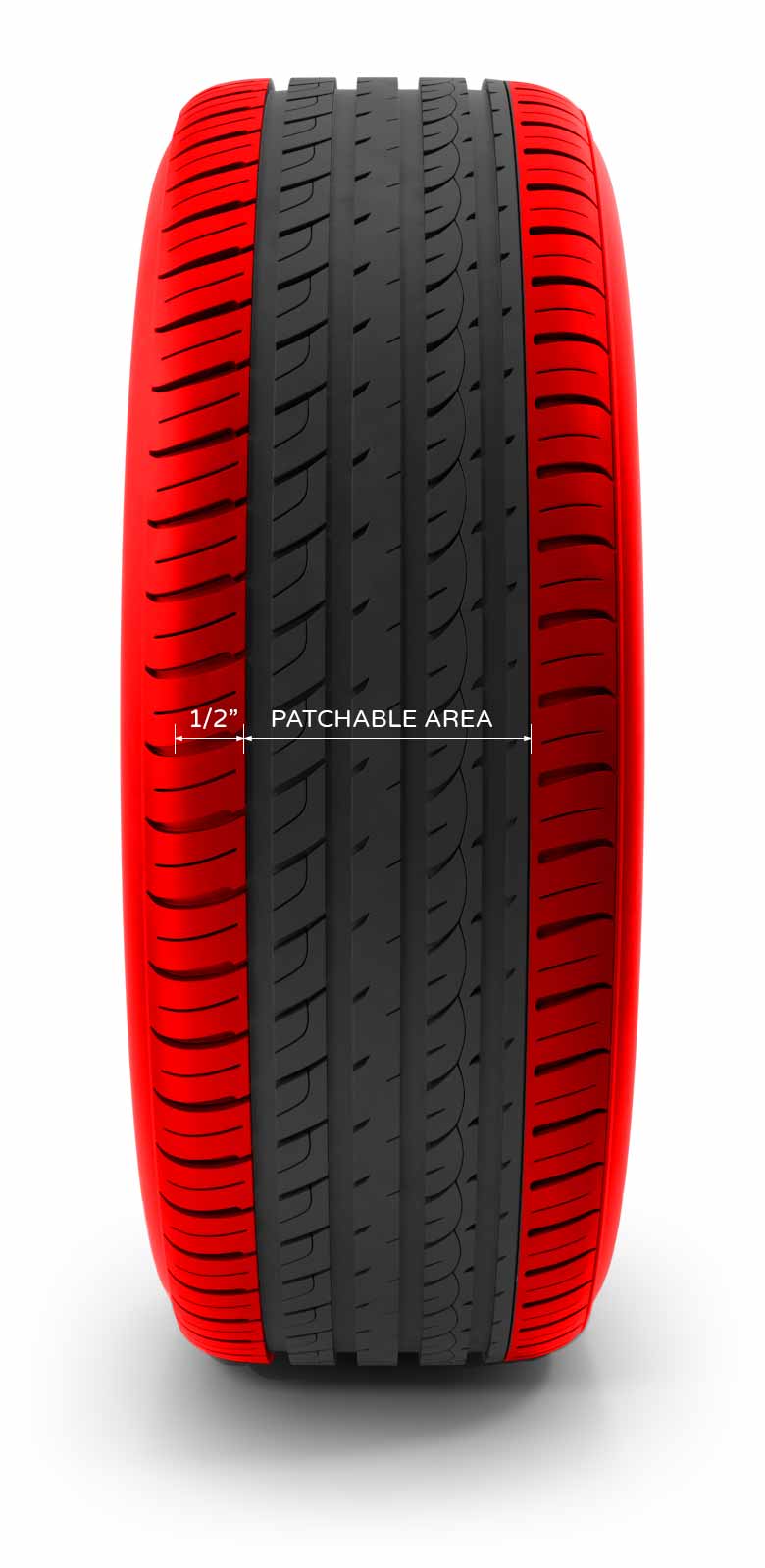 Tire Warranty And Sidewall Damage
Most tire manufacturers offer warranties on their tires, which usually cover defects in materials and workmanship. These warranties often include coverage for sidewall damage, as long as the damage is not caused by external factors, such as road hazards, misuse, or improper maintenance. It's essential to read and understand the terms and conditions of your tire's warranty to know what types of damage are covered and under what circumstances.
Claiming Warranty For Sidewall Damage
To claim warranty coverage for sidewall damage, follow these steps:
Inspect the damage: Make sure the damage to the sidewall is not the result of external factors, such as a road hazard or improper maintenance. Damage from these causes is usually not covered by the warranty.
Check your warranty period: Determine if your tires are still within the warranty period, which may be based on the date of purchase, tire age, or the amount of tread wear. Each tire manufacturer has different warranty terms, so consult your tire warranty documentation for specifics.
Contact the retailer or manufacturer: Reach out to the retailer where you purchased the tires or the tire manufacturer to report the sidewall damage and inquire about warranty coverage. Be prepared to provide proof of purchase, tire age, and details about the damage.
Follow their instructions: The retailer or manufacturer may ask you to bring the damaged tire to a specific location for inspection. Follow their instructions and provide any additional information they request to process your warranty claim.
Factors That Can Void Your Tire Warranty
There are several factors that can void your tire warranty, including:
Road hazards: Damage caused by road hazards, such as punctures, cuts, or impact damage from potholes, is typically not covered by tire warranties.
Improper maintenance: Failing to maintain your tires properly, such as neglecting to rotate them, check their air pressure, or maintain proper alignment, can void your tire warranty.
Overloading or underinflating: Driving with an overloaded vehicle or consistently underinflated tires can cause excessive stress on the sidewalls and void the warranty.
Misuse or abuse: Using your tires in a manner not intended by the manufacturer, such as off-roading with tires not designed for that purpose or participating in racing events, can void the warranty.
Unauthorized repairs: Attempting to repair sidewall damage yourself or having repairs done by an unauthorized service provider can void your tire warranty.
To protect your warranty coverage, it's crucial to follow the manufacturer's recommendations for tire maintenance, usage, and repair. Regularly inspect your tires for signs of damage and address any issues promptly to ensure your safety on the road.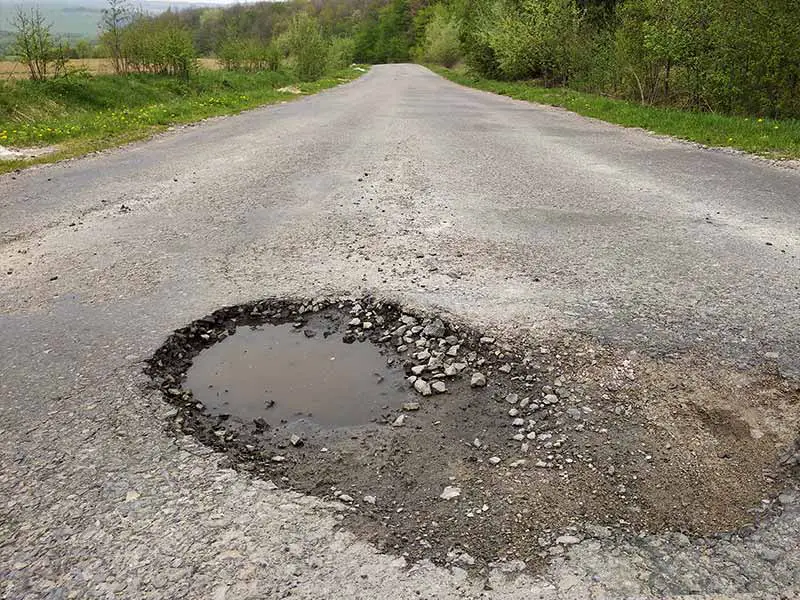 Sidewall Damage Prevention
In addition to proper tire maintenance and inspection, adopting safe driving habits can help prevent sidewall damage:
Be cautious around curbs: When parking or making turns, be mindful of your proximity to curbs, as scraping the sidewall against a curb can cause cuts, gashes, or other damage.
Avoid potholes and road debris: Keep an eye out for potholes, rocks, metal debris, or other obstacles on the road that could cause sidewall punctures or impact damage. If it's safe to do so, steer around these hazards to protect your tires.
Maintain a safe speed: Driving at high speeds can make it more difficult to react to road hazards or obstacles, increasing the risk of sidewall damage. Maintain a safe, legal speed to give yourself more time to react to potential hazards.
Don't overload your vehicle: Loading your vehicle beyond its maximum weight capacity can put excessive strain on your tires, leading to increased sidewall stress and a higher risk of damage. Be mindful of your vehicle's load capacity and avoid overloading.
Drive smoothly and avoid abrupt maneuvers: Sudden steering or braking can cause additional stress on your tires, including the sidewalls. Practice smooth driving habits and avoid abrupt maneuvers to minimize unnecessary tire stress.
Resources
Below are some links you may find helpful when learning about tires
Final Thoughts
Taking care of your tires, particularly the sidewalls, is essential for safe and worry-free driving. By being aware of the signs of sidewall damage and practicing proper tire maintenance, you're taking steps to keep yourself and others safe on the road.
As we've explored in this article, understanding the importance of timely tire replacement and the dangers of ignoring sidewall damage can make all the difference.
Good luck and happy motoring.