We've all been there – a sudden hiss, a rapidly sinking tire pressure, or that telltale thump-thump-thump that signals a flat tire. It's an interruption no one appreciates, but did you know there are places with tire repair service that will fix the tire puncture for free, or that some damages might be irreparable?
Free Tire Repair

Several national and regional tire service centers offer free flat tire repair, including Les Schwab, Discount Tire, and America's Tire, only if the puncture is within the repairable area of the tire. However, not all types of tire damage can be safely or effectively repaired, and replacement might be necessary.
In this article, we'll delve into the complexities of tire repair, from understanding the repairable tire area to discussing the pros and cons of different repair methods like plug, patch, or professional service. We'll also explore why certain tire chains offer free tire repairs, answer common questions about tire repair, and provide guidance on when patching a tire might not be the best solution.
Let's take a closer look.
Tire Shops That Offer Free Repairs
Discount Tire: Discount Tire offers free repairs for flat tires regardless of where you originally purchased your tires. The repair is usually performed in compliance with the U.S. Tire Manufacturers Association (USTMA) guidelines.
Les Schwab: Les Schwab Tires offer free repairs for flat tires, regardless of where you bought your tires. If the tire cannot be repaired safely, they might recommend a replacement.
America's Tire: Like Discount Tire, America's Tire offers free flat tire repair, regardless of the initial purchase location.
Goodyear Auto Service: Goodyear offers free flat tire repair service for all Goodyear, Dunlop, and Kelly brand tires no matter where they were purchased originally. They also will repair for free any other brands purchased from one of their stores.
Tire Barn: Tire Barn offers free flat tire repairs for tires bought from them.
Mavis Discount Tire: If you purchased Road Hazard Warranty when you bought your tires at Mavis, they will repair the tire for free.
Mr. Tire: They offer free flat tire repairs regardless of where you originally purchased your tires.
Repairable Tire Area: Can It Even Be Repaired?
The repairable area of a tire is typically confined to the center of the tread. This region, often described as the central three-quarters of the tire's tread, is the safest place for tire repair. It is farthest from the tire's sidewalls, which are critical to the tire's structural integrity and are subjected to the most stress and flex during driving.
The Risk of Sidewall Punctures
Repairs outside the central tread area, especially punctures in the sidewall, are generally considered unsafe. The sidewalls endure a great deal of flexing and are more prone to failure if damaged and repaired. Any repairs to these areas risk a blowout or rapid tire failure, leading to dangerous driving conditions.
Size and Nature of Damage
Even within the repairable tire area, the nature and size of the damage significantly matter. Most tire manufacturers and repair guidelines, such as those from the U.S. Tire Manufacturers Association (USTMA), suggest that only punctures up to 1/4 inch in diameter can be safely repaired. Larger punctures, cuts, or other types of damage could compromise the tire's integrity too much for a safe repair.
The Repair Process
When a puncture is within the repairable area and of a suitable size, the tire repair typically involves a method that seals the inner liner and fills the path the object took into the tire. This process prevents air from escaping and ensures no moisture or debris can enter the tire, which could cause further internal damage.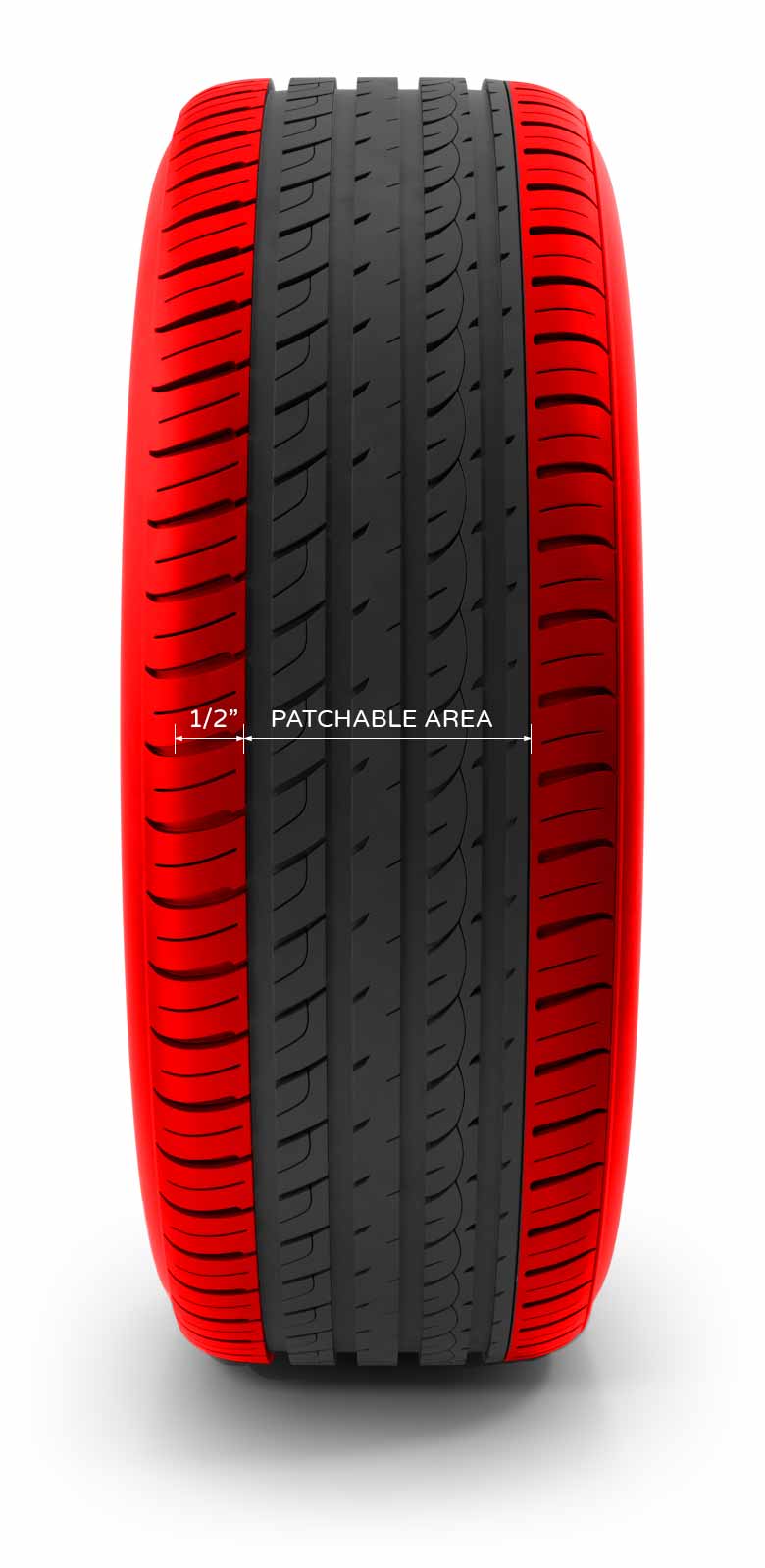 When Should You Not Patch A Tire?
While patching a tire can be an efficient and cost-effective way to handle a puncture, there are several circumstances when patching is not the best or safest option. Beyond the location and size of the puncture, factors like the tire's overall condition, tread depth, and age should be considered.
Tread Depth
Tire tread depth is a critical factor when considering whether to repair or replace a tire. The U.S. Department of Transportation recommends replacing tires when they reach 2/32 of an inch tread depth anywhere on the tread face. This is not just for performance reasons—low tread depth can also affect the tire's ability to safely seal a patch. If the tread is worn down to this level, it's time to replace the tire instead of trying to patch it.
Age of the Tire
The age of the tire also plays a crucial role in the decision. Even if a tire has been lightly used, rubber compounds can degrade over time, compromising the tire's structural integrity. Most vehicle manufacturers and tire companies recommend replacing tires that are six to ten years old, regardless of tread depth. A tire that is past its recommended lifespan might not safely hold a patch.
Overall Tire Condition
The overall condition of the tire should be assessed before deciding to patch a puncture. Look for signs of damage like cuts, cracks, bulges, or punctures in the sidewall. These may indicate structural damage that can't be fixed with a patch. Additionally, internal damage that might not be visible from the outside could render the tire unsafe. This is why a thorough inspection by a tire professional is essential.
Multiple Repairs
If the tire has already been patched or repaired multiple times, it might be better to replace rather than add another patch. Each repair can potentially weaken the tire's structural integrity, and multiple repairs in close proximity or on the same tread block can be particularly problematic.
Understanding the Differences: Plug vs. Patch
"Plug" and "patch" are common puncture repair methods. A plug, inserted directly into the puncture from outside, offers a quick fix often without tire removal. A patch, applied from inside, requires tire removal but creates a stronger seal.
Both methods have limitations. Plugs may fail to seal irregular or larger punctures and may dislodge over time. Patches require more labor and can fail if improperly applied.
A professional service often uses a patch-plug or combination repair, merging the benefits of both methods. This repair includes a patch with a stem (the plug) that fills the puncture, sealing the tire from both sides, ensuring a reliable repair.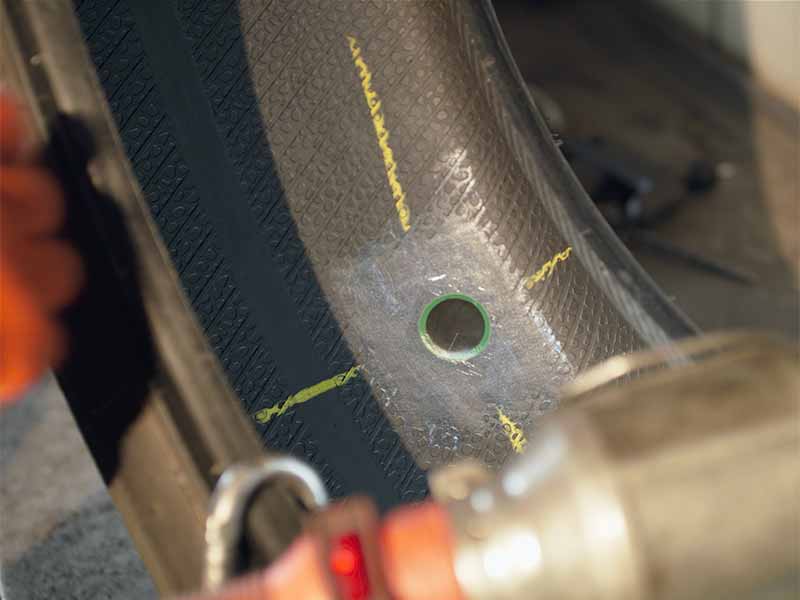 Why Do Tire Chains Like Discount Tire Fix Flats For Free?
Certain tire chains, such as Discount Tire, offer free flat tire repairs for several strategic reasons:
Customer Trust and Loyalty
Free flat tire repairs build customer trust and loyalty, converting goodwill into repeat business for new tire purchases or other services.
Competitive Advantage
This complimentary service sets companies apart in the automotive industry, attracting customers who may opt for additional paid services.
Additional Service Opportunities
While performing free tire repairs, businesses can suggest other chargeable services like tire rotation, wheel alignment, or brake inspection, generating further revenue.
Safe Practices Promotion
Offering free repairs encourages drivers to address tire issues promptly, contributing to overall road safety by preventing dangerous scenarios such as blowouts or loss of control.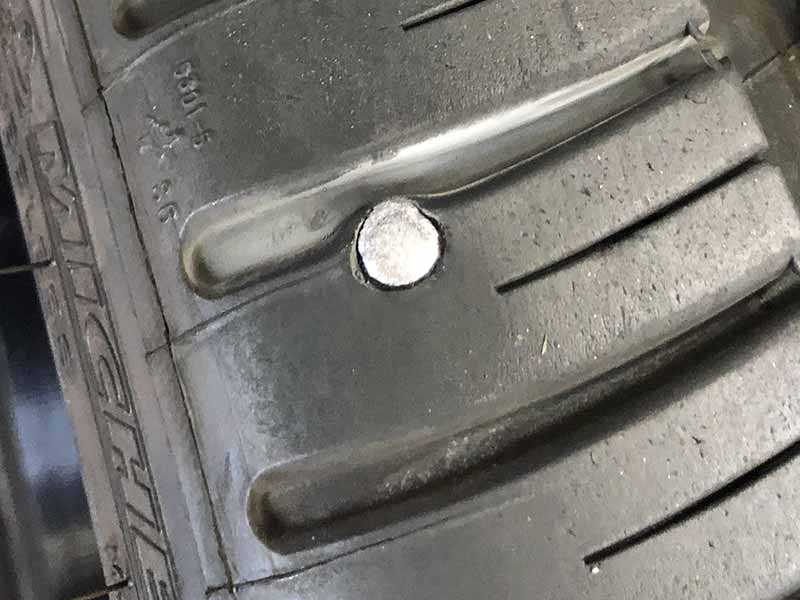 Frequently Asked Questions
Flat tires and their repairs often raise common questions, including:
Can you drive with a nail in your tire?
Driving with a nail in your tire isn't advised due to risk of slow leaks or rapid deflation. Seek immediate inspection and repair.
What is the cost to replace an unrepairable tire?
Replacement costs vary based on tire type, brand, and size, averaging $100-$250 per tire, excluding installation charges. Check with local shops or online for current prices.
How far can you drive on a flat tire?
Avoid driving on a flat tire to prevent further damage. If necessary, drive under a mile at slow speed, then seek assistance or use your spare.
Is a nail in a tire urgent?
A nail in a tire is serious and should be addressed immediately to prevent flats, further damage, or blowouts.
Can you leave a nail in your tire overnight?
If unavoidable, you can leave a nail in your tire overnight, but avoid driving and get it repaired promptly to prevent rapid deflation or further damage.
Can you replace just one tire?
You can replace one tire, but it's advised to replace in pairs for balanced handling. For the same axle, use the same brand, model, and size. All-wheel drive (AWD) vehicles often need all tires replaced together.
Can run flat tires be repaired?
A run-flat tire may be repairable, depending on damage type and extent. If driven on flat or with low pressure, replacement may be needed. Always refer to manufacturer guidelines or consult a professional.
Resources
Below are some links you may find helpful when learning about tires
Final Thoughts
Mastering tire repair essentials can be straightforward with the right knowledge. Key takeaways from our discussion are:
Understanding the repairable area: The central three-quarters of the tire's tread area is typically repairable.
Choosing the right repair: Plugs, patches, and professional services each have unique advantages and disadvantages.
Free repair services: Chains like Les Schwab, Discount Tire, and America's Tire offer free repairs, boosting customer loyalty and providing a competitive edge.
Recognizing when to replace: Consider factors like tire age, condition, tread depth, and number of repairs when deciding to patch or replace.
Armed with this information, you can navigate tire repairs and maintenance confidently, contributing to safer journeys on the road.
Good luck and happy motoring.