Rotating your tires might seem like a straightforward task. But did you know TPMS sensors within your tires, if overlooked, can turn a routine service into a puzzling game of alert lights and mysterious air pressure readings?
Rotating Tires With TPMS

Rotating tires with a Tire Pressure Monitoring System (TPMS) requires resetting the system or relearning tire positions to ensure accurate tire pressure readings.

If not reset, the TPMS can give confusing alerts, potentially compromising tire health and safety.
In this article, we'll unpack the ins and outs of TPMS, delve into the importance of resetting it after a tire rotation, explore the potential consequences of overlooking this step, and introduce tools that make the process a breeze.
Let's take a closer look.
How Does TPMS Know Which Tire is Which?
With all the tires looking pretty much the same, how does your car's TPMS system differentiate between them? This is probably more complicated than you may realize.
The Basics of TPMS Communication
To start off, it's all about communication.
Radio Frequency (RF) Signals: Each TPMS sensor in your tire transmits data using RF signals. It's like each tire having its own mini-radio station, broadcasting information.
Onboard Computer's Role: Your vehicle's onboard computer receives these signals. It processes the data to monitor tire pressure in real-time.
Direct vs. Indirect Systems
There are two primary types of TPMS systems, and how they identify each tire is slightly different.
Direct TPMS:

These systems have sensors inside each tire.
Each sensor has a unique ID. When transmitting data, this ID helps the computer recognize which tire the data is coming from.

Indirect TPMS:

These don't rely on individual tire sensors.
Instead, they use the vehicle's wheel speed sensors to monitor tire rotations. If one tire is rotating at a different speed than the others, it could be under-inflated.
This system doesn't provide exact locations like the direct system. Instead, it offers a general warning when a tire might be low on pressure.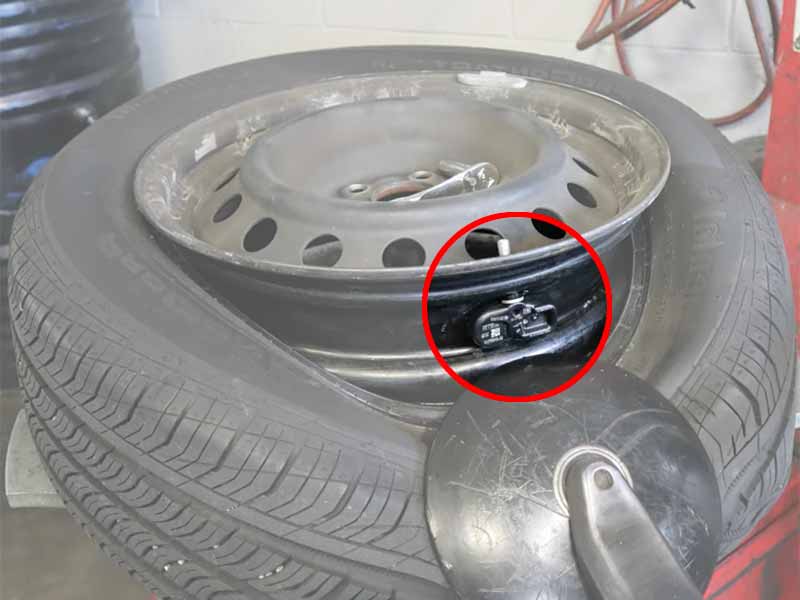 Direct TPMS: Relearning Positions
Indirect TPMS doesn't need to relearn wheel positions. The wheel speed sensors are fixed in position and Indirect TPMS systems typically don't report individual tire pressures.
Direct TPMS, on the other hand, needs a relearn procedure performed so that the tire pressure monitoring system can accurately report which tire has low tire pressure.
Post-Rotation Relearning: After a tire rotation, the relearning process is crucial. Using tools like the TPMS relearn tool or through certain procedures, the vehicle re-establishes which sensor is now in which position.
Why It's Crucial for Accuracy
Here's why pinpoint accuracy matters:
Specific Warnings: Instead of a vague alert that "a tire" has an issue, the system can tell you exactly which one.
Knowing the exact tire pressure conveys urgency. A direct tire pressure monitoring system can tell you whether you have a flat tire or slightly low tire pressure that can be topped up when you reach your destination.
Addressing the correct tire promptly can prevent larger issues down the road, ensuring safety and extending tire lifespan.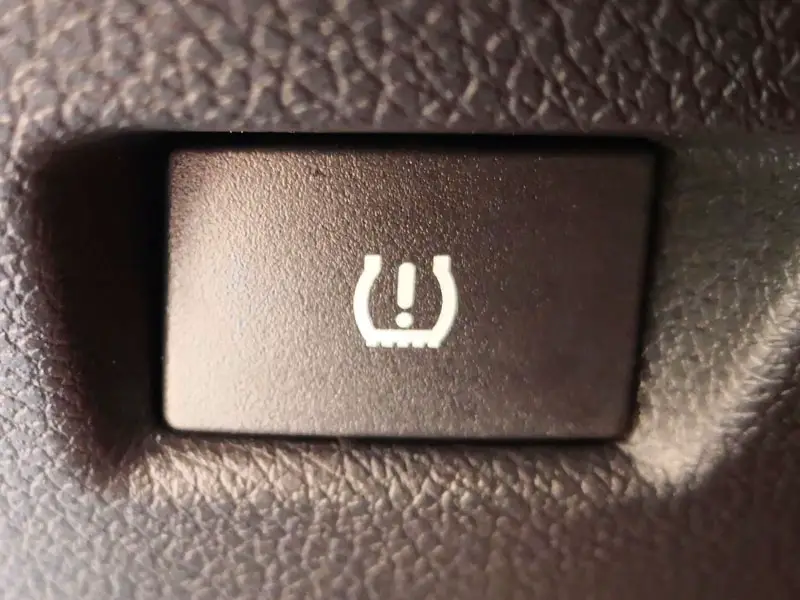 How to Reset TPMS Sensors After Rotation
Alright, we've switched the tires around, and now it's time for resetting those TPMS sensors so your car knows exactly where each tire is sitting and can warn you accurately if there's a pressure issue. Here's your step-by-step guide.
Understanding the Need for a Reset
Before diving into the "how," let's understand the "why."
Ensuring Accuracy: Post rotation, if you don't reset, your vehicle might mistakenly alert you about the wrong tire. We're avoiding that confusion.
Safety First: Accurate warnings mean you can address tire issues promptly. It's not just about convenience, but safety too.
Tools of the Trade
When resetting the TPMS, having the right tools on hand can be a game changer.
TPMS Reset Tool: This tool communicates with the vehicle's system and makes the resetting process relatively straightforward.
TPMS Relearn Tool: For some vehicles, a relearn tool is more appropriate. It helps the vehicle 'relearn' the positions of the rotated tires.
Autel TPMS Tool
Direct TPMS Reset Process
Here's a general step-by-step, but always refer to your vehicle owner's manual for specifics:
Turn the Ignition On: Without starting the engine, turn your vehicle on.
Activate Reset Mode: This can usually be done by navigating through your dashboard menu to find the TPMS settings. Some vehicles might require a different method.
Use the Tool: If using a TPMS reset or relearn tool, follow its instructions. Typically, you'll start with the front-left tire and follow a sequence.
Wait for Confirmation: Your car might honk, flash its lights, or display a message on the dashboard. This indicates the reset process is complete for each wheel.
Proceed with Each Tire: Continue the process for all tires.
Completion: Once all tires are done, the TPMS system should now recognize the new tire positions.
Each make and model car or truck can have quite different Direct TPMS systems and therefore quite different steps required to reset the TPMS. Research the steps required for your specific vehicle's tire pressure monitoring system before you begin.
Indirect TPMS Reset Steps
For indirect TPMS, the system can be reset manually. Here's a basic rundown:
Start the Engine: Turn your vehicle on but don't start moving just yet.
Locate the TPMS Reset Button: Some vehicles come with a direct reset button, often found under the steering wheel. It might be labeled "TPMS" or "Set."
Press and Hold: Hold down the reset button until the TPMS warning light blinks several times. This indicates the system is resetting.
Drive Around: Once reset, drive your vehicle for at least 10 minutes at a speed above 19mph. This helps the system recalibrate with the new tire positions.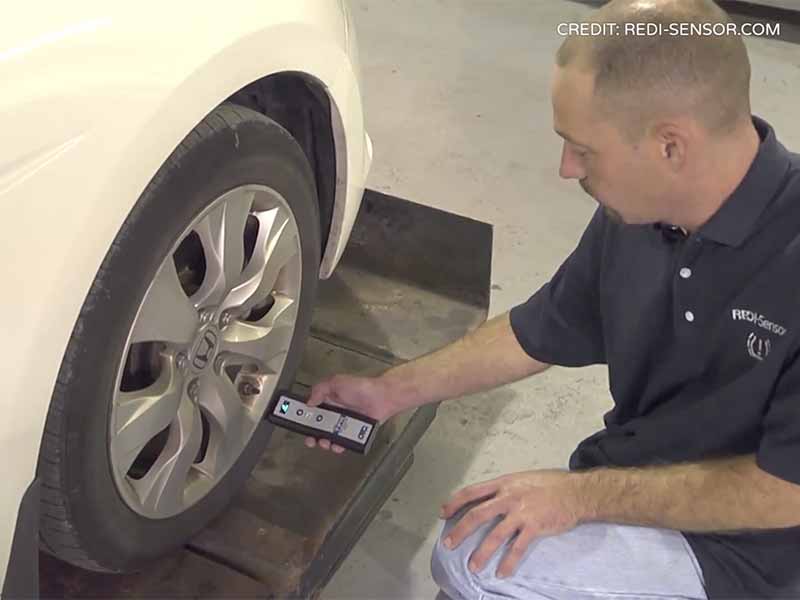 Using a TPMS Reset Tool
For vehicles that don't have a manual reset button or for added convenience:
Purchase or Rent a Tool: Many local tire shops offer TPMS reset tools for rent. You can also purchase one if you rotate your tires often.
Position by the Tire: Start with the front-left tire. Position the tool by the tire's sidewall, near the valve stem.
Follow the Tool's Instructions: Each tool might work slightly differently. Typically, you'll press a button to activate it. If successful, your car might honk or the blinkers might flash.
Repeat for All Tires: Move around your vehicle, repeating the process for each tire.
Finalize: Once all tires are done, the system should be reset. Some vehicles might require you to turn the ignition on/off to finalize the process.
When in Doubt, Visit a Pro
While many people can handle a TPMS reset at home, it's not for everyone.
Complex Systems: Some cars have more complex TPMS systems. If you're unsure about yours, it's best to play it safe.
Local Tire Shop: Your local tire shop can handle the reset for you. They have the expertise and tools to ensure it's done right.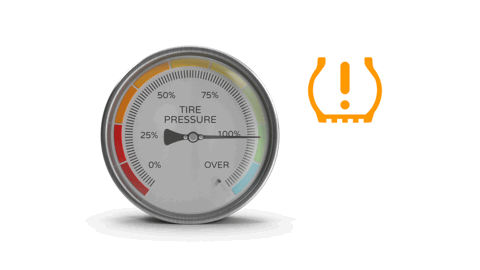 What Can Happen If TPMS Systems Are Not Reset After Tire Rotation?
After rotating tires, you might feel tempted to skip the step of resetting the TPMS. But is it really a big deal? Let's explore the potential outcomes of skipping this essential step.
Misleading Readings
Without resetting, the TPMS won't provide accurate alerts:
Wrong Tire Alerts: If your front-left tire is low on air, but the TPMS thinks it's the rear-right, you'll be checking and maybe inflating the wrong tire!
Confusion and Frustration: Continually receiving alerts for the incorrect tire can be puzzling and frustrating, especially if you're unaware of the need for a reset.
Potential Safety Hazards
Inaccurate tire pressure readings can have real-world implications:
Driving on Under-Inflated Tires: If you don't realize one of your tires is low on air because of misleading TPMS alerts, you might continue driving on it. This can lead to:

Reduced fuel efficiency.
Uneven tire wear, meaning you might need to replace that tire sooner.
Increased risk of a flat tire or blowout.

False Confidence: Believing all is well because you're not receiving alerts (or they're for the wrong tire) can give you a false sense of security about your vehicle's condition.
Compromised Tire Health
Incorrect air pressure can have lasting impacts on your tires:
Decreased Lifespan: Tires that are consistently over-inflated or under-inflated wear out faster. This means more frequent replacements and more expenses for you.
Reduced Performance: The optimal tire pressure ensures the best performance from your tires. Off-mark pressures can lead to reduced traction and responsiveness.
More Trips to the Tire Shop
The aftermath of not resetting the TPMS might lead you back to where you started:
Fixing Avoidable Issues: From addressing uneven wear to potentially dealing with tire damages, you might find yourself visiting your local tire shop more often than needed.
Potential Re-Rotation: If tires wear unevenly due to incorrect pressure, a mechanic might suggest another tire rotation sooner to balance out the wear.
Peace of Mind
At the end of the day, knowing your vehicle is functioning correctly provides peace of mind:
Constant Doubt: Without a reset TPMS, there's always that nagging doubt. Is the alert genuine? Is it for the right tire? These questions can add stress to your drives.
Trust in Technology: TPMS is a fantastic tool for vehicular safety. Not resetting it undermines its purpose, making you question its reliability.
Resources
Below are some links you may find helpful when learning about tires
Final Thoughts
Maintaining the health and efficiency of your tires goes beyond mere rotation; it's essential to ensure the internal systems, like the TPMS, are aligned with these changes. Ignoring the step of resetting your TPMS after a tire rotation can lead to confusing alerts, compromised tire health, and even potential safety hazards. 
It's not just about keeping your tires in tip-top shape; it's about ensuring every drive is as safe as possible. With tools like the TPMS relearn device, making sure your vehicle is synchronized and secure is more accessible than ever. So, the next time you rotate your tires, remember: it's the unseen processes and resets that make all the difference.
Good luck and happy motoring.