Ever felt that sudden rush of panic when an unfamiliar light pops up on your car's dashboard? You're not alone. For many, that little icon resembling a flat tire can lead to head scratching, Google searches, and hasty trips to the mechanic. Let's demystify one of the most overlooked yet crucial parts of your vehicle: the TPMS sensor and its battery.
How To Test TPMS Sensor Battery

To test a TPMS sensor battery, you can use a TPMS tool to read the sensor's signal. If the battery is weak or dead, the sensor might not transmit correctly or the TPMS light on the dashboard might stay on persistently.
In this article, we'll delve deep into understanding the TPMS sensor, explore methods to check and test it, identify signs of a faulty sensor without a scanner, and discuss what happens when the TPMS battery dies. Plus, we'll address one of the most common questions: can you simply replace the battery in a TPMS sensor?
Let's take a closer look.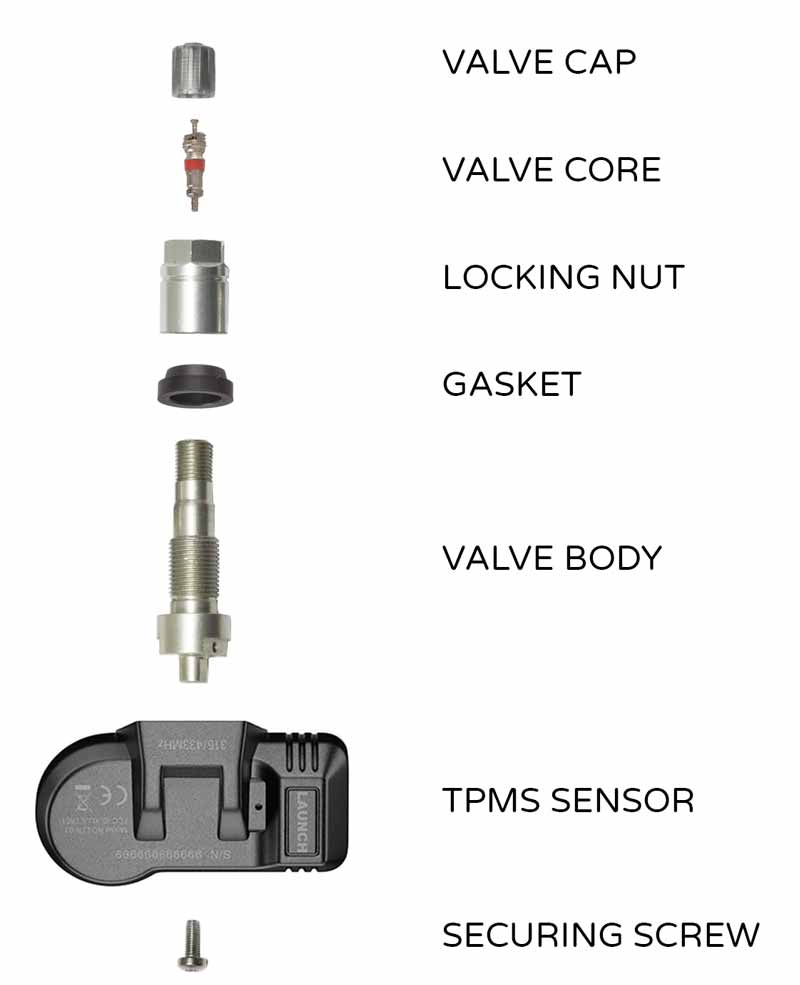 How to Check TPMS Sensor
When we talk about the TPMS sensor, one of the first things you'll probably notice is a tiny icon on your dashboard. This is the TPMS light, and it looks a bit like a flat tire. When it's illuminated, it's your car's way of saying, "Hey! Check your tire pressure."
Tools of the Trade: The TPMS Tool
Now, if you want to get a bit more technical and really understand what's going on, you can use a TPMS tool. This is a special gadget designed to communicate with your TPMS sensor. Here's how to use it:
Get the Tool: You can find TPMS tools online or at auto parts stores.
Connect and Scan: Hold it near your tire (follow the instructions it comes with) and it will read the pressure from your TPMS sensor.
Reading the Results: The tool will show you the pressure in each tire. This lets you know if you need to add or release air.
Testing Before Installation: Why and How?
If you're getting a new TPMS sensor or having it replaced, it's like getting a new gadget. And just like you'd test a new phone or laptop, you should test the TPMS sensor before installing. Here's why:
Ensures It Works: This might seem obvious, but you'd be surprised! Testing first makes sure it's not a dud.
Saves Time and Energy: If there's an issue, it's easier to fix or replace the sensor before it's installed into the tire.
Here's a quick step-by-step:
Unpack the New Sensor: Take it out of the box, and ensure it's the correct model for your car.
Use the TPMS Tool: Just like checking an already installed sensor, use the TPMS tool to read the new sensor's signal.
Check the Reading: If the tool gets a clear, strong signal, the sensor's good to go! If not, there might be an issue.
Autel TPMS Tool
Identifying a Bad TPMS Sensor Without a Scanner
It's kind of like when you feel a little under the weather and you're not sure why. Cars have their ways of telling you something's off too. With TPMS sensors, you might notice:
Erratic Readings: Your tire pressure seems to be jumping around, even if you haven't made any changes.
Persistent TPMS Light: You've filled your tires, but that pesky TPMS light won't turn off.
No Warning: Your tires clearly look low, but no alert from the TPMS light.
Manual Diagnosis
Alright, so you don't have a fancy scanner. No worries! You can still play detective and figure out which TPMS sensor is acting up.
Rotate and Observe
One of the simplest ways to pinpoint a bad sensor is the rotate and observe method. Here's how you do it:
Rotate Your Tires: Switch the front and back tires on one side of your car.
Check for TPMS Light: Drive around for a bit and see if the light comes on or if it changes its pattern.
Pinpoint the Culprit: If the TPMS light follows the rotated tire, bingo! You've found the bad sensor.
Why Bother Finding the Bad Sensor?
It might seem like a lot of work, but tracking down the malfunctioning sensor has its perks:
Save Money: Instead of replacing all sensors, you can just fix the one that's misbehaving.
Safety First: Remember, tire pressure is key for safe driving. You want to make sure all sensors are working correctly.
Peace of Mind: Knowing all your sensors are in tip-top shape means one less thing to worry about on the road.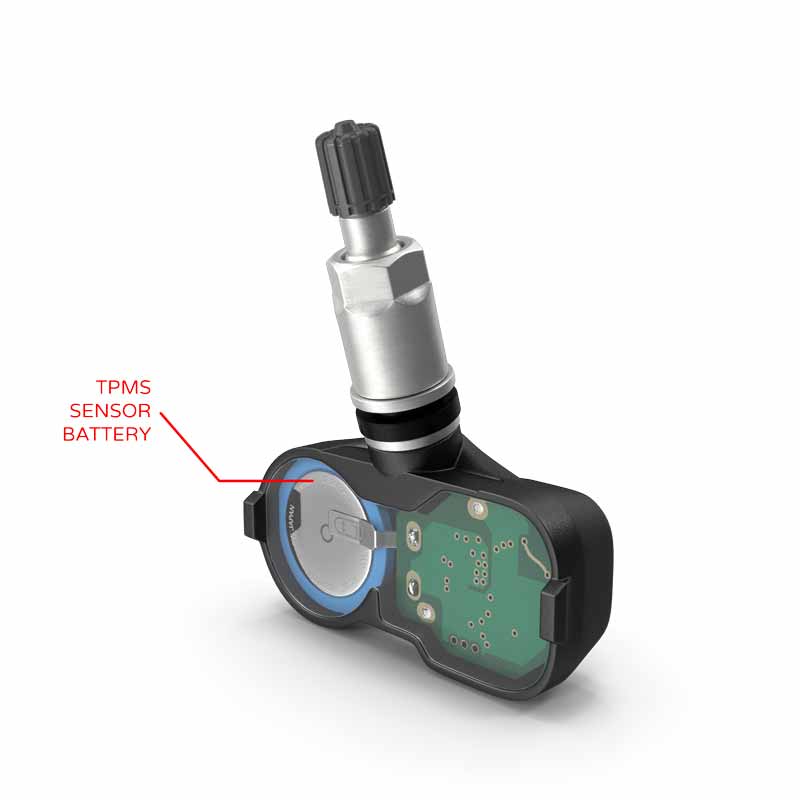 Understanding the TPMS Sensor and Its Battery
The TPMS sensor stands for Tire Pressure Monitoring System sensor. This little gadget is a superhero in the world of cars. Its job? To keep an eye on the air pressure inside your tires. Think of it like your car's way of telling you, "Hey! Something's not right with your tire pressure."
Why Tire Pressure Matters
Safety: Proper tire pressure means safer driving. Over-inflated or under-inflated tires can affect how your car handles the road.
Gas Mileage: Believe it or not, tire pressure can even influence your car's fuel efficiency! When tires have the correct amount of air, your car can ride smoothly, saving on gas.
Tire Lifespan: Tires aren't cheap! By maintaining the right pressure, you can also make them last longer.
The Heartbeat of the TPMS Sensor: The Battery
Just like how our gadgets (phones, tablets) need juice to run, the TPMS sensor runs on a battery. This battery ensures that the sensor can:
Measure the tire pressure
Send that information to the car's computer
How Long Do TPMS Sensor Batteries Last?
Now, the battery life of a TPMS sensor isn't forever, unfortunately. But, on the bright side, they usually last quite a while!
General Lifespan: Most TPMS sensor batteries can last anywhere from 5 to 10 years.
Usage Matters: If you drive a lot, like every single day, the battery might run out sooner than if you only take your car out on weekends.
Low TPMS Sensor Battery Life Symptoms
Well, not directly. There isn't a "battery level" icon on your dashboard, like on your phone. Instead, the car gives other hints:
TPMS Light: If the light stays on even after you've fixed your tire pressure, it might be hinting at a battery issue.
Random Alerts: If you're getting weird tire pressure alerts for no clear reason, the battery could be on its last legs.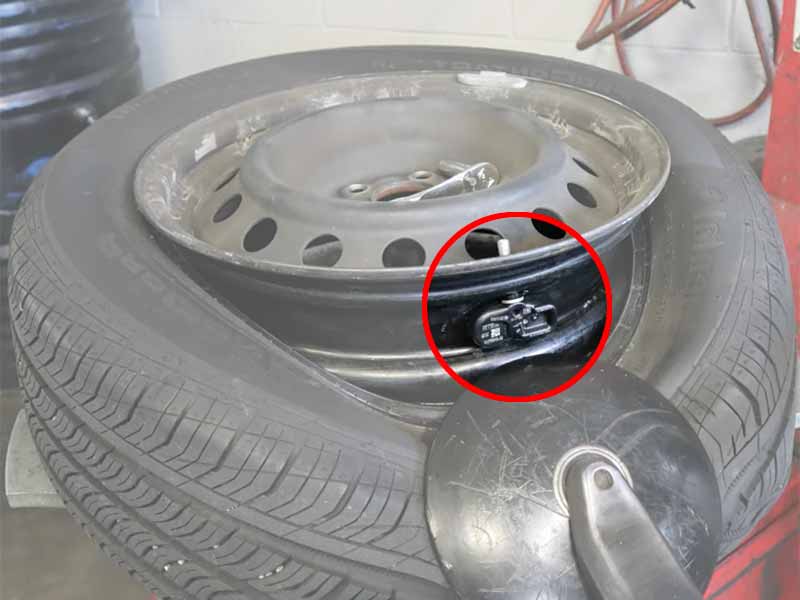 Cost To Replace a TPMS Sensor
Chances are, if you think you have a bad TPMS sensor battery, you're going to need to replace the sensor. Once you realize the sensor needs to be replaced you'll want to know how much is this going to cost.
Let's break down the costs associated with replacing a TPMS sensor.
Factors Influencing the Cost
Just like other car repairs, the cost can vary based on several factors:
Vehicle Make and Model: Luxury vehicles or more modern cars might have pricier sensors compared to older or more common models.
Location: If you're in a city with high living costs, labor prices at auto shops might also be higher. Rural areas might offer slightly lower prices.
Type of Sensor: There are different TPMS sensors available in the market, from direct to indirect ones, and the prices can differ.
The Breakdown
Parts: A single TPMS sensor itself can range from $20 to $100. Remember, this price can vary based on the brand and the factors mentioned above.
Labor: Installing the sensor might take about half an hour to an hour. Depending on the mechanic's hourly rate, this could add another $50 to $100 to the bill.
Reprogramming: Some cars require the new sensor to be synced or programmed with the vehicle's system. This might come with an additional cost of $20 to $50.
Ballpark Estimate
On average, when combining parts and labor, replacing a TPMS sensor can set you back anywhere from $70 to $250 per sensor. If you're replacing all four sensors, you might get a bundled discount, but remember to consider the cost of each individual sensor.
Saving on Costs
A few quick tips to potentially save on costs:
Shop Around: Different mechanics might offer varied prices. It's always good to get a few quotes.
Aftermarket Sensors: While OEM (Original Equipment Manufacturer) parts are often recommended, there are high-quality aftermarket TPMS sensors that might be a bit more wallet-friendly.
Resources
Below are some links you may find helpful when learning about tires
Final Thoughts
Remember, these tiny sensors play a monumental role in ensuring your driving safety. Their battery life is crucial, and while it might be tempting to merely swap out the battery like you would in a TV remote, most TPMS sensors are designed as sealed units, making total replacement a more straightforward solution. By being proactive and understanding the telltale signs of a faulty sensor, you can ensure smoother and safer journeys ahead.
Good luck and happy motoring.