Ever found yourself staring at a new TPMS sensor, realizing you don't have the fancy tool to activate it? You're not alone, and guess what? There are workarounds that don't involve emptying your wallet on a specialized tool!
How To Activate New TPMS Sensor (Without Tool)

To activate a new TPMS sensor without a tool, you may be able to use methods like the magnet technique or your vehicle's onboard system. However, a dedicated TPMS activation tool offers the most precise results.
In this article, we'll dive deep into the various methods of activating TPMS sensors, weigh their pros and cons, and guide you on choosing the best method for your vehicle.
Let's take a closer look.
Basics of TPMS Activation
How do you activate your new TPMS sensors? Here's a simple breakdown:
Manual Activation: This is where you'd traditionally use a TPMS tool. However, as we'll explore in this article, there are ways to get the job done without one!
Automatic Activation: Some modern cars are fancy enough to automatically recognize and activate a new TPMS sensor once it's installed. Think of it as a "plug-and-play" scenario for your tires.
Via Onboard Systems: Many vehicles come equipped with onboard systems that can guide you through the activation process step by step. It's like having an in-car assistant!
Factors to Consider
When activating your TPMS sensor, a couple of things might affect the process:
Sensor Type: Not all sensors are built the same. Some might need a manual touch, while others might be raring to go as soon as they're in place.
Vehicle Age and Model: Older vehicles might have a different activation process than the newer models. It's always a good idea to check the vehicle manual if in doubt.
Prior Installations: If a sensor was previously installed and you're replacing it, the activation steps might vary slightly.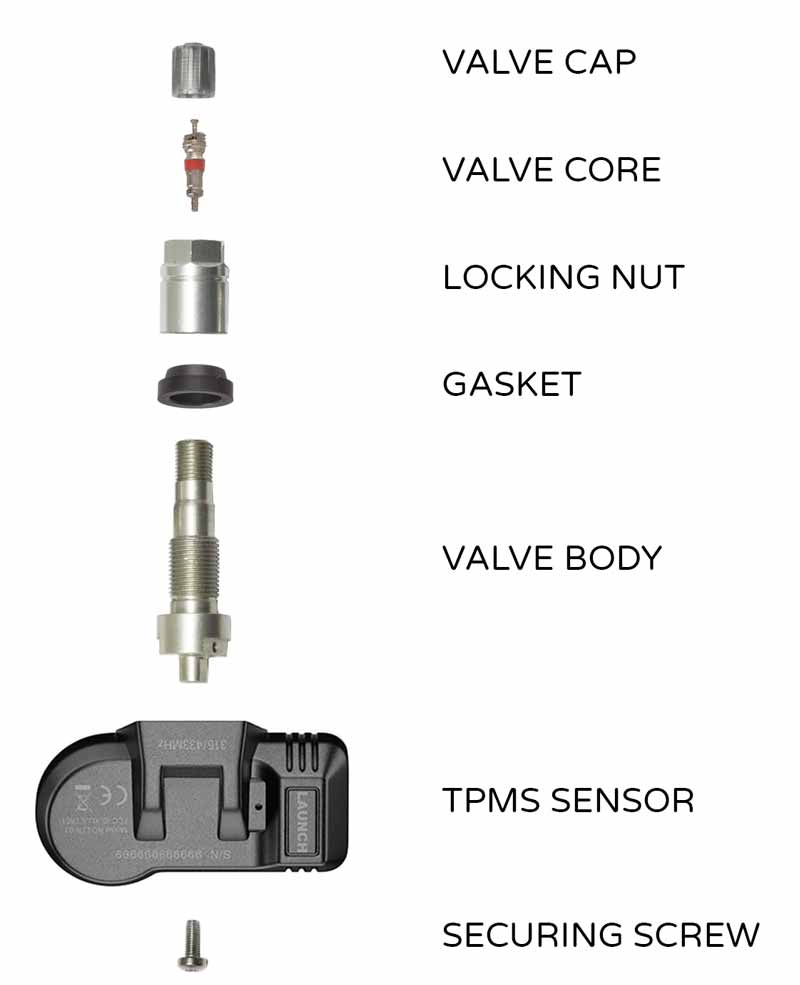 Methods for TPMS Programming
The TPMS sensor isn't just a simple piece of hardware; it's got software inside. This software needs to sync up with your car's main computer so they can speak the same language.
1. Dedicated TPMS Activation Tool
This is the professional's choice and is often seen in auto shops. Here's how it usually works:
Purpose-built: These tools are designed especially for TPMS sensors. They're like a translator between your tire and your car.
Easy to Use: With a push of a button, they send a signal to the sensor, triggering it to transmit its data to the vehicle's computer.
Broad Compatibility: Most of these tools can work with a wide range of vehicles and TPMS sensor brands.
2. The Magnet Method
No fancy tools? No worries! The magnet method is an old-school trick that can do the job:
How it Works: Some TPMS sensors are set to "sleep" mode to save battery during shipping. A magnet can "wake" them up.
Steps: Simply place a magnet over the TPMS sensor. The magnet's pull should activate the sensor, signaling it to start its job.
Things to Keep in Mind: Not all TPMS sensors are magnet-friendly. Check if your vehicle's TPMS system supports this method before trying.
3. Vehicle's Onboard System
Some modern cars come with built-in systems to help you out. Here's the deal with this method:
User-Friendly: Many vehicles will have a TPMS option in the settings or dashboard menu. It's as easy as navigating to it and following the on-screen prompts.
Steps Involved: Generally, you'll need to put the vehicle in "learn" or "program" mode. Once done, you'll often drive the car for a short distance to let the system self-calibrate.
Safety First: Remember to park in a safe place when navigating through your dashboard options. Safety should always be a priority!
4. Cloning TPMS Sensors
Cloning is a convenient way to replace a sensor without the car even noticing. Let's break down the process:
Simplicity at its Best: Cloning doesn't require reprogramming the entire vehicle system. It's about replicating the ID from an old sensor to a new one, making the process pretty straightforward.
Steps Involved: First, you'll need a cloning-capable TPMS tool. Use this tool to read the ID from the original sensor. Once you've got that, you can then program the new sensor with the exact same ID. This way, the vehicle continues to recognize the sensor as if nothing changed.
Safety First: Whenever working on your vehicle, even if it's just programming a sensor, ensure you're in a safe, stable environment.
Autel TPMS Relearn Tool
Using a Dedicated TPMS Activation Tool
TPMS activation tools are specialized devices designed specifically to interact with, activate, or even program TPMS sensors.
Why Use a TPMS Activation Tool?
Here are the compelling reasons to consider this method:
Precision: These tools are designed for the job, offering precise and quick activation.
Versatility: Many of these tools can read sensor data, activate sensors, and even program them, catering to a wide range of TPMS needs.
Step-by-Step Activation Using a TPMS Tool
Let's break down the straightforward process:
Power Up the Tool: Start by turning on your TPMS tool. Depending on the model, it might require batteries or could be rechargeable.
Select the Vehicle: Most tools will prompt you to select the make, model, and year of the vehicle you're working on. This tailors the tool's functionality to your specific vehicle.
Position Near the Sensor: Hold the tool near the tire's valve stem, where the TPMS sensor is located.
Activate the Sensor: Follow the tool's instructions, which typically involve pressing a button to activate the sensor. The tool will send a signal to wake up the sensor and then read its data.
Check Tool Feedback: After activation, the tool will usually display the sensor's information or give feedback (like beeps or lights) indicating a successful activation.
Proceed with Other Tires: If you have more tires to check, simply repeat the process for each one.
Points to Consider
Compatibility Matters: While many tools are universal, it's crucial to ensure your tool is compatible with your vehicle's TPMS system.
Battery Life: Always ensure your TPMS tool is sufficiently charged or has fresh batteries. You wouldn't want it dying mid-process!
Updates: Some modern TPMS tools can be updated with new vehicle data. It's a good idea to check for updates periodically, especially if you're working with newer vehicles.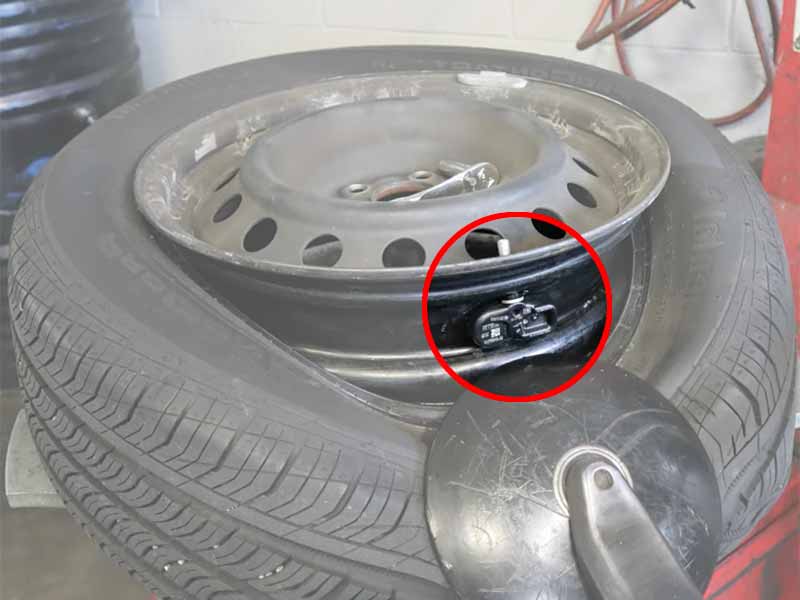 Using the Magnet Method for TPMS Activation
The magnet method involves triggering a TPMS sensor into sending its signal by placing a magnet around the valve stem. It's like a wake-up call for the sensor.
Why Use the Magnet Method?
Here's why some folks choose this technique:
Swift Activation: It's a quick way to prompt the sensor to transmit its current status.
Low-Tech Solution: This method doesn't require specialized tools, just a magnet.
Step-by-Step Magnet Activation Process
Let's break down the procedure:
Grab a Suitable Magnet: Any strong magnet should do the trick, but it's worth noting some sensors might need a particularly powerful magnet for optimal results.
Locate the TPMS Sensor: It's positioned inside the tire, right at the valve stem.
Apply the Magnet: Position the magnet over the valve stem. This should activate the sensor, prompting it to send its signal.
Monitor the TPMS Light: Once the sensor is activated, you should see the TPMS light blink or turn off on your dashboard, indicating successful communication.
Move to the Next Tire: If you have more than one tire to check, simply repeat the process.
Points to Consider
Not Universal: As mentioned earlier, not all TPMS systems respond to the magnet method. It largely depends on the make and model of your vehicle and the type of TPMS sensor installed.
Interference: Ensure there are no other strong electronic or magnetic devices nearby that could interfere with the sensor's signal.
Safety: Always make sure your car is in a stable position when working with the tires, and never activate sensors on a moving vehicle.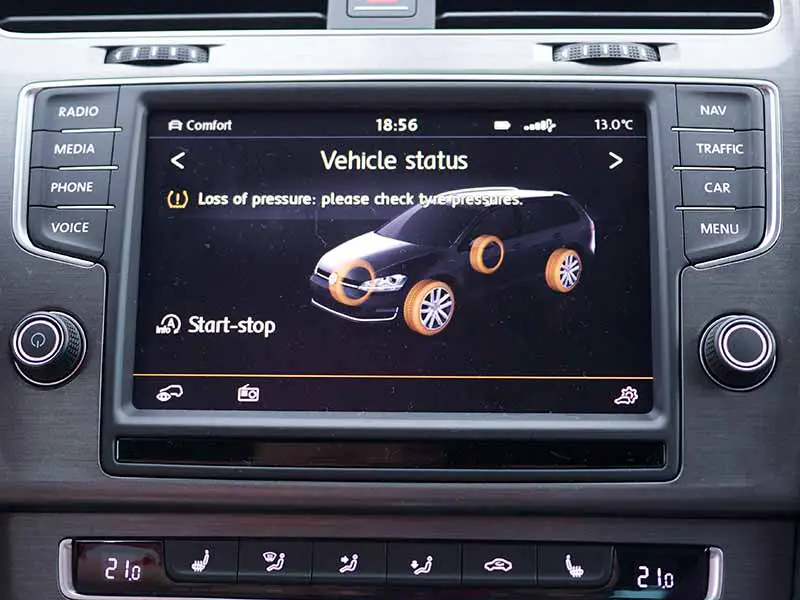 Using the Vehicle's Onboard System for TPMS Activation
Many modern vehicles are equipped with onboard systems that allow direct interaction with the TPMS. It's like having a built-in technician ready to assist with your tire pressure needs.
Why Use the Onboard System?
There are several reasons why this is a go-to method for many:
Integrated Approach: Since the system is built into the vehicle, it's tailored for the specific make and model, ensuring smoother communication with the TPMS sensors.
User-Friendly: With intuitive dashboards and on-screen prompts, even those not tech-savvy can navigate the process.
Step-by-Step Onboard Activation Process
Follow these steps to utilize your vehicle's onboard system:
Access the TPMS Menu: Start your vehicle and navigate to the TPMS option on your dashboard or infotainment system. This might be under 'Settings' or a similar menu.
Initiate "Learn" or "Program" Mode: Once in the TPMS menu, look for options like "Learn Mode" or "Program Sensors." Selecting this will prompt the vehicle to start scanning for sensor signals.
Follow On-Screen Prompts: Some systems will guide you through the process, instructing you to either drive the car for a bit or manually activate each sensor.
Monitor Progress: As each sensor is detected, you'll often see a notification or checkmark on your dashboard.
Completion: Once all sensors are recognized, the system will typically alert you, or simply return to the main TPMS menu.
Points to Consider
Model Variations: The exact steps and menu options can vary depending on the vehicle's make and model. Always consult your owner's manual for precise instructions.
Drive Carefully: If the system requires you to drive, ensure it's done at a safe speed and in a controlled environment, avoiding busy roads.
System Errors: Occasionally, the onboard system might not detect a sensor. If this happens, double-check the tire's pressure and consider other activation methods or professional assistance.
How to Clone TPMS Sensors
Cloning simply means programming a new TPMS sensor with the same ID as the original. Why? So that the vehicle doesn't recognize it as a new or different sensor, which can save time because you won't have to reprogram the car's TPMS system.
Why Clone?
There are some clear advantages to cloning:
Ease of Replacement: If a sensor is damaged, you can replace and clone it without affecting the rest of the system.
Rotating Tires: For those who rotate tires regularly, cloned sensors make the process hassle-free since the vehicle continues to recognize all sensors without issue.
Step-by-Step Cloning Process
Now, let's dive into how it's done:
Purchase a Clone-capable TPMS Tool: Not every TPMS programming tool has cloning capability, so ensure the one you're using does.
Read the Original Sensor: Use the tool to scan and read the original sensor's ID.
Program the New Sensor: Once you have the original ID, input it into the tool and program the new sensor with this ID.
Install the Cloned Sensor: Replace the old sensor with the newly cloned one.
Test: Once installed, it's good practice to test the sensor. Drive for a bit, and ensure your TPMS light behaves as expected.
Points to Consider
Compatibility: Ensure both the original and new sensors are compatible with cloning. Not all sensors support this.
Legality: Always check local regulations. In some regions, cloning TPMS sensors might be against vehicle safety rules.
Lifetime: Remember, even if you clone a sensor, it doesn't mean it'll last forever. Regular checks are still essential.
Resources
Below are some links you may find helpful when learning about tires
Final Thoughts
In the ever-evolving world of vehicle maintenance, understanding your TPMS is crucial. Not only does it keep you safe on the road, but it also ensures optimal vehicle performance. From simple magnet techniques to more advanced dedicated tools, there are multiple ways to activate a new TPMS sensor.
Key takeaways include the importance of choosing a method compatible with your vehicle type, always prioritizing safety, and considering a dedicated TPMS tool for the most accurate results.
Good luck and happy motoring.