Ever been in a situation where you suspect one of your tires might be low on air, but you don't have a gauge on hand? You're not alone. Many drivers have faced this dilemma, wondering if there's a way to determine which tire needs air without a gauge.
How To Know Which Tire Needs Air (Without Gauge)

To know which tire needs air without a gauge, observe for visual signs like a flatter appearance, feel for changes in handling, and listen for unusual noises. These signs indicate significantly low pressure, making immediate action important.

Some Tire Pressure Monitoring Systems can indicate which tire needs air. Also, most air compressors found at gas stations have a built in gauge.
In this article, we'll delve into understanding tire pressure, its importance, and how modern tire designs can make detecting low pressure challenging. We'll explore TPMS, the benefits of checking tire pressure at gas stations, and the invaluable role of tire pressure gauges.
Let's take a closer look.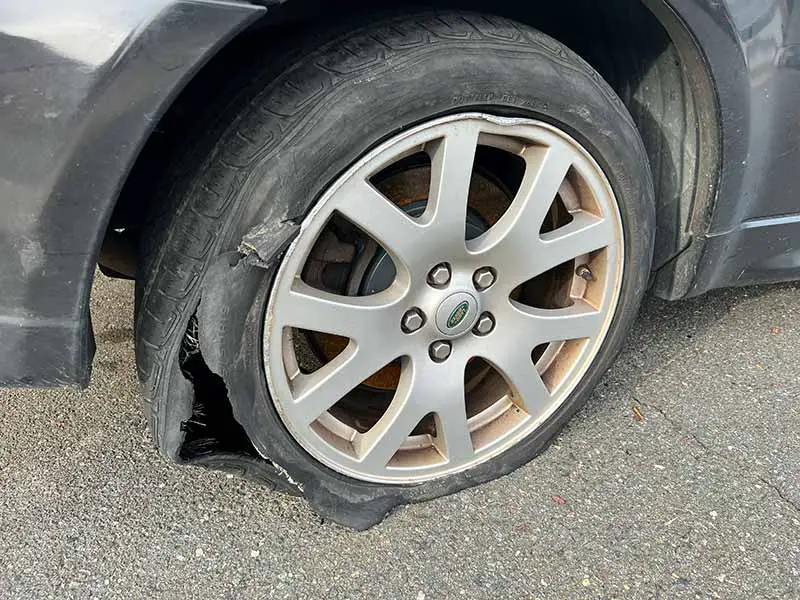 The Challenge of Spotting Low Tire Pressure in Modern Tires
Today's tires often have shorter sidewalls. These sidewalls are built to be stronger and flex less. This design is great for performance and safety, but it comes with a challenge: it's harder to see if a tire is low on air.
The Deceptive Nature of Tire Pressure
Seeing the Difference: While a completely flat tire is obvious, spotting a difference of 15 to 20 psi in tire pressure is typically impossible just by looking. The tire might seem fine, but it could be dangerously low on air.
Feeling the Difference: Some people try pressing their thumb into the tire's sidewall to check the pressure. But with modern tires, even this method isn't reliable. The strong sidewalls don't give much, even if the tire is low on air.
Driving Sensations: While there might be subtle signs when driving with low tire pressure, the average driver might not notice them. The car might still handle well, even if the tires are underinflated.
The Risks of Low Tire Pressure
Tire Blowouts: The most common cause of tire blowouts is low tire pressure. When a tire doesn't have enough air, it can get too hot and burst.
Safety Concerns: Ensuring your tires have the right air pressure is crucial. It's not just about performance; it's about safety. If you can see or feel a difference in tire pressure, it's likely dangerously low.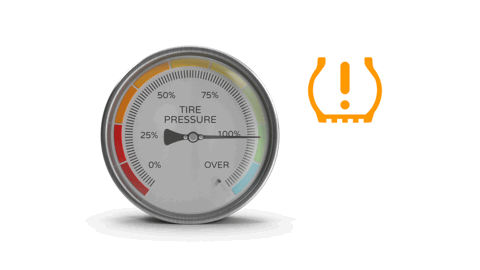 The Importance of Tire Pressure Monitoring Systems (TPMS)
Recognizing the challenge of detecting low tire pressure, the government has mandated the use of TPMS in vehicles. These systems:
Save Lives: TPMS alerts drivers when tire pressure is dangerously low, helping prevent accidents and blowouts.
Should Never Be Ignored: If your TPMS light comes on, it's a clear signal that something is wrong. Never ignore it or think you can make it because you're "almost home." It's always safer to check your tires immediately.
In my years of experience with tires, I've seen the consequences of drivers ignoring low tire pressure. It's a risk that's not worth taking. Always trust your TPMS and regularly check your tire pressure with a reliable gauge. Your safety, and the safety of others on the road, depends on it.
Listen to Your Car
Unusual Noises: A tire that's critically low on air might produce thumping or humming sounds, especially at higher speeds. This isn't just a quirky car sound; it's a warning.
Hissing Sound: Often, the tire not at the proper tire pressure is one that's been damaged. If you listen carefully and hear air leaking you've likely found the culprit.
Your Car's Warning Light
Many cars come equipped with a Tire Pressure Monitoring System (TPMS). This system is a lifesaver:
Immediate Attention Required: If the TPMS light illuminates, it's not a gentle reminder. It's an urgent alert that at least one of your tires has critically low pressure.
Check All Tires: The TPMS light indicates a problem but doesn't specify which tire is affected. You need to check all of them.
I've witnessed the aftermath of ignoring these signs, especially on high-speed roads like interstates. A tire blowout at high speeds can be disastrous. Always prioritize your safety and the safety of others on the road. If you spot any of these signs, treat them as urgent warnings, not mere suggestions. Your life and the lives of others could depend on it.
Checking Tire Pressure at Gas Stations
Gas stations serve as convenient spots not only to refuel your vehicle but also to check and adjust your tire pressure. However, while they offer accessibility, there are some things to keep in mind when relying on gas station air pumps.
Finding and Using the Air Pressure Machine
Locate the Machine: Most gas stations have air pressure machines, often situated towards the side or back. Look for signs or ask the staff if you can't locate it.
Built-in Gauges: One of the benefits of gas station air pumps is that they almost always come with a built-in tire pressure gauge. This allows you to both check and adjust the tire pressure in one go.
Instructions are Key: Before using, always read the machine's instructions. They typically provide clear guidance on how to use the pump and gauge.
Payment: While some machines are free, others might require coins or a card payment. Ensure you have the necessary means to operate the machine.
Potential Challenges with Gas Station Air Compressors
Reliability Issues: It's essential to be aware that gas station air compressors can sometimes be unreliable. They might be out of service, especially if they're frequently used or not regularly maintained.
Multiple Stops Might Be Needed: Just like my experience on a trip where I had to visit multiple gas stations due to non-functional compressors, you might face similar challenges. It's a good reminder that while gas stations are convenient, they're not always guaranteed to have working equipment.
The Value of a Portable Air Compressor
Given the unpredictability of gas station air compressors, I've found immense value in keeping a portable air compressor in my car. Not only does it provide peace of mind during travels, but it also allows for regular tire checks at home. It's a small investment that can save a lot of time and stress, ensuring you're never caught off guard by low tire pressure again.
Craftsman V20 Inflator Portable Air Compressor
The Tire Pressure Monitoring System (TPMS)
The TPMS is a built-in system in most modern cars designed to alert drivers when tire pressure is below the recommended level. It's a crucial tool to ensure you always check tire pressure and maintain the correct tire pressure for safety.
How TPMS Works
Sensors: Each tire has sensors that monitor its air pressure.
Warning Light: If any tire's pressure drops below the safe limit, a warning light, often shaped like a flat tire or an exclamation mark inside brackets, illuminates on your dashboard.
Advanced Systems: Some advanced TPMS versions display individual tire pressures, pinpointing exactly which tire is low on air, making it easier for drivers to address the issue.
Responding to TPMS Alerts
Immediate Action: When the TPMS light comes on, it's vital to check tire pressure in all tires, even if individual readings are provided, to ensure they have the correct tire pressure.
Professional Help: If you're unsure about adjusting the pressure yourself or if the light remains on after filling, consider seeking professional assistance.
Remember, the TPMS is a valuable tool, but regular manual checks are also essential to ensure tire safety and longevity.
I've seen many people ignore the TPMS light or think it's not important. But from my experience, it's always better to be safe than sorry. Even if it's just a quick check, it can make a big difference in how your car drives and how safe you are on the road.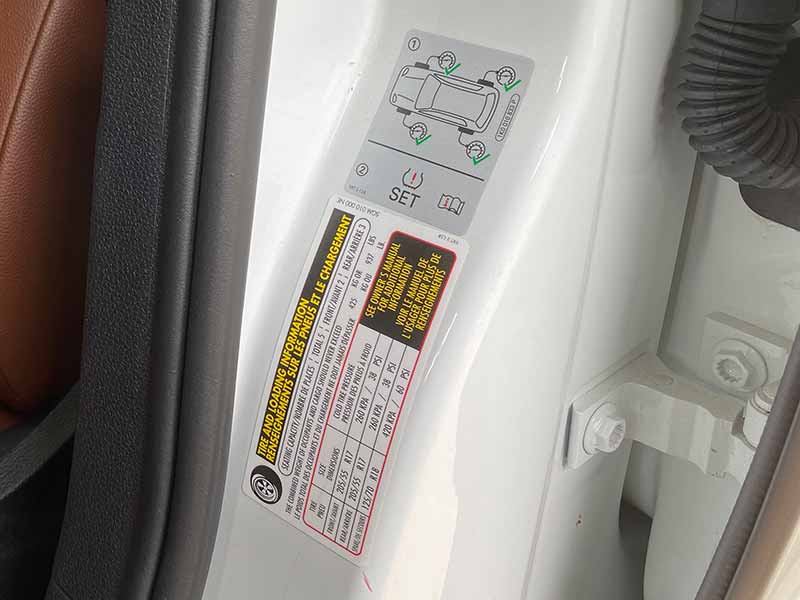 How to Know the Right Pressure for Your Tires
Every car has a recommended tire pressure. This is the best amount of air for your tires. You can find this number in a few places:
Car's Manual: This book came with your car and has lots of information about it.
Driver's Door: Open the driver's side door and look for a sticker on the edge. It often has the tire pressure number.
Inside the Gas Cap Cover: Some cars have the tire pressure number here.
I've been working with tires for a long time, and one thing I always tell people is to check their tire pressure regularly. Even if you can't see or feel a difference, a little too much or too little air can make a big impact on fuel economy and tire wear. It's a simple thing that can keep you safe and save you money.
What Happens If You Ignore Tire Pressure
Ignoring tire pressure can lead to problems:
Worn Out Tires: Tires wear out faster when they don't have the right amount of air. This means you'll need to replace them sooner.
More Gas Use: Your car will use more gas, which means more trips to the gas station and more money spent.
Resources
Below are some links you may find helpful when learning about tires
Final Thoughts
While there are ways to identify low tire pressure without a gauge, such as visual checks and changes in driving feel, these methods are often indicators of critically low pressure. Modern tires, with their robust designs, can mask significant pressure drops, making tools like the TPMS indispensable. 
Regularly checking your tire pressure, whether with a gauge, at a gas station, or through TPMS, is essential for a safe driving experience. Always prioritize your safety and address any tire pressure concerns promptly.
Good luck and happy motoring.