Tire troubles got you spinning in circles? Whether it's a disobedient valve or an under-inflated tire that's causing you to lose your grip, don't worry! We're about to deflate these problems and inflate your knowledge.
Having Trouble Putting Air In A Tire?

Having trouble putting air in a tire is often due to a few common issues: difficulty squarely attaching the air compressor to the tire valve stem, a blocked or damaged valve stem, a damaged rim, or a tire puncture. Identifying these problems and knowing the right fixes can help you solve these inflation frustrations.
In this article, we'll explore the basics of tire inflation, uncover common problems that might trip you up, and provide simple, straightforward fixes. You'll also find preventative measures and maintenance tips to help you stay ahead of any future tire troubles.
Let's take a closer look.
Understanding Tire Inflation Basics
Before we dive deep into the world of inflation issues and fixes, let's cover the basics. Understanding how your tire works and why it needs air is crucial to identifying and solving any problems you might face.
Why Do Tires Need Air?
Tires aren't just chunks of rubber—they're designed with layers of fabric, wire, and rubber that work together to provide support, grip, and smooth riding. It's the air inside that allows them to carry the weight of your car, including you and all your precious cargo.
Support: When your tire is properly inflated, it can efficiently support the weight of your vehicle. Without enough air, the tire can get squished under the load, causing a rough ride or even damage.
Grip: Air-filled tires can adapt to road irregularities, providing better grip and safer handling. With less air, the tire might not have enough contact with the road, reducing your control over the vehicle.
Ride Comfort: Well-inflated tires also provide a comfortable ride. Too much or too little air can lead to a bumpy ride and might even harm your vehicle's suspension system over time.
Spotting Under-Inflated Tires
Under-inflated tires are sneakier than you might think! Here are some signs that your tires could use a little more air:
Tire Looks Flat: This one's a bit obvious, but if your tire looks flatter than the others, it probably needs more air.
Car Pulls To One Side: If your vehicle veers to one side when you're trying to go straight, one or more tires might be under-inflated.
Squishy Handling: If your car feels squishy or unresponsive in corners, it could be due to under-inflation.
Low Tire Pressure Warning Light: If your car has a Tire Pressure Monitoring System (TPMS), it'll warn you when a tire's pressure is dangerously low.
Getting Air Into Your Tires
So where does the air come from? For most of us, we've got two main options: air compressors or service station air pumps.
Air Compressors: These are machines that suck in air, squeeze it, and pump it into your tires. You might have a small one at home, or your local garage will definitely have a larger version.
Service Station Air Pumps: These are usually found at gas stations. They work like air compressors, but they're designed for public use, so they're easy to operate (and often coin-operated).
Either way, the key is to ensure you're filling your tires to the correct pressure, which you'll usually find in your vehicle's owner manual or on a sticker inside the driver's door.
Ensuring a Proper Seal with the Air Chuck
Let's take a closer look at a crucial step in the inflation process: getting a good seal with the air chuck. Whether you're using a home air compressor or a gas station air pump, this step is key to successful inflation.
Air Chucks on Portable Air Compressors
Portable air compressors usually come with air chucks that lock onto the valve stem. This design helps ensure a tight seal, preventing any air from escaping during inflation. Here's how you do it:
Locate the Valve Stem: It's the small metal stem protruding from your tire.
Attach the Air Chuck: Align the air chuck with the valve stem and press it onto the stem. You should feel or hear it click into place.
Check the Seal: Once the air chuck is locked on, give it a light tug. If it stays in place, you've got a good seal!
Gas Station Air Pumps
Gas station air pumps usually don't have lock-on air chucks. Instead, they have a simple design that you have to hold in place on the valve stem. While this can be a little trickier, you can still get a solid seal:
Locate the Valve Stem: Just like before, find the metal stem sticking out of your tire.
Hold the Air Chuck in Place: Position the air chuck squarely onto the valve stem and hold it firmly in place. If you hear air escaping, you may need to adjust your grip or the angle of the air chuck.
Check the Seal: Listen for any hissing sounds. If you don't hear any, that means you've got a good seal and can start inflating.
Whether you're using a lock-on air chuck or a gas station pump, remember that getting a good seal is crucial. It ensures the air goes into your tire, not out into the world. And don't forget to double-check your tire pressure after inflation – because being meticulous means being safe.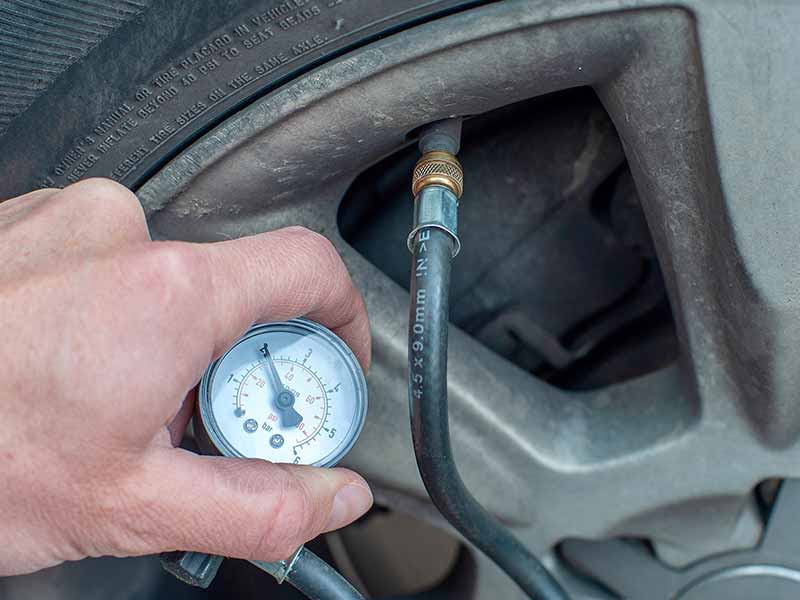 Why Isn't My Tire Filling Up With Air?
Like a stubborn teenager, sometimes tires just don't want to cooperate. But usually, there's a good reason. Let's explore some possibilities:
Clogged Valve: The valve is the little metal stem where you attach the air pump. Sometimes dirt or corrosion can block it. A good cleaning or replacement might be in order.
Damaged Rim: The rim is the metal part of the wheel that the tire fits onto. If it's damaged or bent, it might not let the tire seal properly, preventing air from going in.
Punctured or Damaged Tire: A tire that's been punctured by a nail or has a serious tear might not hold air at all. This one will likely need a repair or replacement.
Why Is My Tire Losing Air When I Try to Fill It?
Ah, the old "two steps forward, one step back" scenario. Here are a couple of reasons your tire might be defying the laws of inflation:
Faulty Valve Core: Inside the valve stem is a little part called the valve core. If it's faulty or not screwed in properly, it can let air escape when you try to fill the tire.
Bead Leak: The bead is where the tire seals against the rim. If it's damaged or dirty, it can let air sneak out, especially when you're trying to put air in.
What If the Valve Lets Air Out But Not In?
This one might sound odd, but it happens! The culprit here is often a faulty valve core. It's supposed to let air in and keep it there, but if it's damaged, it might do the opposite.
Don't worry, valve cores are cheap and easy to replace. You'll just need a special tool called a valve core remover.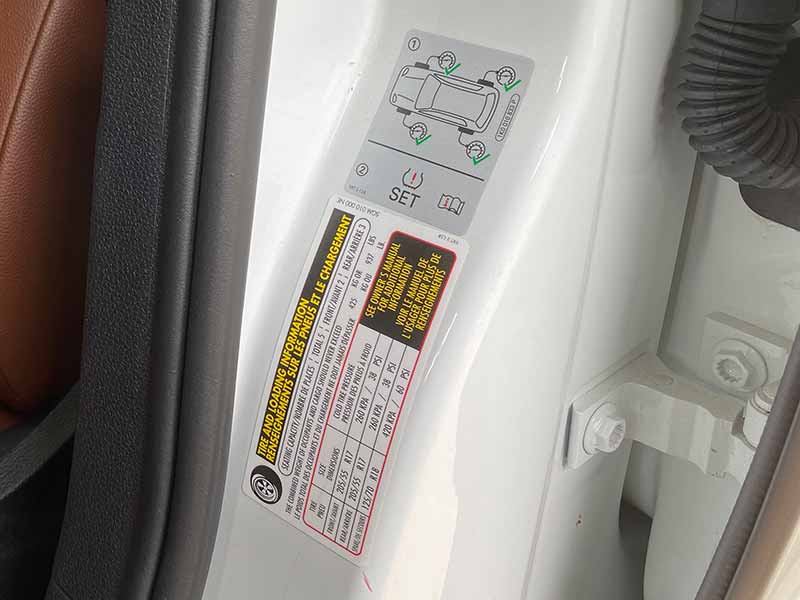 Solutions to Common Inflation Problems
We're going to go over how to inflate your tires with an air compressor or at a service station, and what to do when things go wrong.
Filling Up with an Air Compressor
If you're lucky enough to have an air compressor at home or nearby, here's how to get your tires back to their best:
Check Your Tire's Pressure: Use a tire pressure gauge to check how much air your tires currently have. You can usually find this tool at any auto parts store.
Find the Right Pressure: Look in your vehicle's owner's manual or the sticker inside the driver's door for the correct tire pressure.
Inflate the Tire: Connect the air compressor to the valve stem on your tire (that's the little metal stick-out part) and fill until you reach the correct pressure.
Check the Pressure Again: Use the gauge to make sure you've hit the sweet spot. If you've added too much, press the gauge onto the valve stem to let some air out.
Using a Service Station Air Pump
No air compressor? No problem! Here's how to fill your tires at a gas station:
Check Your Tire's Pressure: Just like with the air compressor, you'll need to know your current tire pressure. Some service station air pumps have a built-in gauge, but it's good to have your own just in case.
Find the Right Pressure: You know the drill – check your owner's manual or driver's door sticker.
Inflate the Tire: Attach the air pump hose to your tire's valve stem and fill until you reach the right pressure.
Check the Pressure Again: Use the gauge to double-check your work. If you've overdone it, let some air out.
Dealing With a Broken Valve Stem
A faulty valve stem can be a pain, but don't worry – we've got a fix:
Identify the Problem: If air is escaping from around the valve stem or it's damaged, you'll likely need to replace it.
Remove the Valve Core: You'll need a special tool called a valve core remover for this. Unscrew the core and take it out.
Replace the Valve Core: Screw in a new valve core with your valve core remover tool.
Reinflate the Tire: Now you can inflate your tire as usual. Don't forget to check the pressure!
Remember, if you're not comfortable dealing with a broken valve stem or your tire is still acting up after your best efforts, it might be time to call in the professionals.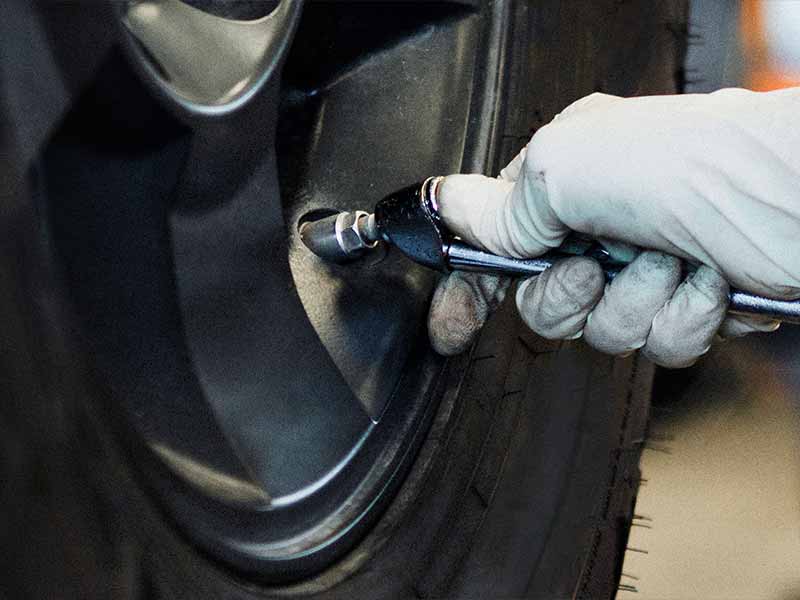 Precautions and Maintenance Tips
Your tires need a little TLC from time to time to stay at their best. Here's a quick routine to keep them happy:
Monthly Pressure Checks: Checking your tire pressure once a month can catch any slow leaks or other issues before they become big problems.
Visual Inspections: Look at your tires. Do you see any nails, tears, or bulges? These can all cause problems down the road.
Tire Rotation: Rotate your tires every 5,000 to 8,000 miles to help them wear evenly. This can extend their life and improve your vehicle's performance.
Don't DIY Everything
While it's great to handle some issues on your own, remember that some problems need a professional touch. Don't try to repair a seriously damaged tire or mess with your vehicle's Tire Pressure Monitoring System (TPMS) if you're not trained to do so. When in doubt, ask a pro!
Stay Prepared
Being ready for tire troubles can save you a lot of headaches. Keep a tire pressure gauge in your vehicle and consider carrying a portable air compressor or tire inflator for emergencies. It's also a good idea to know the location of a nearby service station with an air pump.
Resources
Below are some links you may find helpful when learning about tires
Final Thoughts
Tire inflation isn't just about pumping air into your tires – it's about keeping you safe, your ride smooth, and your vehicle efficient on the road.
We've learned a few key things:
Understanding the Basics: Knowing why tires need air and how to properly inflate them is the cornerstone to dealing with tire inflation issues.
Troubleshooting is Crucial: Recognizing problems such as a tire not filling up with air, air escaping during inflation, or issues with the valve stem are essential in keeping your tires healthy.
Effective Solutions Matter: Knowing how to use an air compressor or a service station air pump, and how to deal with a broken valve stem can get you out of a sticky situation.
Prevention is Better Than Cure: Regular checks and maintenance of your tires, knowing when to seek professional help, and staying prepared can prevent major issues from cropping up.
Remember, it's okay to call in the professionals when you're stuck. Your tires are an integral part of your vehicle, and taking good care of them will ensure they take good care of you, too. So keep these takeaways in mind, and you'll be ready to tackle any tire troubles that roll your way.
Good luck and happy motoring.