A smooth ride is not just about comfort; it's about safety, performance, and ensuring your vehicle's longevity. Ever felt your steering wheel wobble or heard an odd thumping from your wheels? Those might be signs of unbalanced wheels and tires.
Wheel Balancing Symptoms

Wheel balancing symptoms include vibrations in the steering wheel, uneven tire wear, wobbling at certain speeds, and unusual noises from the wheel and tire. Recognizing and addressing these signs ensures optimal vehicle performance and safety.
In this article, we delve deep into understanding wheel and tire balancing, identify the key symptoms of an unbalanced tire, highlight the dangers of driving with such issues, and discuss the common causes that throw tires off balance. Equip yourself with knowledge to enhance your driving experience and prioritize safety.
Let's take a closer look.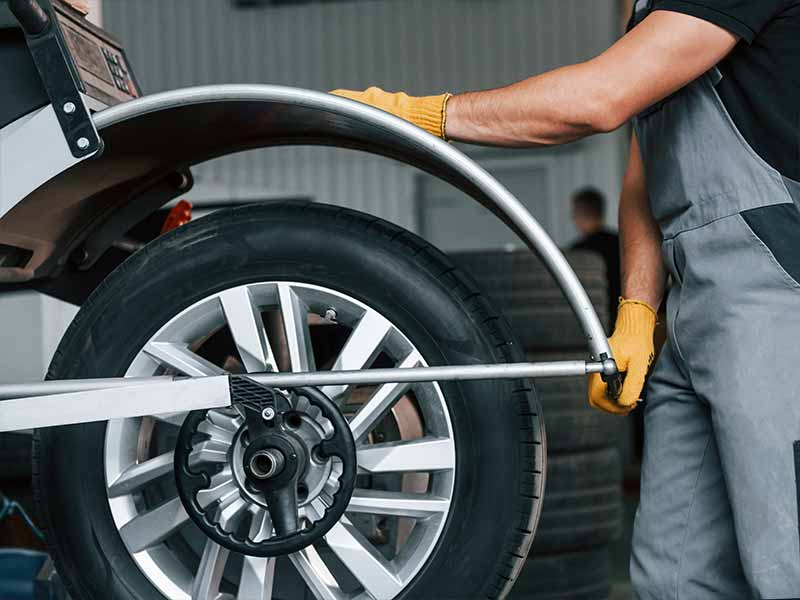 Understanding Wheel and Tire Balance
Wheel balancing, at its core, is an essential aspect of vehicle maintenance, ensuring both safety and optimal performance. When we talk about balancing a wheel, we're referring to equalizing the weight of the combined tire and wheel assembly. This allows the tire and wheel to spin smoothly at high speeds.
Why Wheel and Tire Balancing is Important
Safety: Unbalanced tires can cause uneven wear, which can lead to unsafe driving conditions. A balanced tire reduces the risks of unexpected tire failures.
Comfort: When tires aren't balanced, they can cause uncomfortable vibrations, often felt in the steering wheel or the seat. This can result in a less pleasant driving experience.
Performance: Properly balanced wheels enhance the vehicle's performance, allowing for smoother turns and better traction.
Economic Value: Balanced tires wear out evenly, meaning you won't need to replace them as often, which can save you money in the long run.
New Tire Balancing
Every time you get new tires for your vehicle, they should be balanced. Here's why:
Initial Imbalance: Even brand new tires can have slight weight imbalances due to manufacturing variances.
Matching the Wheel: Every wheel is unique, and balancing ensures that each new tire matches its specific wheel.
Wheel and Tire Balance vs Alignment
These are two different, yet vital, services for your vehicle. It's essential to understand the distinction:
Wheel and Tire Balance

Concerns the equal distribution of weight around the wheel.
Essential for preventing vibrations and uneven tire wear.

Wheel Alignment

Refers to adjusting the angles of the tires to ensure they are parallel to each other and perpendicular to the ground.
Ensures the vehicle handles correctly and reduces uneven tire wear.
In essence, while both processes aim to prolong tire life and improve vehicle safety, balancing focuses on the tire's rotation, while alignment focuses on the tire's positioning.
How Balancing is Done
Here's a brief overview of the balancing process:
Mounting: The wheel-tire assembly is mounted on a balancing machine.
Rotation: The machine rotates the tire to identify where the weights should go to counterbalance heavy spots.
Weight Addition: Small weights are added to the precise spots on the wheel to ensure even weight distribution.
The goal is to ensure that the tire's weight is evenly distributed around the axle.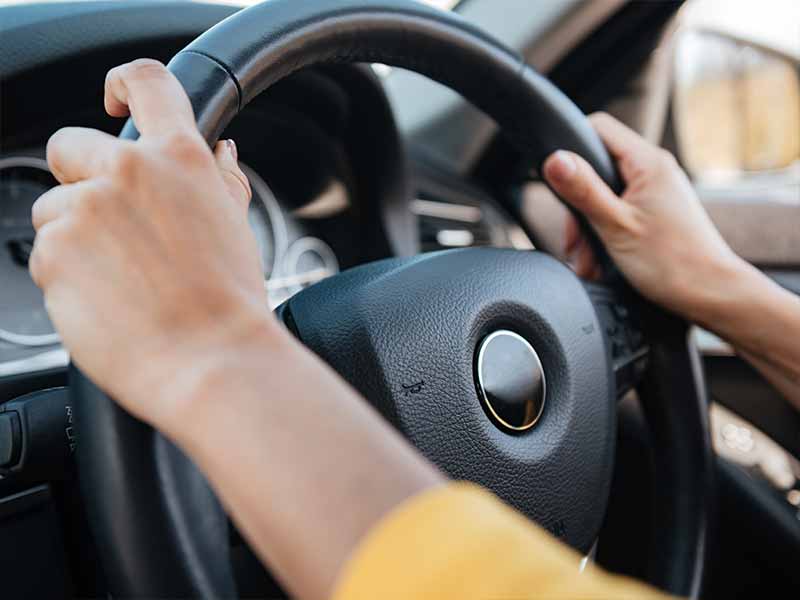 Key Symptoms of Unbalanced Tires
Knowing the signs of unbalanced tires is crucial, as it allows drivers to address potential issues before they escalate. Recognizing these symptoms early can prevent further damage and ensure a safe driving experience.
Feel and Visibility
Vibrations in the Steering Wheel
One of the most noticeable symptoms of unbalanced tires is a vibrating steering wheel, especially at higher speeds. This vibration can range from a slight tremor to a pronounced shaking.
Unusual Wobbling or Bouncing
If your vehicle wobbles or bounces at certain speeds or constantly, it's a clear indication of an imbalance issue. This wobbling might feel like the car isn't firmly connected to the road.
Uneven Tire Wear
Regularly inspecting your tires can reveal signs of unbalanced tires. Look for:

Cupping: Cupped areas or dips in the tread, which result from parts of the tire wearing faster than others.
Uneven wear patterns: This indicates that certain parts of the tire are bearing more weight or friction than others.
Identifying the Problematic Tire
To determine which tire is out of balance, pay attention to where you feel the vibrations. If it's in:

The steering wheel: Likely a front tire issue.
The seat or body of the vehicle: It might be a rear tire.
Sounds
Thumping or Humming Noises
Another symptom of unbalanced tires is hearing unusual sounds from the wheel assembly. These might manifest as:

Thumping: A repetitive sound that matches the speed of the vehicle.
Humming or droning: Typically indicates uneven wear or a tire defect.
Location Specific Symptoms
Unbalanced Front Tire Symptoms
Vibrations in the steering wheel.
Premature wear on the front tires, especially on the edges.
Rear Tire Out of Balance Symptoms
Feel of the vehicle swaying or fishtailing, especially during turns.
Vibrations felt predominantly in the seat or body of the vehicle.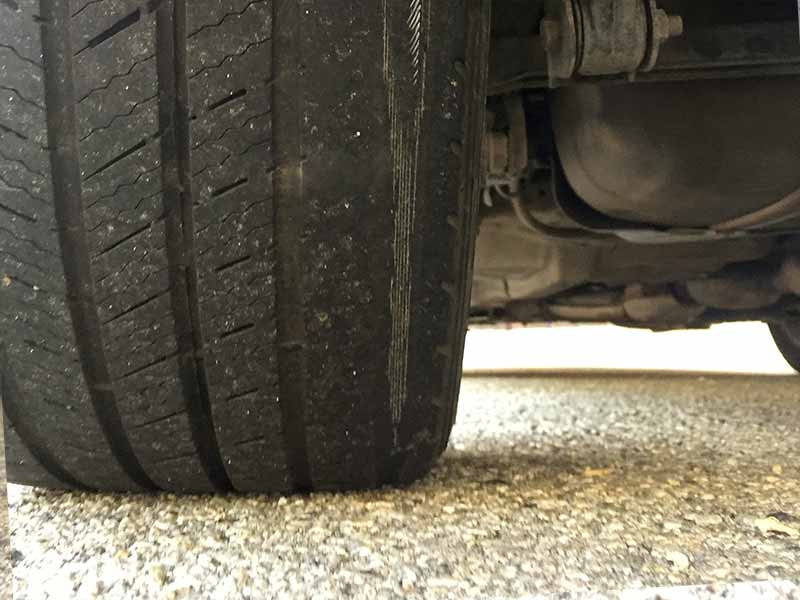 The Dangers of Driving with Unbalanced Tires
Driving with unbalanced tires is not just a matter of compromised comfort; it poses genuine risks. Recognizing these risks can underscore the importance of timely maintenance and care.
Potential Risks
Reduced Tire Lifespan
Uneven wear reduces the overall lifespan of the tire. Over time, certain areas of the tire wear down more quickly than others, necessitating premature replacement.
Compromised Vehicle Handling
A vehicle with unbalanced tires can become harder to control, especially at higher speeds or during turns.

This includes difficulty in maintaining a straight line or the vehicle pulling to one side.
Increased Fuel Consumption
Unbalanced tires can lead to reduced fuel efficiency. Since the engine works harder to maintain speed and stability, it consumes more fuel in the process.
Wear and Tear on Other Components
Other parts of the vehicle, especially components of the suspension system, bear the brunt of unbalanced tires. This can lead to:

Increased wear on shock absorbers.
Strain on wheel bearings.
Damage to the suspension system.
Increased Risk of Tire Blowouts
Tires that are worn unevenly are at a greater risk of experiencing a blowout, especially when driving at high speeds or on rough terrains.
Is it OK to Drive with Unbalanced Tires?
In short, while it might seem manageable to drive a short distance with a minor tire imbalance, it's not recommended for extended periods or at high speeds. The cumulative effects of driving with unbalanced tires not only endanger the vehicle's components but also compromise safety.
Financial Implications
While the dangers to safety and vehicle performance are paramount, there are also economic implications to consider:
Increased Maintenance Costs: The wear and tear on other components lead to more frequent and potentially costly repairs.
Tire Replacement: Premature tire replacement can be an unwelcome expense, especially if all four tires are affected.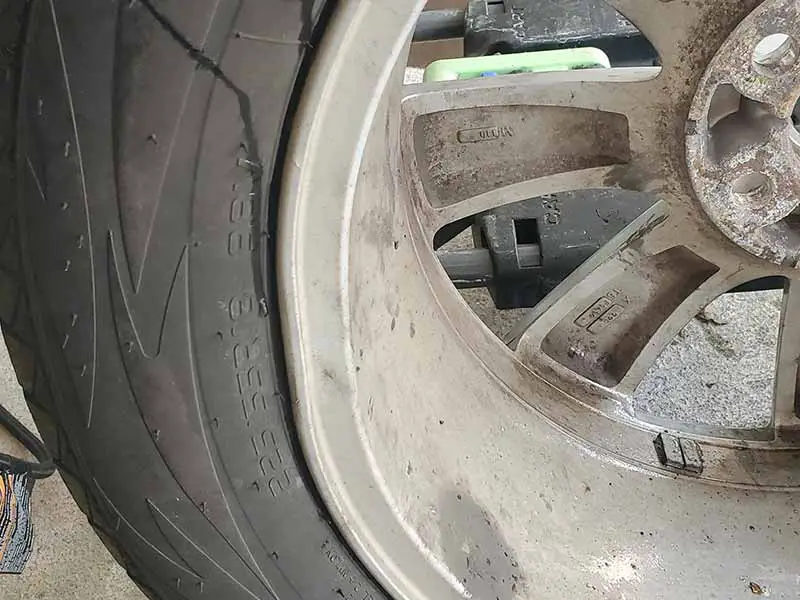 Common Causes for Tires Going Out of Balance
Tires can go out of balance for a variety of reasons. Understanding these causes can help in preventative care and timely interventions, ensuring that your vehicle remains in optimal condition.
Natural Wear and Tear
Uneven Weight Distribution: As tires are used, they naturally wear down. This wear isn't always even across the entire tire, leading to imbalances.
Rubber Degradation: Over time, the rubber that makes up a tire can degrade or lose its elasticity, especially if exposed to extreme temperatures or harsh conditions.
Damaged Wheel Assembly
Bent Wheels: An impact, such as hitting a deep pothole or curb, can bend or deform a wheel, disrupting its balance.
Loss of Wheel Weights: Sometimes, the small weights used to balance a wheel can fall off, leading to immediate imbalance.
Dirt and Debris Accumulation: Over time, dirt, mud, or other debris can accumulate on the inside of a wheel, causing imbalance.
Poor Previous Balancing
Inaccurate Balancing: If the tire balancing was not done accurately the last time it was serviced, it could lead to issues.
New Tire Installation: If a new tire is installed and not balanced correctly, it can throw off the equilibrium.
External Factors
Driving on Rough Terrains: Constantly driving on rough or uneven terrains can lead to quicker wear in specific areas of the tire.
Impacts and Collisions: A significant impact, like hitting a pothole or bump, can affect the wheel balance.
Weather Conditions: Extreme temperatures, especially cold, can affect tire pressure and, in turn, the balance.
A Note on Tire Pressure
While not directly a cause of imbalance, it's essential to note that maintaining the correct tire pressure is crucial. Improperly inflated tires can lead to uneven wear, which can exacerbate imbalance issues.
Resources
Below are some links you may find helpful when learning about tires
Final Thoughts
As we've uncovered, symptoms of unbalanced tires can range from noticeable vibrations in the steering wheel to uneven wear patterns on the tire itself. Recognizing these early signs can save you from potential hazards on the road, avoid unexpected expenses, and ensure your vehicle performs at its best.
It's crucial to regularly inspect your tires and seek professional assistance if you notice any abnormalities. By staying proactive and understanding the importance of wheel balancing, you ensure a smoother ride, reduced wear on vehicle components, and a safer driving experience.
Good luck and happy motoring.