Ever noticed your steering wheel vibrating while driving, or heard strange noises coming from your tires? These unsettling experiences could be signs that your tires are unbalanced. Ignoring these symptoms can affect your car's performance and safety.
Unbalanced Tire Symptoms

Unbalanced tires can cause a range of problems, from vibrations in the steering wheel to uneven tire wear and poor fuel efficiency. Addressing this issue is essential for safe driving and extending the lifespan of your tires.
In this article, we'll delve deep into the world of unbalanced tires, exploring the symptoms you should watch out for, what causes tires to become unbalanced, and how to fix the issue.
Let's take a closer look.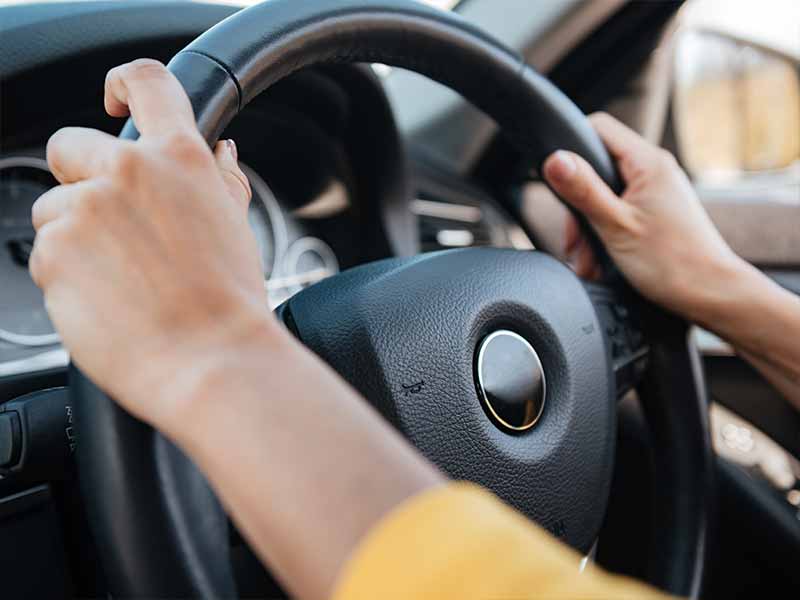 Unbalanced Front Tire Symptoms
When it comes to the tires on your vehicle, the front ones play a particularly crucial role. They're responsible for steering and have a significant impact on how your vehicle performs. That's why recognizing the symptoms of unbalanced front tires is so important.
Vibration in the Steering Wheel
One of the most noticeable symptoms of an unbalanced front tire is a vibration in the steering wheel. You might feel:
Shaking: The steering wheel shakes, especially at certain speeds.
Wobble: A less intense, more rhythmic feeling of the steering wheel moving back and forth.
This isn't just uncomfortable; it can also make it harder to control your vehicle.
Uneven Tire Wear on Front Tires
Another symptom of front tire imbalance is uneven tire wear. Uneven tire wear can manifest as:
Feathering: The edge of each tread rib develops a slightly rounded edge on one side and a sharp edge on the other.
Cupping: Dips appearing around the edge of the tread.
Flat Spots: A specific area of the tire wears down more rapidly than the rest of the tire.
You can check for these by closely inspecting the tread of your front tires regularly.
Increased Tire Noise
If your front tires are unbalanced, you may also notice an increase in tire noise, such as:
Humming: A constant low-level noise that may get louder with speed.
Thumping: A more intense noise that feels like something is hitting the ground.
Roaring: A constant noise that can be distracting and is usually indicative of more severe issues.
This noise isn't just annoying; it's a signal that your tires need attention.
Why Front Tires Are More Sensitive to Imbalance
The front tires are generally more sensitive to imbalance issues for several reasons:
Steering Control: Since the front tires control the direction of the vehicle, any imbalance is more noticeable.
Weight Distribution: The engine, usually the heaviest part of a vehicle, is situated over the front tires, making them more susceptible to wear and imbalance.
Rear Tire Out of Balance Symptoms
While front tires often get most of the attention, rear tires play an essential role in your vehicle's overall performance and safety too. An imbalance in your rear tires can lead to various issues, from a poor driving experience to decreased tire lifespan. In this section, we'll look at specific symptoms that can alert you to rear tires being out of balance.
Feeling a Shake or Wobble in the Seat
Unlike front tires, where the imbalance is usually felt in the steering wheel, rear tire imbalance often manifests as:
Seat Shaking: You may feel a noticeable shake or jiggle in your seat, particularly at certain speeds.
Car Wobbling: The entire vehicle may seem to wobble, especially when driving at highway speeds.
Uneven Tread Wear on Rear Wheels
Just like with front tires, rear tires can exhibit uneven tread wear, which can be a sign of imbalance. The types of uneven wear you might see include:
Patchy Wear: Random spots on the tire show more wear than other areas.
Heel-Toe Wear: One side of the tread blocks wears down more than the other side.
Center Wear: The middle section of the tire wears down more rapidly compared to the edges.
Regularly checking the condition of your rear tires can help you spot these issues early.
Unique Noises from the Rear
Rear tire imbalance can produce unique noises like:
Thumping Sounds: A constant thumping noise can often be heard, becoming louder with speed.
Humming Noise: A more subdued buzzing or humming noise may also indicate an imbalance in the rear tires.
Importance of Rear Tire Balance in Trucks
Trucks, which often carry heavy loads, are particularly susceptible to rear tire imbalances. An imbalance in a truck's rear tires can lead to:
Reduced Load Capacity: The imbalance can cause uneven tire wear, reducing the tire's ability to carry weight safely.
Decreased Fuel Efficiency: Unbalanced tires can increase rolling resistance, reducing fuel efficiency.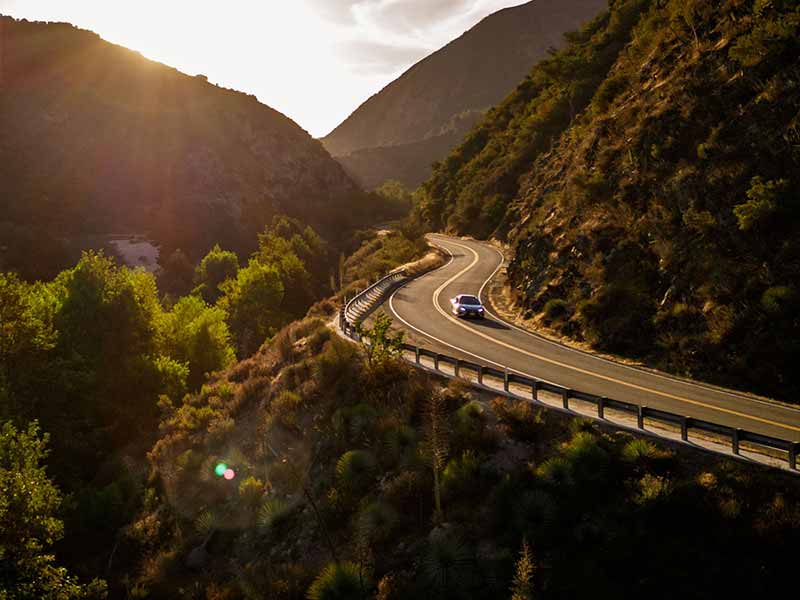 What Does an Unbalanced Tire Feel Like?
Driving with unbalanced tires can create a range of sensations and experiences that are far from ideal. In this section, we'll explore the general feelings you might experience when driving a vehicle with unbalanced tires. Knowing these signs can help you take timely action to address the issue.
General Feeling of Instability
The most common experience when driving with unbalanced tires is a sense of instability or unevenness. This can manifest as:
Jolting: The car might give you small but frequent jolts, particularly when you hit a bump.
Wobbling: The vehicle might feel like it's wobbling side to side, especially at higher speeds.
Steering Wheel Behavior
You may also notice that the steering wheel doesn't seem to cooperate as it should:
Drifting: Even on a straight road, you might feel like the car is subtly drifting to one side.
Difficulty Steering: You might find it harder to turn the wheel, or feel like you're fighting against it when making turns.
Speed-Specific Symptoms
The symptoms can also be speed-specific, meaning they occur or intensify at particular speeds:
Low Speed: At low speeds, you might not notice much, but there can be a subtle feeling of roughness.
High Speed: At highway speeds, the symptoms usually become more noticeable and may feel more intense.
What Does an Unbalanced Tire Sound Like?
While driving, we often pay attention to the sounds our vehicles make as they can be early indicators of potential issues. Unbalanced tires are no exception; they produce distinct sounds that can serve as warning signs. In this section, we'll explore the kinds of noises you should be alert for.
Common Noises Indicative of Unbalanced Tires
Unbalanced tires can generate a variety of noises, each telling its own tale. Here are some sounds to listen for:
Thumping: A rhythmic thumping sound that's usually in sync with the tire rotation.
Roaring: A constant, low-pitched roaring noise that might grow louder as you speed up.
Humming: A more subdued noise that may come and go, often heard when driving at moderate speeds.
How Sound Varies with Speed
The sounds produced by unbalanced tires can often change depending on your speed:
Low Speed: The noises might be quieter and less distinct, making them harder to identify.
Moderate Speed: As you speed up, the noises will typically become clearer and more noticeable.
High Speed: At highway speeds, the sounds can become loud and distracting, demanding immediate attention.
Positional Differences: Front vs. Rear Tires
The location of the unbalanced tire can affect the kind of noise you hear:
Front Tires: The sound might be more audible and closer to the driver, often mistaken for engine noise.
Rear Tires: The sound from the back may be less distinct but could reverberate throughout the vehicle.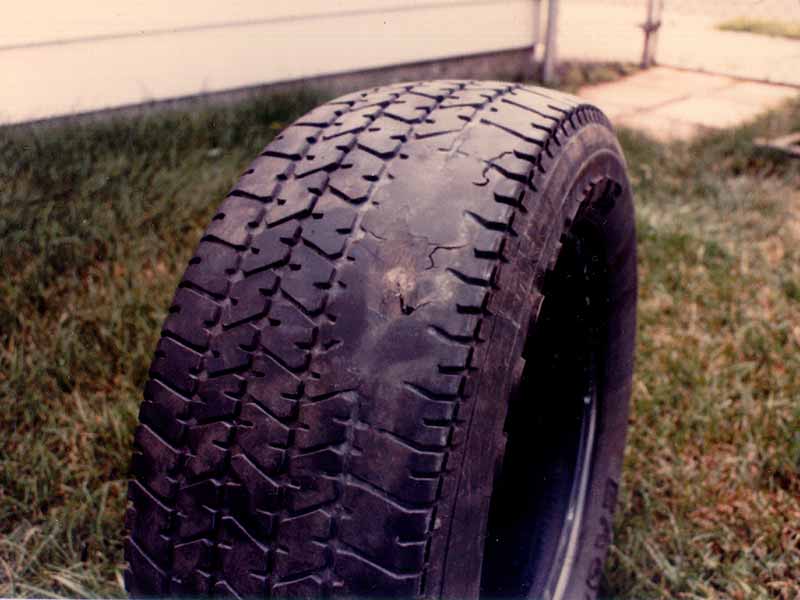 What Does an Unbalanced Tire Look Like?
Visual inspection is another valuable method for identifying whether you have unbalanced tires. In this section, we'll delve into the specific visual cues that can alert you to this issue. Knowing what to look for can save you from more serious problems down the line.
Types of Uneven Tire Wear
Unbalanced tires often show specific types of wear patterns, and these can be easily spotted upon inspection. Keep an eye out for:
Feathering: This is where the edge of the tread ribs develop a rounded edge on one side and a sharper edge on the other.
Cupping: You'll notice dips or scalloped edges on the tread of the tire.
Flat Spots: A specific area of the tire may wear down much more rapidly than the rest.
Sidewall Bulges or Damage
Unbalanced tires can sometimes lead to sidewall damage. This manifests as:
Bulges: Protruding areas on the sidewall of the tire, signaling internal damage.
Cuts or Gashes: More severe forms of damage, often making the tire unsafe to use.
Tread Depth Differences
If you have a tire tread depth gauge, you can measure the tread depth in various parts of each tire. A significant difference in measurements can indicate an unbalanced tire.
Visual Indicators on Wheel Assembly
The wheel assembly itself can also show signs of imbalance:
Loose Wheel Weights: These are small metal pieces attached to the wheel to help balance it. If they're missing or loose, your tire is likely unbalanced.
Rust or Dirt Accumulation: An uneven layer of rust or dirt on the inner surface of the wheel could be a sign of imbalance.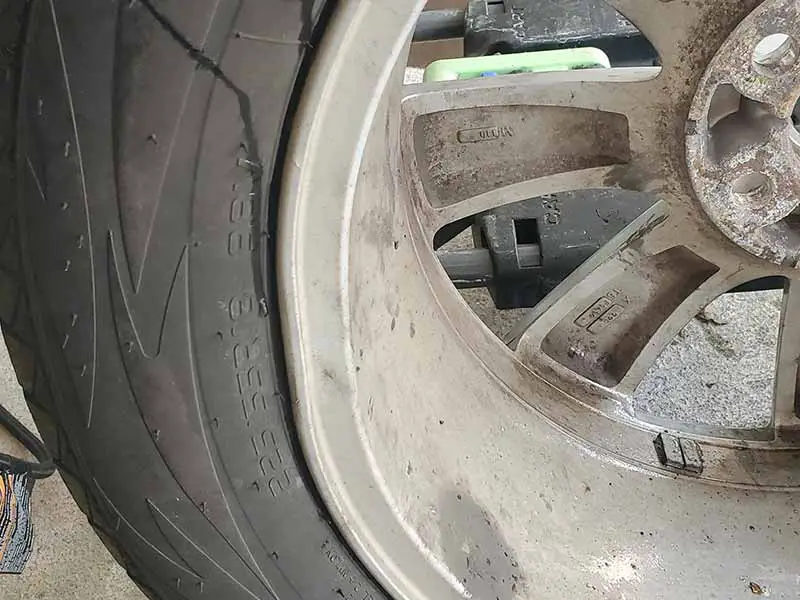 What Causes Unbalanced Tires?
Understanding the root causes of unbalanced tires can help you take preventive measures and maintain a smoother, safer ride. In this section, we'll discuss various factors that can lead to tire imbalance.
Natural Tire Wear and Tear
Tires don't wear evenly over time due to numerous factors:
Road Conditions: Potholes, rough roads, or obstacles can accelerate uneven tire wear.
Driving Habits: Aggressive driving, such as rapid acceleration and hard braking, can also lead to uneven wear.
Manufacturing Defects
While rare, manufacturing defects can cause a tire to be unbalanced from the get-go:
Uneven Rubber Distribution: Sometimes, the rubber is not evenly distributed throughout the tire during the manufacturing process.
Imperfections in the Internal Structure: Faults in the tire's internal components can also lead to imbalance.
Impact and Collisions
A significant impact, like hitting a curb or pothole, can knock a tire out of balance:
Shift in Wheel Weights: The small weights attached to your wheel assembly might get dislodged.
Structural Damage: In severe cases, the wheel or tire could be damaged, causing an imbalance.
Incorrect Tire Installation
Improper installation can immediately result in unbalanced tires:
Uneven Tightening of Lug Nuts: This can cause the wheel to sit unevenly on the wheel hub.
Mismatched Tires: Installing mismatched tires can create imbalance issues, especially on the rear wheels.
Wheel Weights Falling Off: If the small weights used for balancing the tire aren't properly secured during installation, they can get knocked off or fall off over time, causing the tire to become unbalanced.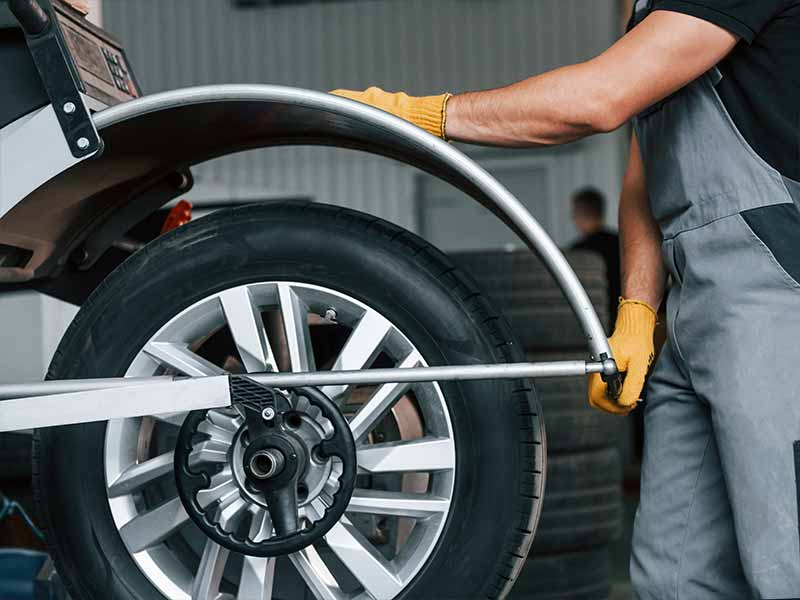 How To Fix Unbalanced Tires
If you're experiencing symptoms that point to an unbalanced tire, taking prompt action can prevent further issues and ensure a safe driving experience. Here are steps you should consider:
Immediate Steps
Slow Down: Reduce your speed to minimize vibrations and increase control over your vehicle.
Find a Safe Spot: Pull over to a safe location, away from traffic, and inspect your tires for visible damage or uneven wear.
Seek Professional Help
Visit a Tire Shop: The most reliable way to diagnose and fix unbalanced tires is to consult the experts. A professional can perform a comprehensive inspection and properly balance your tires.
Wheel Balancing: Expect your tires to be removed and placed on a balancing machine. This equipment identifies where the tire is unbalanced and allows for precise adjustment.
Maintenance and Follow-Up
Regular Checks: Even after getting your tires balanced, it's crucial to regularly check for signs of uneven wear or other symptoms of imbalance.
Scheduled Balancing: Make it a habit to have your tires balanced at regular intervals, usually every 6,000 to 12,000 miles, or as recommended by your vehicle's manufacturer.
Resources
Below are some links you may find helpful when learning about tires
Final Thoughts
From mysterious vibrations in your steering wheel to alarming sounds and visible tire wear, these signs should not be ignored. Taking the time to address these issues—whether through DIY methods or by visiting a professional tire shop—can lead to a more comfortable ride, improved fuel efficiency, and most importantly, safer driving conditions.
It's also crucial to consider other factors like alignment or suspension issues that could mimic these symptoms, making a professional diagnosis invaluable.
Good luck and happy motoring.