Ever felt your steering wheel shake like it's dancing to its own beat? Or hear humming sounds coming from your tires that makes you think, "That doesn't sound right"? It's easy to ignore these signs, but did you know that they could be pointing to a critical problem? Unbalanced front wheels and tires are more than just an annoyance—they can put a dent in your wallet and, more importantly, compromise your safety.
Unbalanced Front Tire Symptoms

Some common symptoms of front unbalanced tires are a vibrating steering wheel, odd tire noises such as thumping or humming, and cupping tire wear patterns.

Driving on unbalanced tires for prolonged periods can lead to more significant issues, such as accidents due to poor traction or a tire blowout.
In this article, you'll learn everything you need to know about unbalanced front tires—from identifying the symptoms to the steps for getting them balanced. We'll also delve into how often you should get your tires balanced.
Let's take a closer look.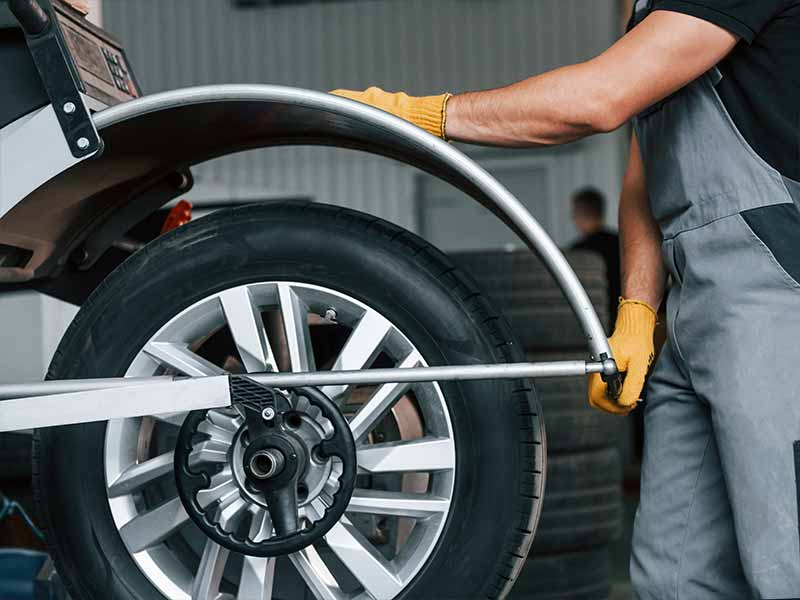 The Basics of Tire Balancing
Before we get started, let's briefly cover the basics for those that may not be aware the deal with unbalanced tires. Tire balancing is a crucial process that ensures your car's tires are spinning evenly. When your tires are balanced, they work together to give you a smoother ride, better gas mileage, and more even tire wear. In simple terms, tire balancing makes sure that each tire carries an equal amount of weight.
How it Works
When tires are made, tiny imperfections in the material can make some parts heavier than others. These imperfections can lead to "heavy spots" that make the tire unbalanced. Unbalanced wheels mean that when it spins, it wobbles a bit instead of turning smoothly. This wobble can cause a lot of problems, like making your steering wheel shake or creating uneven wear on your tire.
To fix this, mechanics use a special machine to find the heavy spots on your tire. They then add small weights to the opposite side of the tire to balance things out.
Why Front Tires are Critical
Front tires are especially important to balance because they're connected to your steering wheel. If your front tires are unbalanced, you'll feel it directly in your steering. You may experience:
A wobbly or vibrating steering wheel
Difficulty steering
Unusual noises coming from the tire area
Types of Balancing
There are generally two types of tire balancing methods:
Static Balancing: This is the simpler form of balancing. A single plane (the center of the tire's tread) is balanced. This method is often used for narrower tires.
Dynamic Balancing: This is more advanced and balances the tire on two planes: both the inside and the outside. It's generally used for wider and more modern tires.
Balancing vs. Alignment
It's easy to confuse tire balancing with wheel alignment, but they are two different things:
Tire Balancing: Focuses on the tires themselves and ensures they spin without causing vibrations.
Wheel Alignment: Focuses on adjusting the angles of the wheels so they are parallel to each other and perpendicular to the ground.
Both are important for the longevity and performance of your tires, but they address different issues.
When to Balance Tires
Experts generally recommend getting your tires balanced:
Every 6,000 to 8,000 miles
When you buy new tires
When you get a flat tire repaired
If you start feeling vibrations while driving
Symptoms of an Unbalanced Front Tire
Let's review the common symptoms of unbalanced tires.
What Do Unbalanced Front Tires Feel Like?
One of the first things you'll notice if you have an front tire imbalance is an unusual feeling when you're driving. This is often felt in the steering wheel and can include:
Wobbly or Shaking Steering Wheel: The steering wheel will shake, especially at certain speeds.
General Car Vibration: The entire car may vibrate, not just the steering wheel.
Uncomfortable Driving Experience: The ride won't feel as smooth as it should.
What Do Unbalanced Front Tires Sound Like?
A tire that is out of balance can also make specific noises. You might hear:
Humming or Roaring Noise: A constant noise that gets louder as you speed up.
Thumping or Bumping Sounds: These are usually signs of uneven tire wear, another symptom of an unbalanced tire.
What Do Unbalanced Front Tires Look Like?
Sometimes, the symptoms of an unbalanced tire can be seen rather than felt or heard. Look for:
Uneven Tire Tread: One part of the tire may wear down faster than another.
Cupping or Scalloping: Spots on the tire where the rubber has worn away more in some areas than others. These wear patterns look like diagonal grooves across the tread pattern.
The Effect on Tire Wear
An unbalanced front tire will cause uneven tire wear. This will not only shorten the lifespan of the tire but can also lead to:
Reduced fuel efficiency
More frequent tire replacements
Increased tire noise
Front Tires vs Rear Tires
While this article focuses on front tires, it's worth noting that rear tires can also be unbalanced. However, the symptoms might be less noticeable. Unbalanced front tires have a more direct impact because they're connected to the steering wheel.
High-Speed vs Low-Speed Symptoms
Unbalanced front tires can show different symptoms depending on your speed:
At Low Speeds: You might not notice much. The signs become more apparent as you speed up.
At High Speeds: The symptoms, especially vibrations, become much more noticeable and concerning.
When to Seek Professional Help
If you notice any of these symptoms, it's essential to go to a tire shop or mechanic as soon as possible. Driving with unbalanced tires can lead to further tire damage and even unsafe driving conditions.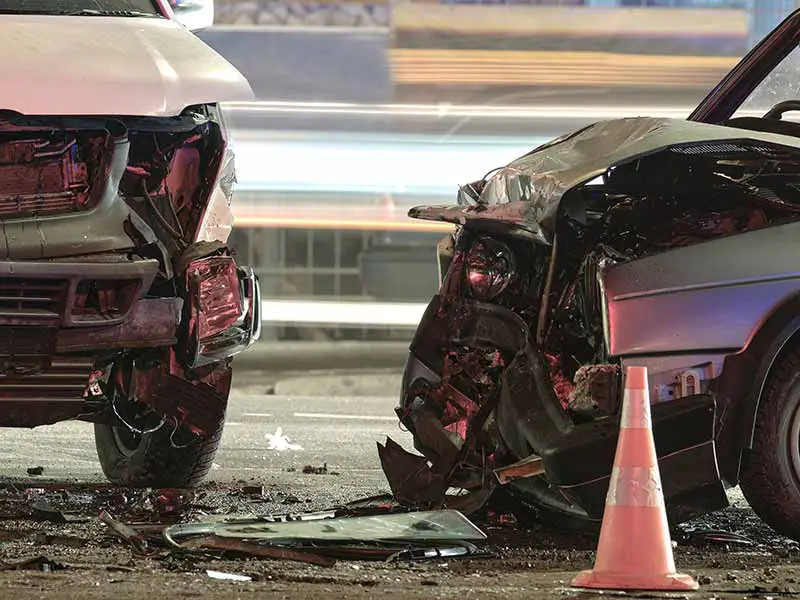 Dangers of Ignoring Unbalanced Front Tires
Ignoring unbalanced front tires can lead to immediate issues that will affect your driving experience. Some of these immediate problems include:
Uneven Tread Wear: Unbalanced tires, whether front or rear wheels, will wear faster and unevenly.
Reduced Steering Control: Unbalanced front tires can make it harder to steer your car smoothly and accurately.
Discomfort While Driving: A shaky steering wheel and vibrations throughout the car can make for a very uncomfortable ride.
Increased Fuel Consumption: Your car has to work harder when the tires are unbalanced, using more fuel as a result.
Long-Term Damage
Apart from the immediate discomfort, long-term damage is a serious concern. Here are some ways unbalanced tires can affect your vehicle:
Rapid Tire Wear: Unbalanced front tires will wear out more quickly than balanced tires, leading to more frequent and costly replacements.
Suspension Issues: The imbalance puts extra strain on your car's suspension system, leading to quicker wear and tear of components like shock absorbers and struts.
Wheel Bearings and Joints: These crucial parts of the wheel assembly may suffer premature wear due to the constant wobble and vibration from unbalanced tires.
Brake System: Unbalanced tires can lead to uneven brake pad wear, compromising your car's stopping power over time.
Safety Risks
Ignoring unbalanced front tires isn't just bad for your car; it's also dangerous. Some of the safety risks include:
Reduced Road Grip: Uneven tire wear can lead to reduced traction, making it harder for you to control your car, especially in poor weather conditions.
Increased Risk of Tire Blowout: The uneven wear and tear on your tires can make them more susceptible to blowouts, which are dangerous at high speeds.
Handling Issues: You may find your car drifting or pulling to one side, making it more difficult to navigate turns safely.
Real-World Scenarios
To provide a more concrete sense of the dangers, consider these real-world scenarios:
Highway Driving: Imagine you're going at high speeds on a highway, and a tire blowout happens. The results could be disastrous.
Slippery Roads: On a rainy or snowy day, reduced traction due to uneven tire wear could lead to skidding and possibly an accident.
Financial Costs
Lastly, ignoring unbalanced front tires can hit you in the wallet:
More frequent visits to the tire shop for replacements or repairs
Additional wear and tear on other car parts, leading to more frequent and costly repairs
Increased fuel costs due to lower fuel efficiency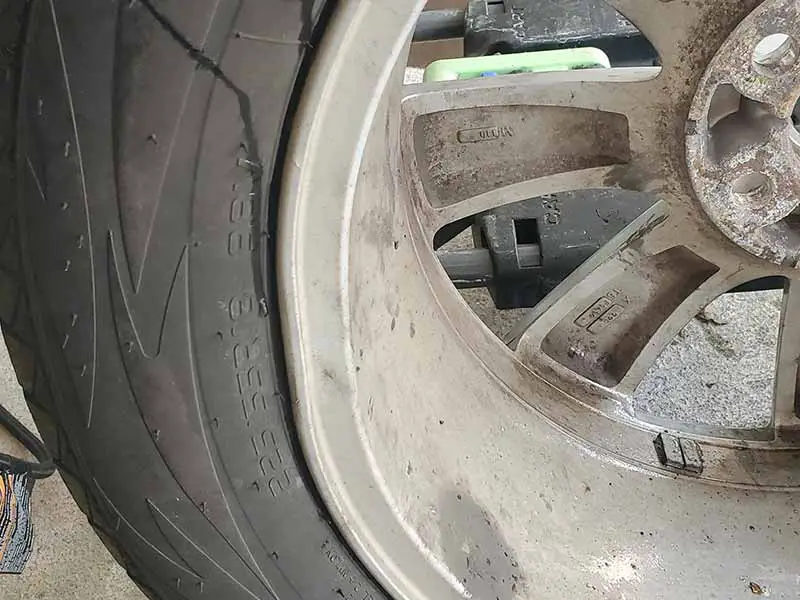 What Throws Off Tire Balance?
As you drive, various factors can throw your tires out of balance. Even if your tires were perfectly balanced when you first got them, everyday driving can alter that balance. Here are some common culprits:
Losing a Wheel Weight: Wheel weights are used to balance tires and if one of these weights falls off it will cause the uneven weight distribution to come back.
Tire Wear: As you drive, your tires naturally wear down. This can happen unevenly and lead to imbalance.
Potholes and Road Conditions: Hitting a pothole or driving on rough terrain can throw a tire out of balance.
Temperature Changes: Rubber expands and contracts with temperature. Extreme changes can affect the balance of your tire.
Less Common Causes for Imbalance
While daily wear and tear is a common cause, there are other, less common factors that can affect balance:
Manufacturing Defects: Sometimes a tire can be unbalanced straight from the factory.
Tire Repairs: When a tire is repaired, especially if not done properly, it can throw off the balance.
Front Tires: The Vulnerable Duo
Front tires are especially prone to becoming unbalanced due to their role in steering and handling. If a front tire becomes unbalanced, you're more likely to notice issues like:
A shaking steering wheel
Trouble keeping your car in a straight line
Faster tire wear in certain spots
The Impact on the Wheel Assembly
An unbalanced tire can have a ripple effect on your car's wheel assembly. The imbalance can lead to:
Premature wear on suspension components
Unnecessary stress on wheel bearings
Uneven brake pad wear
Checking for Imbalance
If you suspect your tires might be out of balance, look for:
Uneven tire wear
Vibration or wobbling at certain speeds
A steering wheel that doesn't stay straight
Regular Maintenance is Key
Maintaining your tires is a proactive way to prevent them from becoming unbalanced. Regular tasks should include:
Tire rotation every 6,000 to 8,000 miles
Regular air pressure checks
Inspection for cuts, punctures, or visible signs of wear
Resources
Below are some links you may find helpful when learning about tires
Final Thoughts
From a shaky steering wheel to uneven wear and tear, these symptoms shouldn't be ignored. As we've discussed, you should get your tires balanced every 6,000 to 8,000 miles or when you notice any troubling signs. Failing to do so not only affects your front tires but can also impact your rear ones, compounding the problems.
Good luck and happy motoring.