Ever been on a road trip and felt your car vibrating like it's part of a dance routine? It could be trying to tell you something important—your rear tires might be out of balance. Ignoring this not-so-subtle hint can lead to a slew of problems, some of which may be costly and dangerous.
Rear Tire Out Of Balance Symptoms

Some out-of-balance rear tire symptoms are vibrations in the car, a cupping tread wear pattern, and thumping or rhythmic noises. Addressing the issue promptly can prevent further damage and ensure a smoother, safer drive.
In this article, we delve into the tell-tale signs of unbalanced rear tires, the factors that can throw off your tire's balance, the risks of ignoring the problem, and actionable steps for diagnosis and solutions.
Let's take a closer look.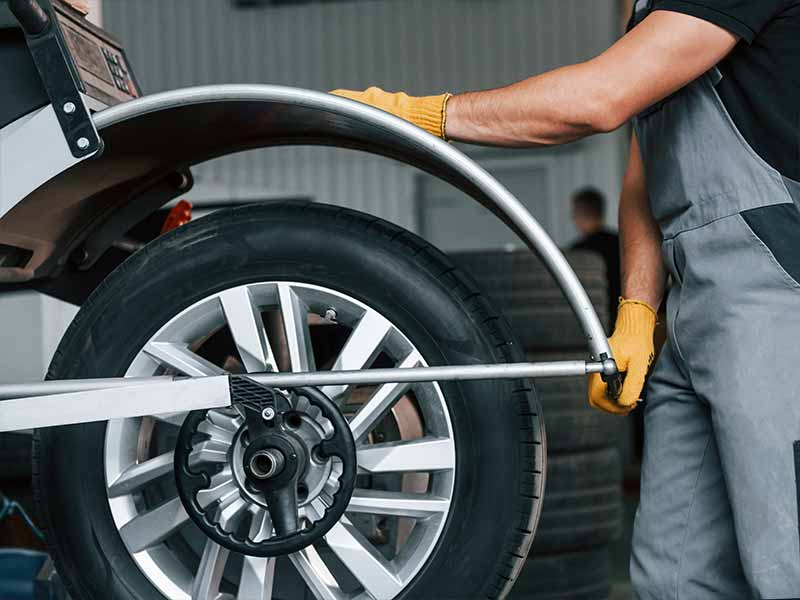 What is Tire Balancing?
Before we get started, let's break this down into simpler terms and delve into why it's so important for anyone that may not completely understand the specifics of unbalanced tires.
What Does Balancing Do?
When we talk about balancing a tire, we're really talking about making sure the weight of the tire is evenly distributed around the wheel assembly. This includes the tire itself, the metal wheel it sits on, and the air inside the tire.
Even Weight: Think of a tire as a circle. If one side of that circle has more weight, the circle won't roll smoothly. The same principle applies to your tire.
Rotation: When your tire rotates, any imbalance in weight can cause wobbles or vibrations. These can travel up to your steering wheel, making for a shaky ride.
Why is it Important?
Balancing your tires, especially the rear tires, plays a vital role in your car's performance and your safety.
Longer Tire Life: Unbalanced tires can lead to uneven tire wear. This means you'll need to replace them more often.
Smoother Ride: Nobody likes a car that feels bumpy or shaky. Balanced tires make your ride more comfortable.
Steering and Control: Unbalanced tires can affect your steering wheel and your ability to control the car, especially when you're making turns or driving at high speeds.
Front Tires vs. Rear Tires
Both front tires and rear tires need to be balanced, but the symptoms and impacts might vary.
Front Tires: When these are out of balance, you'll often feel vibrations in the steering wheel.
Rear Tires: If your rear tires are unbalanced, you might feel vibrations in the seats or floor of the car. You may not notice these symptoms as quickly as you would with unbalanced front tires, so pay close attention.
How is it Done?
Tire balancing is typically performed with specialized machines at a tire shop. Here's a simplified rundown of the process:
Remove the Tire: The tire is removed from your car and placed on a balancing machine.
Spin and Measure: The machine spins the tire to measure where the weight is unevenly distributed.
Add Weights: Small weights are added to the lighter side of the tire to even out the weight distribution.
Re-test: The tire is spun again to make sure it's balanced.
Re-install: Finally, the balanced tire is placed back on your car.
Symptoms of an Unbalanced Rear Tire
Understanding the symptoms of an unbalanced rear tire is essential for a smooth and safe driving experience. Knowing what to look for can help you act quickly, potentially saving you money and ensuring your safety.
What Does an Out-of-Balance Rear Tire Feel Like?
One of the first signs of an unbalanced rear tire is a strange feeling while you're driving, specifically in the form of vibrations.
Steering Wheel: You might notice a slight to significant shake in the steering wheel, even if the imbalance is in the rear tire.
Car Seats and Floor: When rear tires are out of balance, you're more likely to feel vibrations in the seats or even through the car floor.
Acceleration and Speed: These vibrations can become more pronounced as you speed up.
What Does an Out-of-Balance Rear Tire Sound Like?
Unbalanced tires can also make certain sounds that are different from what you would typically expect to hear.
Thumping Noise: A low, rhythmic thumping sound coming from the rear of the car is often a key indicator.
Increased Road Noise: You may notice an increase in road noise when driving, especially on smooth surfaces where you'd usually expect a quiet ride.
What Does an Out-of-Balance Rear Tire Look Like?
Sometimes, you can see the signs of an unbalanced tire before you can feel or hear them.
Cupping Tire Wear: Tire cupping, also known as "scalloping," is a specific kind of tire wear that creates dips or cups in the tread of your tires. Unlike regular tire wear, which is usually even across the tire's surface, cupping is characterized by uneven dips and rises.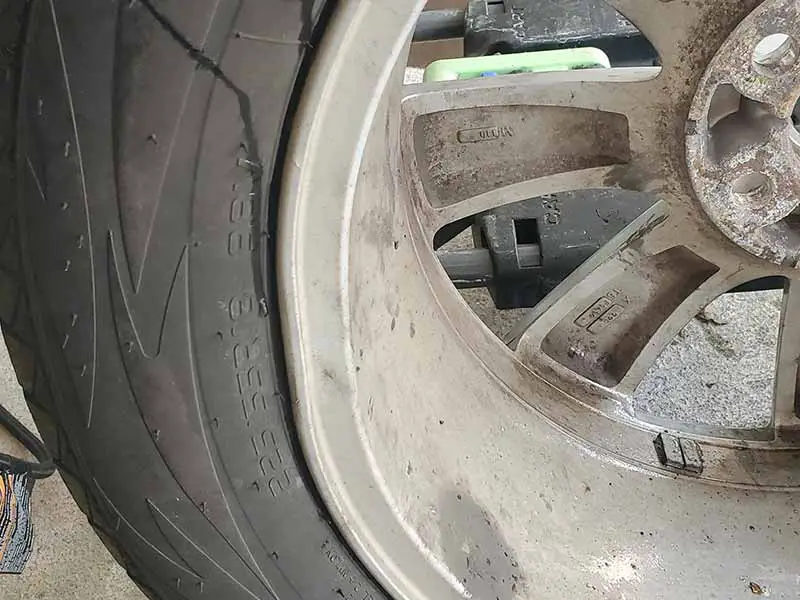 What Throws Off Tire Balance?
Knowing what can cause your tires to become unbalanced is just as important as recognizing the symptoms. Let's explore the various factors that can lead to this issue, so you can be better prepared to prevent or fix it.
Natural Causes
Tires don't stay balanced forever. Over time, they can naturally become unbalanced due to a variety of reasons.
Tire Wear: As you use your car, the tread on your tires gradually wears down. This can change the distribution of weight around the tire.
Temperature Changes: Fluctuations in temperature can affect the air pressure inside your tires, which can also influence balance.
Road Conditions
The quality of the roads you drive on can have a significant impact on your tire balance.
Potholes: Hitting a pothole can jolt the tire and wheel assembly, potentially causing an imbalance.
Rough Roads: Consistent driving on gravel or poorly-maintained roads can also contribute to unbalanced tires.
Accidents and Collisions
Even minor accidents can have a big effect on tire balance.
Impact: A strong impact, like hitting a curb, can disrupt the balance of your tire.
Tire Damage: Sometimes, an accident can cause visible damage to the tire or wheel, which can throw off the balance significantly.
Incorrect Installation
Believe it or not, sometimes the problem starts right at the installation phase.
Losing a Wheel Weight: If wheel weights aren't properly installed, they can come lose and fall off which will make your tire out of balance again.
Improper Mounting: If the tire isn't mounted on the wheel assembly correctly, it can become unbalanced from the start.
Lack of Calibration: Skipping the balancing process after installing new tires or wheels can lead to immediate imbalance issues.
Maintenance Activities
Certain types of car maintenance can inadvertently unbalance your tires.
Rotation: Sometimes, just rotating the tires can throw off their balance, especially if they're moved from the front to the rear or vice versa.
Changing Parts: Replacing or repairing parts in the wheel assembly can also disturb the balance.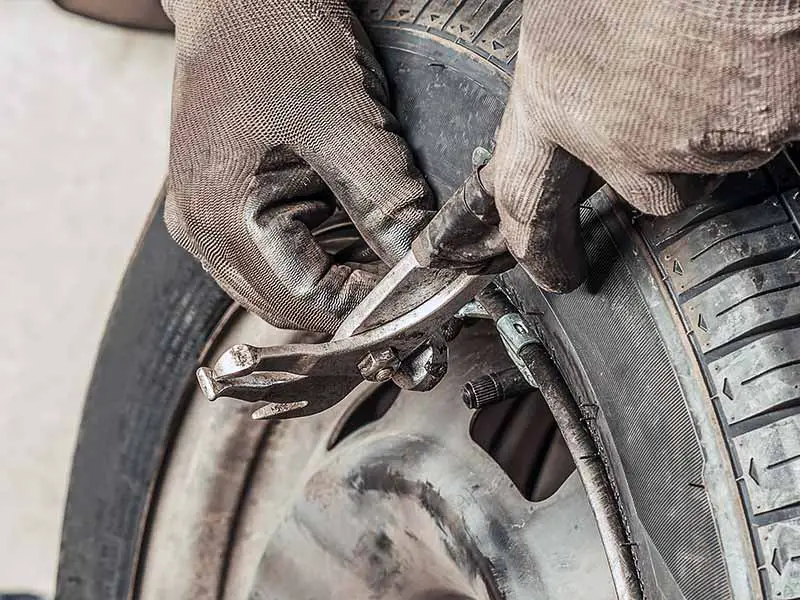 How to Fix an Unbalanced Rear Tire
So, you've identified the symptoms and understand the risks. What next? It's time to take action. Here's a guide on how to effectively address an unbalanced rear tire issue.
DIY Checks
Before heading to a tire shop, there are a few things you can do yourself to confirm if your suspicions about an unbalanced tire are correct.
Visual Inspection: Look for uneven tire wear or tread. It might give you a clue about the balance of your tires.
Spin Test: While the tire is lifted, give it a spin. Watch to see if it spins evenly or wobbles. A wobbling tire is a sign of imbalance.
Professional Help
While some basic checks can be done at home, balancing a tire is a job for professionals.
Choosing a Tire Shop
Certifications: Look for a tire shop that is certified. This means they meet certain standards and are more likely to provide good service.
Reviews and Recommendations: Check online reviews or ask friends for recommendations.
Equipment: Make sure they have the proper balancing machines and tools to do the job.
The Balancing Process
Once you're at the shop, here's what you can expect.
Assessment: The technician will likely start by assessing your tire's condition.
Removal and Mounting: The suspect tire is removed and placed on a balancing machine, just like in the initial installation.
Balancing: Weights are added to correct any imbalances, and the tire is retested to ensure it's balanced.
Reinstallation: Your balanced tire is put back on your car, and you're good to go.
Post-Balancing Checks
Once your tire has been balanced, there are a couple of things to keep in mind.
Initial Drive: Pay attention during your first drive post-balancing. The issues you noticed should be gone, and your ride should be smoother.
Regular Checks: Even after your tire has been balanced, regular checks are crucial to maintaining them in good condition.
Cost and Time Considerations
Cost: Prices for balancing a tire can vary. Always ask for a quote upfront.
Time: The process usually doesn't take very long—perhaps an hour or two at most.
Resources
Below are some links you may find helpful when learning about tires
Final Thoughts
Remember, symptoms like vibrations, noise, and uneven tire wear are your car's way of signaling for help. Ignoring these symptoms can lead to increased costs, a rough driving experience, and even potential safety hazards. 
The good news is, both diagnosis and solutions are straightforward—some can be done at home while others require a quick trip to a professional tire shop.
Good luck and happy motoring.