Ever thought about what happens behind the scenes when you roll your car into a service center for new tires? Or maybe you've wondered if you could take on the task yourself?
Either way, understanding the ins and outs of tire mounting and balancing can save you money and keep your ride smooth and safe.
Cost To Mount And Balance Tires

The cost to mount and balance tires varies depending on the service provider, but typically ranges from $12 to $25 per tire. This includes labor costs, mounting, balancing, and additional components like valve stems and TPMS sensors, if necessary.
In this article, we'll explore the different costs associated with having your tires balanced and mounted, including labor, valve stems, TPMS, mounting, balancing, and tire disposal. We'll also compare prices at various service providers like Walmart, Discount Tire, Costco, and others. Additionally, we'll discuss whether it's possible to mount and balance tires at home, and provide tips on how you can save money on these services.
Let's take a closer look.
Understanding The Costs Of Mounting And Balancing Tires
Let's get down to the nitty-gritty of the costs involved in tire mounting and balancing. When you have tires mounted and balanced there may be more going on than you realize:
Labor Costs
Labor costs are the fees you pay for the technician's time and expertise. These vary depending on where you go, but they generally range from $15 to $50 per tire. Remember, these guys are professionals who ensure your tires are safe and sound, so their time is pretty valuable!
Valve Stems
Next up, we've got valve stems. These little guys may seem insignificant, but they're super important! They're the access point to the inside of your tire, allowing air in and out. You typically need to replace these when you get new tires. Expect to cough up an extra $2 to $5 per tire for this.
TPMS
The Tire Pressure Monitoring System (TPMS) sensors are another key player in our tire maintenance game. If your car is newer, like post-2007, it probably has TPMS. When you get new tires, sometimes the TPMS needs to be replaced, especially if it's not working properly. This can be a bit pricey—anywhere from $50 to $100 per sensor.
Mounting
Mounting is the process of putting your new tires onto your vehicle's wheels. It's a pretty precise operation that requires the right equipment and a skilled technician. You're looking at around $30 to $40 per tire for this service.
Balancing
Now, onto balancing. Ever noticed a wobbly steering wheel? That's what happens when your tires aren't balanced properly! Balancing ensures that the weight of the tire is evenly distributed around the wheel, providing a smooth ride. This service typically runs between $10 to $20 per tire.
Tire Disposal
Finally, there's tire disposal. Most service centers charge a fee to properly dispose of your old tires, which is a crucial step in keeping our environment clean. This cost is typically around $2 to $5 per tire.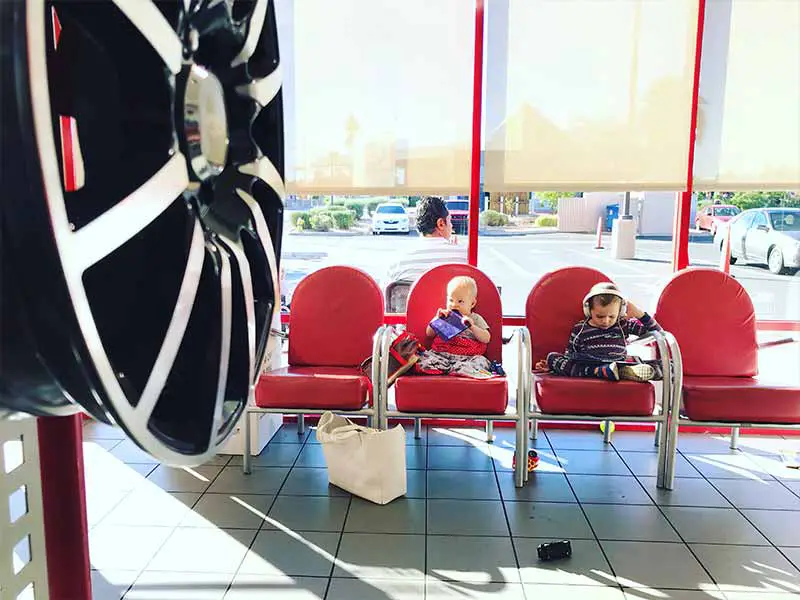 The Cost To Have Tires Mounted And Balanced At Different Service Providers
Ah, the moment you've all been waiting for – let's talk numbers, shall we? Now, the costs can vary quite a bit depending on where you go. But don't worry, we've got your back! Here's a handy comparison of what you can expect to shell out at some of the major service providers.
Walmart
Starting off with Walmart, their Auto Care Center is pretty well-known for its affordability. You can expect to pay about $12 per tire for a basic mount and balance. If you buy your tires from Walmart, they'll even throw in some additional services for free, like lifetime balance and rotation. Score!
Discount Tire
Next up is Discount Tire. They're known for their good service and they have a ton of locations nationwide. They usually charge around $16 to $20 per tire for mounting and balancing, but they often have deals if you purchase your tires from them.
Costco
Moving onto Costco, this is a popular choice for those who have a membership. They charge about $15 per tire for mounting and balancing, and that also includes nitrogen inflation, which can help keep your tire pressure more stable over time. Plus, they provide free rotation and balancing services for the life of the tires if you buy them there.
Les Schwab
Les Schwab is a solid choice, particularly in the western U.S. They offer free lifetime tire care when you purchase tires from them. This includes free tire mounting, balancing, and rotations. If you're just going for a mount and balance, expect to pay about $16 to $21 per tire.
Sam's Club
At Sam's Club, another membership-based store, you'll pay around $15 per tire for mount and balance. But get this: if you buy your tires from Sam's Club, you get mounting, balancing, tire rotation, flat repair, and even emergency roadside tire service for free!
Mavis
Over at Mavis Discount Tire, you'll see similar prices. Mounting and balancing will cost you about $20 per tire. But keep an eye out for their sales and service package deals—they can be real money savers.
Firestone
Firestone Complete Auto Care usually charges around $23 per tire for mounting and balancing. While it's a bit more expensive, customers praise their high-quality service. Plus, they often offer discounts and specials, so keep a lookout for those.
Goodyear
Goodyear Auto Service also offers a reliable, high-quality service. Mounting and balancing there will run you about $25 per tire. But, as with most places, if you buy your tires from Goodyear, they often have special offers that include free or discounted services.
Pep Boys
Last but not least, we've got Pep Boys. They charge around $20 per tire for mounting and balancing. Like others, if you buy your tires from them, they offer a slew of free services including alignment checks and lifetime tire rotations.
DIY Wheel Balancer
Is It Possible To Mount And Balance Tires At Home?
So you're a hands-on type of person, eh? Thinking about tackling tire mounting and balancing yourself? Well, it's not impossible, but it's a tricky business.
Let's break it down for you:
Mount Tires Yourself
First off, mounting tires isn't a walk in the park. You'll need some specialty tools, like a tire changer and a bead breaker. Plus, you'll need a good bit of elbow grease, and a healthy respect for safety—tires can be heavy and unwieldy.
The basic steps go something like this:
Use a bead breaker to loosen the tire from the rim.
Once it's loose, use a tire changer to pry the tire off the rim.
Take your new tire, apply some lubrication to the bead (the edge of the tire), and use the tire changer to mount it onto the rim.
Inflate the tire to the right pressure, making sure the bead seats correctly on the rim.
Easy, right? Well, maybe not so much. It's a tough job, and not recommended for beginners.
Balancing Your Own Tires
Balancing tires at home is a little trickier. This is because it requires a machine to spin the tire and find the heavier side. Once the heavier side is identified, weights are added to the opposite side to balance it out. So, unless you've got a tire balancing machine sitting in your garage, it might be best to leave this one to the pros.
Safety First!
Remember, working with tires can be dangerous if not done correctly. Always follow safety precautions and use the right tools. Never try to force a tire onto a rim – you could damage the tire, the rim, or worse, yourself.
Cost Comparison: DIY vs. Professional Services
Now, you might be thinking: "But I'll save money if I do it myself, right?" Well, that depends. If you already have the necessary equipment and know-how, sure, you might save a few bucks. 
But consider this: the cost of buying all the necessary equipment, the time it will take (especially if it's your first time), and the potential for error or injury.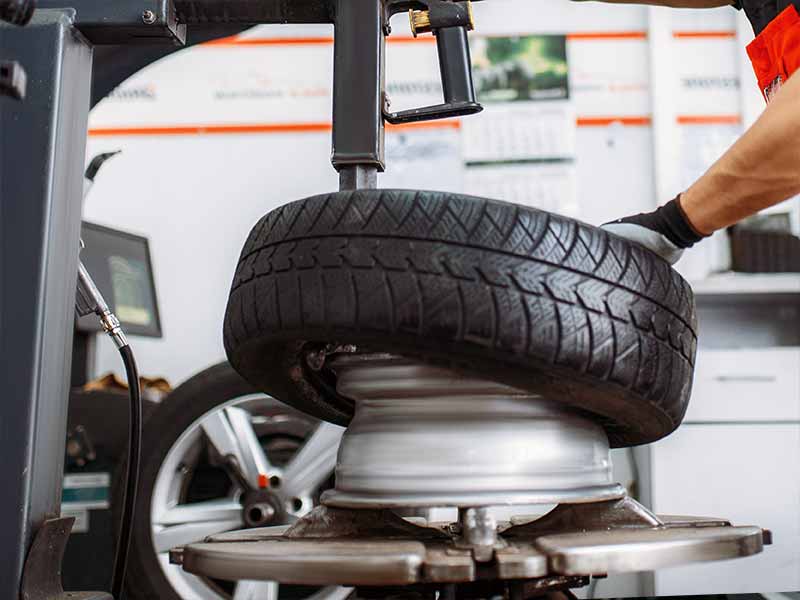 How To Save Money On Mounting And Balancing Tires
Now that we've talked about the ins and outs of mounting and balancing tires, let's chat about saving some hard-earned cash. Who doesn't like that, right? Here are some savvy tips to get the most bang for your buck.
Compare Prices
Just like when you're shopping for a new pair of sneakers or the latest tech gadget, it pays to shop around. Different tire service centers have different prices. As we covered earlier, Walmart, Discount Tire, Costco, Les Schwab, Sam's Club, Mavis, Firestone, Goodyear, and Pep Boys all have different rates.
Spend a little time doing research, and you might find some surprising deals!
Only Do It When Necessary
Mounting and balancing isn't something you need to do all the time. Usually, you only need to mount and balance when you're getting new tires.
However, if you feel your steering wheel shaking when you're driving, that could be a sign that your tires need balancing. No need to get these services if you're not experiencing any issues!
Regular Tire Maintenance
One of the best ways to save money on tires in the long run is by taking care of the ones you have. This includes maintaining the right tire pressure, rotating your tires regularly, and having your alignment checked.
A little bit of preventive maintenance can go a long way in extending the lifespan and performance of your tires.
Membership Benefits
If you're a member of a store like Costco or Sam's Club, you might be able to get discounts on tire services. Sometimes these places offer lower prices for members or include additional services like rotation and balance for free if you buy the tires from them.
Resources
Below are some links you may find helpful when learning about tires
Final Thoughts
And there you have it, my friends – the complete lowdown on tire mounting and balancing. Here's what we've discovered on this journey:
Understanding costs is key: From labor to valve stems, and from TPMS sensors to the actual mounting and balancing, knowing the costs helps us make informed decisions. Remember, the price can range from $12 to $25 per tire, depending on where you go.
Service providers have varying prices: From Walmart to Pep Boys, each provider has different prices and services. So, always compare prices and look out for deals or additional services that come with purchasing tires from them.
DIY tire mounting and balancing is possible, but tricky: Yes, you can mount and balance your tires at home, but it requires specific equipment and can potentially be more costly (and risky) if not done correctly.
Save money with smart choices: Regular maintenance, comparing prices, and taking advantage of membership benefits can help you save money in the long run.
Understanding the process of tire mounting and balancing not only allows us to navigate the costs but also to ensure we're providing our vehicle with the best care possible.
Remember, maintaining your tires isn't just about saving money, it's about ensuring a safe and smooth ride for you and your passengers.
Good luck and happy motoring.