Have you ever felt your car shaking as you drive, making you wonder if it's a minor nuisance or a sign of something serious? When it comes to your car, taking chances isn't an option. 
Understanding what's really going on with those vibrating tires could be the key to preventing major issues down the road.
Can Unbalanced Tires Cause Vibration?

Yes, unbalanced tires can cause vibration in your vehicle. The symptoms can vary from mild to severe and may be more noticeable at certain speeds.
In this article, we'll delve deep into why unbalanced tires can cause your vehicle to vibrate. We'll look at the common symptoms, what exactly causes tire imbalance, and the steps you can take to correct the issue.
Let's take a closer look.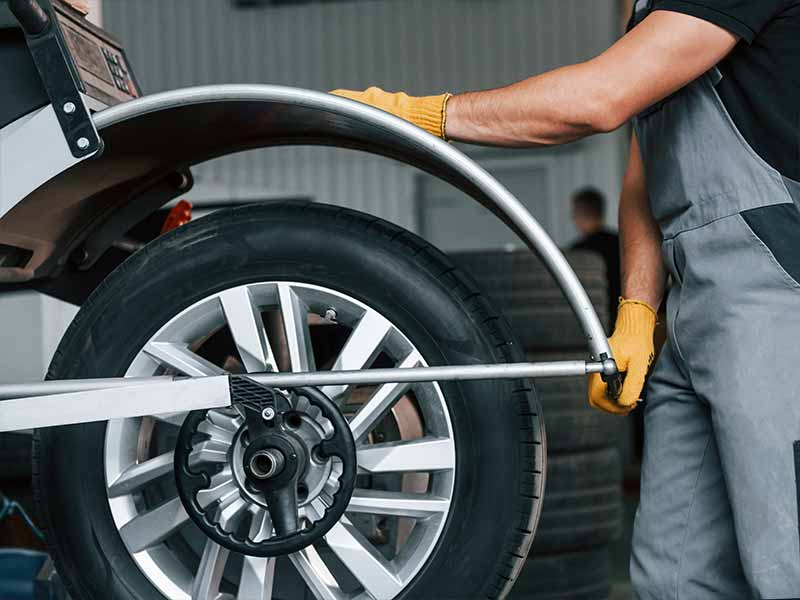 What is Tire Balancing?
At its core, tire balancing is about making sure that a tire spins evenly, without wobbling or causing vibrations. Imagine your tire as a spinning top. If it's perfectly balanced, it will spin smoothly. If not, it will wobble and eventually fall over. Similarly, unbalanced tires can make your whole car shake, cause uneven tire wear, and even lead to dangerous driving situations.
How Tire Balancing is Done
The process of tire balancing involves placing your tire and wheel on a specialized machine known as a balancing machine. This machine spins the tire and identifies the points where the weight is unevenly distributed.
Static Balancing: This method checks the tire's balance by looking for "heavy spots" that could cause the tire to wobble as it spins. Small weights are then attached to the rim to counteract these heavy spots.
Dynamic Balancing: This is a more comprehensive method that also considers the tire's overall equilibrium while spinning. Weights are added to both the inside and outside of the wheel to ensure a more perfect balance.
Importance of Even Weight Distribution
When a tire is unbalanced, certain parts will bear more weight than others as you drive. This leads to:
Uneven tread wear
Lower fuel efficiency
Extra stress on vehicle components
Indicators That You May Need Tire Balancing
While this article will delve into symptoms more deeply in later sections, here are some initial clues that your tires might be unbalanced:
Shaking or vibrating steering wheel
Uneven tire wear
Vibrations felt in the seats or floor of the car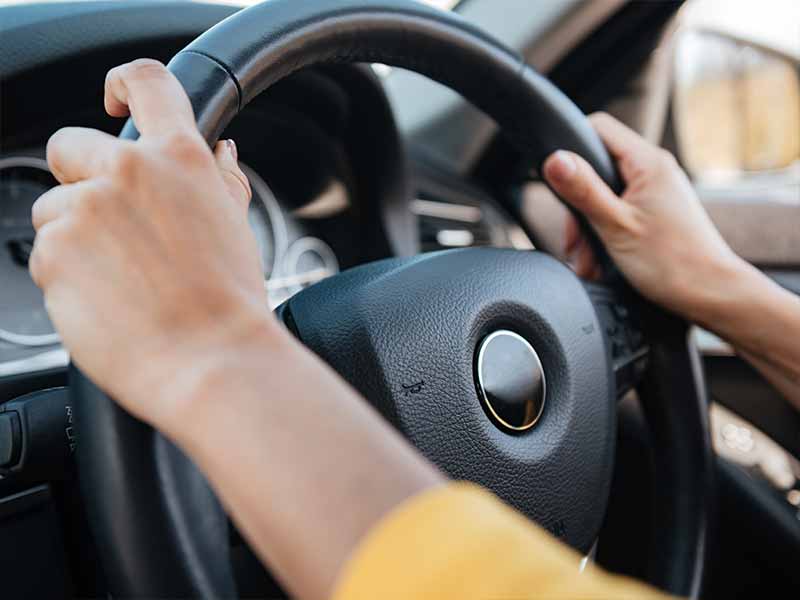 Symptoms of Unbalanced Front and Rear Tires
Before diving into the specifics for front and rear tires, here are some general symptoms to look out for:
Shaking or Vibrations: You may feel a shaking sensation in the steering wheel, seats, or even the entire vehicle.
Uneven Tread Wear: You'll notice that some parts of your tires look more worn out than others.
Poor Fuel Efficiency: Because the tires are struggling to rotate smoothly, your car will consume more fuel than it should.
Noise: Unbalanced tires can cause humming, buzzing, or thumping noises.
Symptoms Specific to Front Tires
Now let's get into the specifics. Symptoms can differ based on whether the unbalanced tire is at the front or the rear of the vehicle.
Shaking Steering Wheel
If your front tires are unbalanced, the first thing you'll likely notice is a shaking or vibrating steering wheel. This happens because the front tires are directly connected to the steering system.
Wandering Vehicle
Your car might start to drift slightly to one side while you're driving, making it hard to maintain a straight line. This is known as "wandering," and it can be both annoying and dangerous.
Uneven Wear on Front Tires
You may notice that the tread on your front tires wears out more quickly or unevenly compared to the rear tires. This is a clear sign of unbalance and should be addressed promptly.
Symptoms Specific to Rear Tires
Unbalanced rear tires also come with their own set of issues.
Seat and Floor Vibrations
If the rear tires are unbalanced, you'll likely feel vibrations in the seats or the floor of the vehicle. These are subtler than steering wheel vibrations but are equally concerning.
Vehicle Sway
Unbalanced rear tires can cause your vehicle to sway or feel "loose," especially when making turns or driving on uneven roads.
Uneven Wear on Rear Tires
Just like with the front tires, uneven tread wear is a strong indicator that your rear tires are unbalanced. Make sure to keep an eye out for this as well.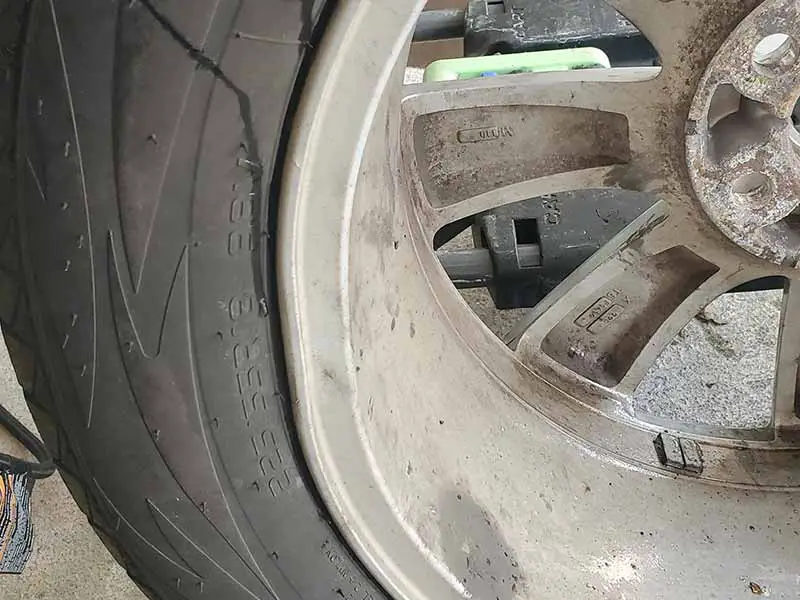 What Causes Tire Vibration?
Understanding the root causes of tire vibration can help you solve the problem effectively. Here, we'll explore the primary reasons why tires may become unbalanced, leading to those pesky vibrations.
External Factors
Sometimes, the world around you can throw your tires out of balance. Here's how:
Hitting a Pothole or Curb
If you hit a pothole, speed bump, or curb, your tire can become unbalanced. The impact can shift the internal components or even damage the tire, leading to an uneven distribution of weight.
Debris and Foreign Objects
Sometimes, rocks, nails, or other foreign objects can lodge themselves in your tire. This can create an imbalance and result in vibrations.
Tire Wear and Tear
Tires don't stay new forever. Here are some wear and tear issues that can cause unbalance:
Uneven Tread Wear
As tires age, they may not wear evenly. The uneven tread wear is a significant factor contributing to an imbalance, which leads to vibrations.
Loss of Balancing Weights
Over time, the small weights used to balance your tire can fall off, especially if they weren't installed properly to begin with. Without these weights, your tire becomes unbalanced.
Manufacturing Defects
While rare, sometimes the tire itself can come with manufacturing defects that make it imbalanced from the get-go.
Changes in Tire Pressure
Maintaining proper tire pressure is essential for balanced tires. Too much or too little air can throw off the balance.
Overinflation: Excess air can cause the middle section of the tire to bear more weight, resulting in an imbalance.
Underinflation: Insufficient air can cause the tire's sides to bear more weight, also leading to an imbalance.
Why Regular Maintenance Checks Are Important
Given that so many factors can throw your tires out of balance, regular maintenance checks are crucial. Most experts recommend a tire balance check every 6,000 to 12,000 miles or if you start experiencing symptoms of imbalance, like vibrations.
Common Misconceptions
It's worth noting that while vibrations are often due to unbalanced tires, they can also stem from other issues like wheel alignment problems or worn-out suspension components. Therefore, it's essential to consult a professional for accurate diagnosis and treatment.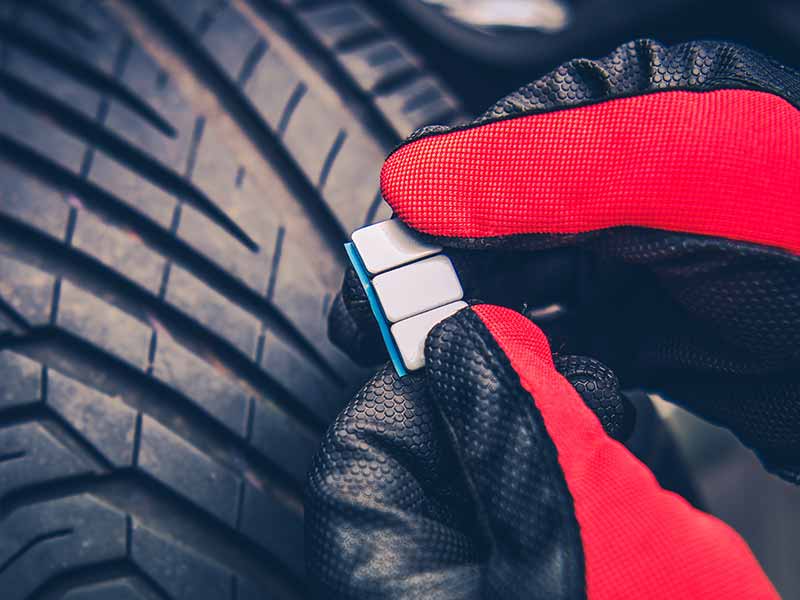 How to Fix Unbalanced Wheels and Tires
Now that we've discussed what causes tire imbalance and how speed affects the symptoms, let's talk about what you can do to correct the issue. Balancing your tires is the primary solution, but there are additional steps you can take for a comprehensive approach.
Step 1: Identify the Problem
Before taking any corrective action, it's important to correctly identify the problem. If you've experienced any of the symptoms mentioned earlier, it's time to:
Visual Inspection: Look for uneven tread wear or foreign objects stuck in the tire.
Consult a Professional: Take your vehicle to a certified mechanic for an accurate diagnosis.
Step 2: Tire Balancing
Once the issue is confirmed, the next step is to get your tires balanced. Here's what happens during this process:
Use of Balancing Machine: As mentioned earlier, a specialized balancing machine spins your tire to find areas of imbalance.
Application of Weights: The mechanic will attach small weights to the wheel to balance out the tire.
Step 3: Check Tire Pressure
Incorrect tire pressure can exacerbate imbalance issues. Make sure your tires are inflated to the recommended pressure levels specified in your vehicle's manual.
Overinflated Tires: Reduce the air pressure to the recommended level.
Underinflated Tires: Add air to reach the recommended level.
Step 4: Rotate Tires
Rotating your tires can help ensure that they wear evenly, thus preventing imbalances from occurring in the first place.
Regular Rotation: This should be done every 6,000 to 8,000 miles, or as recommended by your vehicle's manufacturer.
Step 5: Regular Maintenance and Checks
Regular maintenance can prevent many problems, including unbalanced tires.
Scheduled Balancing: As a general rule, get your tires balanced every 6,000 to 12,000 miles.
Immediate Checks: If you've recently hit a pothole or had another impactful event, get your tires checked right away.
Additional Precautions
Quality Tires: Investing in high-quality tires can reduce the risk of imbalance issues.
Alignment Checks: Sometimes, the root cause may be related to wheel alignment, which also needs to be checked and corrected as needed.
Resources
Below are some links you may find helpful when learning about tires
Final Thoughts
Unbalanced tires can indeed cause your vehicle to vibrate, leading to a range of symptoms from mild shaking to severe loss of control. These symptoms can become more pronounced at higher speeds, making it a safety concern that should be addressed promptly.
The primary way to correct this issue is by getting your tires balanced, but it's also essential to maintain correct tire pressure and consider tire rotation to ensure even wear.
Remember, regular checks and maintenance can go a long way in preventing such problems, ensuring that you have a smooth and safe driving experience.
Good luck and happy motoring.