Ever noticed uneven tire wear on your tires and wondered what on earth is going on? You're not alone. Most drivers ignore their tires until there's a noticeable issue, like a flat tire or a drastic decrease in fuel efficiency. But those irregular wear patterns you've noticed? They're your tires crying out for help. They may be suffering from 'toe wear'.
Toe Wear On Tires

Toe wear on a tire refers to the uneven wear on either the inner or outer edges of the tire, caused by the angle at which the wheels are aligned to roll down the road.

It's often a result of improper wheel alignment, specifically the alignment settings known as "toe-in" or "toe-out".
In this article, we will delve into the world of tire tread wear, focusing on the phenomenon of toe wear that shows up as wear on the inner or outer edge of the tire tread.
We will explain what toe wear is, discuss its causes, methods of preventing toe tire wear patterns, general tire maintenance, and finally we'll touch on heel/toe tire wear patterns that sometimes get confused with toe-in and toe-out wear patterns.
Let's take a closer look.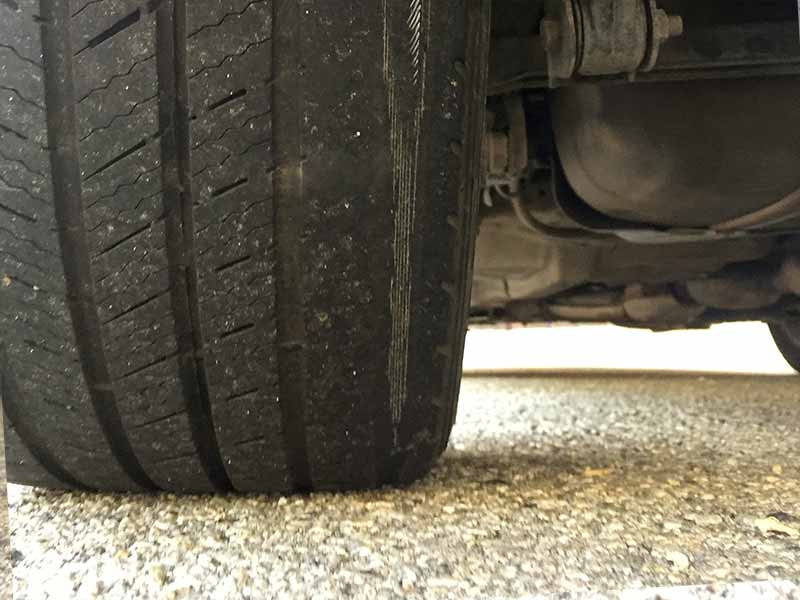 What Is Toe Wear On A Tire?
Imagine you're standing up straight with your feet parallel to each other. Now, point your toes inward towards each other. That's toe-in. Now point them away from each other. That's toe-out. In a nutshell, that's what we're talking about when we say toe wear on a tire.
In tire terms, toe refers to the direction your tires are pointing in relation to the centerline of your vehicle when viewed from above. If the front of your tires point towards each other, that's toe-in. If they point away from each other, it's toe-out.
The Tie Between Toe Wear and Edge Wear
Toe wear usually shows up as wear along the inner or outer edges of your tire. Here's a simple way to remember this:
Toe-in wear: Tires pointed inwards towards each other cause more wear on the outer edge of your tires.
Toe-out wear: Tires pointed outwards away from each other cause more wear on the inner edge of your tires.
Pretty straightforward, right?
How Toe Wear Affects Your Tire Life
Toe wear is a bit like walking with your shoes scuffed; you'll end up wearing them out quicker. Similarly, tires with toe wear tend to have a shorter life because the constant dragging wears down the tread faster.
The not-so-fun part is that this can make your ride less smooth and reduce your tires' grip on the road. But don't worry, understanding and identifying toe wear can go a long way in helping extend the life of your tires.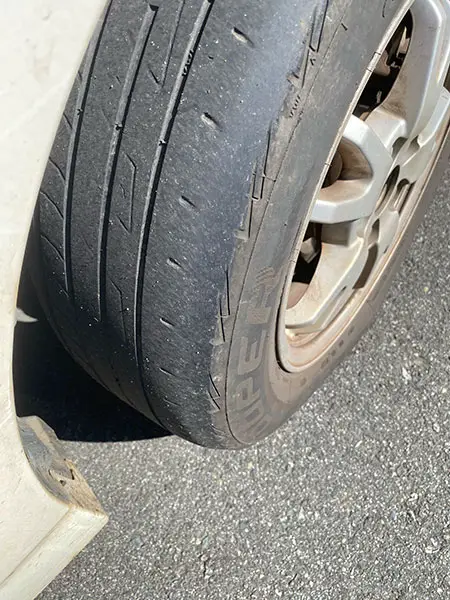 Causes of Uneven Tire Wear
Sometimes, you might notice that the inside of your tires are wearing out more than the rest of the tire. This is usually because of something we call 'negative toe' or 'toe-out'.
Imagine this: your tires are having a disagreement, and they're turning away from each other. That's toe-out for you. The insides of your tires get dragged along the road, leading to more wear on the inner edges.
But what makes your tires decide to part ways? Here are some usual suspects:
Improper Tire Pressure: Just like Goldilocks and her porridge, tire pressure needs to be just right. If it's too low, the tire can sag, causing more wear on the inside.
Misalignment: If your wheels aren't aligned properly, they might not roll straight. This can force the inner edges of the tires to work harder, causing them to wear faster.
Worn Out Suspension: The suspension system in your car helps it cope with bumps and turns. If it's worn out, it can't do its job properly and may cause the tires to toe-out.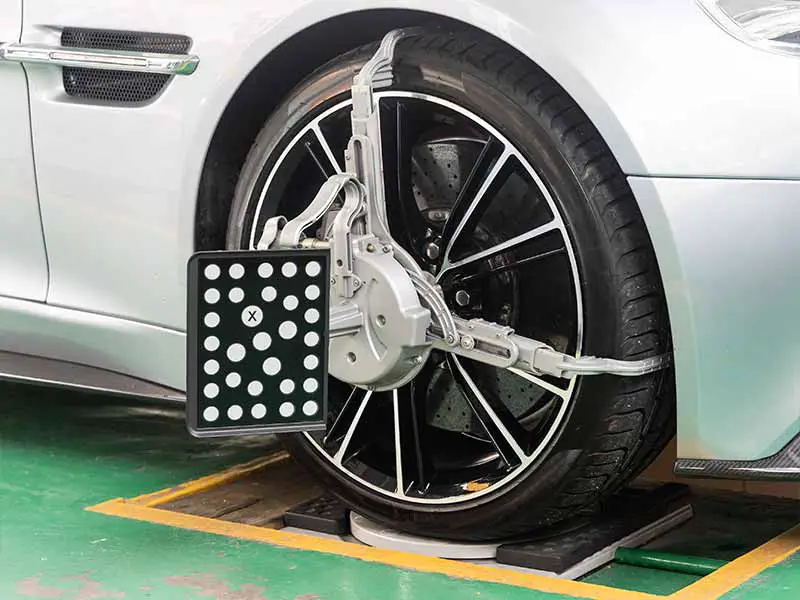 The Case of Outer Edge Wear
Now, what if the outside edges of your tires are wearing out faster? This is often due to 'positive toe' or 'toe-in'.
Picture this: your tires are feeling a bit shy and are turning towards each other. That's toe-in. The outsides of your tires get dragged along the road, causing more wear on the outer edges.
And what might cause your tires to become bashful? Here are a couple of reasons:
Over-inflation: If your tire pressure is too high, the tire can bulge out in the middle. This forces the outer edges to come into contact with the road more, causing them to wear out faster.
Misalignment: Yes, you've guessed it. Just like with inner edge wear, misalignment can cause outer edge wear too. If the wheels aren't aligned correctly, they can force the tires to toe-in.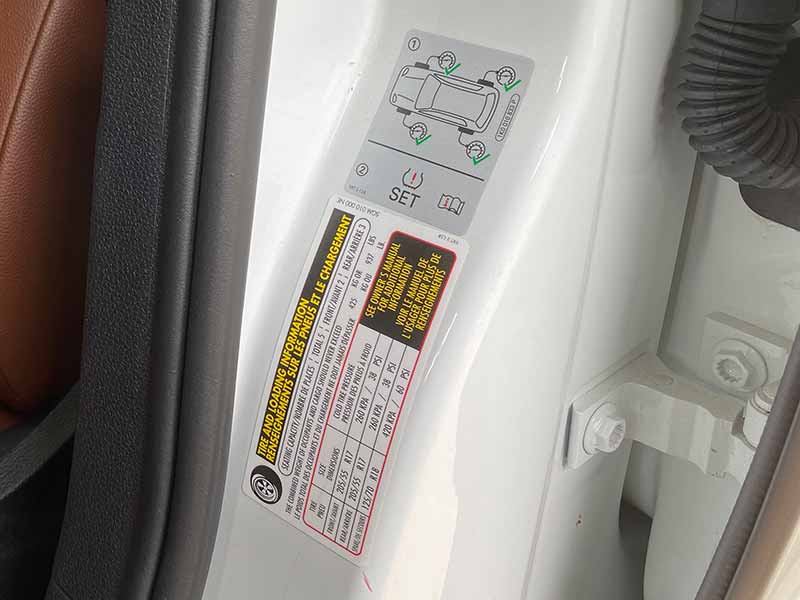 Preventing Toe Wear on Tires
Preventing toe wear is mostly about good tire maintenance. If you take care of your tires, they'll take care of you by providing a smooth and safe ride. Here are the basics:
Tire Pressure: Always maintain the correct tire pressure. Check it at least once a month, and don't forget to check the spare tire too. A simple tire pressure gauge is all you need for this.
Regular Rotation: Rotate your tires every 5,000 to 7,000 miles to ensure they wear out evenly.
Wheel Alignment: Have your wheels aligned as recommended in your vehicle owner's manual or if you notice uneven wear.
Balancing: Make sure your tires are balanced. Unbalanced tires can lead to uneven wear.
Inspections: Regularly inspect your tires for any signs of damage or uneven wear.
The Toe-In vs Toe-Out Debate
You might be wondering, is it better to have toe-in or toe-out? Well, there's no one-size-fits-all answer to this because it depends on what you want from your vehicle.
For most passenger cars and trucks, a slight toe-in is preferred. This means the front of the tires are slightly closer to each other than the rear. This setup can help with straight-line stability and reduce tire wear.
On the other hand, a slight toe-out can improve the responsiveness of your vehicle when making sharp turns. However, this might increase tire wear.
In most cases, you'll want to stick with the manufacturer's recommendation for toe settings. This will give you the best balance of tire life, vehicle performance, and fuel efficiency.
The Big Picture: Vehicle Maintenance
While focusing on the tires, it's crucial not to ignore the rest of your vehicle. Many other factors, like worn-out brake pads, damaged shocks, or improper loading, can also lead to uneven tire wear. So, always remember to keep your entire vehicle in good shape.
Understanding Tire Wear
Tire wear refers to the gradual loss of material from the tire's surface, specifically the tread. That's the part of the tire that's in direct contact with the road. Imagine walking in shoes with worn-out soles. Not very comfortable, right? Same goes for your tires. Uneven tire wear patterns can reduce your vehicle's performance, and if not addressed, can lead to safety issues.
Common Tire Wear Patterns
Just like the footprints we leave behind, every tire leaves a unique wear pattern. These patterns can tell us a lot about how our car's doing. Here are some of the most common tire wear patterns:
Center Wear: If your tire is wearing out in the middle, it's probably over-inflated. That's like having too much air in a balloon, causing it to bulge out in the middle.
Edge Wear: On the flip side, if your tires are wearing out on the edges, they're likely under-inflated. Picture a deflated balloon that sags at the sides.
One-Side Wear: If only one side of your tire is wearing out, that's usually a sign that your wheels aren't aligned properly. We call this Camber wear.
Patchy Wear: Patchy wear or irregular wear happens when there are random bald spots on your tire. This could be due to a number of reasons, like unbalanced tires or issues with the suspension system.
Uneven Tire Wear
Sometimes, your tire wears out more on one side than the other, or in patches. This is known as uneven or irregular tire wear. It's like having a shoe that's worn out more on the heel than the toe. This can be caused by a variety of things such as improper tire pressure, lack of tire rotation, misalignment, or even damaged parts of the vehicle.
The way your tires wear out can be a window into how your vehicle is performing. If you notice uneven tire wear, it's like your car sending you a cry for help. It's telling you something's not quite right and needs to be fixed.
Resources
Below are some links you may find helpful when learning about tires
Final Thoughts
It's essential to know that the phenomenon of toe wear occurs due to improper wheel alignment, specifically the alignment settings known as "toe-in" or "toe-out". Properly diagnosing the type of wear and taking corrective action, such as adjusting tire pressure or aligning the wheels, can extend the life of your tires and enhance your vehicle's performance.
Remember, preventing toe wear involves regular tire maintenance, including maintaining proper tire pressure, rotating tires regularly, and ensuring correct wheel alignment. And even with the best maintenance, keep in mind that tires, like all things, have a lifespan. Knowing when it's time to replace your tires is equally critical. With this knowledge, you're now better equipped to keep your tires in optimal condition, leading to safer and more efficient driving.
Good luck and happy motoring.