Have you ever felt your car sway or pull to one side while driving, making you clutch the steering wheel a little tighter? Such disruptions aren't just bothersome—they can be symptoms of underlying issues, signaling that your vehicle might be whispering, or perhaps even shouting for help!
How Do I Know If I Need An Alignment Or Balance?

If your car's steering wheel vibrates or if you notice uneven tire wear, you may need a wheel balance. If your vehicle pulls to one side or your tires squeal frequently, it's a sign you might need a wheel alignment.
In this article, we'll dive deep into the nuances of wheel balancing and alignment, helping you distinguish between the two, recognize their symptoms, and understand why both are crucial for the safety and longevity of your vehicle.
Let's take a closer look.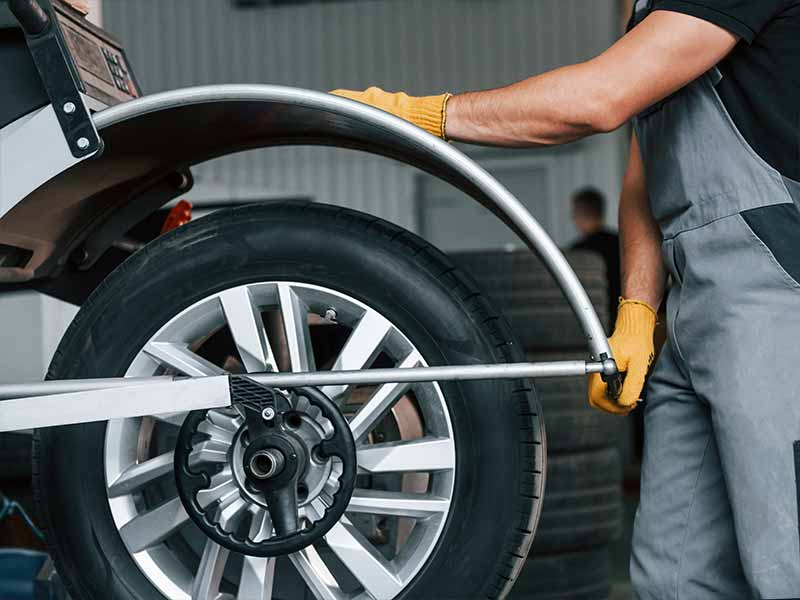 Basic of Balancing and Alignment
What is Wheel Balancing?
Wheel balancing is an essential process that ensures the tire and wheel assembly spins smoothly without any imbalances. Here's a closer look:
Purpose: The primary purpose of wheel balancing is to prevent vibrations in the vehicle, especially in the steering wheel and dashboard. It offers a smoother ride by minimizing tire bounce.
Components Involved:

Tire and Wheel Assembly: This is the combination of your tire and your wheel. When we talk about balancing, we're ensuring this combination is even and without any heavy spots.
Weights: Small weights are added to the wheel to counterbalance any heavy spots and ensure the wheel spins without wobbling.

Frequency: Wheel balancing is typically recommended:

Every time you get new tires.
After a tire puncture or any other tire repair.
When you feel vibrations in the steering wheel.
What is Wheel Alignment?
Wheel alignment ensures that the wheels of the vehicle are set to the manufacturer's specifications. Let's dive deeper:
Purpose: The main goal of wheel alignment is to reduce tire wear, and to ensure that vehicle travel is straight and true without "pulling" to one side.
Components Involved:

Tire Alignment: This involves adjusting the angles of the wheels so that they're parallel to each other and perpendicular to the ground.
Steering & Suspension Systems: The alignment process checks and corrects the angles of the tires based on the vehicle's steering and suspension systems.

Types of Alignment Adjustments:

Toe: This refers to whether the fronts of the tires are closer together or farther apart than the backs of the tires.
Camber: This is the inward or outward angle of the tire when viewed from the front. Improper camber can lead to uneven tire wear.
Caster: This adjustment balances steering, stability, and cornering. It's the angle of your steering axis when viewed from the side.

Frequency: Wheel alignment is typically recommended:

After purchasing new tires.
After a vehicle collision or accident.
When replacing suspension or steering parts.
If the vehicle pulls to one side or if the steering wheel is off-center.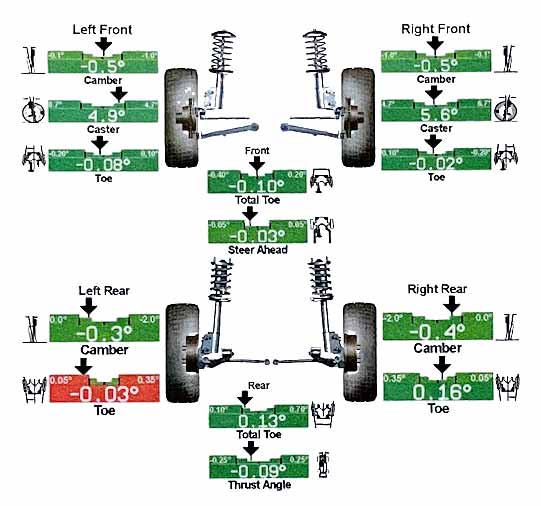 Symptoms You Need Wheel Balancing
Vibrations in the Steering Wheel
One of the most noticeable signs of an unbalanced tire and wheel assembly is the vibration felt in the steering wheel. Here's what to look for:
Frequency of Vibrations: Often, the vibrations start at a certain speed range, say 50-60 mph, and then lessen as you go faster.
Location: The vibrations can also be felt on the vehicle's floor or in the seat if it's the rear wheels that are unbalanced.
Uneven Tire Wear
Uneven tread wear, particularly in isolated spots, indicates an imbalance in your tire and wheel assembly.
Patterns to Spot: Look for "bald" patches or areas where the tread seems more worn than others.
Scalloped or Cupped Wear Patterns on Tires
A specific kind of uneven wear, scalloping, or cupping, happens in dips appearing in the tread. This wear pattern signifies:
Balance Issues: The tire is bouncing up and down as it moves, causing this scalloped wear pattern.
Suspension Problems: Damaged shocks or struts can also be a reason behind this wear pattern.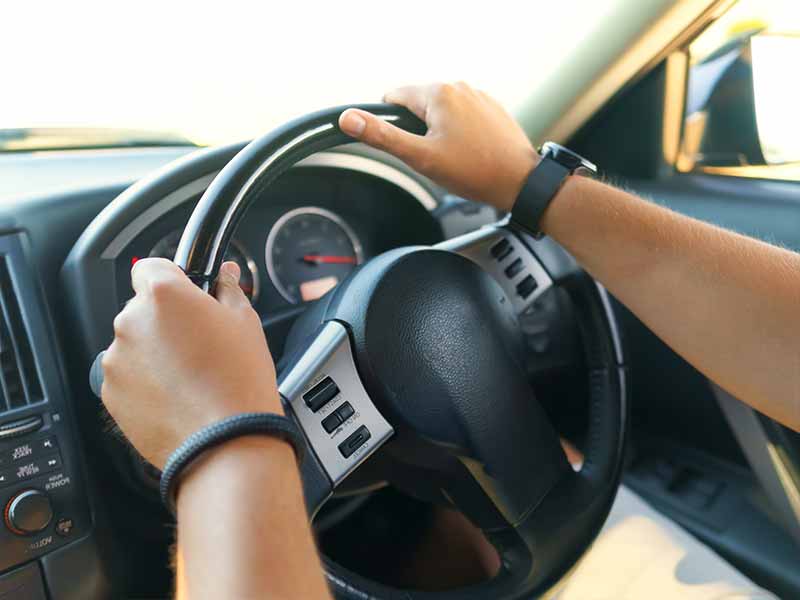 Symptoms You Need Wheel Alignment
Car Pulling to One Side
If your vehicle drifts or pulls to one side when you're aiming to drive straight, it's a clear sign that you might need a wheel alignment.
Test Method: On a level road, see if the car consistently moves to one side without steering input.
Caution: Always ensure the road is safe and free of traffic before attempting this.
Uneven Tire Wear
Different from the wear caused by balancing issues, misaligned wheels can also cause uneven wear patterns on your tires.
Edge Wear: When the inner or outer edge of the tire wears out faster than the center.
Diagonal Scuffing: Patchy wear across the face of the tread from one edge to the other.
Steering Wheel Not Centered
When driving straight on a level road, the steering wheel should be close to perfectly horizontal.
Indicator: If the emblem on the steering wheel is off to one side while you're driving straight, your alignment may be off.
Squealing Tires
While several issues can cause your tires to squeal, misalignment is a potential culprit, especially if it's combined with other symptoms.
Reason: Tires might be facing away or towards each other, causing unnecessary friction with the road.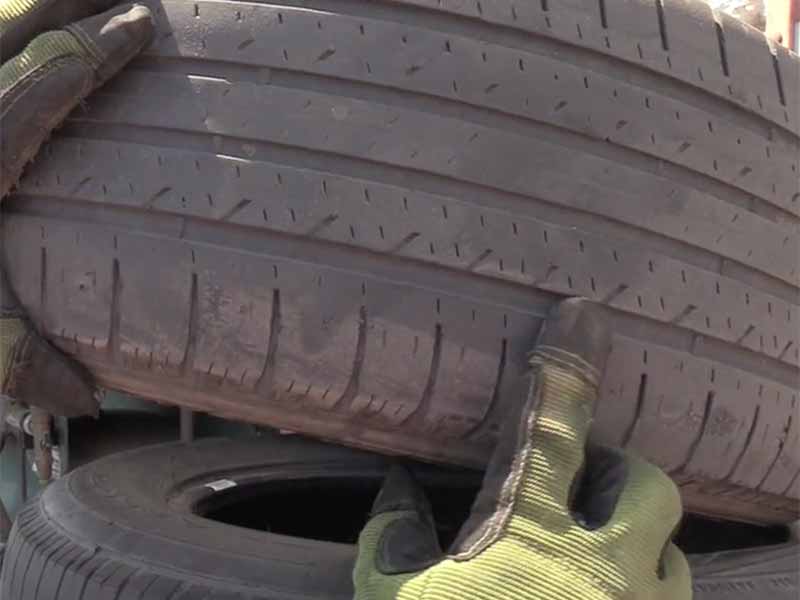 The Effects of Ignoring Balancing and Alignment
Rapid Tire Wear
Neglecting the need for wheel balancing or alignment can lead to faster wear and tear of tires.
Reason: Imbalances or misalignments cause certain parts of the tire to bear more weight and friction than others.
Consequence: This leads to premature replacement, resulting in higher costs in the long run.
Reduced Fuel Efficiency
Poor wheel balance or alignment affects your vehicle's fuel consumption.
Cause: The engine has to work harder to propel the vehicle forward when tires aren't aligned or balanced, leading to increased fuel consumption.
Compromised Vehicle Safety
The overall safety of the vehicle is put at risk when ignoring the signs of needed balancing or alignment.
Steering Issues: Difficulty in steering or maintaining a straight path, especially at high speeds.
Increased Accident Risk: Misalignment or imbalance can make it difficult to control the vehicle in emergency situations.
Strain on Vehicle Components
Ignoring these symptoms doesn't just affect the tires. Other parts of the vehicle are impacted too.
Suspension System: A misaligned vehicle can put unnecessary stress on the suspension.
Braking Inefficiency: Tires that aren't balanced or aligned might not make even contact with the road, affecting braking distance and safety.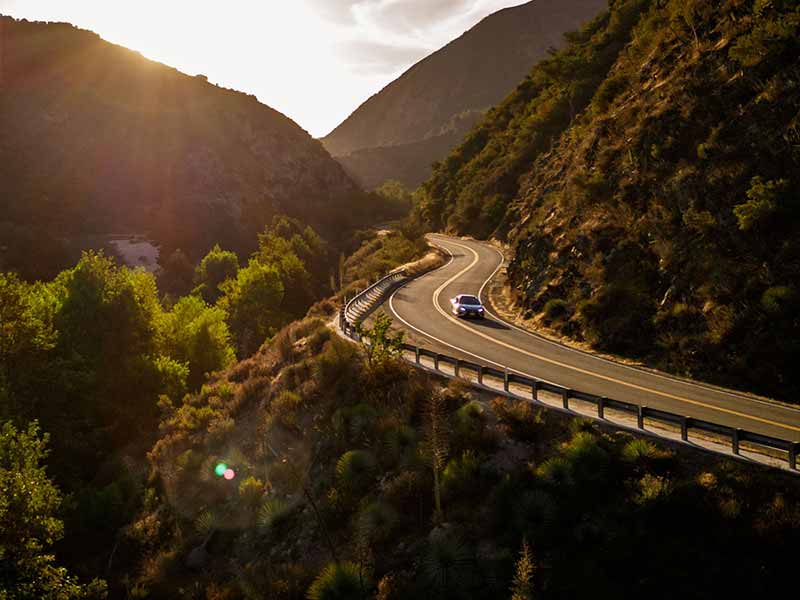 Benefits of Regular Check-ups
Extended Tire Lifespan
Regularly checking and ensuring both alignment and balance can significantly extend the life of your tires.
Cost-Effective: This means fewer replacements, ultimately saving money.
Improved Fuel Economy
With properly aligned and balanced tires:
Optimal Performance: Your vehicle can move more efficiently.
Fuel Savings: This results in better gas mileage, saving you money at the pump.
Enhanced Driving Experience
Smooth Ride: Reduced vibrations and better steering control contribute to a more comfortable drive.
Noise Reduction: Proper alignment and balance can decrease road noise from tires.
Safety
Perhaps the most critical advantage:
Reduced Risk: Regular check-ups can catch potential problems early on, reducing the risk of tire blowouts or vehicular accidents.
Peace of Mind: Knowing your vehicle is in top condition allows for a more relaxed driving experience.
Resources
Below are some links you may find helpful when learning about tires
Final Thoughts
Recognize the signs early: vibrations in the steering wheel or uneven tire wear might signal the need for a wheel balance, while a car that pulls to one side or squealing tires can indicate misalignment. 
By understanding these distinctions and acting promptly, you not only safeguard your journey but also sidestep potential expensive repairs. Always prioritize regular check-ups to ensure your vehicle remains in optimal condition, ready to face every road ahead with confidence.
Good luck and happy motoring.