Imagine cruising in a Tesla, the epitome of modern automotive technology, only to be jolted by the unmistakable thud of a flat tire. The surprise deepens upon discovering that such a cutting-edge vehicle lacks a traditional spare tire. How could this be?
Does Tesla Have A Spare Tire?

No, Tesla vehicles do not come with a traditional spare tire. Instead, they are equipped with a tire repair kit for temporary fixes to minor tire damages.

Tesla also offers robust roadside assistance (1-877-798-3752) and mobile service options to support drivers in the event of more significant tire emergencies.
In this article, we'll delve deep into the reasons behind Tesla's decision to omit the traditional spare, explore the company's unique approach to handling a flat, and provide guidance on what to do if you find yourself with a flat tire in a Tesla.
Let's take a closer look.
Tesla Models and Their Spare Tire Situation
Tesla, a frontrunner in the electric vehicle industry, has taken a unique approach to many traditional automotive features, including the provision of spare tires. Here's a detailed look at the spare situation across various Tesla models.
Tesla Model S
The Tesla Model S, known for its luxury and long range, does not come equipped with a traditional spare. Instead:
Tesla provides a tire repair kit that can temporarily seal small punctures, allowing drivers to reach a service station or their destination.
The absence of a spare tire contributes to weight savings, which in turn can enhance the vehicle's range and efficiency.
Tesla Model 3
The Tesla Model 3, a more affordable option in the Tesla lineup, follows a similar approach:
No traditional spare tire is included with the vehicle.
A tire repair kit is provided for temporary fixes to minor tire damages.
The trunk design and overall vehicle weight distribution have been optimized without the inclusion of a spare.
Tesla Model X
The Model X, Tesla's answer to the SUV market, also does not have a traditional spare tire:
Instead of a spare tire, the Model X comes with a tire repair kit suitable for minor punctures.
Given its larger size, the absence of a spare tire also aids in maximizing cargo space.
Tesla Model Y
The Tesla Model Y, a crossover SUV, aligns with the other models in terms of its spare tire provisions:
No traditional spare tire is found in the Model Y.
A tire repair kit is the go-to solution for temporary tire damage repairs.
The design choice supports Tesla's commitment to efficiency, space optimization, and weight reduction.
Why the Absence of a Traditional Spare?
Tesla's decision to exclude traditional spare tires from their vehicles is multifaceted:
Space Optimization: Without a spare tire, there's more room for cargo and other essentials.
Weight Reduction: Less weight can lead to improved efficiency and range for electric vehicles.
Modern Solutions: With the advent of tire repair kits and Tesla's robust roadside assistance, the need for a traditional spare tire is reduced.
Modern Spare Tires for Tesla Model S, X, 3, & Y
Pros and Cons of Aftermarket Spare Tire Kits for Teslas
Modern Spare offers specialized spare tire kits for a variety of vehicles, including Teslas. These kits are designed as a modern solution to the traditional spare tire, providing Tesla owners with an alternative to the standard tire repair kit.
Let's weigh the pros and cons of these kits.
Pros:
Vehicle-Specific Engineering: Modern Spare designs its kits specifically for each vehicle, ensuring a perfect fit and compatibility for Teslas.
Lightweight and Durable: The kits utilize an ultra-strong aluminum alloy wheel, making them lighter yet durable. This design ensures that the spare tire kit is both easy to handle and robust enough for extended use.
Comprehensive Kit: The spare tire kit includes an innovative easy-lift ratcheting vehicle jack, an extendable breaker-bar style lug wrench, a reinforced carrying case, and of course the compact spare itself. This ensures that Tesla owners have all the tools they need to address a flat tire.
Extended Use: Unlike traditional spare tires that are meant for short distances, Modern Spare's tire and wheel combo is engineered for longer distances, providing more flexibility in emergencies.
Ease of Use: The included tools, such as the TruLift scissor jack system and telescoping breaker-bar style lug wrench, are designed for simplicity and effectiveness, ensuring a quick and hassle-free tire change.
Cons:
Not Factory Standard: While Modern Spare kits are engineered for specific vehicles, they are not the factory standard. This means they might not fit perfectly in the designated spare tire storage space.
Additional Cost: Tesla vehicles come with a tire repair kit as standard. Opting for a Modern Spare kit is an additional expense for the owner.
Storage Space: For Tesla models without a dedicated spare tire storage space, carrying the Modern Spare kit might take up valuable cargo space.
Maintenance: Like any spare tire, the Modern Spare kit will require periodic checks to ensure it's in good condition and ready for use when needed.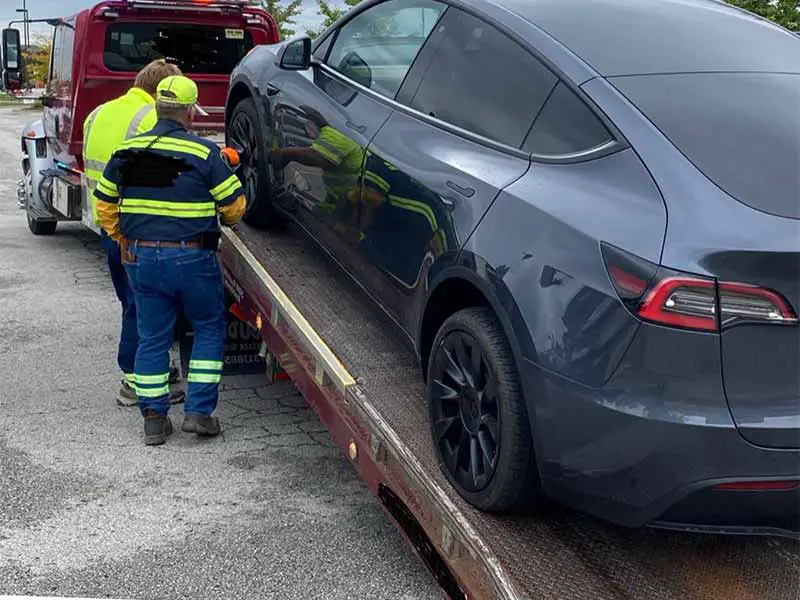 Why Don't Teslas Come with a Traditional Spare?
Tesla's approach to automotive design often challenges traditional norms, and the absence of a traditional spare tire in their vehicles is a prime example. Let's explore the reasons behind this decision and its implications for Tesla owners.
Emphasis on Efficiency
One of the primary reasons Tesla vehicles don't come with a traditional spare is the emphasis on efficiency:
Weight Considerations: A spare tire, especially a full-sized one, adds significant weight to a vehicle. By eliminating it, Tesla can reduce the overall weight, which in turn improves the efficiency and range of their electric vehicles.
Aerodynamics: Without the need to accommodate a spare, Tesla can design their vehicles with better aerodynamics, further enhancing efficiency.
Space Utilization
Tesla's electric vehicles are designed to maximize interior space, and the absence of a spare tire plays a role in this:
Increased Cargo Space: Without a spare compartment, Tesla vehicles can offer more cargo space, making them more practical for users.
Battery Placement: The absence of a spare tire compartment allows for more flexibility in placing the battery packs, which are crucial for the vehicle's performance and range.
Modern Alternatives to Spare Tires
Tesla believes in adopting modern solutions to traditional challenges:
Tire Repair Kits: Instead of a spare, Tesla provides a tire repair kit that can temporarily seal minor punctures, allowing drivers to reach a service station.
Roadside Assistance: Tesla offers robust roadside assistance to its owners. In the event of a tire emergency that can't be fixed with a repair kit, assistance is just a call away.
Safety and Environmental Considerations
Reduced Environmental Impact: Manufacturing spare tires for every vehicle has an environmental cost. By eliminating them, Tesla reduces its carbon footprint.
Safety: Driving on a spare tire, especially a compact temporary one, is not recommended for extended periods or at high speeds. By promoting the use of repair kits and offering roadside assistance, Tesla ensures that drivers address tire issues properly and safely.
Tire Repair Kit
Tesla's Approach to Flat Tires
While Tesla vehicles may not come with a traditional spare, the company has implemented several measures to ensure drivers are not left stranded in the event of a flat tire. Here's a comprehensive look at Tesla's approach to handling flats.
Tesla's Tire Repair Kit
Every Tesla vehicle comes equipped with a tire repair kit, designed to address minor punctures on the go:
Temporary Solution: The kit is meant to provide a temporary fix, allowing drivers to reach a service station or their destination safely.
Ease of Use: The kit is designed for simplicity, ensuring even those unfamiliar with tire repairs can use it effectively.
Limitations: It's essential to understand that the repair kit is not a permanent solution. It's designed for small punctures and may not be effective for significant tire damage.
Run-Flat Tires: Do Teslas Have Them?
Run-flat tires are designed to resist the effects of deflation when punctured, allowing for continued driving for a limited distance. Here's Tesla's stance:
Not Standard: As of now, Tesla vehicles do not come equipped with run-flats as standard.
Aftermarket Option: Owners can choose to fit their Teslas with run-flat tires post-purchase, but it's essential to consult with Tesla or tire experts to ensure compatibility.
Tesla's Mobile Service and Roadside Assistance
Tesla's commitment to customer service is evident in its robust support system for tire-related emergencies:
24/7 Roadside Assistance: In the event of a damaged tire that can't be addressed with the repair kit, Tesla owners can call for roadside assistance, ensuring they're never left stranded.
Tesla's Mobile Service: For issues that don't require a visit to a service center, Tesla's mobile service can come to the owner's location, offering convenience and reducing downtime.
Loaner Wheels: In some cases, Tesla service centers provide a loaner wheel, allowing drivers to continue their journey while their original tire is being repaired or replaced.
Importance of Regular Tire Maintenance
To reduce the likelihood of experiencing a flat, regular maintenance is crucial:
Tire Pressure Monitoring: Tesla vehicles come equipped with a tire pressure monitoring system (TPMS) that alerts drivers if tire pressure drops below safe levels.
Regular Inspections: Drivers should regularly inspect their tires for signs of wear, damage, or foreign objects that could lead to punctures.
Rotation and Balancing: To ensure even wear and prolong tire life, regular rotation and balancing are recommended.
Are Teslas More Prone to Flat Tires?
A common question among potential Tesla owners and the general public is whether Tesla vehicles are more susceptible to flats compared to traditional gasoline-powered vehicles. Let's address this concern by examining the facts and dispelling myths.
Factors Influencing Flat Tires
Flats can occur due to various reasons, and several factors influence their likelihood:
Road Conditions: Potholes, debris, and sharp objects on the road are common causes of flat tires for all vehicles, not just Teslas.
Tire Maintenance: Regularly checking tire pressure, inspecting for damages, and ensuring proper tire rotation can significantly reduce the risk of flats.
Driving Habits: Aggressive driving, hard braking, and taking corners at high speeds can lead to increased tire wear and potential damage.
Tesla-Specific Considerations
While the above factors apply to all vehicles, there are some Tesla-specific considerations to note:
Weight of the Vehicle: Tesla vehicles, especially the larger models, can be heavier than their gasoline counterparts due to the battery packs. This added weight might exert more pressure on the tires, potentially increasing wear.
Torque and Acceleration: Electric vehicles, including Teslas, are known for instant torque and rapid acceleration. If used frequently, this can lead to quicker tire wear.
Low Rolling Resistance Tires: Some Tesla models come equipped with low rolling resistance tires to improve efficiency. While these tires can enhance range, they might wear out faster than traditional tires.
Addressing the Myths
Not Inherently More Prone: There's no evidence to suggest that Tesla vehicles are inherently more prone to flats than other vehicles. The likelihood of experiencing a flat tire depends more on external factors and maintenance habits than the brand or type of vehicle.
Quality of Tires: Tesla uses high-quality tires from reputable manufacturers. These tires are designed to meet the performance and safety standards of the vehicles.
What to Do if You Get a Flat Tire in a Tesla
Experiencing a flat can be a stressful situation, especially if you're on a busy road or in an unfamiliar area. For Tesla owners, understanding the steps to take in such scenarios is crucial. Here's a comprehensive guide on how to handle a flat in a Tesla.
Immediate Steps to Take
If you suspect or know that you have a flat while driving:
Stay Calm: Panicking can make the situation worse. Take a deep breath and focus on the next steps.
Pull Over Safely: Signal and gradually reduce your speed. Look for a safe spot to pull over, such as a parking lot, shoulder, or side street.
Turn on Hazard Lights: Once parked, turn on your hazard lights to alert other drivers of your situation.
Assess the Situation: Before exiting the vehicle, ensure it's safe to do so. Check the tire to confirm if it's flat or just low on pressure.
Using the Tesla Tire Repair Kit
If the tire has a minor puncture:
Locate the Repair Kit: The kit is typically stored in the trunk or under the front storage area, depending on the model.
Follow Instructions: The kit will have detailed instructions on how to seal the puncture temporarily. Ensure you follow them closely.
Drive to a Service Station: After using the repair kit, it's essential to drive to a service station or tire shop to get a permanent fix or replacement.
When to Call Tesla's Roadside Assistance
If the tire damage is significant or you're unsure about using the repair kit:
Call for Help: Tesla offers 24/7 roadside assistance (1-877-798-3752). They can guide you on the next steps or send help if needed.
Provide Details: When calling, provide your location, vehicle identification number (VIN), and a description of the issue.
Wait Safely: If help is on the way, stay inside your vehicle if it's safe, especially if you're on a busy road.
Tesla's Mobile Service and Loaner Wheel
In some situations, Tesla's mobile service might be the best solution:
Mobile Service: For certain tire issues, Tesla's mobile service can come to your location and address the problem without the need to visit a service center.
Loaner Wheel: If your tire needs more extensive repairs or replacement, some Tesla service centers offer a loaner wheel. This allows you to continue your journey while your original tire is being addressed.
Resources
Below are some links you may find helpful when learning about tires
Final Thoughts
Tesla's innovative approach to automotive design extends beyond just electric propulsion; it also touches on aspects like the traditional spare tire.
While Tesla vehicles do not come equipped with a conventional spare, the company provides tools and services, such as tire repair kits and robust roadside assistance, to ensure drivers are never left stranded. The emphasis is on modern solutions, efficiency, and ensuring the safety of its vehicle owners.
As with any vehicle, regular maintenance and being informed are crucial to preventing and handling tire-related emergencies.
Good luck and happy motoring.