Flat tires can strike at the most inconvenient times, and for Tesla owners, the experience might feel a tad different. With no spare tire in the trunk and a unique set of wheels beneath, how does one navigate such a situation with a Tesla?
Tesla Flat Tire

When a Tesla gets a flat tire, owners can use the provided tire repair kit for minor punctures or rely on Tesla's roadside assistance for more significant issues. Traditional services like AAA can also assist, but for specialized care, Tesla service centers are recommended.
In this article, we'll delve deep into understanding flat tires from a Tesla owner's perspective, explore the mystery behind Tesla's missing spare tire, and provide guidance on handling such situations. From DIY solutions to third-party assistance, we'll cover all the bases to ensure you're well-prepared on the road.
Let's take a closer look.
What to Do When Your Tesla Gets a Flat Tire
Experiencing a flat tire can be a daunting situation, especially when driving a sophisticated vehicle like a Tesla. However, with the right knowledge and steps, you can handle the situation confidently and safely.
Immediate Steps to Take
If you suspect or realize you have a flat tire while driving, follow these steps:
Stay Calm: Panicking can lead to mistakes. Take a deep breath and focus on the situation.
Slow Down Gradually: Avoid sudden braking. Instead, reduce your speed slowly and steadily.
Turn on Your Hazard Lights: This alerts other drivers that you're facing an issue and may need to stop.
Find a Safe Spot: Look for a safe, flat location away from traffic to pull over, such as a parking lot or a wide shoulder on the highway.
Role of Tesla's Tire Pressure Monitoring System (TPMS)
Tesla vehicles come equipped with a TPMS that plays a crucial role in alerting drivers about tire issues:
Alerts: The system will notify you if it detects a significant drop in tire pressure, allowing you to take action before the situation worsens.
Accuracy: While TPMS is a valuable tool, it's essential to manually check your tire pressure periodically for the most accurate readings.
Addressing the Flat Tire
Once you've safely pulled over:
Inspect the Tire: Determine the extent of the damage. Look for punctures, cuts, or any objects embedded in the tire.
Use the Tesla Tire Repair Kit: If the damage seems minor, you can use the provided tire repair kit to temporarily seal the puncture.

Note: This is a temporary solution, and you should visit a tire shop or Tesla service center as soon as possible.

Call Tesla Roadside Assistance: If the damage is significant or you're unsure about using the repair kit, it's best to call for professional help. Tesla's roadside assistance can guide you on the next steps, whether that's a tire repair or towing to a service center.
After the Flat Tire Incident
Once the immediate situation is addressed:
Visit a Tire Shop or Tesla Service Center: Even if you've used the repair kit, it's crucial to have the tire professionally inspected and repaired or replaced if necessary.
Check Other Tires: Ensure that the other tires are in good condition and have the correct pressure. Uneven tire wear or incorrect pressure can lead to further issues.
Review and Restock: If you used any items from your emergency kit or the tire repair kit, replace them to be prepared for future incidents.
Tesla Roadside Assistance: A Lifesaver
When you're on the road and encounter unexpected issues with your Tesla, knowing that there's a dedicated service ready to assist can be immensely reassuring. Tesla's roadside assistance is designed to provide prompt and efficient help in various situations, including flat tires.
Overview of Tesla's Roadside Assistance Program
Tesla's commitment to its customers extends beyond just the vehicle purchase. Their roadside assistance program offers:
24/7 Availability: No matter when you face an issue, Tesla's team is available around the clock to assist.
Coverage: Typically, new Teslas come with a certain period of complimentary roadside assistance. It's essential to check the specifics based on your vehicle model and purchase date.
Range of Services: Beyond just flat tires, the program covers a variety of issues, from battery-related problems to lockouts.
Addressing Flat Tires: What to Expect
When dealing with a flat tire through Tesla's roadside assistance:
Prompt Response: Once you contact them, the team will quickly assess the situation and dispatch help.
Professional Assistance: Trained professionals will arrive, equipped to handle the flat tire, whether it requires a simple repair or a tire replacement.
Towing Services: If the tire can't be repaired on the spot, the vehicle can be towed to the nearest Tesla service center.
Is Tesla's Flat Tire Service Free?
Understanding the costs associated with Tesla's roadside assistance is crucial:
Complimentary Period: New Tesla vehicles usually come with a period of free roadside assistance. During this time, services related to manufacturing defects, including flat tires caused by such defects, are covered at no cost.
Out-of-Pocket Costs: After the complimentary period or if the issue is determined to be outside of warranty conditions (like a tire punctured by a nail), there might be charges for the service.
Recommendation: Always review the terms of your vehicle's warranty and the specifics of the roadside assistance program to avoid unexpected costs.
Benefits of Using Tesla's Roadside Assistance
Opting for Tesla's dedicated service offers several advantages:
Expertise: The team is specifically trained to handle Tesla vehicles, ensuring the best care for your car.
Convenience: With just a call, you can have professionals dispatched to your location, reducing the stress of handling vehicle issues on your own.
Safety: Especially in challenging situations or unfamiliar locations, having a trusted service can ensure your safety and that of your vehicle.
Flat Tire Repair Kit
DIY: Tesla Flat Tire Repair Kit
For Tesla drivers, having a flat tire can be a concern, especially given the absence of a traditional spare tire. However, Tesla provides a solution in the form of a tire repair kit. This kit is designed to offer a temporary fix, allowing drivers to continue their journey and seek professional repair when convenient.
Introduction to Tesla's Tire Repair Kit
The Tesla tire repair kit is a compact set of tools and materials designed to address minor tire punctures:
Sealant: A liquid solution that can fill and seal small punctures in the tire's tread.
Compressor: A device to reinflate the tire after applying the sealant.
Adapters: Various connectors to ensure compatibility with different tire valves.
When to Use the Tire Repair Kit
While the repair kit is handy, it's essential to know when it's appropriate to use:
Minor Punctures: The kit is designed for small punctures, typically caused by nails or similar objects.
Tread Area Only: The sealant should only be applied to punctures in the tire's tread, not the sidewall.
Temporary Solution: The repair kit provides a short-term fix. After using it, you should visit a tire shop or Tesla service center for a thorough inspection and repair.
Steps to Use the Tesla Tire Repair Kit
If you determine that the repair kit is suitable for your situation, follow these steps:
Locate the Puncture: Before using the kit, identify the source of the leak. Remove any objects embedded in the tire.
Prepare the Sealant: Connect the sealant bottle to the compressor, ensuring a tight fit.
Attach to Tire: Using the appropriate adapter, connect the compressor to the tire's valve.
Activate the Compressor: Turn on the compressor. As it inflates the tire, it will also inject the sealant into the puncture.
Monitor Tire Pressure: Keep an eye on the tire's pressure. Once it reaches the recommended level, turn off the compressor.
Drive Carefully: After using the repair kit, drive slowly and cautiously to allow the sealant to distribute evenly and seal the puncture.
Precautions and Aftercare
Speed Limit: After using the repair kit, avoid driving at high speeds. The manufacturer typically recommends a maximum speed (often around 50 mph).
Seek Professional Help: As soon as possible, visit a tire shop or Tesla service center to have the tire inspected and repaired or replaced.
Sealant Expiry: The sealant in the repair kit has an expiration date. Ensure it's within the valid period before use.
The Role of Third-Party Assistance: Can AAA Help?
When faced with a flat tire or other vehicular issues, many drivers think of AAA (American Automobile Association) as a go-to solution. But with the unique design and features of Tesla vehicles, can AAA provide the necessary assistance? Let's explore the capabilities and limitations of third-party assistance for Tesla owners.
Understanding AAA's Services
AAA is a well-established organization offering a range of services to motorists:
Emergency Roadside Assistance: This includes jump-starts, fuel delivery, lockout services, and, of course, flat tire assistance.
Towing: If a vehicle can't be fixed on the spot, AAA can tow it to a repair facility or location of the driver's choice.
Battery Services: For electric vehicles, AAA has started offering mobile charging services in some areas.
Can AAA Fix a Flat Tire on a Tesla?
The straightforward answer is yes, but with some caveats:
Standard Procedures: AAA technicians can address common tire issues, such as punctures, using standard repair techniques.
Lack of Spare: Since Teslas don't come with a spare tire, AAA can't provide a traditional tire change. However, they can offer a temporary fix or tow the vehicle if needed.
Recommendation: If you're relying on AAA for tire assistance, it's a good idea to inform them that you're driving a Tesla. This ensures the dispatched technician is equipped and knowledgeable about the specific needs of Tesla vehicles.
Why Some Tesla Owners Hesitate with Third-Party Assistance
While AAA and other third-party services can assist Tesla owners, there are reasons some drivers might be hesitant:
Specialized Care: Tesla vehicles, being electric and technologically advanced, have specific requirements that not all general technicians might be familiar with.
Warranty Concerns: Some Tesla owners worry that third-party repairs might affect their vehicle's warranty. It's always a good idea to check the warranty terms and consult with Tesla if unsure.
Benefits of Using AAA for Teslas
Despite some reservations, there are clear advantages to using AAA:
Wide Availability: AAA has a vast network, making it accessible in many areas where a Tesla service center might not be nearby.
Quick Response: In emergencies, AAA often provides prompt assistance, reducing the wait time for stranded drivers.
Comprehensive Services: Beyond just flat tires, AAA can assist with a range of issues, offering a one-stop solution for many drivers.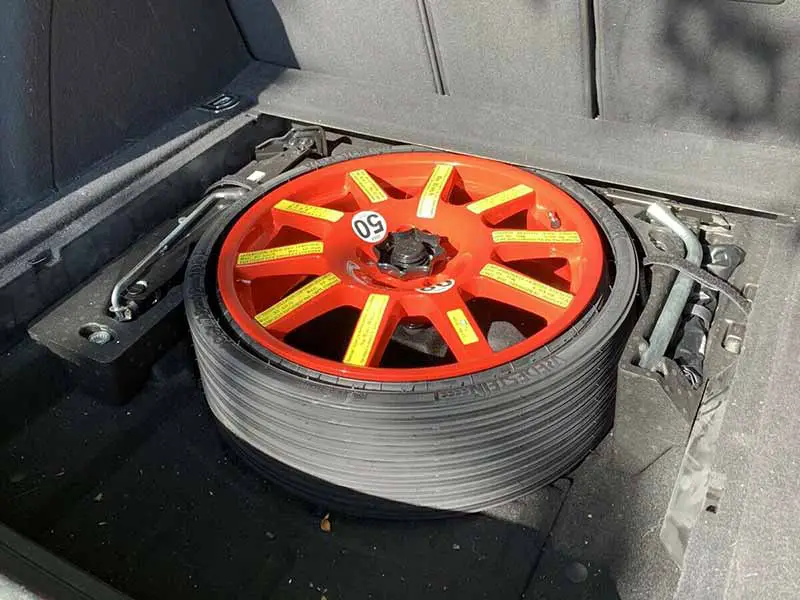 Tesla and the Spare Tire Mystery
Tires play a pivotal role in the performance and safety of any vehicle, including Teslas. However, many Tesla owners and potential buyers often wonder why these vehicles don't come with a spare tire. Let's delve into this mystery and understand the reasons behind this design choice.
Why Don't Teslas Come with a Spare Tire?
Several reasons contribute to Tesla's decision to exclude a traditional spare tire:
Weight and Efficiency: Spare tires add weight to a vehicle. For electric vehicles like Tesla, added weight can reduce the overall range. By eliminating the spare, Tesla can ensure maximum efficiency and range.
Space Utilization: Without a spare tire, Tesla can utilize the space for other features, such as additional storage or enhancing the vehicle's aerodynamics.
Modern Solutions: Tesla believes in providing modern solutions to traditional problems. Instead of a spare tire, they offer tire repair kits and roadside assistance to address flat tire issues.
The Trend of Excluding Spare Tires
Tesla isn't the only manufacturer excluding spare tires. The trend is becoming more common among various automakers:
Focus on Fuel Efficiency: For traditional gasoline vehicles, less weight means better fuel efficiency. Removing the spare tire is one way to achieve this.
Reliance on Roadside Assistance: Many automakers believe that with the widespread availability of roadside assistance, the need for a spare tire is diminishing.
Use of Run-Flat Tires: Some vehicles come equipped with run-flat tires, which can be driven for a limited distance after a puncture, eliminating the immediate need for a spare.
Alternatives to Spare Tires in Teslas
While Teslas don't come with a traditional spare tire, they aren't left defenseless against flat tires:
Tire Repair Kits: Tesla offers a tire repair kit that can temporarily seal small punctures, allowing drivers to reach a service station or tire shop.
Roadside Assistance: Tesla's roadside assistance program can help address flat tire issues, either by repairing the tire or towing the vehicle to the nearest service center.
The Importance of Being Prepared
Even without a spare tire, Tesla drivers can take steps to ensure they're prepared for a flat tire:
Regular Tire Checks: Regularly inspecting tires for signs of wear or damage can help prevent unexpected flats.
Familiarize with the Repair Kit: If your Tesla comes with a tire repair kit, understand how to use it before facing a flat tire situation.
Know Your Options: Be aware of the nearest tire shops or Tesla service centers and have the contact information for Tesla's roadside assistance handy.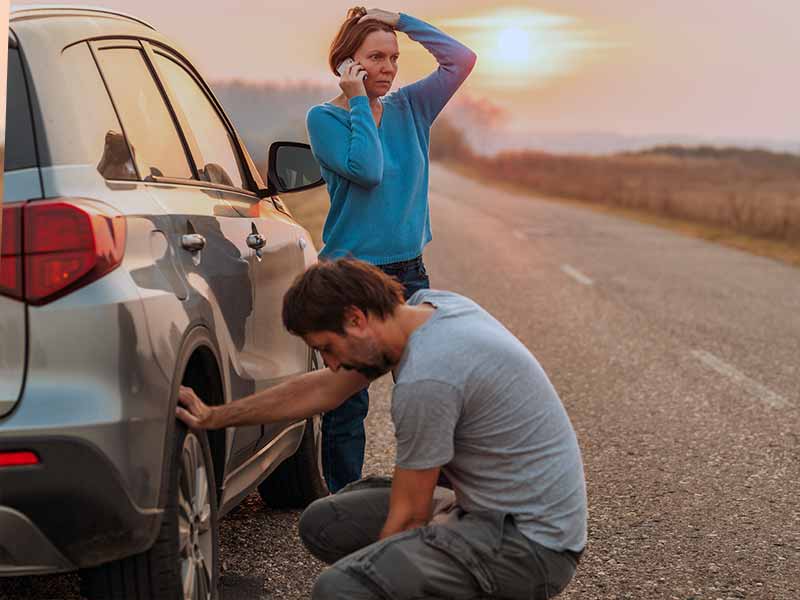 Understanding Flat Tires
Tires are a critical component of any vehicle, ensuring safety, performance, and comfort. When a tire loses its air pressure, it's referred to as a "flat tire." Understanding the basics of flat tires can help drivers respond appropriately and safely.
What is a Flat Tire?
A flat tire occurs when there's a significant loss of air pressure in the tire. This can be due to:
Punctures: Caused by sharp objects like nails, screws, or glass.
Valve stem issues: The valve stem is where you inflate the tire. If it's damaged or corroded, it can leak air.
Tire bead leaks: The bead is where the tire seals against the rim. If it's not sealed properly, air can escape.
Structural damage: This includes sidewall bulges, deep cuts, or other physical damages to the tire.
Common Causes of Flat Tires
Several factors can lead to a tire going flat:
Road hazards: These are the most common causes and include things like potholes, sharp rocks, and debris on the road.
Wear and tear: Over time, tires naturally degrade. If they're not replaced when needed, they become more susceptible to flats.
Temperature changes: Sudden drops in temperature can cause the air inside the tire to contract, leading to decreased pressure.
Vandalism: Unfortunately, intentional damage, like someone letting the air out or slashing a tire, can also be a cause.
How to Spot a Flat Tire
It's essential to recognize the signs of a flat tire early to prevent further damage or potential accidents:
Visual check: If the tire looks deflated or has a noticeable bulge on the bottom, it's likely flat.
Vibration: You might feel unusual vibrations while driving, especially if the flat tire is on the front of the vehicle.
Pulling to one side: If your vehicle starts to drift or pull to one side, it could be due to a flat tire on that side.
Loud noises: A thudding or flapping sound can indicate a tire that's lost its air.
Preventing Flat Tires
While you can't avoid all flat tires, some preventive measures can reduce the risk:
Regular inspections: Check your tires for signs of wear, damage, or foreign objects.
Maintain proper tire pressure: Use a tire pressure gauge to ensure your tires are inflated to the manufacturer's recommended level.
Avoid road hazards: Whenever possible, steer clear of potholes, debris, and other obstacles on the road.
Rotate your tires: This ensures even wear, which can prolong the life of your tires and reduce the risk of flats.
Resources
Below are some links you may find helpful when learning about tires
Final Thoughts
Navigating a flat tire situation with a Tesla is unique but manageable with the right knowledge. Key takeaways include understanding the role of Tesla's tire repair kit for minor issues and the invaluable support of Tesla's roadside assistance for more complex challenges.
Good luck and happy motoring.