If you've ever wondered whether snow chains could harm your vehicle's tires when navigating wintry roads, you're in the right place. Discover the ins and outs of using snow chains without fretting about potential tire damage.
Do Snow Chains Damage Tires?

Yes, snow chains can potentially cause extra wear on tires, but with proper installation, careful driving, and regular maintenance, you can minimize the risk significantly.
In this article, we'll dive into the world of snow chains and tire safety. Learn how snow chains work, understand their impact on tires, explore their pros and cons, and discover expert tips for using them responsibly in wintry conditions.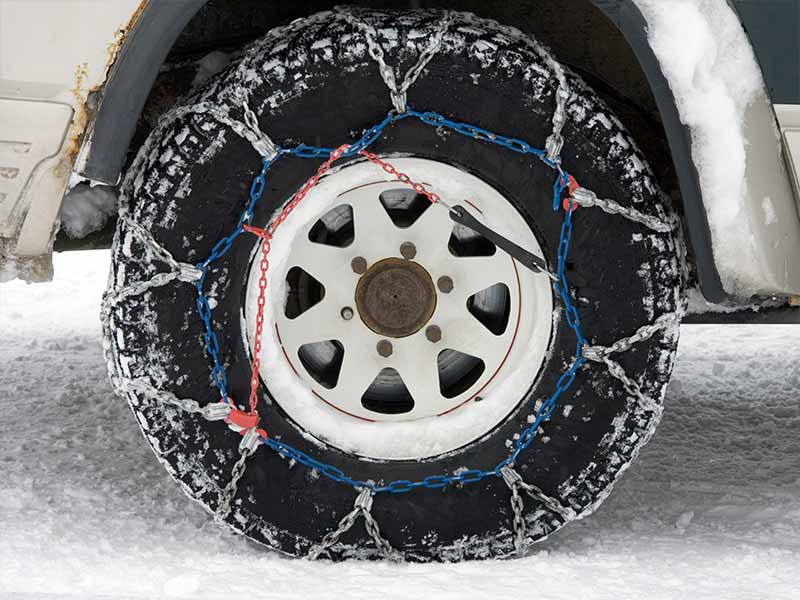 Potential Impact of Snow Chains on Your Tires
Using snow chains might have some effects on your tires:
Possibility of Wear: Snow chains can cause extra wear on your tires because they add pressure and friction while driving on snowy roads.
Impact of High Speed: If you drive too fast with snow chains on, they might cause even more wear on your tires.
Risk of Damage: Sometimes, snow chains could harm your tires if they're not put on correctly or if there's not enough space around your tires for the chains.
Factors Influencing Tire Damage
A few things can affect how much snow chains might damage your tires:
Tire Size: Using the right size of snow chains for your tires can lower the chance of any damage.
Driving Habits: Being careful and not driving too fast with snow chains can help reduce tire damage.
Proper Installation: Making sure the chains are installed correctly and have enough clearance is crucial to preventing harm to your tires.
If you want to know more about how many inches of snow require chains or about studded tires versus chains, you can find more details in the article How Many Inches of Snow Require Chains? and Studded Tires vs. Chains on our website.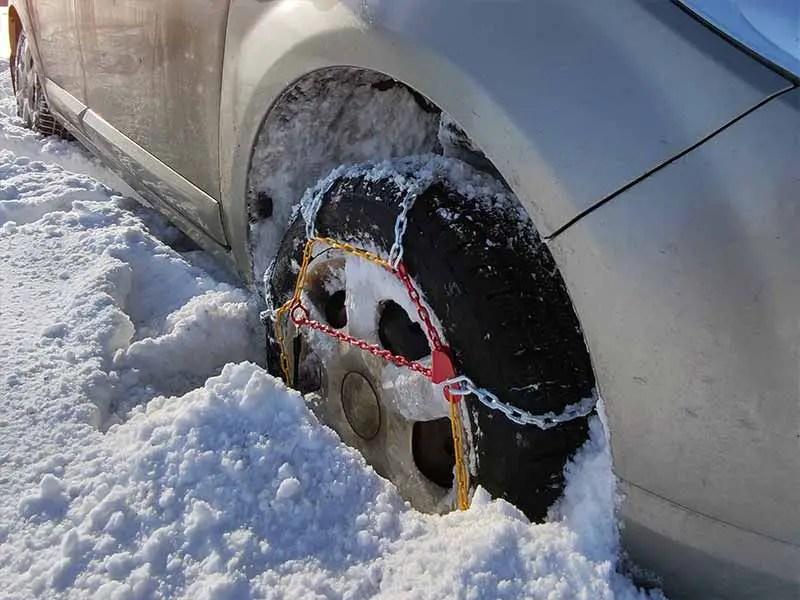 Preventing Tire Damage When Using Snow Chains
Let's dive into essential tips to avoid tire damage while using snow chains. Understanding these pointers will help ensure your tires stay in good shape even when using snow chains during wintry conditions.
Proper Installation for Tire Protection
Installing snow chains correctly is crucial for preventing damage to your tires:
Choose the Right Fit: Use snow chains that match your tire size precisely. Incorrectly sized chains can rub against the tires and cause damage.
Clearance Check: Ensure there's enough space around the tires for the chains. Lack of clearance may lead to the chains hitting the vehicle's body or internal parts, risking tire damage.
Avoid Over-Tightening: Don't make the chains too tight; it might strain the tires. Follow the manufacturer's guidelines for proper tension.
Mindful Driving Habits
Your driving behavior greatly affects tire health when using snow chains:
Moderate Speed: Drive at a reasonable speed suited for snowy conditions. Excessive speed with snow chains can wear out your tires quickly.
Gentle Maneuvers: Avoid sudden acceleration, braking, or sharp turns. Gentle driving helps reduce strain on the tires and the chains, minimizing potential damage.
Regular Checks: Periodically stop and examine the chains and tires. Look for signs of rubbing, wear, or damage. Adjust if needed.
Maintenance and Precautionary Measures
Taking care of your snow chains and tires can prevent damage:
Cleanliness is Key: Remove the chains after use and clean off any debris or salt that might have accumulated. Clean and dry the chains thoroughly before storing them.
Proper Storage: Store the snow chains in a dry place to prevent rust or deterioration. Keep them away from moisture to maintain their condition.
Inspection Before Use: Before installing the chains, inspect them for any signs of wear, broken links, or damage. Replace or repair as necessary.
Risks of Leaving Tire Chains on Overnight
Leaving tire chains on overnight or for extended periods generally won't cause direct damage to the tires themselves if the chains are properly installed and used correctly. However, there are potential risks associated with extended use that could indirectly affect the tires:
Risks Associated with Leaving Tire Chains on Overnight
Increased Wear: Continuous use of tire chains over an extended period can lead to increased wear on the tire tread. The friction between the chains and the tires, especially when driving on cleared roads, can wear down the rubber, impacting tire longevity.
Over-Tightening Issues: If the chains are over-tightened, they can put excess pressure on specific areas of the tire tread. This pressure might cause uneven wear or, in extreme cases, damage to the tire structure.
Precautions to Mitigate Risks
Proper Installation: Avoid over-tightening the chains. Follow the manufacturer's guidelines for correct tension to prevent unnecessary strain on the tire tread.
Timely Removal: Whenever possible, remove the tire chains after use or overnight. This practice reduces the likelihood of prolonged wear on the tires and minimizes any potential risks associated with extended chain use.
Expert Advice:

Leaving tire chains on overnight occasionally, when unavoidable, might not cause immediate tire damage, especially if the chains are correctly installed and the vehicle isn't being driven. However, extended periods of use can contribute to increased tire wear.
Tips for Using Snow Chains Safely
Now that we've covered the upsides and downsides of using snow chains, let's focus on some helpful tips to ensure you use them safely. These tips will guide you on proper usage, maintenance, and safety measures while driving with snow chains.
Installing and Removing Snow Chains
Follow these steps for correct installation and removal of snow chains:
Practice Beforehand: Try putting on and taking off the chains before you need to use them in actual snowy conditions. Practice makes perfect!
Refer to Instructions: Always follow the manufacturer's guidelines when installing or removing snow chains from your tires.
Inspect for Damage: Before installation, check the chains for any signs of wear or damage. Don't use them if they're not in good condition.
Drive a Short Distance: After putting on the chains, drive a short distance and check their tightness. Re-adjust if needed for proper fit.
Driving Safety with Snow Chains
Some driving tips to remember when using snow chains:
Drive Cautiously: Even with snow chains, drive at a safe and moderate speed suitable for snowy conditions. Avoid sudden movements or sharp turns.
Be Mindful of Road Conditions: Some roads might not allow snow chains, so check road signs and regulations beforehand.
Front Wheel Drive Priority: If you have a front-wheel-drive vehicle, prioritize installing snow chains on the front wheels for better traction.
For more detailed guidance on how many snow chains you might need for your vehicle, check out How Many Snow Chains Do I Need for 2-Wheel Drive? and How Many Snow Chains for AWD? on our website.
Pros and Cons of Using Snow Chains
Let's take a closer look at the advantages and disadvantages of using snow chains for your tires. I'll break it down so you can easily get a handle on what's good and what might not be so good about using them.
The Upsides of Snow Chains
Using snow chains can be helpful because:
Better Traction: They provide improved grip on snowy or icy roads, making it easier to drive safely.
Enhanced Safety: Snow chains help prevent accidents by reducing slipping and sliding, especially when driving uphill or braking on snowy surfaces.
Increased Control: They offer better control of your vehicle in wintry conditions, allowing for safer maneuvers.
The Downsides of Snow Chains
But, using snow chains also comes with a few drawbacks:
Potential Damage: They could cause extra wear and tear on your tires, especially if not used correctly or if driven at high speeds.
Limitations in Use: Sometimes, you might not be able to use snow chains on certain roads or in specific conditions where they're prohibited.
Installation Hassle: Putting on snow chains can be a bit of a hassle, especially if you're not used to it or if conditions are harsh.
For more detailed information about snow tires versus chains, check out Snow Tires vs. Chains on our website.
Understanding How Snow Chains Work for Safer Driving
Snow chains, also called tire chains, are special things that help your car's tires grip the road better when it's covered in snow or ice. They're like metal chains or cables that you attach to your tires to get better traction. This helps your car not slip and slide so much, making it safer to drive in snowy weather.
How Do Snow Chains Help?
Snow chains are useful because they:
Give Better Grip: The metal chains grab onto the snow or ice, so your tires can get a better hold on the road.
Help Braking and Speeding Up: With snow chains on, your car can brake and speed up more easily, which is super important when the roads are icy or snowy.
Make Driving Safer: When you use snow chains right, your car becomes more stable, and it's easier to control, which lowers the chance of accidents on snowy roads.
Different Types of Snow Chains
Snow chains aren't all the same – there are a few types:
Regular Chains: These are just like metal chains that wrap around your tires for better grip.
Cables: They're made of strong steel cables and are lighter and quieter than regular chains.
Socks or Textile Chains: These are made of fabric and fit snugly on tires, giving traction without metal parts.
Snow Chains and Your Car's Tires
It's essential to pick the right snow chains for your car:
Tire Size: There are different sizes of snow chains, so make sure you choose the ones that fit your tires.
Enough Space: Your car needs enough room for the chains without causing damage to your vehicle or the chains themselves.
If you want to learn more about different types of snow chains and which might suit your car best, you can check out Snow Chains vs. Cables vs. Socks on our website.
Resources
Below are some links you may find helpful when learning about tires:
Final Thoughts
Ensuring your tires remain undamaged while using snow chains involves a mix of proper installation, cautious driving, and regular maintenance. 
By choosing the right chains, driving responsibly, and caring for both your chains and tires, you can navigate winter roads safely. Remember, balancing safety and tire protection with snow chain usage can lead to worry-free travels in snowy conditions.
Good luck and happy motoring.