Sometimes snow tires and all wheel drive vehicles aren't enough. But if you're wondering whether just two tire chains will be enough for your AWD vehicle, and if so, which tires should they be placed on, you're not alone.
How Many Show Chains For AWD?

For AWD vehicles, using four snow chains is often recommended to ensure balanced traction and safety.

Although some manufacturers may allow for only two chains (usually on the rear) depending on specific vehicle requirements.
In this article, we explore the mechanics of AWD systems, the role of tire chains, manufacturer recommendations, legal requirements, and practical considerations for using snow chains on AWD vehicles.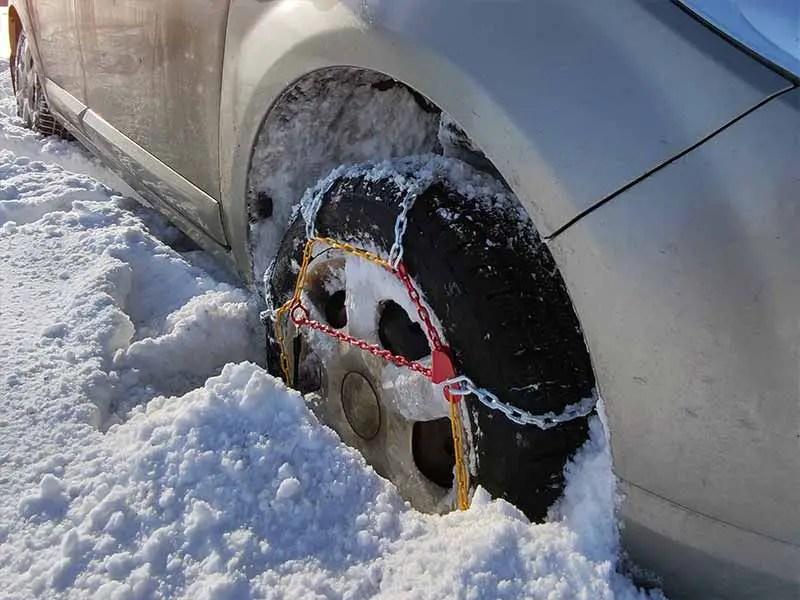 Understanding AWD and Its Impact on Tire Chains
I've come to appreciate the unique aspects of All Wheel Drive (AWD) vehicles, especially when it comes to choosing the right tire chains for winter conditions. Let's break down what AWD means and how it affects your choice of tire chains.
What is All Wheel Drive (AWD)?
Simple Definition: AWD means that all four wheels of your car get power from the engine. Unlike cars where only the front or back wheels get power (like in front-wheel or rear-wheel drive), AWD spreads the power to all tires. This helps your car get better grip on slippery roads.
Why It Matters: In AWD vehicles, because all wheels are working together, it's important to keep them all equally equipped for snowy or icy conditions. This balance helps your car handle better and stay safe.
AWD vs. Other Drive Systems
Four Wheel Drive (4WD): Often found in trucks and off-road vehicles, 4WD can be turned on and off. It's great for very rough conditions but different from AWD, which is always on.
Rear Wheel Drive (RWD): Here, only the back wheels get power. RWD cars can struggle in snow unless they're properly equipped with the right winter gear.
Front Wheel Drive (FWD): Power goes only to the front wheels. FWD cars are generally better in snow than RWD, but not as capable as AWD or 4WD vehicles in harsh conditions.
Why AWD Needs Special Attention for Tire Chains
Equal Power Distribution: Since AWD sends power to all tires, if you only put chains on two tires, the other two might not grip as well. This can make your car handle unpredictably.
Protecting Your Vehicle: AWD systems are sophisticated. Using chains incorrectly can damage the system. It's crucial to follow your vehicle manufacturer's guidelines.
Choosing the Right Snow Chains for AWD
Check the Manual: Your car's manual will tell you what the manufacturer recommends for tire chains on your AWD vehicle.
Consider Full Coverage: Often, putting chains on all four tires is the best choice for balanced traction. However, some AWD systems may allow chains on just two tires.
Learning More About Winter Tires and Chains
To understand more about how snow chains compare to other winter options like studded tires, visit our detailed guide on Studded Tires vs. Chains.
For insights into the benefits of winter tires and how they differ from regular tires, check out What Are Winter Tires?.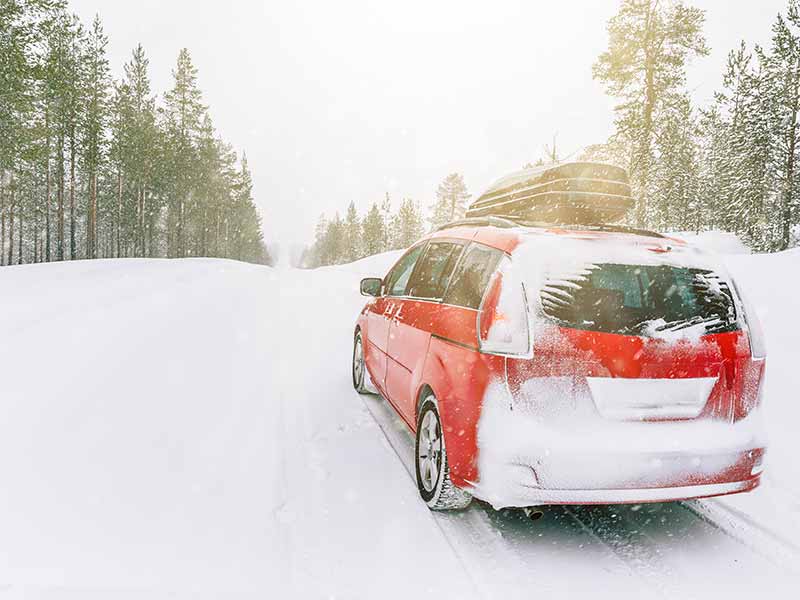 The Role of Snow Chains in Enhancing Traction
The right use of tire chains can be a game-changer for winter driving. It's not just about having them – it's about knowing when and how to use them effectively. Especially for AWD vehicles, where the balance of traction is key.
Let's dive into what tire chains do and why they're so important, especially for vehicles like AWDs.
How Snow Chains Work
Basic Function: Snow chains are designed to wrap around the tires of your vehicle, providing extra grip and traction on snow-covered roads.
Increased Safety: By biting into the snow and ice, chains prevent your car from slipping and sliding, which is especially important in severe winter conditions.
Benefits of Snow Chains
Improved Traction: Chains give your tires a much better grip on icy or snowy surfaces, reducing the risk of getting stuck or losing control.
Essential for Mountain Driving: In many mountainous areas, snow chains are not just recommended; they're legally required under certain conditions.
Snow Chains vs. Studded Tires
Snow Chains: Ideal for occasional use in heavy snow. They can be installed as needed and removed when not in use.
Studded Tires: These are tires with metal studs embedded in them. They're great for consistent icy conditions but can be overkill for occasional snow and may damage clear roads.
For a more in-depth comparison, explore our article on Snow Tires vs. Chains.
Choosing Snow Chains for AWD Vehicles
Front vs. All Tires: While some might think putting chains just on the front tires of an AWD is enough, it's often safer to chain all four. This ensures equal traction and prevents the unchained tires from slipping.
Follow Manufacturer Guidelines: Always check your vehicle's manual for specific recommendations on using snow chains with your AWD system.
Legal Requirements and Recommendations
Laws Vary by Region: Some areas have strict laws about using snow chains under certain conditions. It's important to be aware of these to avoid fines and stay safe.
When to Use Chains: Generally, you should consider chains when there's a substantial amount of snow on the road, or if you're heading into areas known for severe winter conditions. For more details on this, our guide on How Many Inches of Snow Require Chains can be very helpful.
Snow Chains on AWD Vehicles – Front and Rear Axles
From my experience, is not just about throwing chains on any tires; it's about understanding your vehicle's specific needs and responding accordingly. This approach not only enhances safety but also ensures that you get the most out of your vehicle's AWD capabilities, especially in challenging winter scenarios.
Let's explore how the power distribution in AWD systems affects the use of snow chains.
AWD Mechanics and Power Distribution
Even Power Spread: AWD vehicles distribute power to both the front and rear axles. This means all four wheels are actively driving the vehicle, offering better traction and control.
Impact on Snow Chains: Because power is evenly spread, it's important to ensure that all tires have similar traction capabilities. This is where the decision on how many chains to use becomes critical.
Balancing Traction on All Tires
Uniform Grip: If only two tires (either front or rear) have chains, there's a risk of uneven traction. This can lead to handling issues, as the unchained tires may not grip the road as effectively.
Full Set of Chains: For most AWD vehicles, using chains on all four tires is recommended. This ensures that each tire has equal traction, maintaining the balance and stability of the vehicle.
Manufacturer Recommendations for AWD Vehicles
Consult Your Manual: Vehicle manufacturers often provide specific guidelines on using snow chains with their AWD systems. This can include recommendations on the type of chains and which tires to install them on.
Avoiding Damage: Incorrect use of chains on AWD vehicles can lead to damage. Following the manufacturer's advice helps protect your vehicle's drivetrain.
Practical Tips for AWD Snow Chain Usage
While you should use 4 chains for all wheel drive cars and trucks, if you only have 2 chains they generally should always be placed on the rear wheels.
Rear Tires Only: Placing chains on only two tires with all wheel drive or 4×4 vehicles, the rear tires are usually recommended unless the vehicle manufacturer recommends otherwise. If chains are only on the rear tires, it can lead to understeering (where the car doesn't turn as much as you expect).
Front Tires Only: Manufacturers may suggest chains only on the front tires. While this can be sufficient for light snow, it's generally less effective than chaining all four tires. Chains on the front only can lead to oversteering (where the car turns more than you expect).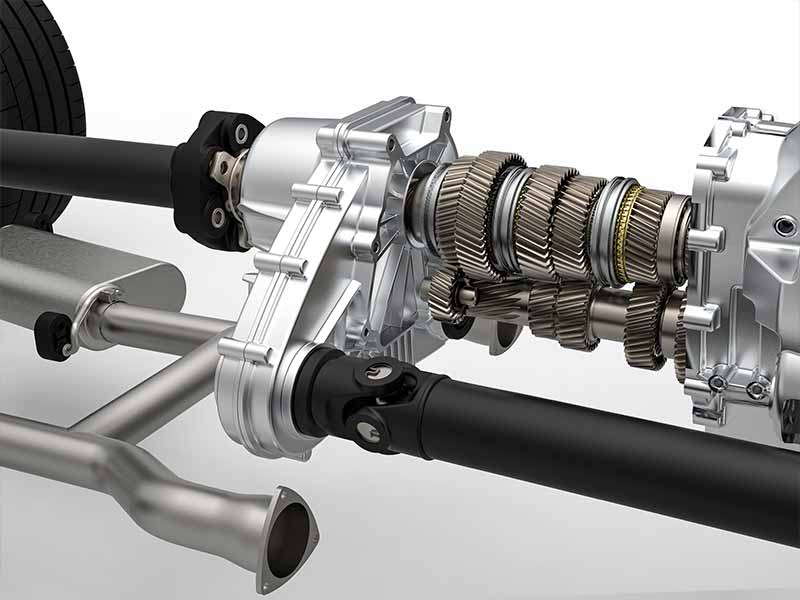 Manufacturer Recommendations and Legal Requirements
Over the years, I've learned that respecting the guidelines set by your vehicle's manufacturer and staying informed about the legal requirements in your area are fundamental to the safe and effective use of snow chains. 
Let's delve into why these aspects are so crucial.
Following Vehicle Manufacturer Guidelines
Specific Recommendations: Each AWD vehicle may have unique requirements for snow chains. Manufacturers provide guidelines on which tires should be fitted with chains and the type of chains suitable for the vehicle.
Protecting Your Vehicle: Ignoring these guidelines can lead to damage, especially to the AWD system. It's not just about traction; it's about keeping your vehicle functioning properly.
Understanding Legal Requirements for Snow Chains
Regional Laws: Different regions have specific laws regarding the use of snow chains. In some areas, they are mandatory under certain weather conditions.
Safety and Compliance: Adhering to these laws is not only about avoiding fines but also about ensuring your safety and that of other road users.
Practical Considerations for AWD Vehicles
Chain Compatibility: Ensure the chains you choose are compatible with your vehicle's tire size and the clearance in the wheel wells.
Driving Conditions: Consider the typical winter conditions you'll be driving in. Heavier snow and ice might require more robust chains.
Safety Tips for Using Snow Chains
Proper Installation: Incorrect installation of snow chains can lead to tire damage or chains coming loose. Take time to learn how to install them correctly.
Speed Limitations: When driving with chains, maintain lower speeds. This is crucial for safety and to prevent damage to your vehicle.
The Debate: 2 vs. 4 Snow Chains on AWD Vehicles
Deciding between 2 or 4 snow chains on an AWD vehicle is a balance of cost, convenience, safety, and vehicle specifications. From my perspective, prioritizing safety and vehicle integrity is key, especially in challenging winter conditions.
Let's explore the pros and cons of each option to help you make an informed decision.
Using 2 Snow Chains on AWD Vehicles
Pros:

Cost-Effective: Using only two chains can be more budget-friendly.
Easier Installation: It's generally quicker and less complicated to install chains on just two tires.

Cons:

Uneven Traction: This can lead to handling issues, as the tires without chains may not provide sufficient grip.
Potential for Drivetrain Stress: AWD systems are designed for even power distribution, and uneven traction can strain the system.
Using 4 Snow Chains on AWD Vehicles
Pros:

Balanced Traction: This provides uniform grip and handling, which is crucial for AWD vehicles.
Optimal Safety: With all tires equally equipped, the risk of sliding or losing control is significantly reduced.

Cons:

Higher Cost: Purchasing four chains instead of two can be more expensive.
More Time-Consuming Installation: Putting chains on all four tires takes more time and effort.
Practical Considerations
Driving Conditions: If you frequently encounter heavy snow and icy roads, four chains may offer better safety and performance.
Vehicle Specifications: Always refer to your vehicle's manual. Some AWD systems might be more tolerant of using only two chains, while others may strictly recommend four.
Safety and Performance
Handling and Control: With four chains, your vehicle is likely to handle more predictably, providing a safer driving experience.
Reduced Risk of Damage: Evenly distributing traction reduces the risk of putting undue stress on any part of the drivetrain.
Resources
Below are some links you may find helpful when learning about tires:
Final Thoughts
Snow chains play a crucial role in enhancing traction and stability. While four chains are generally recommended for balanced traction, it's essential to consider your vehicle's specific needs and manufacturer guidelines.
Always be mindful of the legal requirements in your area and prioritize safety over convenience. By understanding and applying the information in this article, you can make informed decisions about using snow chains on your AWD vehicle.
Good luck and happy motoring.