Are snow chains an essential requirement on all four tires, or can you get away with just two? Understanding the role of each tire is important. Let's take a closer look into this confusing topic to ensure you're prepared for the snowy season.
Are Snow Chains Required On All 4 Tires?

When using snow chains, you're not always required to put them on all four tires but it's usually the safest method. Whether it's required depends on things like how your vehicle's drive system works and the laws in your area.

If you use only one set of snow chains, be sure to put them on the rear unless your vehicle manufacturer states otherwise.
In this article, I'll walk you through where to put chains on vehicles with front wheel drive, rear wheel drive, or all wheel drive, explain things about snow chains to keep in mind, go over safety tips, and give you details about tips for driving in winter.
Understanding Drive Wheels and Tire Chains
When it comes to snow chain placement, grasping how drive wheels work with these chains is key to feeling secure on snowy roads. Let's break it down:
Different Wheel Drive Systems
Front-Wheel Drive Vehicles: In these cars and trucks, the engine sends power to the front wheels, which handle both steering and moving forward. When winter gets tough, adding snow chains to these wheels boosts grip, helping you steer and stay in control.
Rear-Wheel Drive Vehicles: On the flip side, rear-wheel drive vehicles send power to the back wheels. They might have trouble getting traction on snow or ice, especially when going uphill or speeding up. Using tire chains on these rear wheels can give you the traction you need to avoid slipping.
All-Wheel Drive and Four-Wheel Drive Vehicles: These vehicles spread power across all wheels, giving better grip. But even with this setup, sliding on icy roads is possible. So, putting snow chains on all four tires makes sure you have grip all around, making your ride more stable and controlled.
Importance of Drive Wheels in Snow Chain Placement
Let's dig deeper into how the drive wheels impact where tire chains should go:
Front-Wheel Drive: Putting chains on the front tires boosts grip while speeding up and steering. This method helps a lot with control, especially when making turns or going up slopes.
Rear-Wheel Drive: Focusing on the rear tires is key for moving forward and staying stable, really important to keep control and prevent sliding sideways.
All-Wheel Drive/Four-Wheel Drive: Spreading snow chains evenly on all four tires is the best way to get good grip and control. It lowers the chance of grip differences between the front and back, making your drive safer.
Understanding the Connection Between Drive Wheels and Snow Chains
When thinking about which tires need snow chains, think about how the drive wheels work:
Drive System Influence: The drive system really changes how a vehicle acts on snowy roads.
Traction Enhancement: Putting snow chains on the wheels that power the car gives you the best grip, making sure you move safely and steadily.
Balanced Control: Using the right chains on the right tires helps a lot in keeping the car stable and in control, which is super important for driving safely in winter.
For more detailed info on how drive wheels connect to tire chains, check out these articles we've written: How Many Snow Chains for AWD Vehicles and How Many Snow Chains Do I Need for 2-Wheel Drive.
Determining the Number of Snow Chains Required
Knowing if you need two or four snow chains for your ride helps you know how to stay safe on wintry roads. Let's walk through this decision-making process:
The Need for 2 or 4 Snow Chains
Two-Wheel Drive Vehicles
For cars where power goes to either the front or back wheels, using snow chains on those drive wheels does the trick. This way, you get good grip where you need it most, making it easier to steer and move forward on snowy or icy roads.
Four Snow Chains
In really rough weather or if the law demands it, having four snow chains is best. It spreads grip evenly on all tires, making your ride steadier and stopping differences in grip between the front and back tires.
Understanding 2 Wheel Drive Vehicles
In the case of 2-wheel drive vehicles, wondering how many snow chains you need is a common question:
Rear-Wheel Drive Vehicles: Chains on the rear wheels give grip where the car gets its power. This setup helps you stay stable and in control, stopping you from sliding sideways.
Front-Wheel Drive Vehicles: Putting chains on the front tires boosts grip when steering and speeding up. It makes it easier to control, especially when turning or going up slopes.
Insights for Specific Drive Systems
Knowing how many snow chains to use with different drive systems is key:
Front-Wheel Drive: Usually, two chains on the front wheels give you good grip for steering and moving.
Rear-Wheel Drive: Using two chains on the rear wheels helps with stability and spreading power, important for control and stopping sliding.
All-Wheel Drive/Four-Wheel Drive: When conditions get rough, using four snow chains on all tires makes sure you have good grip everywhere, making your ride steadier and safer.
Different Vehicle Types and Snow Chains
Knowing what's best for different types of vehicles helps you get your vehicle ready for safe winter driving. Let's talk about what different vehicles need when it comes to snow chains:
Rear-Wheel Drive (RWD) Vehicles
Trucks and cars with rear-wheel drive face challenges on snowy or icy roads because of how their power moves. Putting snow chains on the rear tires helps with grip where the power goes, making the truck steadier and easier to control when speeding up and stopping from sliding.
Front-Wheel Drive (FWD) Vehicles
In cars with front-wheel drive, the front wheels do both steering and moving the car. Using snow chains on these front tires gives better grip when speeding up and turning, making the car easier to control, especially in rough weather.
Four-Wheel Drive (4WD) and All-Wheel Drive (AWD) Vehicles
These vehicles usually have good grip because power goes to all wheels. But they can still slide or lose control on icy roads. Putting snow chains on all four tires makes sure they all have good grip, making your ride more stable and easier to control, even in cars with fancy drive systems.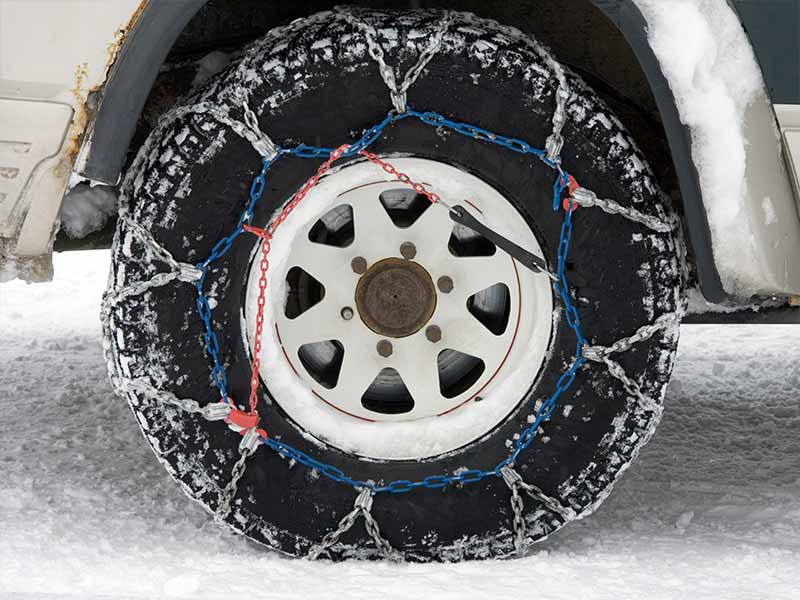 Safety and Best Practices
Getting snow chains set up right and following the law is very important for a safe winter drive. Here's what you need to know:
Correct Installation: Making sure snow chains are put on correctly is a big deal. If they're not, they might not work well and might even damage your car or tires. Always follow what the maker says for putting them on right.
Fitting Them Properly: Using chains that are the right size for your tires really matters. Chains that are too loose might fall off, and if they're too tight, they could damage your tires. Make sure they're the right fit for your tire size and aren't too loose or too tight.
Local Regulations: Different places have different rules about using snow chains. Some places say you have to use them in certain weather or on certain roads. Know your local laws so you don't get in trouble and so you're safe.
Studded Tires vs. Chains: In some spots, you can use studded tires instead of or along with snow chains. Knowing the good and not-so-good things about both helps you choose the right one based on the rules where you are and the weather you expect.
Tips for Driving Safely with Snow Chains
Reduced Speed: When using snow chains, drive at a middle speed. Going too fast might break the chains or make them not work well to give you grip.
Smooth Driving: Don't speed up suddenly, brake hard, or turn sharply when you have snow chains on. Driving smoothly keeps your car steady and helps stop sliding.
Regular Inspection: Stop occasionally to check the chains and make sure they're still on right and not coming loose. Doing this helps prevent problems and keeps them working well.
Resources
Below are some links you may find helpful when learning about tires:
Final Thoughts
Understanding if you need two or four snow chains and figuring out where they go on different types of drivetrains is what this article's all about. It's meant to help you make good choices when driving in snowy weather.
Making sure snow chains are put on correctly, following the law, and driving safely with them makes a big difference in how well you drive in winter. When you focus on safety and being ready, you can handle snowy roads with more confidence.
Good luck and happy motoring.