Ever been stranded on the side of the road, fighting with a stubborn lug nut, feeling the weight of the world (and your car) pressing down? We've all been there. And let's face it: stuck lug nuts can throw a major wrench in your day.
How To Loosen Lug Nuts

To loosen lug nuts, turn them counterclockwise using a lug wrench or breaker bar. If they're extremely tight, rusted, or stuck, apply penetrating oil, let it sit for 10 minutes, and then try again.
In this article, we'll unravel the mysteries behind those pesky lug nuts. From understanding the basics to step-by-step guides, to essential maintenance tips, we've got you covered, ensuring you'll never be left spinning your wheels again.
Let's take a closer look.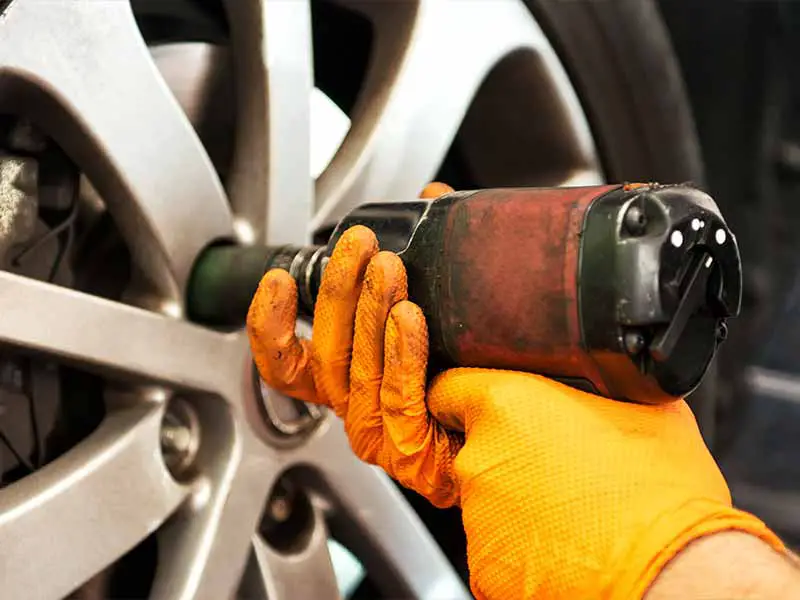 Understanding the Basics
Alright, let's roll right into the basics, shall we? Before we get into the "how-tos" and the "do-nots", we need a good grasp on the core concepts. Trust me, this stuff isn't rocket science, but it sure helps to have a solid footing.
What is a Lug Nut?
Now, if you've ever seen a tire, you've probably seen a lug nut. But let's dive a little deeper:
Lug Nuts: These are those small, typically shiny bits that hold your wheels onto your car. Think of them as the handshakes between your wheel and your vehicle; they need to be firm but not too tight.
Lug Bolts: Sometimes, instead of lug nuts, we have lug bolts. The difference? Lug nuts screw onto a bolt to hold the wheel on, while lug bolts are like screws – the wheel has holes, and the lug bolts go right in.
Directional Understanding
Ever heard the saying, "Righty tighty, lefty loosey?" Well, it generally holds true here, but with a twist (pun intended).
Clockwise or Counterclockwise? For the majority of cars out there, you'll turn lug nuts counterclockwise to loosen them. That's to your left if you're facing the lug nut. But a quick heads-up: some vehicles, especially older ones or those from certain manufacturers, might have the opposite thread direction. Always double-check!
The Importance of Proper Torque
"Torque" might sound like a fancy word, but it's just a measure of how much "twisting force" you're applying.
Why Does Torque Matter? Well, if lug nuts are too loose, the wheel can wobble or come off (yikes!). Too tight, and you might damage the wheel, brake components, or even have a really hard time getting them off later.
Enter, the Torque Wrench: This is a special tool that lets you tighten lug nuts to just the right tightness, or "torque". It's not about raw strength; it's about precision. Remember: Goldilocks had it right – not too tight, not too loose, but just right.
Penetrating Oil Example
How To Loosen Stuck Lug Nuts – Step-by-Step
By now, you should have a decent grip on the basics. But understanding the theory is one thing; putting it into action is a whole other ball game. So, let's get our hands dirty (well, metaphorically, at least) and explore the steps to tackle those stubborn lug nuts.
Initial Preparation
Before you dive head-first into lug nut removal, we need to lay the groundwork. Trust me, you'll thank yourself later.
Parking & Safety First: Always start by parking on a flat surface. It provides stability, ensuring your car won't roll away mid-process.
Parking Brake: This is a must. Before you start, ensure the parking brake is fully engaged. It's like the safety lock on this entire operation.
To Loosen or Not Before Jacking? There's some debate here. Generally, it's a good idea to slightly loosen lug nuts before jacking up the car. Why? It prevents the wheel from spinning freely in the air when you try to undo the nuts. But remember, just a slight turn, we're not removing them yet!
Tools You'll Need
If you're thinking of just grabbing any old wrench from the garage, pause for a sec. Using the right tools can save you a lot of time, sweat, and choice words.
Lug Wrench – The Star of the Show: This is your go-to tool for lug nuts. It's specially designed for the job and often comes with your car's spare tire kit.
Breaker Bar: Ever tried opening a tight jar lid? Think of the breaker bar as that extra muscle. It's longer than a regular wrench, giving you more leverage.
Torque Wrench: Remember our buddy from the previous section? Yup, you might need this again, especially when it's time to put the lug nuts back on.
Know Your Nuts – Metric vs. SAE: Different cars use different size lug nuts. Make sure you know whether yours is metric or SAE. The wrong size can strip the lug nut, making your day way harder.
Breaker Bar
Loosening Techniques
Alright, the moment of truth! Here's the playbook to get those lug nuts to cooperate:
By Hand With a Lug Wrench: Position the lug wrench so it's horizontal. Using your body weight, push down on the end of the wrench. Remember, counterclockwise!
Break out the Breaker Bar: If the lug wrench didn't do the trick, the breaker bar is your next move. It's like bringing in the big guns.
Penetrating Oil for the Win: Got rusted lug nuts or corroded lug bolts? Spray some penetrating oil on them. This magic liquid seeps into cracks and helps break the rust bond. Let it sit for at least 10 minutes, longer if you've got the time.
Dealing with Problematic Nuts
Occasionally, lug nuts throw tantrums. But don't fret; we've got strategies for that.
Stripped or Destroyed Lug Nut: This is a tricky one. Your best bet is a specialized removal tool. These grip onto the stripped head, giving you the leverage to turn it. If you're in a pinch, sometimes hammering a slightly smaller socket onto the stripped lug can also work.
Flat Tire Scenario: If you're dealing with a flat, always remember to jack the car up after you've slightly loosened the lug nuts. And, keep that spare tire close by. You're gonna need it!
Lug Nut Extractor
Prevention and Maintenance
Alright, so we've been through the battleground of stubborn lug nuts. But what if I told you, with a bit of care and some maintenance voodoo, you could reduce these lug nut showdowns? Prevention is better than cure, after all. Let's go over some of the tricks of the trade.
Regular Lug Bolt Thread Check-up
Checking up on things isn't just for doctors. Make it a habit to periodically peek at those lug bolt threads.
Why Check? Over time, dirt, rust, or other gunk can accumulate on the threads. This not only makes removing the nuts harder but can also lead to unsafe driving conditions.
Clean and Clear: If you spot any debris or corrosion, clean it up. A simple wire brush usually does the trick.
Avoid Over-Tightening
Hey, I get it. When we're putting something back together, we want to make sure it's secure. But there's a fine line between snug and "I'm never getting this off again."
Feeling the Pressure: Over-tightened lug nuts can warp brake rotors, damage wheel hubs, or even strip the threads.
Use That Torque Wrench: Remember that fancy torque wrench we talked about? Here's where it shines. By using it, you can ensure you're applying just the right amount of force, every single time.
Watch Out for Rusted and Corroded Lug Bolts
Water, salt, and time – the notorious trio that can lead to rusted and corroded lug bolts.
Early Detection: The earlier you catch and treat rust, the better. If left unchecked, it can make removal a real pain later on.
Rust-Proofing Spray: Consider using rust-proofing sprays available in auto stores. They form a protective barrier, keeping the nasties out.
Goodbye Salt: If you live in colder climates where roads are salted, give your wheels a good rinse every now and then. Salt speeds up the rusting process.
Regular Maintenance Visits
Sometimes, we need a pro's touch.
Annual Check-ups: Consider getting your tires and wheels inspected at least once a year. A professional can spot potential issues before they become bigger headaches.
Balancing Act: Every once in a while, get your wheels balanced. This ensures they wear evenly and extends their lifespan.
Resources
Below are some links you may find helpful when learning about tires
Final Thoughts
Lug nuts might be small, but they sure can put up a fight. Remember to always turn them counterclockwise to loosen, and if you encounter a particularly rebellious one, penetrating oil might just become your new best friend. The real secret sauce, though? Prevention. Regular maintenance, avoiding over-tightening, and giving those lug bolt threads a little TLC can save you heaps of time and frustration down the road.
Good luck and happy motoring.