Ever wondered if you're spending too much on tires? Or maybe you're curious about how safe used tires really are. Either way, the world of tires is more complex than you might think, and making the wrong choice could cost you—both in dollars and in safety.
How Much Are Used Tires?

The cost of used tires varies widely based on factors like tread depth, size, brand, and age. On average, you can expect to pay anywhere from $25 to $100 per tire, but prices can go higher for larger or specialized tires.
In this article, we'll dive deep into the intricacies of used tires. From understanding what determines their cost to evaluating their longevity and safety, we'll guide you through the pros and cons of buying new vs. used tires.
We'll also cover essential topics like when it's okay to replace just one tire, how to tell if tires are too old, and where to buy quality used tires.
Let's take a closer look.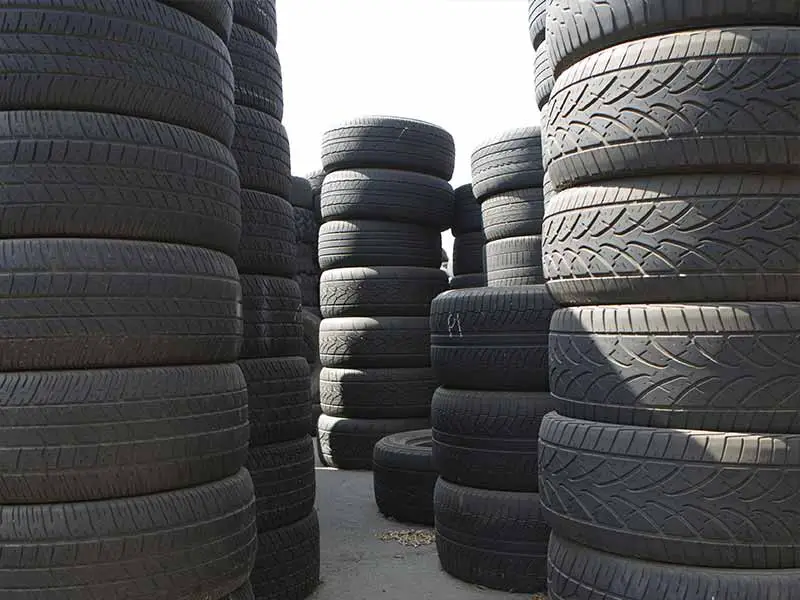 What Determines the Cost of Used Tires?
When it comes to the cost of used tires, several factors come into play. Understanding these can help you make a more informed decision when you're looking to buy.
Tread Depth
What It Is: Tread depth is the measurement of how deep the grooves in the tire's rubber are.
Why It Matters: More tread means more grip on the road, which is especially important in wet or snowy conditions.
How It Affects Cost: Tires with more tread depth are generally more expensive because they have a longer lifespan and provide better performance.
Tire Size
What It Is: Tire size refers to the dimensions of the tire, usually given in a series of numbers and letters printed on the tire's sidewall.
Why It Matters: Different sizes are suited for different types of vehicles and driving conditions.
How It Affects Cost: Larger tires, often used for trucks or SUVs, usually cost more than smaller ones used for passenger cars.
Brand and Quality
What It Is: Tires come from various manufacturers, each with its own reputation for quality.
Why It Matters: Higher-quality tires often offer better performance and safety features.
How It Affects Cost: Premium brands usually come with a higher price tag, while off-brand or generic tires are generally cheaper.
Age and Condition
What It Is: The age of a tire can be found by looking at its manufacture date, usually printed on the sidewall.
Why It Matters: Older tires may have less tread and could be closer to the end of their useful life.
How It Affects Cost: Newer used tires with less wear and tear are likely to be more expensive than older ones.
Seasonal Types
What It Is: Tires are often designed for specific seasons, like summer or winter.
Why It Matters: Seasonal tires offer optimized performance for specific weather conditions.
How It Affects Cost: Specialized tires like winter tires may cost more than all-season tires.
Used Tire Price Calculator
If you're looking for a quick way to get an estimate of how much a used tire might cost, a used tire price calculator can be a handy tool. These calculators take into account various factors like tread depth, size, and brand to give you an approximate cost.
How Long Do Used Tires Last?
Tread life refers to how long a tire's tread will last before it becomes too worn to be safe or effective. This is a crucial factor to consider when buying used tires.
Measuring Tread Depth
To understand how long a used tire might last, you'll need to measure its tread depth. This is usually done using a tread depth gauge.
How to Use a Tread Depth Gauge: Insert the probe into the grooves of the tire and read the measurement.
What the Numbers Mean: The measurement is usually in 32nds of an inch. A new tire typically has a tread depth of 10/32″ or 11/32″.
Legal Minimum Tread: The legal minimum tread depth varies by jurisdiction, but it's often 2/32″.
Factors Affecting Tread Life
Driving Habits
Aggressive Driving: Quick starts, stops, and fast turns can wear out tires more quickly.
Speed: Higher speeds can generate more heat, which can wear out a tire faster.
Road Conditions
Rough Roads: Gravel, potholes, and other rough road conditions can reduce tread life.
Climate: Hot climates can make rubber deteriorate faster, while cold climates may require specialized tires that wear differently.
Tire Maintenance
Rotation: Regularly rotating your tires can help them wear more evenly, extending their life.
Alignment: Poor alignment can cause uneven wear, reducing tread life.
Type of Vehicle
Passenger Cars vs. Trucks: Trucks often require tires that are built to handle more weight, which can affect how quickly they wear out.
Remaining Tread Depth
The remaining tread depth on a used tire can give you a good idea of how much life it has left.
More Than 6/32″: Likely to have a good amount of life left.
Between 4/32″ and 6/32″: Moderate life remaining but start planning for replacement.
Less Than 4/32″: Close to needing replacement.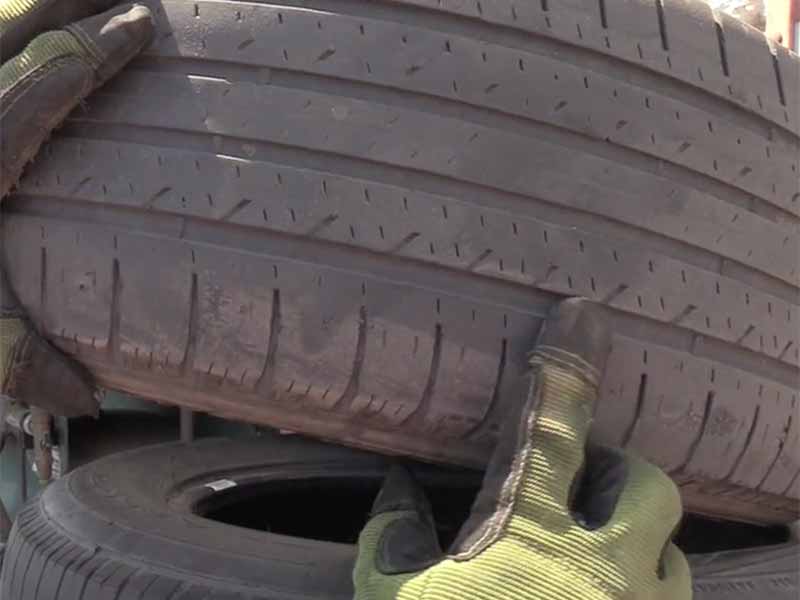 Safety Concerns with Second-Hand Tires
The question of safety is paramount when considering the purchase of second-hand tires. While used tires can offer cost savings, it's crucial to weigh those benefits against potential risks.
Disadvantages of Second-Hand Tires
Uneven Wear
What It Is: Uneven wear refers to the inconsistent wearing down of the tire's tread.
Why It's a Concern: Uneven wear can affect the tire's grip on the road, making driving less safe.
Reduced Performance
What It Is: Performance tires are designed for specific driving conditions or styles. A used performance tire may not offer the same capabilities as when it was new.
Why It's a Concern: Reduced performance can affect your vehicle's handling and braking, which could be dangerous in certain situations.
Hidden Damage
What It Is: Used tires may have internal damage that is not visible from the outside.
Why It's a Concern: Internal damage can lead to tire failure, which is a significant safety risk.
How to Mitigate Risks
Inspection
Visual Check: Look for any visible signs of damage like cuts, punctures, or bulges.
Tread Depth: Use a tread depth gauge to ensure the tire has sufficient tread.
Consult Experts
Tire Shops: Consult professionals at tire shops to assess the condition of used tires.
Online Resources: Use trusted online resources to learn about the specific make and model of the tire.
Check Age
Manufacture Date: Always check the manufacture date on the tire's sidewall.
General Rule: Tires that are more than six years old are generally considered to be at the end of their useful life.
Mismatched Tires and Vehicle Damage
What It Is: Mismatched tires are tires of different sizes, types, or brands.
Why It's a Concern: Using mismatched tires can lead to uneven wear and may even damage your vehicle's suspension or drivetrain.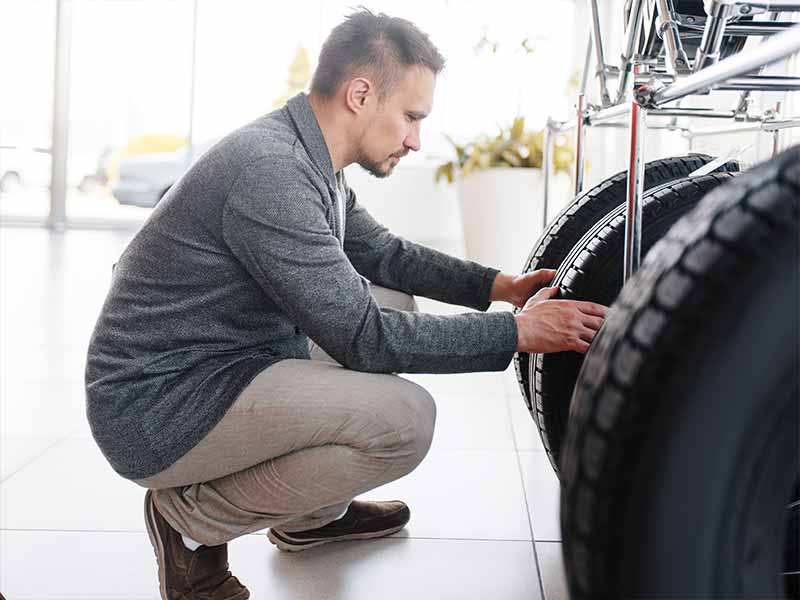 New Tires vs. Used Tires: Pros and Cons
When it comes to choosing between new and used tires, there are advantages and disadvantages to both options. Understanding these can help you make a more informed decision that suits your needs and budget.
Advantages of New Tires
Performance
What It Is: New tires are designed to offer optimal performance, including better grip and handling.
Why It Matters: Improved performance can make your driving experience safer and more enjoyable.
Warranty
What It Is: New tires often come with a manufacturer's warranty.
Why It Matters: A warranty can provide peace of mind and potential cost savings in case of defects or issues.
Longevity
What It Is: New tires, as the name suggests, are brand new and have a full tread life ahead of them.
Why It Matters: Longer tread life means you won't have to replace them as soon.
Advantages of Used Tires
Cost
What It Is: Used tires are generally less expensive than new ones.
Why It Matters: If you're on a tight budget, used tires can be a more affordable option.
Environmental Impact
What It Is: Buying used tires can be seen as a form of recycling.
Why It Matters: You're giving a second life to something that might otherwise end up in a landfill.
Short-Term Needs
What It Is: If you need tires for a short period, perhaps for a lease return or selling your car, used tires can be sufficient.
Why It Matters: There's no need to invest in new tires if you won't be using them for long.
Factors to Consider
Type of Driving
City vs. Highway: New tires are generally better for high-speed highway driving, while used tires may be sufficient for city driving.
Seasonal Needs
Winter vs. All-Season: If you need specialized winter tires, new ones are often recommended for maximum performance and safety.
Vehicle Type
Passenger Cars vs. Trucks: Trucks may require more durable tires, making new tires a better option in some cases.
Is It Better to Buy Used or New Tires?
The answer to this question depends on various factors, including your budget, driving needs, and the condition of the used tires in question. While new tires offer performance and safety benefits, used tires can be a cost-effective solution for short-term needs or less demanding driving conditions.
Resources
Below are some links you may find helpful when learning about tires
Final Thoughts
Navigating the world of used tires can be a daunting task, but armed with the right information, you can make choices that are both cost-effective and safe.
Remember, the cost of a used tire isn't just about the initial price; factors like tread depth, age, and where you buy them play a significant role. Safety is another crucial consideration—always check the age and condition of a used tire before making a purchase.
Whether you're looking to save some money or find a short-term solution, understanding these key aspects will help you make an informed decision.
Good luck and happy motoring.