Ever feel like your car is trying to shake itself apart when you hit the brakes? Or have you white-knuckled the steering wheel as it vibrates uncontrollably at highway speeds? These frightening sensations could be caused by one easily overlooked issue – low tire pressure.
Can Low Tire Pressure Cause Vibration?

Low tire pressure can cause annoying vibration and shaking in your vehicle. Tires that are underinflated by just a few PSI undergo physical changes that disturb their smooth and even contact with the road.

However, unbalanced tires are the most common cause of steering wheel shakes and tire vibration.
In this article, we'll explore the causes, symptoms, dangers, and solutions for low tire pressure so you can confidently address this common problem.
Let's take a closer look.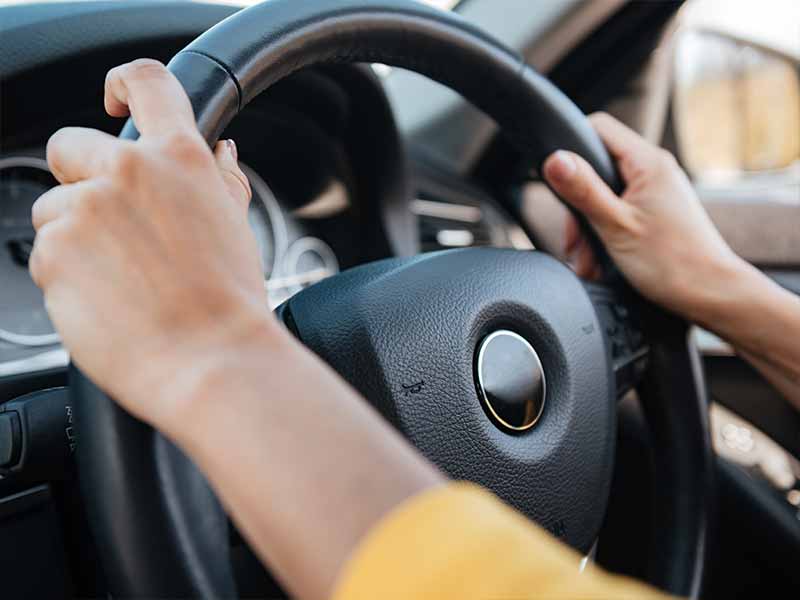 Symptoms of Low Tire Pressure
Driving with underinflated tires can cause noticeable symptoms including:
Vibration
Insufficiently inflated tires can't properly absorb road imperfections. Hitting bumps or inconsistencies causes the tire to bounce rather than dampen vibrations. This causes shaking that travels through the wheels and steering components. Vibration is most pronounced when braking, especially high speed braking. The changing momentum amplifies the shaking sensation. If your vehicle shimmies when braking, low tire pressure could be the culprit.
Especially felt when braking at high speeds
Can cause shaking in steering wheel and seat
Result of tire deformation from low pressure
Steering Wheel Shaking
Like vibration, steering wheel shakes are the result of the tire's inability to roll smoothly under low pressure conditions. The tread surface distorts, losing its even contact with the pavement. This distortion transfers through the steering system to the wheel. A shaking steering wheel, even at highway speeds, indicates tire inflation issues.
Another result of tire distortion
Can feel like alignment issue or loose wheel
Caused by inability of tire to roll smoothly
Uneven Tire Wear
Underinflated tires wear excessively and unevenly on the outer edges. The middle tread remains unused while the edges over-flex and scuff. This causes a "cupping" wear pattern as the center tread remains raised above the edges. Uneven edge wear shortens the usable life of the tire. Low pressure accelerates the need for costly replacement.
Underinflated tires will wear more on the outer edges
Leads to "cupping" wear pattern in the tread
Reduces tread life of the tire
Reduced Traction & Acceleration
Low pressure decreases the tire's contact patch, or surface area making contact with the road. This results in less available traction for braking, cornering, and accelerating. Reduced traction makes it easier for the tires to spin when accelerating. Harder acceleration will activate traction control systems. Lower pressure tires also have higher risk of hydroplaning in wet conditions due to smaller contact patches.
Less contact area between tire and road
Spins easier when accelerating
Increased risk of loss of traction
Vehicle Pulling
When tires have differing pressures side-to-side, the vehicle will pull towards the side with lower inflation. This makes it difficult to keep the vehicle traveling straight without constant small steering corrections. If your vehicle persistently pulls right or left, check the tire pressures on each side to identify any imbalance.
Uneven tire pressures side-to-side can cause pulling
Vehicle will pull towards the side with lower pressure
Harder to keep vehicle traveling straight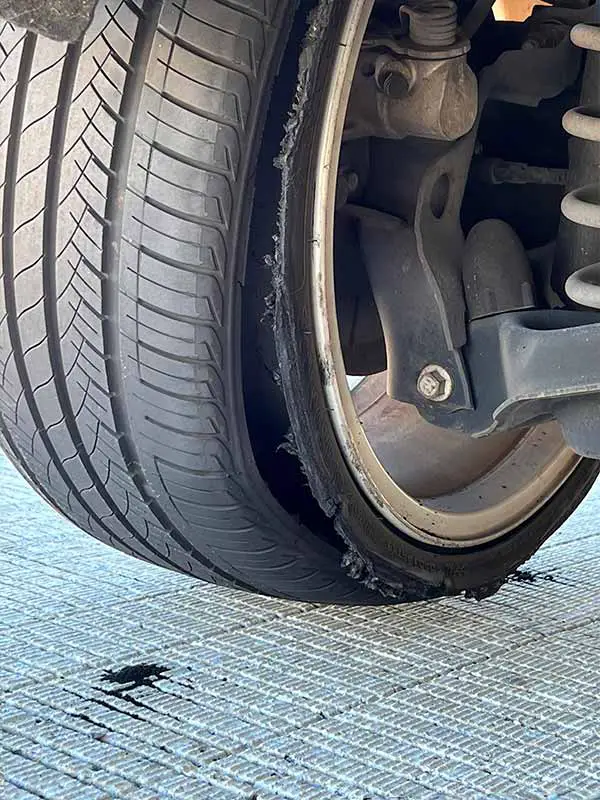 Dangers of Driving with Low Tire Pressure
Continuing to drive with underinflated tires poses safety risks and can lead to further vehicle damage including:
Blowouts or Flats
Continuing to drive on significantly underinflated tires increases the risks of a tire blowout or going flat. The sidewalls and internal structure are more vulnerable to road hazards when the tire is low on air. The likelihood of punctures, cuts, and impacts damaging the tire increases. Heat also builds up in underinflated tires from excessive flexing. This heat can weaken the internal layers and cause sudden air loss or tread separation.
Greater risk of overheated tire failure
Sidewalls more vulnerable to hazards in road
Rapid air loss more likely
Reduced Braking
Braking performance decreases substantially with low tire pressures. The contact patch is smaller, providing less grip for effective braking without locking up the wheels. Increased stopping distances make it harder to brake in time. Underinflated tires can overheat quickly during heavy braking as well, further reducing grip and increasing chances of brake failure.
Longer stopping distances
Decreased braking performance
Higher risk of brake failure
Poor Handling & Control
Low pressures make it much more difficult to steer and handle properly. Vehicle response is sluggish and clumsy rather than crisp and responsive. Traction for cornering and swerving is compromised, increasing chances of spin outs. The risk of hydroplaning in wet conditions is also higher. Overall control and predictability of the vehicle is degraded, jeopardizing safety.
Harder to steer properly
Increased chance of hydroplaning
More prone to spin outs or loss of control
Accelerated Tire Wear
In addition to uneven tread wear, low pressures accelerate overall wear and shorten useable life. More friction and drag occurs between the tire and road. Underinflation allows excessive rolling resistance that literally grinds away the tire's tread. Tires that should last 50,000 miles or more will need to be replaced prematurely if consistently underinflated.
Excessive wear at tire edges
Irregular treadwear patterns
Shortened tire life
Decreased Fuel Economy
Draggy, low tires reduce fuel efficiency. More energy is spent flexing the sidewalls and overcoming friction forces. Underinflation forces the engine to work harder to turn the wheels, burning more fuel. Improper inflation can reduce MPG by several combined miles in extreme cases. Keeping pressures correct maintains designed fuel economy.
More friction and drag on underinflated tires
Requires more effort for engine to turn wheels
Reduces MPG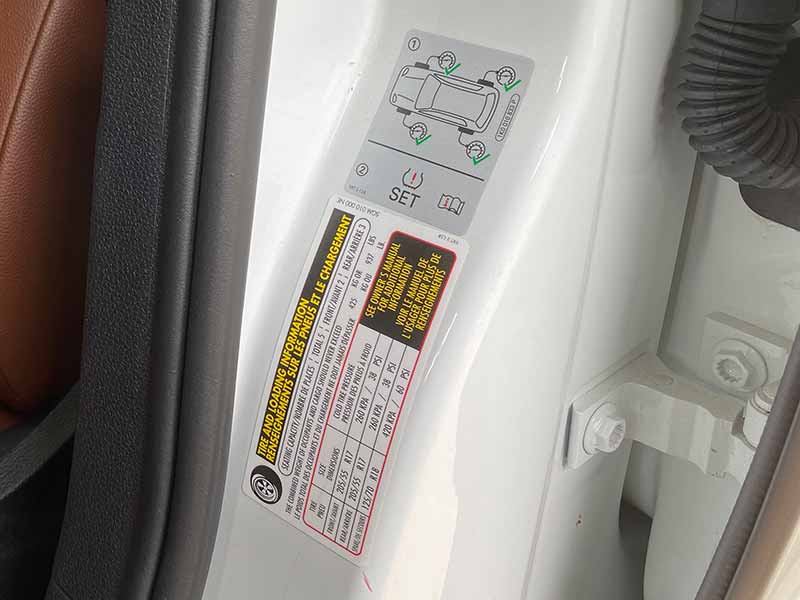 Solutions for Low Tire Pressure
If you notice any symptoms of underinflation, there are solutions to get your tires back to proper pressure:
Check and Fill Tires
The first step is to check all tires, including the spare, with a reliable pressure gauge. Don't rely on appearances – use a gauge even if they look properly inflated. Fill any underinflated tires to the vehicle manufacturer's recommended air pressure found in the owner's manual or door jamb sticker. Check when tires are cold for the most accurate reading.
Use a reliable tire pressure gauge
Fill to manufacturer's recommended PSI
Check all tires including spare
Replace Tire if Needed
Tires with irreparable damage, uneven tire wear, or that have worn down past 2/32″ of remaining tread should be replaced. Always replace in full sets – never just one. Make sure replacement tires match OEM specifications. Proper maintenance and inflation reduces the need for premature replacements.
Severe damage may require new tire
Match replacement to other tires
Proper maintenance prevents prematire replacement
Regular Tire Checks
Get in the habit of checking pressures at least monthly before signs of underinflation occur. Checks before long trips or in extreme temperature swings are also smart. Address any issues promptly. Developing vigilance about tire condition and pressures will maximize their performance and useable mileage.
Make pressure checks part of routine maintenance
Be vigilant before long trips or with temperature drops
Address issues immediately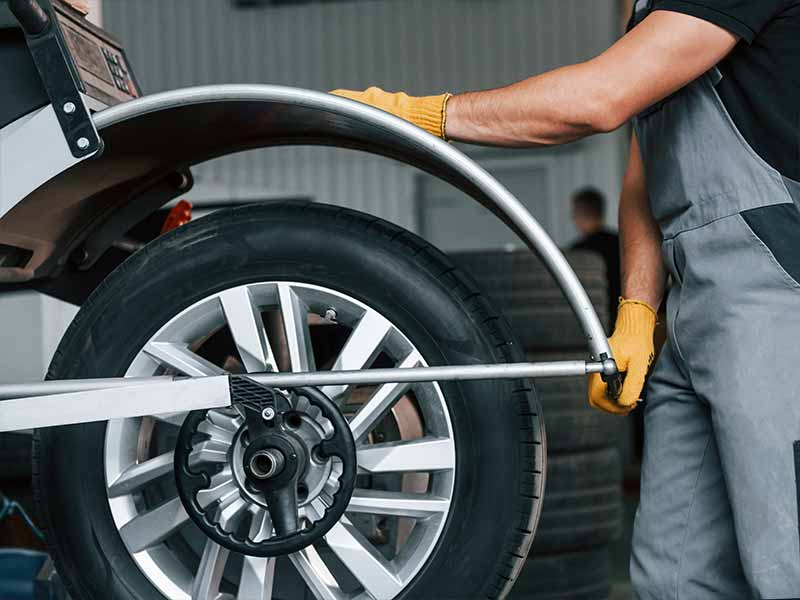 Other Recommendations To Prevent Tire Vibration
In addition to maintaining proper inflation, there are some other maintenance tips to help prevent annoying tire vibrations:
Regular Tire Rotation
Rotating tires every 5,000-8,000 miles evenly distributes wear
Ensures tires wear evenly to maintain smooth ride
Helps extend tire life
Wheel Alignment Checks
Misalignment causes uneven wear
Causes tires to roll inconsistently
Should be checked whenever new tires are installed
Tire Balancing
Balancing minimizes weight imbalances in tires
Prevents wobbles, especially at highway speeds
Should be done if vibration persists after rotation
Suspension System
Worn shocks or struts can cause tire bouncing
Loose components create extra motion
Have suspension checked if tires are in good shape
Inspect Brake Rotors and Pads
Warped brake rotors can cause steering wheel vibration when braking
Brake pads should be kept in good condition to prevent damaged brake rotors
Regularly rotating your tires and getting wheel alignments allows you to proactively address maintenance issues before vibration problems start. Combine these practices with proper inflation and puncture repairs to keep your ride smooth for the long haul.
Resources
Below are some links you may find helpful when learning about tires
Final Thoughts
Proper tire inflation is critical for safe and comfortable driving. Low tire pressure can occur gradually over time or suddenly due to damage. Underinflated tires undergo physical changes that cause vibration, shaking, and loss of control. Driving on significantly underinflated tires is extremely hazardous and can lead to catastrophic tire failures.
The good news is that low tire pressure can be easily detected and addressed. Keeping tires inflated to the manufacturer's recommended tire pressure will restore proper handling and braking. Checking pressures at least monthly and before long trips is a smart preventative habit. Fix any punctures, wear, or valve stem issues promptly.
While tires may not be the most exciting part of a vehicle, maintaining them helps ensure peak performance and safety. Don't ignore the warning signs of low pressure. A few minutes invested in proper inflation can spare you frustrating vibration issues and dangerous blowouts down the road. With increased awareness and regular tire checks, you can confidently keep your vehicle riding smoothly for many more miles.
Good luck and happy motoring.