Ever notice how your car pulls a little to the side when you're driving? Or maybe you've seen the tires seem to be wearing out more on the edges. These can be signs of outside tire wear and, let me tell you, it's more than just an aesthetic issue. It's a safety concern that deserves your attention.
What Would Cause A Tire To Wear On The Outside?

Outside tire wear can be caused by a variety of factors such as improper wheel alignment, worn ball joints, aggressive driving habits, damage to suspension components, and inadequate tire pressure.

Both front and rear tires can be affected, and each can have unique causes contributing to the wear.
In this article, we'll dive deep into understanding outside tire wear, explore what causes front and rear tires to wear on the outside, and provide practical tips to prevent and address this issue.
Let's take a closer look.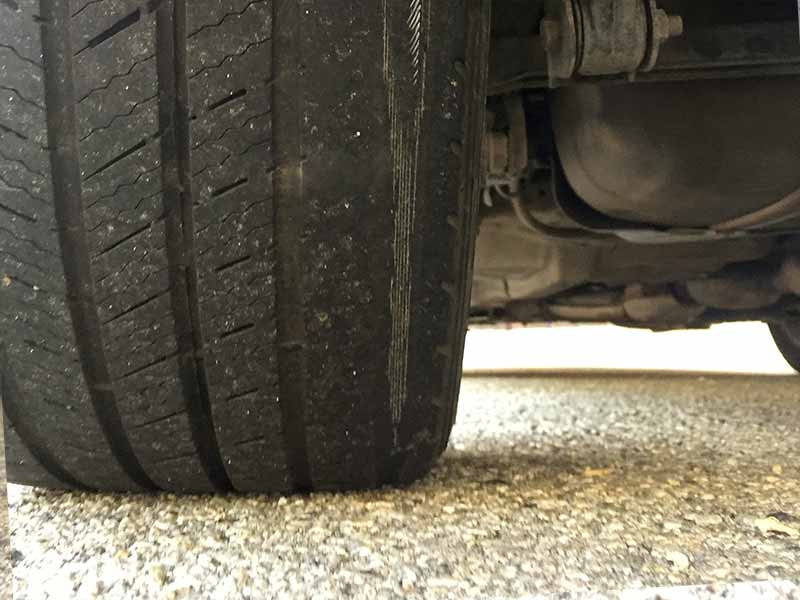 Getting A Handle On Outside Tire Wear
You might be wondering, "What exactly is outside tire wear?" Well, my friend, you're about to become a mini expert on the topic.
What Is Outside Tire Wear?
When we talk about outside tire wear, we're referring to the uneven degradation of the tire's tread on the outer edge. Picture your tire as a donut (mmm, donuts!). You want the whole donut to wear down evenly. But instead, you're getting more wear on the 'outside'—that's the part of the donut you'd hold if you were about to take a delicious bite.
Now, tire wear isn't bad by itself—it's natural for your tire tread to wear down over time. But when one part of the tire (like the outside edge) wears down faster than the rest, that's a problem.
Normal vs. Irregular Tire Wear
Tires are supposed to wear down—that's just a fact of life. But there's a big difference between normal tire wear and irregular tire wear.
Normal Tire Wear: Picture the tread on your tire as the icing on that donut. When you drive, the tread gradually and evenly disappears over time, like licking the icing off the donut in a uniform way (I promise, I'll stop with the donut metaphors soon!). This is completely normal and expected.
Irregular Tire Wear: Now, imagine if you only licked the icing off one side of the donut. That's what happens with irregular tire wear. One section of the tire tread wears down faster than the rest. When it's the outside edge wearing down, we call it outside tire wear.
The Importance Of Tire Tread and Proper Tire Pressure
Why should you care about tire tread? Simple: your safety! Good tire tread gives your vehicle grip on the road, helps it stop properly, and makes handling your car or truck easier, especially in bad weather. So if your tire tread is wearing down irregularly, that could spell trouble.
And let's not forget about tire pressure. Keeping your tires inflated to the proper pressure is super important. If your tires are under-inflated or over-inflated, it can lead to all sorts of problems, including—you guessed it—outside tire wear.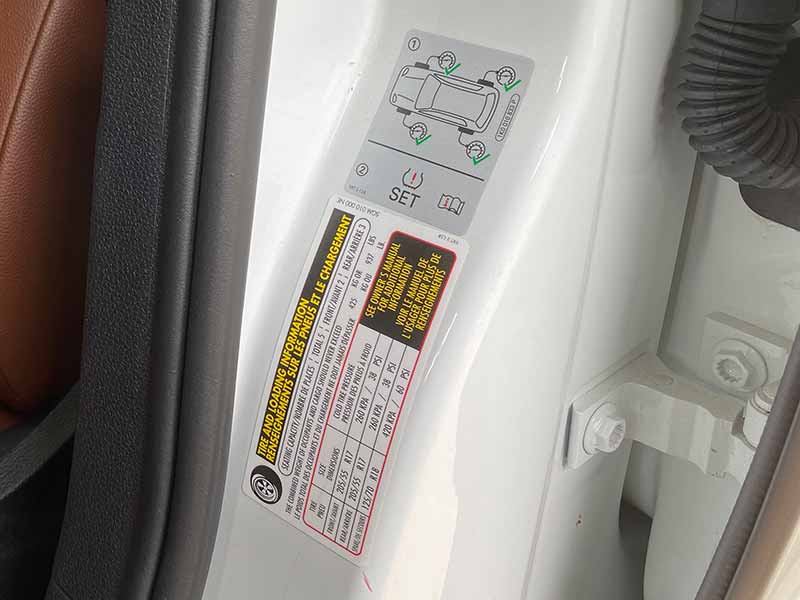 What Makes Your Tires Wear On The Outside?
So you've noticed some outside tire wear. What's causing it? Let's roll up our sleeves and figure it out. There are different causes for your front and rear tires, so we'll break them down separately.
Front Tires Wearing On The Outside
The front tires on your ride have a lot of work to do—they have to steer, after all. Here are some common culprits when these guys start wearing on the outside:
Wheel Misalignment
Ever tried walking while your feet are pointing in different directions? It's hard, right? The same goes for your tires. If they're not aligned correctly—pointing straight ahead—they have to work harder, causing them to wear out faster, especially on the outside edge.
Worn Ball Joints
Ball joints are like the shoulder joints of your vehicle. They allow your tires to move up and down and swivel side to side, all while keeping your tires in contact with the road. If they're worn out, they can cause your tires to tilt, resulting in—yep, you guessed it—outside tire wear.
Aggressive Driving
Remember those crazy chase scenes in action movies? Well, your car isn't a movie star, and such aggressive driving (fast starts, hard braking, and high-speed turns) can cause your front tires to wear out on the outside edge faster.
Rear Tires Wearing On The Outside
The rear tires have their own set of issues that can lead to outside tire wear:
Suspension Components
Your suspension system is made up of many parts working together to give you a smooth ride. When these parts start wearing out or get damaged, they can throw your tires out of alignment, leading to outside tire wear.
Overloading the Vehicle
Ever packed your car or truck to the brim for a big trip or move? Overloading your vehicle puts extra pressure on your rear tires, causing them to wear on the outside.
Front And Rear Tires: Shared Issues
There are also a couple of issues that can cause outside tire wear on both your front and rear tires:
Tire Rotation
Rotating your tires (moving them from front to back or vice versa) is like giving them a mini vacation. It helps them wear more evenly by giving them a break from their usual jobs. Skipping tire rotation can lead to, you guessed it, outside tire wear.
Inadequate Tire Pressure
Too much pressure, and the middle of your tire wears out faster. Too little pressure, and the outside edges get the brunt of the wear. You want your tire pressure to be just right to avoid outside tire wear.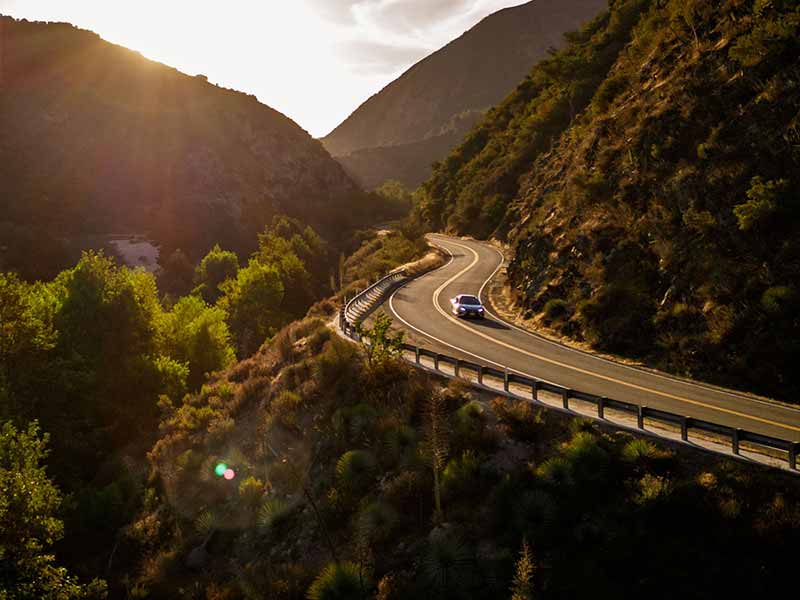 Prevention and Solutions for Outside Tire Wear
So now that you know the potential causes of outside tire wear, what can you do about it? Well, it's all about prevention and proper care. Here's your game plan.
Regular Vehicle Maintenance
Keeping your vehicle in top shape is a lot like taking care of your health. Regular check-ups are a must.
Wheel Alignment
Remember the tricky business of misaligned wheels? The good news is, regular alignment checks can catch this problem before it causes outside tire wear. It's like visiting a chiropractor, but for your car!
Checking Ball Joints
Those ball joints might be hidden, but they should never be forgotten. Regular inspections can spot worn ball joints before they cause trouble.
Proper Driving Habits
Just like you, your vehicle doesn't appreciate rough treatment. So here are a couple of tips to drive kindly:
Avoid Aggressive Driving
Fast starts, hard stops, and sharp turns are not only dangerous—they're also tough on your tires. Drive smoothly to help your tires last longer.
Avoid Overloading
Remember the issues with packing your vehicle too full? Try to avoid overloading your car or truck, especially if you notice the rear tires starting to wear on the outside.
Proper Tire Pressure
Check your tire pressure regularly and keep it at the recommended level (you can usually find this in your vehicle's manual or on a sticker inside the driver's side door). Remember, too high or too low can lead to outside tire wear.
Regular Tire Rotation
Don't forget to rotate your tires regularly. This helps them wear evenly and can prevent outside tire wear.
Resources
Below are some links you may find helpful when learning about tires
Final Thoughts
Outer tire wear patterns are common issue that arises due to a variety of factors including wheel misalignment, worn-out ball joints, aggressive driving, worn suspension components, and improper tire pressure. These causes can affect both front and rear tires differently, leading to distinct wear patterns.
However, preventing outside tire wear isn't as daunting as it might sound. Regular vehicle maintenance, appropriate driving habits, maintaining proper tire pressure, and regular tire rotation are your go-to strategies. Remember, taking care of your tires is not just about saving money—it's about ensuring a safe and enjoyable driving experience. So, don't take that outside tire wear lightly.
Good luck and happy motoring.