Imagine you're all set for a road trip. The sun is shining, your favorite playlist is on, and you're ready to hit the road. But then, you notice your car isn't driving as smoothly as it should, or worse, you have a blowout! Could your tires be the culprit? Understanding tire wear patterns could save you from a spoiled adventure and ensure your journey is smooth and safe.
Tire Wear Patterns

Tire wear patterns are caused by a variety of factors including improper tire pressure, misaligned wheels, and a faulty suspension system.

These patterns can be identified by the uneven wear on the inner, outer, or center of the tire and can be fixed through proper tire maintenance, regular rotation, correct inflation, and periodic alignment checks.
In this article, we will delve deep into what tire wear patterns are, understanding what causes these patterns, recognizing the symptoms of uneven tire wear patterns, and discussing the safety concerns associated with it.
We will also help you understand when it's time to replace your tires due to uneven wear, and provide effective remedies to prevent and address uneven wear. By the end of this read, you'll be well-equipped to keep your tires—and your vehicle—in top shape.
Let's take a closer look.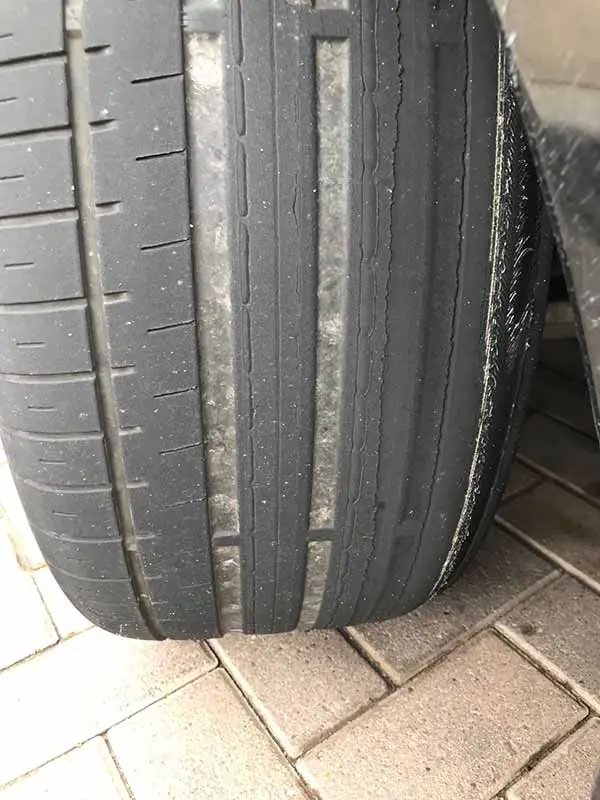 Understanding Tire Wear Patterns
When it comes to tires, one thing's for sure: they're not just big, round, and black. Each tire tells a story about how your car or truck is performing, and wear patterns can give you some pretty important clues. So, buckle up as we navigate the road of understanding tire wear patterns.
Edge Wear
Edge wear, or 'feather edge wear,' can happen on the inner or outer edges of your tire. This kind of wear typically points towards a few possible issues.
Improper Tire Inflation: If your tires are underinflated, you may notice wear on the outer edges. Maintaining the correct driving pressure is key to avoiding this.
Wheel Alignment: Out-of-whack alignment can also cause edge wear. If the alignment is off, your tires might not be parallel to each other or perpendicular to the road. This can cause one side of the tire to wear more quickly.
Center Wear
Center wear, as you might've guessed, shows up in the middle of the tire's tread. The common culprit? Overinflation. When your tires have too much air, they bulge out in the center. This leads to the center of the tire making more contact with the road, causing excessive wear.
Patch Wear
Patch wear is when your tires show wear in random spots. It's kind of like a dog with spots – only, it's not nearly as cute. Patch wear can be caused by:
Suspension Issues: If your car's suspension components are worn out or damaged, your tires might bounce around on the road. This can cause patches of wear.
Wheel Balance: Wheels that aren't properly balanced can also cause your tires to bounce around, leading to patch wear.
Cupping Wear
Cupping wear, also known as 'scalloped tires,' looks like little dips or cups in the tread of your tires. If you notice this, it might be a sign of:
Worn Suspension: A worn or loose suspension can cause your tires to bounce up and down as you drive, creating these cups or dents.
Unbalanced Wheels: Again, wheel balance is crucial. If your wheels aren't balanced, they can cause cupping wear.
Toe Wear and Camber Wear
Toe wear and camber wear are about the angles of your tires.
Toe Wear: This is a type of wear that occurs when the fronts of the tires are not aligned parallel to each other. Imagine pigeon-toed or duck-footed tires – yeah, not a good look, right?
Camber Wear: This happens when the tops of your tires lean inward or outward too much, causing wear on one side of your tire's tread.
Causes of Uneven Tire Wear
Tires are like the shoes of your car—they take you places, endure all sorts of rough terrains, and eventually, they wear out. But what if one side wears out more than the other? Or the center wears out faster than the edges? That's called uneven wear.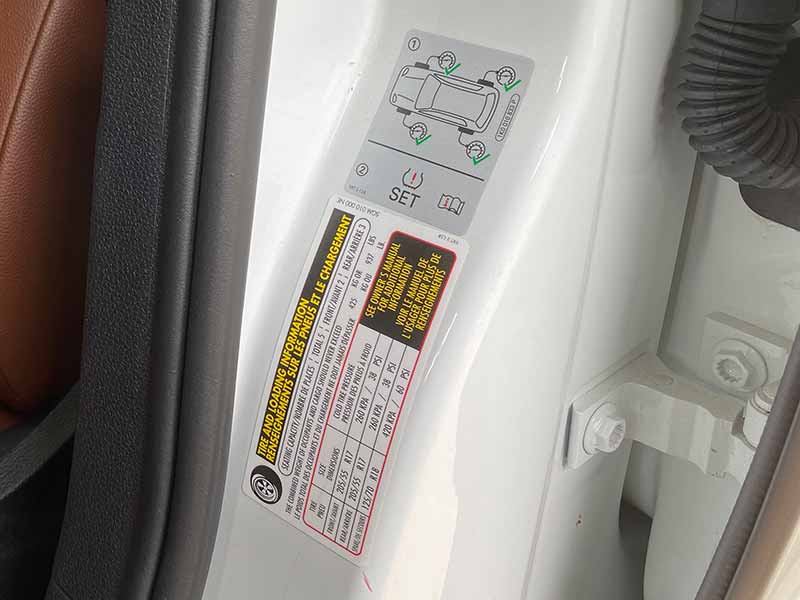 Incorrect Tire Pressure
Let's start with the most common cause—incorrect tire pressure. Yep, that's right. Something as simple as air can cause your tires to wear unevenly.
Underinflation: When your tires are underinflated, they tend to squish down and cause the outer edges to make more contact with the road. That's why you get more wear on the outer edges.
Overinflation: On the other hand, if your tires have too much air, they become too hard and the center bulges out. This causes the middle part to bear the brunt of the contact with the road, leading to center wear.
So, maintaining the right tire pressure is crucial. Check your tire pressure regularly to make sure it's at the proper inflation pressures recommended by the manufacturer.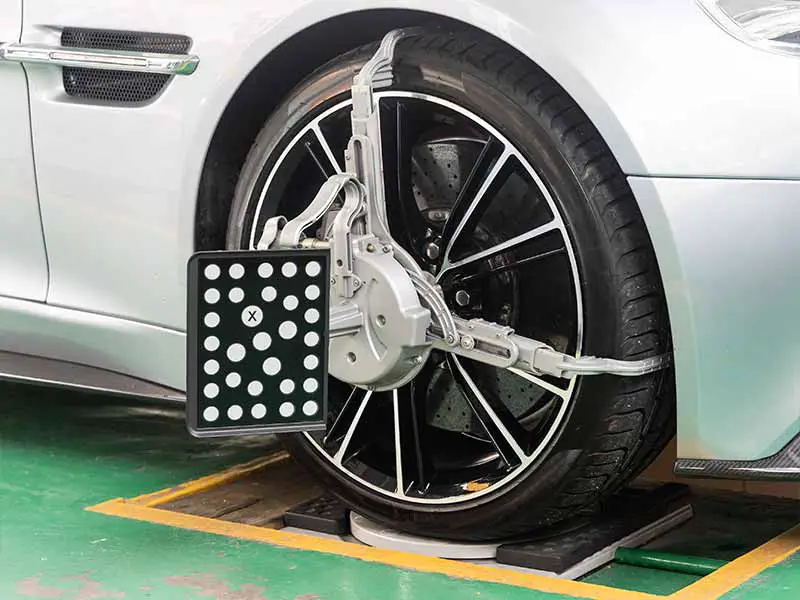 Wheel Alignment
Imagine walking in shoes that are pointing in different directions—pretty hard to walk straight, right? Same goes for your car. If your wheels aren't properly aligned, they can't roll straight. This can lead to:
Edge Wear: When your wheels are angled towards the outside (positive toe) or the inside (negative toe), it can cause one side of your tires to wear out faster, leading to toe wear.
Camber Wear: If your wheels are tilted inward or outward, it causes unequal pressure distribution on your tires. This results in one-sided wear known as camber wear.
So, make sure your wheels are well aligned. It helps your tires last longer and your car drive smoother.
Suspension System
Your car's suspension system is like a buffer. It absorbs shocks from bumps and dips in the road, giving you a smoother ride. But if your suspension system is worn out or damaged, your tires can suffer.
Here's what happens:
Cupping Wear: A damaged suspension system can cause your tires to bounce as you drive. This bouncing can lead to cupping or scalloped dips appearing on the tread of your tires.
Patchy Wear: A bad suspension system can also cause your tires to make inconsistent contact with the road, resulting in random patches of wear.
So, keep an eye on your car's suspension components. A well-maintained suspension system means healthier tires and a smoother ride.
Symptoms of An Uneven Tire Wear Pattern
Like a trusty old friend, your car often tells you when something's not right. It might not speak words, but it has its ways. And when it comes to uneven wear, your car gives some telltale signs. Understanding these symptoms can help you catch irregular wear early and prevent bigger problems. So let's buckle up and get to know these signs!
Tread Depth
Tread depth is one of the first things to look at when you're checking for irregular wear. The tread is the pattern of grooves on your tires, and its depth can tell you a lot.
If the tread depth is significantly different in different parts of the tire, like the edges versus the center, that's a sure sign of uneven wear.
Using a tread depth gauge can help you measure this accurately, but even a good old penny can do the trick in a pinch!
Patchy Wear
Patchy wear is like the spots on a Dalmatian – except on your tires. If you notice that your tires are wearing out in random spots, it's likely a symptom of patch wear. Patchy wear can lead to a rough ride and even reduce the overall life of your tires.
Vibration and Noise
Sometimes, you might feel the symptoms of uneven wear on tires. You might notice a vibration in your steering wheel, or the ride might feel rougher than usual. If you're experiencing these things, it might be due to uneven wear.
Another symptom you might notice is an increase in road noise. Your tires might become noisier, particularly at high speeds. This could be a sign of irregular wear, especially if the noise gets progressively worse over time.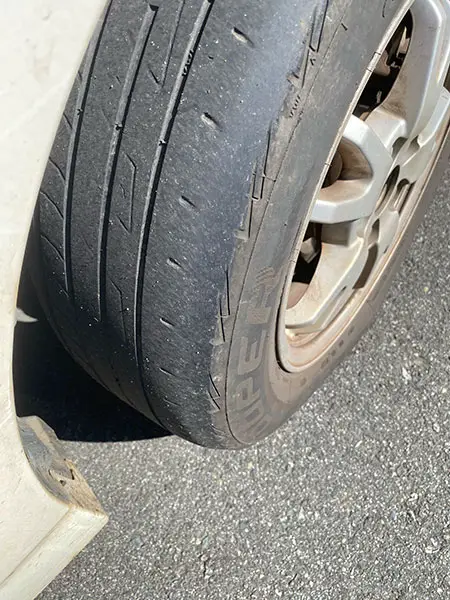 Edge Wear
When you look at your tires, do you notice that one edge, either the inner or outer, looks more worn than the rest of the tire? This visible wear on the edge of the tire tread is a pretty clear sign of uneven wear on one or more tires.
Safety Concerns and the Need for Tire Replacement
When it comes to tires, the saying "Don't judge a book by its cover" doesn't really apply. The state of your tires can be a major indicator of your vehicle's safety. With that in mind, let's dig into the safety concerns associated with uneven wear and when it might be time to replace those tires.
Uneven Tire Wear
Uneven wear can lead to more than just a bumpy ride. It can affect your car's handling and overall safety. For example:
Tires with uneven tread wear can lose grip on the road, making it harder for you to control your car, especially in wet or icy conditions.
Uneven wear on a tire can also cause your car to pull to one side, increasing the risk of accidents.
Tires with extreme uneven wear can even blow out, which can be very dangerous, particularly at high speeds.
So, is it safe to drive on tires with uneven wear? The answer is – it depends on how severe the wear is. If it's minor and your tires still have adequate tread depth, you might be okay for a while. But if the wear is severe, it can definitely be unsafe.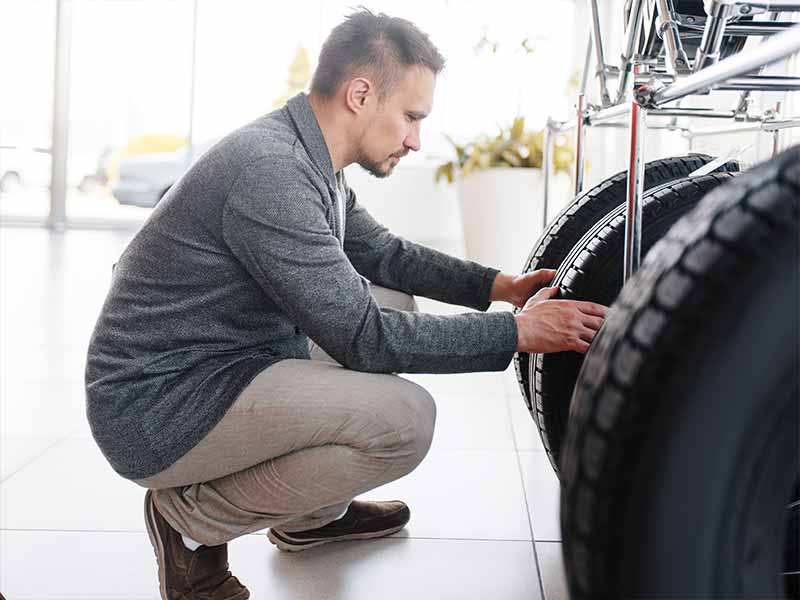 Time for New Tires?
An irregular wear pattern is a sure sign that your tires might be living on borrowed time. But when exactly should you replace them? Here are a few guidelines:
Check the Tread: The tread on your tires should never fall below 1/16th of an inch (or 1.6 millimeters) in depth. If the tread is worn down to this level (or lower) at any point on the tire, it's time for a change.
Consider the Age: Even if the tread looks okay, old tires can be a safety risk. Most manufacturers recommend replacing your tires every six to ten years, no matter how they look.
Examine the Wear: If the wear is severe, like you've got bald spots or the wear bars are showing, it's time for new tires.
Remedies for Uneven Tire Wear
Every problem has a solution, and uneven wear patterns are no exception. In this part of our journey, we'll explore how to address and prevent uneven wear on your tires. We'll look at solutions like tire rotation, proper tire inflation, and wheel alignment. Ready? Let's get rolling!
Rotate Your Tires
Tire rotation is like musical chairs for your tires. It involves moving your tires from one position to another – front to back, left to right. This helps ensure that all tires wear evenly and last longer.
Most manufacturers recommend rotating your tires every 5,000 to 7,500 miles, but check your vehicle's owner's manual for specific guidance.
It's important to know that some vehicles (and some tires) require specific rotation patterns, so it's best to follow the recommendations for your specific vehicle and tire type.
So, will rotating tires fix uneven wear? It can certainly help prevent more uneven wear from developing, but it can't reverse wear that's already occurred.
Air Pressure Checked Regularly
Craftsman V20 Portable Air Compressor
Proper tire inflation is key to preventing uneven tire wear. Tires that are inflated to the right pressure can wear more evenly, perform better, and even improve your gas mileage!
Check your tire pressure at least once a month and before long trips. The correct pressure for your tires is usually found on a sticker in the driver's side door jamb or in your vehicle's owner's manual.
Remember, tire pressure can fluctuate with temperature changes, so it's especially important to check during the winter and summer months.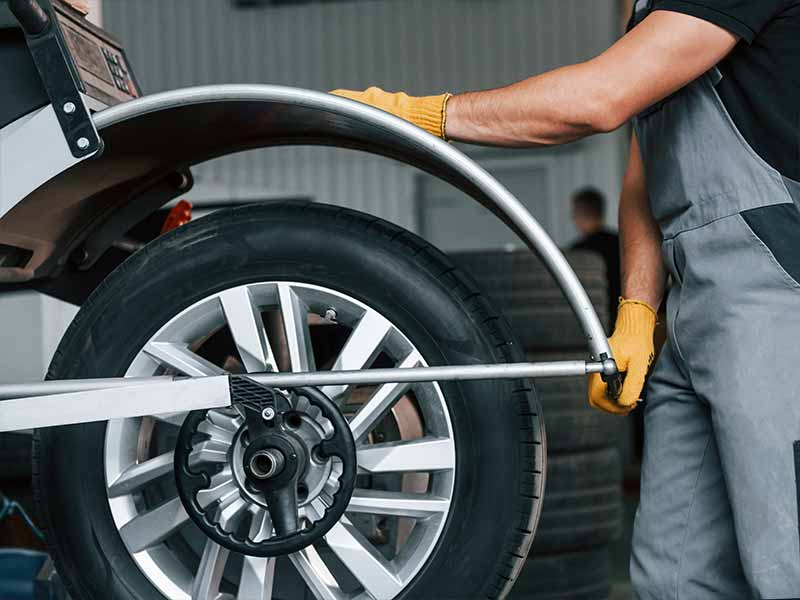 Alignment and Balance
Proper wheel alignment and balance are also crucial in preventing uneven tire wear.
Wheel Alignment: An alignment ensures that your tires are parallel to each other and perpendicular to the road. Misaligned wheels can lead to rapid and uneven wear. Most manufacturers recommend getting an alignment check every 6,000 to 8,000 miles.
Wheel Balance: Balancing your wheels helps prevent vibration and wobble, which can lead to uneven tread wear. Your wheels should be balanced every time you get new tires, and whenever a tire is dismounted for repair.
Prevention is Better Than Cure
As we wrap up this section, remember that preventing uneven tire wear is way easier (and cheaper) than dealing with its aftermath. By rotating your tires regularly, maintaining proper tire pressure, and ensuring your wheels are aligned and balanced, you can keep uneven wear at bay and extend the life of your tires.
Resources
Below are some links you may find helpful when learning about tires
Final Thoughts
Understanding tire wear patterns and what causes them is a critical part of maintaining your vehicle's health and your safety on the road. We've learned that improper tire pressure, wheel misalignment, and issues with the suspension system can lead to uneven wear on your tires, which can manifest as outer edge wear, center wear, or even patchy wear.
Recognizing the symptoms of uneven wear, like varied tread depth and increased vibration or noise, is crucial in addressing this issue before it becomes a safety concern. If left unchecked, uneven tire wear can compromise your vehicle's handling and even lead to tire blowouts. When these symptoms become apparent, it may be time to replace your tires.
To prevent uneven tire wear, regular tire rotation, maintaining proper tire pressure, and ensuring wheel alignment and balance are key. Remember, prevention is easier and more cost-effective than dealing with the aftermath.
Good luck and happy motoring.