You're aware of the famous penny test for checking tire tread depth. But do you know its accuracy, or when it's time to say goodbye to your tires and welcome some new ones? Well, fasten your seat belts, because we're about to take a deep dive into the world of tires and their tread depth.
Is The Penny Test For Tires Accurate?

While the penny test for tires can indicate if the tread depth has reached the minimum legal limit of 2/32″, it's not the most accurate way to measure tread depth. For a more precise reading, a tread depth gauge or professional consultation is recommended.
In this article, we delve deep into the world of tire treads, exploring what tire tread depth is and why it's crucial for your safety. We'll guide you through how to check your tire tread, understand wear bars, and the significance of new tire tread depth. You'll also learn the differences between the penny and quarter test, how often tires should be replaced, and special considerations for winter tires.
Let's take a closer look.
Understanding the Penny Test and Its Accuracy
The penny test, involving Abraham Lincoln's head on a coin, is a time-honored tradition among drivers to check tire tread depth. If part of Lincoln's head is always covered by the tread, your tires are still above the legal limit of 2/32″.
This is a simple, quick, and easy method that can be done anywhere, anytime. It's handy for drivers who don't have a tread depth gauge or who want to do a fast check.
Accuracy of the Penny Test
The penny test is generally accurate for what it is designed to do – telling you if your tread depth has reached the minimum legal limit of 2/32″. However, the penny test isn't 100% foolproof.
Here's why:
The penny test only measures one point in time. It doesn't show if your tires are nearing the 2/32″ limit, nor does it give any indication of how much life is left in your tires.
The penny test doesn't account for uneven tire wear. Tires don't always wear evenly, so you might have more tread in some areas than others. For an accurate assessment, you need to check the tread at several points around the tire.
The penny test tells you if you're legal, but not necessarily if you're safe. Tires with a tread depth of 2/32″ or less may not perform well in wet or snowy conditions.
A Helpful Tool, But Not the Only One
Think of the penny test as a helpful tool in your tire-checking toolkit. It's not the most precise or comprehensive method, but it can give you a basic idea about your tire's tread depth.
However, for a more accurate and detailed understanding, consider using a tread depth gauge or consult with a tire professional. These methods can provide a precise measurement and assess your tire's overall condition.
Understanding Tire Tread and Its Importance
Tire tread is the part of the tire that touches the road. It's made up of grooves, blocks, sipes, and channels, all of which have a specific job.
Tire treads are really like shoes for your car. Your tires need to have enough grip or "tread" to stop you from sliding and losing control in wet weather conditions. This is why your tire's tread depth matters so much. It plays a crucial role in your vehicle's performance, safety, and efficiency.
What Does Tire Tread Do?
Provides Traction: Tire tread is the key player when it comes to maintaining contact with the road surface. The treads grip the road to help your vehicle start, stop, and navigate turns without slipping or skidding, especially in wet conditions.
Channels Away Water: Those channels in your tire tread are designed to remove water from beneath your tire, reducing the risk of hydroplaning in rainy weather.
Improves Handling: A tire with the correct tread depth can improve your vehicle's handling and responsiveness, making your driving experience more enjoyable.
Maximizes Fuel Efficiency: Believe it or not, your tires can impact your vehicle's fuel efficiency. Tires with good tread depth can reduce rolling resistance, which can boost fuel economy.
The Role of Tire Tread Depth
Tire tread depth is measured in 32nds of an inch. In many states, legal minimum tread depth is 2/32 inch, but tire performance can start declining before you reach this point.
When your tire tread depth decreases, your tire loses its ability to perform as it was intended, and your safety can be at risk. For example, tires with a tread depth of 2/32 inch or less may not be able to channel away water effectively, which could lead to hydroplaning in wet conditions.
Also, if your tire tread depth is less than the recommended level, you might experience longer stopping distances, reduced grip on the road, and a rougher ride.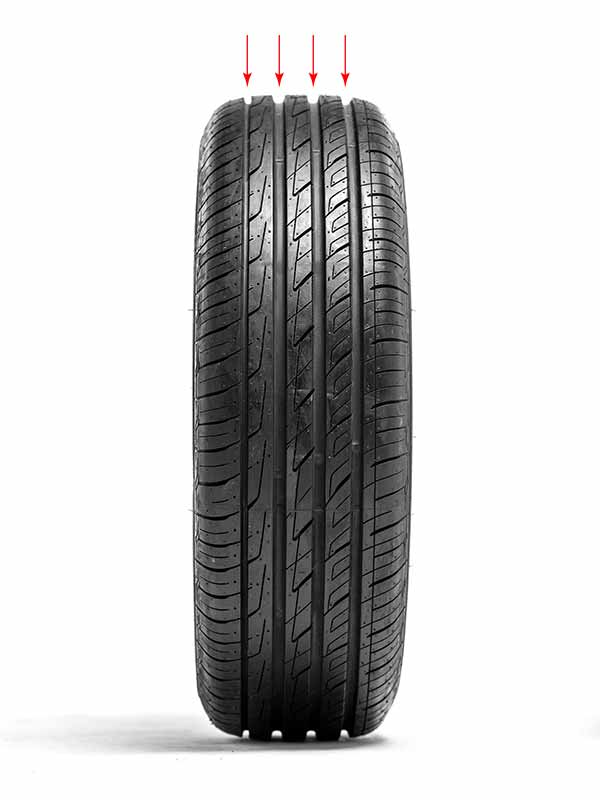 How to Check Tire Tread Depth
Checking your tire tread depth is like a quick health check-up for your tires. It's simple, quick, and all you need is a penny or quarter, or a tread depth gauge if you want to get fancy. Here's how it's done:
Penny and Quarter Tests
Abraham Lincoln and George Washington are about to become your best buddies for checking tire tread. The basic idea is simple: these coins can help you measure your tread depth.
The Penny Test:
Grab a penny and flip it so that Abraham Lincoln's head is upside down, or in other words, with the penny upside down.
Stick the penny into one of the grooves of the tire tread.
If part of Lincoln's head is always covered by the tread, that's good news. Your tread depth is at least 2/32″, which is the legal limit in most states.
If you can see all of Lincoln's head, it's time to start thinking about new tires. Your tread is below 2/32″.
The Quarter Test:
Take a quarter this time, and flip it so George Washington's head is upside down, with the quarter upside down.
Stick the quarter into one of the tire tread grooves.
If part of Washington's head is always covered by the tread, you're in even better shape. Your tread depth is at least 4/32″.
If you can see all of Washington's head, it's time for new tires.
Remember, this test should be done on several parts around the tire, as tread wear can be uneven.
Using a Tread Depth Gauge
While coins are a handy tool, if you want to get an even more accurate measurement, you can use a tread depth gauge. This handy tool can give you a precise measurement of your tire tread depth. Here's how to use it:
Find the tread ribs, which are the raised portions of tread that go around your tire.
Insert the pin of the tread depth gauge into the groove alongside a tread rib, and push the gauge down until the base is flush with the tire tread.
Read the tread depth gauge, measuring the depth on the scale.
Whichever method you use, don't forget to check your tread depth in multiple places around the whole tire. This is because tires can wear differently across their surface, which can lead to uneven tire wear.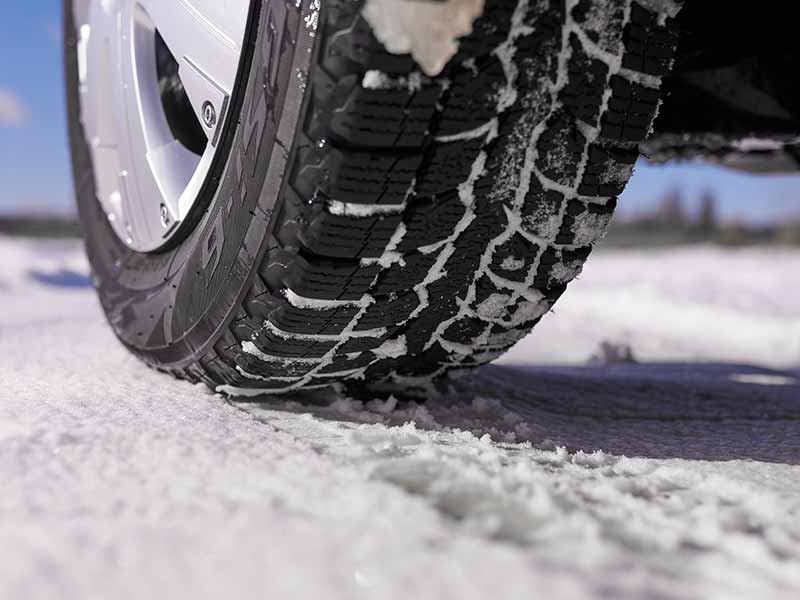 Special Considerations for Winter Tires
Winter tires, they're a game-changer for those dealing with snowy, icy, or just plain cold conditions. But just like their all-season and summer counterparts, they need some TLC, especially when it comes to tread depth. Let's dive into the world of winter tires and their tread depth.
Importance of Adequate Tread Depth for Winter Tires
Winter tires, also known as snow tires, are specifically designed to perform in cold, wintry conditions. They're made with a softer rubber compound that stays flexible in the cold, allowing for better grip. And their tread patterns are designed to bite into snow and ice and evacuate slush to provide traction.
However, even with all these specialized features, winter tires need an adequate tread depth to work their magic.
Why? Well, tread depth is essential for maintaining good traction on snowy and icy roads. The deeper the tread, the more snow your tires can pack in, which actually helps with traction in snowy conditions. Moreover, deep tread helps to evacuate water and slush, reducing the risk of "hydroplaning" on wet, slushy roads.
Remember, it's not just about having winter tires; it's about having winter tires with enough tread depth to keep you safe on the road.
When to Replace Winter Tires Based on Tread Depth
So, when should you replace your winter tires? Just like regular tires, the minimum legal tread depth for winter tires is 2/32″. But, when it comes to winter tires, many experts recommend replacing them once they reach a tread depth of 6/32″.
Here's why:
Winter tires start losing their winter performance abilities as the tread wears down. Once the tread depth gets to about 6/32″, the tires' ability to grip snowy roads diminishes significantly. So even though they might still be legally drivable according to state laws, they won't provide the level of safety and performance you need in winter weather conditions.
To measure your winter tire tread depth, you can use the penny and quarter tests, but keep in mind these methods might not be as accurate for assessing winter tire performance. For a more precise measurement, consider using a tread depth gauge.
Resources
Below are some links you may find helpful when learning about tires
Final Thoughts
In the grand scheme of car maintenance, checking your tire tread depth may seem like a minor detail. But as we've learned, this simple task plays a vital role in your vehicle's performance and your safety on the road. Whether you use the penny test, the quarter test, or a tread depth gauge, regular checks can keep you ahead of the curve and alert you when it's time to replace your tires.
Remember, while the penny test can help you meet the legal tread depth limit of 2/32″, experts recommend replacing tires at a tread depth of 4/32″ for optimal performance, especially in wet conditions. And for those snowy roads, don't forget that winter tires should be replaced even earlier, at around 6/32″. Your tires are your vehicle's link to the road, so keep them in good shape and they'll take care of you.
Good luck and happy motoring.