Imagine walking up to your vehicle, ready to start your day, when something catches your eye: the inside of your rear tire is almost bald. Yet, the outer shoulder still has plenty of tread remaining. The contrast is alarming. What could be causing this?
Rear Tires Wearing On Inside Shoulder

Rear tires wearing on the inside shoulder are typically caused by improper wheel alignment, especially a negative camber angle, issues in the rear suspension system, incorrect tire pressure, or specific vehicle design factors.
In this article, we will delve deep into the causes behind inner wear on rear tires, explore its potential dangers, and offer actionable steps to address and prevent this wear, all while focusing on the needs of both passenger cars and truck owners.
Let's take a closer look.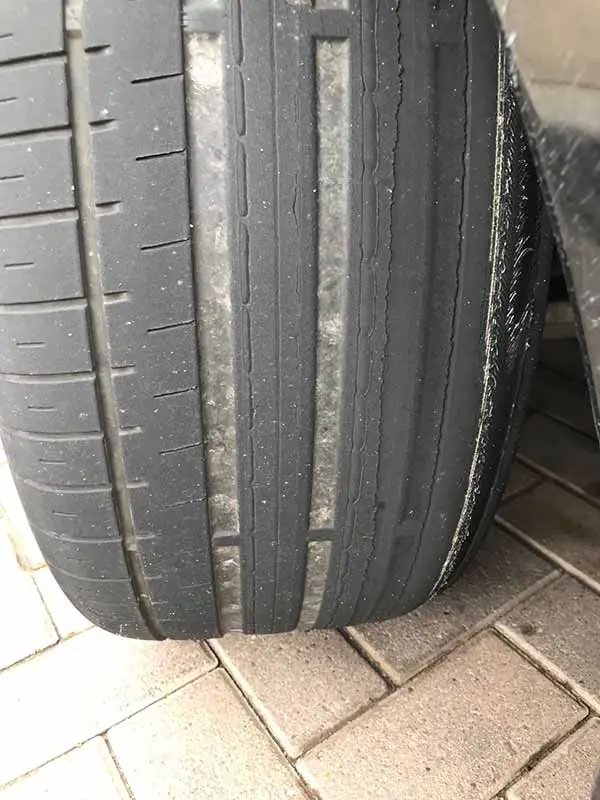 Understanding Inner Tire Wear on Rear Tires: Basics
Inner tire wear on rear tires, often observed as a more worn-down inside shoulder, is a frequent concern for many vehicle owners. This section will delve into the basics, helping you recognize the signs and understand the primary causes.
What is Inner Tire Wear?
Inner tire wear specifically refers to the disproportionate wear found on the inner side (or shoulder) of the tire, closer to the underbody of the vehicle, rather than the outside.
Signs to Look Out For
Being able to recognize inner tire wear early can prevent further complications. Here are some signs:
Visual Indicators: When inspecting the tire, one side seems more worn out than the other, with the inner side often showing deeper tread erosion.
Tire Noise: A tire that's wearing unevenly can produce a different road noise than a well-balanced tire. You might notice humming, growling, or even roaring sounds, especially during turns.
Vibrations: A tire that's experiencing inner wear might lead to subtle vibrations felt in the car, especially at higher speeds.
Factors Influencing Inner Wear on Rear Tires
Understanding the factors that lead to this wear pattern is crucial. Here are some primary influences:
Misalignment: If rear tires aren't aligned correctly, it can cause the tires to sit at an incorrect angle, leading to inner wear.
Camber: This is the tilt of the top of the tire either towards (negative) or away (positive) from the vehicle. A significant negative camber will cause the inside of the tire to make more contact with the road, leading to faster inner wear.
Suspension Issues: Damaged or worn-out components in the rear suspension system can change how the tire sits and moves, causing disproportionate wear.
Improper Inflation: Tires that are under-inflated might not distribute the vehicle's weight evenly, leading to faster wear on certain parts, including the inside.
How Rear Tires Differ From Front Tires in Wear Patterns
Even though our focus is on rear tires, understanding how they differ from front tires is insightful:
Weight Distribution: Most vehicles have more weight in the front due to the engine's location. This means rear tires often handle less weight, leading to different wear patterns.
Steering Influence: Front tires directly interact with the steering wheel, making them more prone to wear related to turning and alignment. Rear tires, while they can still be influenced by alignment and other factors, don't experience the direct effects of steering.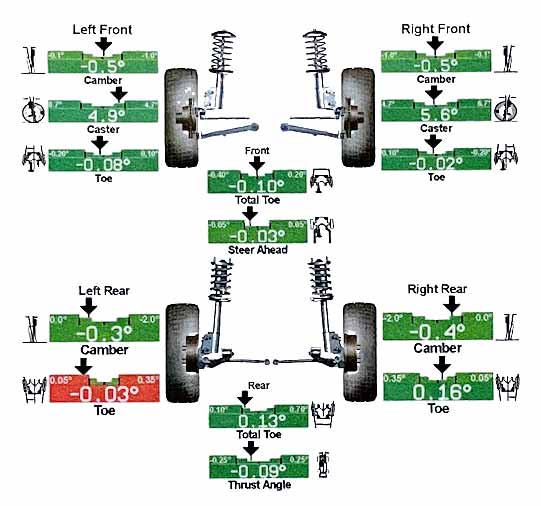 Key Causes Behind Inner Wear on Rear Tires
Understanding the precise reasons behind inner wear on rear tires can help in its prevention and in maintaining the longevity of the tires. This section will explore these causes in-depth.
Wheel Alignment and Camber Angle
Proper wheel alignment ensures that tires meet the road at the correct angle and that they're parallel to each other. When misaligned, the impact is directly seen on tire wear.
Misalignment: When rear tires are not aligned correctly, they might not sit evenly on the road. This can lead to one side of the tire (often the inside) wearing out faster than the other.
Camber and Its Role:

Definition: Camber is the tilt of the tire when viewed from the front of the vehicle. If the top of the tire tilts inward towards the vehicle, it has negative camber. If it tilts outward, it has positive camber.
Impact on Wear: A significant negative camber will mean the inside of the tire contacts the road more than the outside. This often results in faster inner wear.
Rear Suspension System Issues
The suspension system absorbs shocks from the road and supports the vehicle's weight. Any issues here can influence how a tire sits or moves on the road.
Worn Control Arm Bushings: These are cushions that dampen vibrations and maintain alignment. When they wear out, it can change the wheel's position, causing uneven wear.
Worn Ball Joints: Acting as pivot points between the tires and suspension, if these are worn, they can lead to misalignment and subsequent uneven wear.
Effects of Bad Struts: While struts are more commonly associated with the front suspension, some vehicles have them in the rear too. Worn-out or damaged struts can lead to improper tire contact with the road, accelerating wear.
Improper Tire Pressure in Rear Tires
The right tire pressure is pivotal for even tire wear. The consequences of not maintaining optimal pressure are:
Under-Inflation: An under-inflated tire tends to bulge outwards, causing the inner and outer sections to wear out faster. The inner side, with other factors like camber in play, might experience more pronounced wear.
Over-Inflation: While the focus is on inner wear, it's good to know that over-inflated tires often wear out more in the center. Still, depending on vehicle dynamics and weight distribution, inner wear can still be exacerbated.
Vehicle-Specific Concerns
Certain vehicle designs, types, or models might be predisposed to specific wear patterns. Being aware of these can help in understanding and addressing the issue at its root.
Vehicle Design and Model Peculiarities:

Some vehicles, due to their inherent design, naturally exert more pressure on the inner side of rear tires. This design trait can accelerate inner wear.
Specific models, like certain BMWs, might have known issues or tendencies related to rear tire inner wear. Being aware of these tendencies can assist in prevention and timely maintenance.

Rear Truck Tires Wearing on the Inside:

Trucks, especially heavier ones, might exhibit more pronounced inner wear on rear tires. This can be due to the load distribution in the truck, where the rear often bears more weight, causing the inside of the tire to experience additional stress.
The suspension systems of trucks, designed to handle heavy loads, can sometimes contribute to uneven tire wear if not regularly maintained or if the truck is often driven without loads it's designed to carry.

Solid Axle Concerns:

Vehicles with a solid rear axle (a single piece connecting both rear wheels) can sometimes display inner wear on rear tires, especially if there's a slight bend or damage to the axle.
A solid axle doesn't allow each wheel to move independently. So, if one side is affected or misaligned, it can influence the wear pattern on both tires.
Regular checks for any damage or alignment issues with the solid axle can help in preventing uneven tire wear.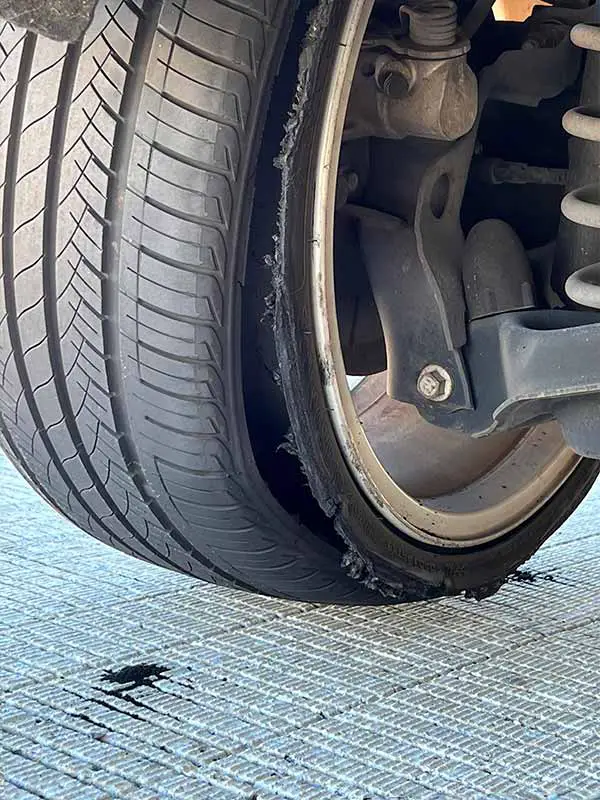 Dangers of Inner Wear on Rear Tires
It's essential to recognize that uneven tire wear, especially inner wear on rear tires, isn't merely a matter of reduced tire longevity. This type of wear can present safety risks to drivers and passengers. Understanding these dangers can emphasize the importance of regular tire maintenance.
Reduced Road Grip
Tires with uneven wear can impact how they grip the road, especially during challenging conditions.
Wet Conditions: Tires with inner wear might not disperse water effectively, increasing the risk of hydroplaning.
Handling Concerns: The grip loss can cause issues with vehicle handling, especially during sharp turns or sudden maneuvers.
Increased Risk of Blowouts
Tires worn on the inside are more vulnerable to unexpected failures.
Thinner Rubber: The more worn the tire is, the thinner its rubber becomes. This thin section can easily get punctured or ruptured when it encounters sharp objects or potholes.
Heat Accumulation: Worn-out tires can accumulate heat faster, which further increases the risk of a blowout, especially at high speeds.
Accelerated Wear on Adjacent Components
Uneven wear on rear tires can lead to added stress on nearby vehicle components.
Suspension System: A tire that doesn't sit evenly can put undue strain on the suspension components, leading to premature wear or even failure of these parts.
Braking Issues: Unevenly worn tires might not interact optimally with the braking system, reducing the efficiency of brakes and increasing stopping distances.
Impact on Overall Vehicle Behavior
A vehicle with unevenly worn rear tires can behave unpredictably.
Vibrations: As touched upon earlier, one of the signs of inner wear is vibrations. These vibrations can become more pronounced over time and make for an uncomfortable driving experience.
Vehicle Pull: The vehicle might start pulling to one side, necessitating constant steering corrections.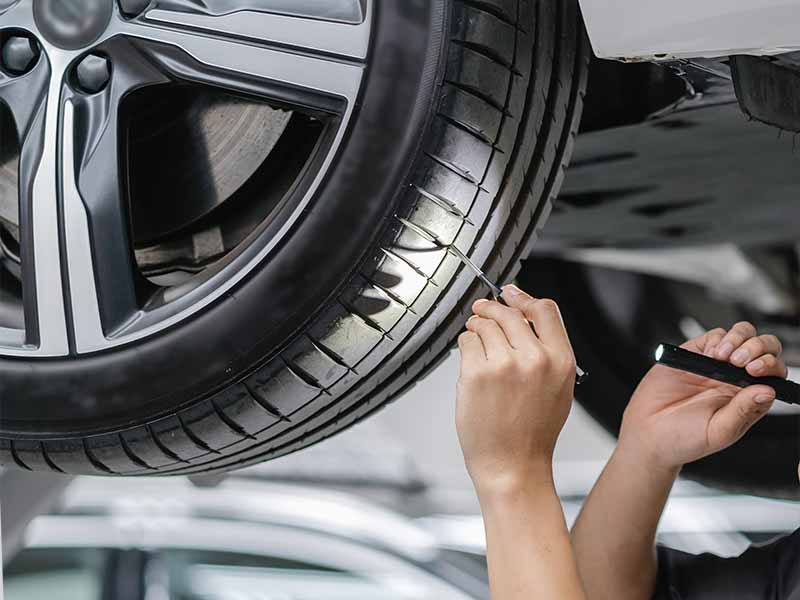 Addressing and Preventing Inner Wear on Rear Tires
Addressing the root causes of inner wear on rear tires promptly not only enhances vehicle safety but also extends the life of your tires. Here's a guide on tackling and preventing these wear issues.
Routine Wheel Alignment for Rear Wheels
Ensuring your wheels are correctly aligned can stave off many wear problems.
Regular Checks: Schedule periodic alignment checks, especially after hitting a significant pothole or if you notice uneven tire wear.
Correcting Misalignment: If any alignment issue is detected, having it rectified promptly will ensure that your tires wear evenly and last longer.
Inspecting and Maintaining Rear Suspension Components
A well-maintained suspension system is vital for even tire wear.
Routine Inspections: Regularly check components like control arm bushings, ball joints, and any rear struts (if applicable) for signs of wear or damage.
Replace Worn Parts: If any part of the suspension system is deteriorating or malfunctioning, it's essential to replace it promptly. This not only prevents uneven tire wear but also ensures optimal vehicle handling.
Monitoring Tire Pressure in Rear Tires
Maintaining the right tire pressure is pivotal.
Regular Checks: Use a tire pressure gauge to check your rear tire pressures at least once a month and before long trips.
Optimal Pressure Levels: Always inflate your tires according to the manufacturer's specifications. This information can often be found on a sticker inside the driver's door or in the vehicle manual.
Consulting with Automotive Experts
While DIY checks are beneficial, sometimes expert eyes can spot issues you might miss.
Periodic Professional Inspections: Schedule regular inspections with automotive professionals. They can identify early signs of wear and provide solutions.
Seeking Advice for Specific Models: If you drive a model known for specific wear issues, like some BMWs, consult specialists familiar with that model. They can offer tailored advice and preventive measures.
Resources
Below are some links you may find helpful when learning about tires
Final Thoughts
As we wrap up, it's crucial to remember that the uneven wear on the inner shoulder of rear tires isn't a mere cosmetic concern; it has profound implications for both safety and performance. Predominantly arising from issues like improper wheel alignment, suspension system faults, incorrect tire pressure, and specific vehicle design factors, this wear can jeopardize vehicle stability and heighten the risk of blowouts.
It's essential for drivers to routinely inspect their tires and seek professional assessments, especially if they notice any abnormal wear patterns. By understanding the underlying causes and addressing them proactively, one can ensure not only the longevity of their tires but also a safer driving experience.
Good luck and happy motoring.