Ever been in that awkward situation where you notice uneven tire wear on the inside of just one of your car tires, and you're left scratching your head, wondering why? It's like a mystery novel, but instead of who did it, you're trying to figure out what caused it.
Only One Tire Is Wearing On The Inside

When only one tire is wearing on the inside, it's usually due to misalignment issues, improper tire inflation, or damaged suspension components. Addressing these problems early can prevent further tire damage and ensure a safe drive.
In this article, we'll unravel the mystery of inner tire wear. We'll explore what causes it, , understand the differences between front and rear inner wear, examine the role of suspension components, and learn how to spot and fix this issue.
Let's take a closer look.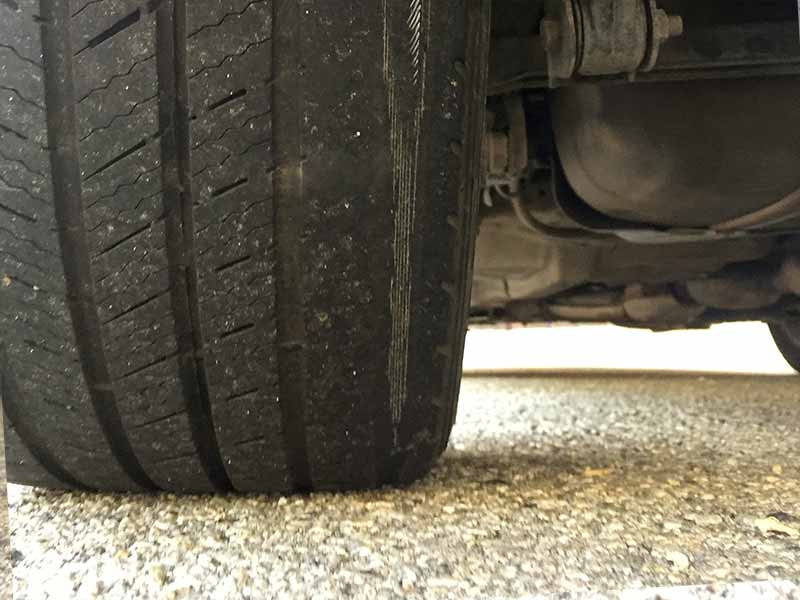 Understanding Tire Wear
Tires, those trusty round buddies that roll your car down the road, can tell you a lot if you take the time to understand them. They're kind of like the shoes on your feet. The way they wear down can reveal things about how your car is running, or even hint at potential issues that need your attention. So, let's dive in and understand this whole tire wear thing!
What Is Tire Wear?
In the simplest terms, tire wear refers to the gradual loss of material from your tire's tread, which is the patterned part of your tire that comes into contact with the road. Just like how the soles of your shoes would wear out after you walk or run a lot, your tire tread wears down after miles and miles of driving.
Different Types of Tire Wear
Tire wear isn't a one-size-fits-all situation. There are several different types that you should be aware of, and each comes with its own set of clues about what's going on with your car.
Even Tire Wear: This is the good kind! It means your tires are wearing out uniformly across the tread. This is the natural and expected wear from driving, kind of like the gradual wearing out of your favorite sneakers.
Uneven or Irregular Wear: Now, this is where things can get a bit hairy. Uneven wear means some parts of your tire are wearing out faster than others. There are several sub-types of uneven wear, including:

Center Wear: When only the middle of your tire is worn down, it might mean your tires have been overinflated.
Edge Wear: If the edges of your tires are more worn than the center, underinflation might be your problem.
Cupping or Scalloping: If your tires have uneven wear in a sort of dip-and-bump pattern, this could point to issues with your suspension parts.
Today, we're especially interested in one kind of uneven wear – Inner Tire Wear. This is when the inside edge of your tire wears out more than the rest of it. You know, it's like when you've got that one shoe that's worn out more on one side than the other – it's just not a great situation!
Inner Tire Wear: A Special Case
Unlike the usual, uniform wear that your tires get from simply rolling down the road, inner wear is often a sign of other issues with your vehicle. It's not something to be ignored, as it can lead to more serious problems down the line. We'll be diving deeper into the causes, impacts, and ways to fix this in the next sections.
Causes of Inside Tire Wear
So, we've established that uneven tire wear isn't ideal. But why does it happen? Especially, why would only one tire wear more on the inside? Let's take our tire talk a step further and delve into some of the most common causes.
The Pressure Factor
Tire pressure might sound like a boring topic, but trust me, it's a game-changer. Picture this, you're trying to pop a balloon. The more air there is in the balloon, the easier it pops, right? The same goes for your tires. If there's too much air (over-inflation), the middle of the tire will bulge out and wear more quickly. On the other hand, if there's too little air (under-inflation), the edges of your tires, including the inside edge, take the brunt of the wear.
Camber Angles: A Twist in the Tale
Camber angle, despite sounding super technical, is actually pretty simple. It's the angle of your tire when you look at it from the front of your car. If the top of your tire leans out, that's a positive camber angle. If it leans in, that's a negative camber angle. Now, imagine you're leaning to one side. Naturally, you'd put more pressure on one foot, right? That's exactly what happens with negative camber. It puts more weight on the inside edge of your tires, causing more wear.
Worn Control Arm Bushings: Small Part, Big Impact
Control arm bushings may be small, but they play a vital role in keeping your car's ride smooth. They're kind of like the shock absorbers in your car's suspension system. If they're worn out, your car will handle poorly and this could lead to uneven tire wear, including on the inside edge.
Ball Joints: The Tie That Binds
Ball joints act as the pivot point between your car's wheels and its suspension. Think of them like your car's shoulders, letting your wheels move up, down, and sideways. Worn ball joints can mess with your tire alignment, leading to – you guessed it – uneven tire wear.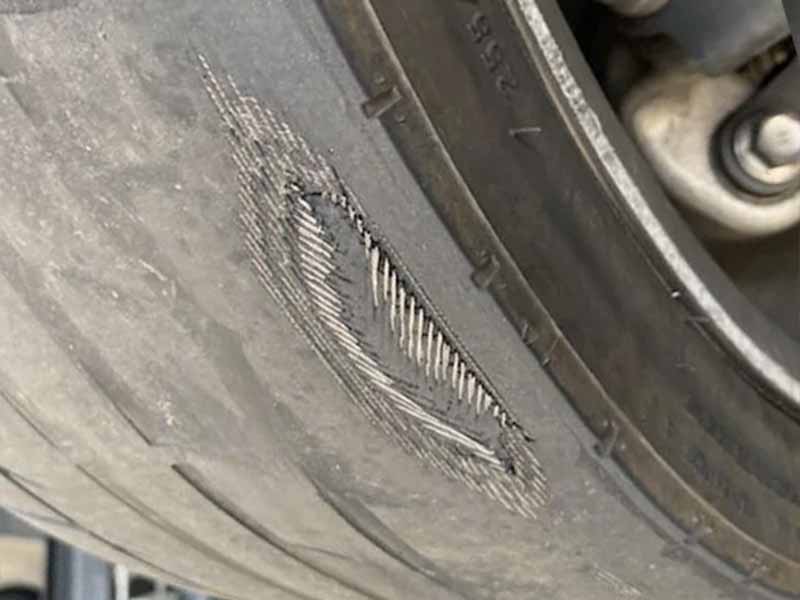 Difference Between Front and Rear Inside Tire Wear
When it comes to tires, the plot thickens! Not all tires wear the same way. Your car's front and rear tires have different roles to play and hence, they wear differently. Let's hit the road on this journey of understanding why this happens!
The Front Tire Scenario
If you're seeing your front tires wear more on the inside, there are a couple of key culprits to consider.
Steering: To Turn Or Not To Turn
Your front tires are responsible for steering. As such, they deal with forces that the rear tires don't. When you make a turn, your front tires lean towards the inside of the turn, putting more pressure on the inside edge. If you're constantly making left or right turns, this could lead to more wear on the inside edge.
Bad Wheel Alignment: The Off-Center Problem
Another common issue is poor wheel alignment. If your wheels are not aligned properly, it can lead to your tires pointing inward or outward instead of straight ahead. This misalignment can cause your tires to scrub against the pavement and create excessive wear on one side.
The Rear Tire Scenario
Now, on to the rear tires. They might not have as much to do with steering, but they certainly have their share of responsibilities.
Carrying the Load
Rear tires often carry more of the car's load, especially in rear-wheel-drive vehicles. More load can lead to more wear, especially if your tires are underinflated or your vehicle's suspension components are worn out.
Negative Camber Angle: Leaning Inward
Just like the front tires, the camber angle affects the rear tires too. A negative camber angle, where the top of the tire leans inwards, can cause more wear on the inside edge of your rear tires.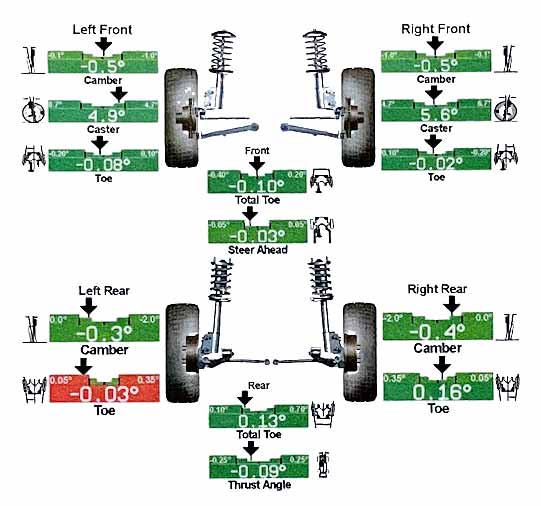 Damaged Suspension Components and Inner Tire Wear
Like a well-oiled machine, every part of your car works in harmony with others to get you from point A to B. But when one part, say a suspension component, doesn't play its part, it could lead to problems like inner wear. Let's break down how this happens!
Suspension: The Car's Cushion
First off, your car's suspension is kind of like its cushion, smoothing out the ride as you drive over all kinds of road surfaces. It consists of several parts, including struts, ball joints, control arms, and steering knuckles. Each plays a crucial role in making your ride comfy and keeping your tires happy.
Bad Struts: A Bumpy Ride
Struts are a big part of your car's suspension. When they're in good shape, they absorb the shock as you drive over bumps and potholes. But when they go bad, they don't absorb the shock as well, leading to a bumpy ride and, over time, uneven wear.
Worn Ball Joints: Off-Kilter Steering
As we mentioned before, ball joints are like your car's shoulders, letting your wheels move in different directions. When they're worn, they can cause your wheels to be misaligned, leading to uneven tire wear.
Steering Knuckles: A Twisted Tale
Steering knuckles connect your car's wheels to its suspension system. They're critical to your vehicle's steering and handling. If they're damaged, it could lead to the wheels being misaligned and, yes, inner tire wear.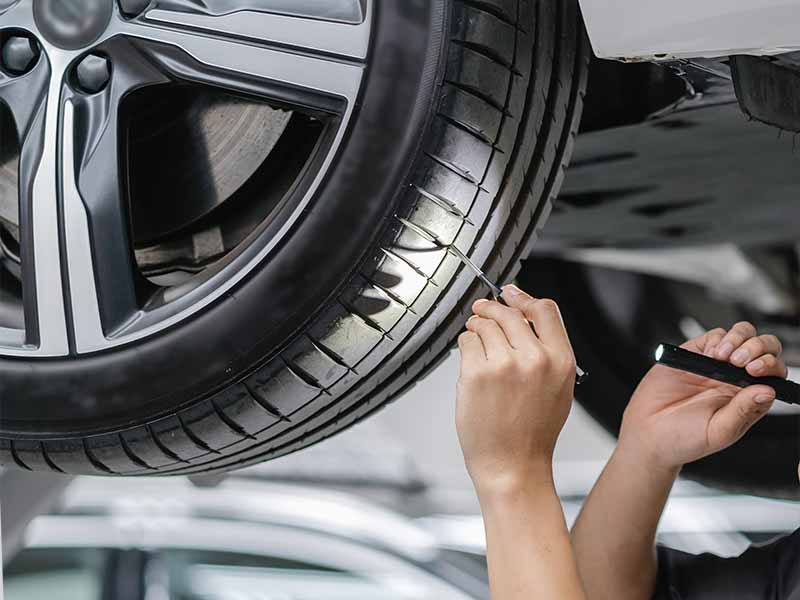 Spot and Fix Inner Tire Wear
Checking your tires might not be on your weekly to-do list, but perhaps it should be. Regular inspections can help you spot issues early and address them before they become serious. Here's what you can do:
Visual Inspection: Look at your tires. Do you see more wear on the inside edge? If yes, then you have inside tire wear.
Feel The Tread: Run your hand over the tread. If it feels smoother on the inside edge, that's another sign of inner tire wear.
Check for Excessive Tire Movement: Grab your tire at the top and bottom and try to rock it. If there's a lot of movement, it could mean you have worn ball joints or other suspension issues.
But it's not just your tires you should be looking at. Remember those suspension components we talked about?
Suspension Component Check: Look for signs of damage to your car's suspension components. Any obvious damage, like broken parts, or even less obvious signs, like unusual noises when you drive, could point to issues that are causing inner tire wear.
The Road to Fixing Inner Tire Wear
You've spotted the problem, great job! But what now? Here's where we switch gears and talk about solutions.
Check Tire Pressure: Regularly check the air pressure in your tires and adjust it as needed. This can help prevent and correct inner tire wear.
Wheel Alignment: If your wheels are not aligned properly, it can lead to uneven wear. Getting a wheel alignment can help solve this problem.
Replace Worn Components: If your struts, ball joints, control arm bushings, or steering knuckles are worn out or damaged, it's time for a replacement.
Rotate Your Tires: Regularly rotating your tires can help ensure they wear evenly.
Resources
Below are some links you may find helpful when learning about tires
Final Thoughts
Inner tire wear, especially when it's occurring on just one tire, is usually a signal that something is not quite right with your vehicle. Misalignment issues, improper tire pressure, or damaged suspension components like bad struts or worn ball joints are the usual suspects.
Detecting these issues early is key, and it can be as simple as performing regular visual inspections and feeling your tire's tread. Addressing the root cause of the wear, whether it involves adjusting tire pressure, aligning wheels, replacing worn components, or rotating tires, can help prevent further damage. Remember, inner tire wear isn't just about extending your tire's life; it's about ensuring a safe and smooth ride.
Good luck and happy motoring.