Have you ever looked at your tires and wondered, how much life do they have left? It's a question as old as rubber itself. After all, knowing when to replace your tires is crucial for both your safety and your wallet.
How Long Do 40,000 Mile Tires Last?

40,000-mile tires, when properly maintained and driven under ideal conditions, can potentially last for 40,000 miles. However, factors such as driving habits, road conditions, and tire care can significantly influence their actual lifespan.
In this article, we'll dive deep into understanding tire life, exploring factors that influence it, learning about when to replace tires, and uncovering tips to extend their life. We'll also discuss whether 40,000-mile tires can actually last longer than their designated mileage.
Let's take a closer look.
Understanding Tire Life
Before we zoom off into the details, let's take a moment to understand what 'tire life' and 'tire mileage' mean. When we talk about 'tire life,' we're basically referring to how long a tire can last before it needs to be replaced. 'Tire mileage,' on the other hand, is the estimated number of miles a tire can travel before it's worn out. These are important terms to remember, as they'll help us answer our main question: "How long do 40,000 mile tires last?"
Mileage Ratings by Tire Manufacturers
Tire manufacturers give a mileage rating to each tire they make. This rating is like a tire's 'lifespan score.' If you see a tire with a 40,000-mile rating, it means the tire manufacturer believes that the tire will last for around 40,000 miles under ideal conditions. But hey, the real world is rarely ideal, right?
Is 40,000 Miles a Lot for Tires?
"Is 40,000 miles a lot for tires?" you might wonder. Well, it really depends. Some tires are rated to last 20,000 miles, others 30,000 miles, and there are those tires rated at 50,000 or even 60,000 miles. So, while 40,000 miles isn't the highest rating a tire can have, it's definitely not the lowest either. But remember, these ratings are only estimates. They're like the tire's report card from the manufacturer, but your real-world experience may vary.
The Reality of Tire Life
Now, here's the kicker. Tire life isn't just about the miles. It's also about the type of tire, the driving conditions, and even how you, as the driver, treat your tires. It's a bit like owning a pet. You can't just expect it to thrive without feeding it properly, giving it exercise, and taking it to the vet once in a while, right? Tires are the same. They need care and attention too.
Factors Influencing Tire Life
Let's talk about tread depth and tire pressure. Both of these factors play a crucial role in determining the life of your tires. Tread depth is all about the grooves on your tires. You see, those grooves aren't just for show – they help your car grip the road. If the grooves get too shallow because of wear, your tires won't stick to the road as well, which means they need to be replaced.
Meanwhile, tire pressure is about how much air is in your tires. You might think more is better, but it's all about balance. Too much or too little pressure, and your tires will wear out faster than you can say "road trip!"
Types of Tires and Their Lifespan
Next, let's talk types. The kind of tire you're driving on can make a big difference. For instance, radial tires are built to last. They've got strong steel belts under the tread which give them durability. On the other hand, high-performance tires are like the sprinters of the tire world. They give great performance, but they wear out faster. And winter tires? Well, they're designed to handle the cold and slippery conditions, but they'll wear out quickly if you use them all year round.
How Your Driving Habits Impact Tire Wear
Then there's you, the driver. How you drive can impact how long your tires last. Frequent hard braking and aggressive driving can wear out your tires faster than you'd think. And those quick trips to the grocery store? They can also add to tire wear since your tires don't have time to warm up and work properly.
The Importance of Tire Rotation
Remember how we talked about tire pressure? Well, here's another thing that's all about balance: tire rotation. This means switching your tires around so they wear evenly. If you don't rotate your tires, the front ones might wear out faster than the rear ones because they do more work. Regular tire rotation can help your tires last longer.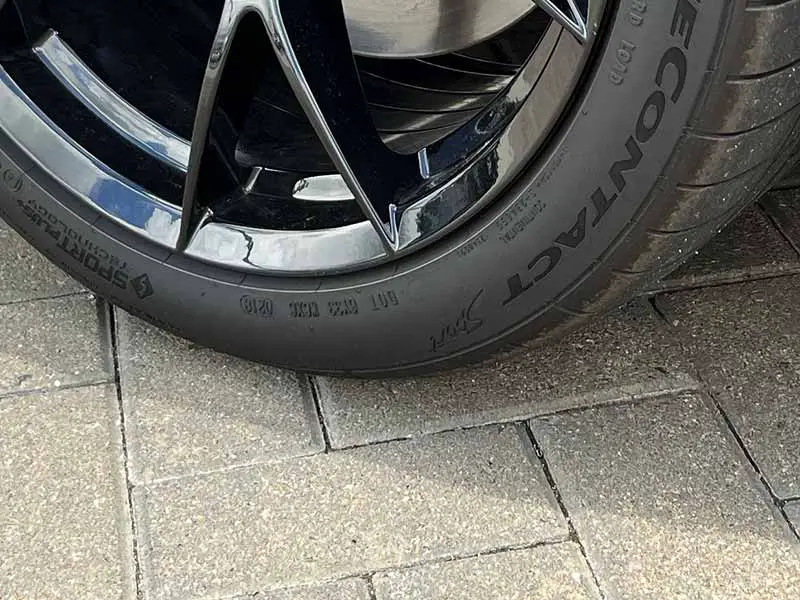 When to Replace Tires
Regularly examining your tires for signs of uneven wear is vital in maintaining their health. But what exactly is uneven wear? Simply put, it's when one part of your tire wears out faster than another. This could be because of incorrect tire pressure, misalignment, or not rotating your tires regularly.
Is Your Tire Too Old?
As for age, you might wonder, "How do I tell if my tires are too old?" Just like cheese or a good wine, tires have a 'best before' date. Most tire manufacturers and the tire manufacturers association suggest that tires should be replaced every six years, regardless of wear. But, let's get one thing straight – this isn't a hard and fast rule. It depends on various factors like the type of tire, driving conditions, and even where you store your vehicle. So, the six-year mark is more of a guideline.
Spotting the Signs of Aging
Tire age isn't about how long you've had the tires on your car, but rather how long it's been since they were made. How can you tell? There's a four-digit code on your tire. The first two digits are the week, and the last two are the year they were manufactured. For example, '3219' would mean the tire was made in the 32nd week of 2019.
If your tires are reaching that six-year mark or are showing signs of uneven wear, it's probably time to replace them. And even if they seem fine, it's still a good idea to have them checked by a professional. Remember, it's better to be safe than sorry, especially when it comes to your tires.
The Right Time for New Tires
As a rule of thumb, tires should be replaced when the tread depth reaches 2/32 of an inch. Most tires have built-in treadwear indicators, or 'wear bars,' that show when they've reached this point. However, you can also do the 'penny test' at home – if you can see all of President Lincoln's head when you put a penny head-first into the tread, it's time for new tires.
Tire Life Calculator
Extending Tire Life
Just like you go to the dentist for cleanings to avoid cavities, taking care of your tires can help them last longer. Regularly checking your tire pressure, keeping an eye out for uneven wear, and getting your tires rotated regularly can help extend their life.
Importance of Tire Pressure
Tire pressure can't be stressed enough when it comes to extending tire life. It's like the porridge in Goldilocks: not too hot, not too cold, but just right! Ensuring your tires have the correct pressure not only gives you better fuel efficiency but also helps avoid premature tire wear.
Tackling Uneven Wear
Uneven wear can be a real party pooper. It shortens the life of your tire and could mean you have to replace them sooner than you'd like. Regular tire rotation is the best defense against uneven wear. Remember, your front tires do most of the work, so rotating your tires can help them wear evenly.
The Role of Tire Warranty
Let's talk about tire warranty. You might be thinking, "Wait, tires have a warranty?" They sure do! Most tire manufacturers provide a warranty that covers your tires for a certain number of miles or years, whichever comes first. If your tires wear out before they're supposed to according to the warranty, the manufacturer may replace them for free or at a prorated cost. Now, doesn't that sound like a great deal?
Do Tires Really Last 60,000 Miles?
You might have heard the claim that some tires can last 60,000 miles or more. But is it true? In ideal conditions, and with regular maintenance, some tires can indeed last this long. But remember, tire life depends on several factors, including driving habits, road conditions, and tire type. Just like humans, tires age differently. So, while it's possible for some to last 60,000 miles, others may not reach this milestone.
Resources
Below are some links you may find helpful when learning about tires
Final Thoughts
Understanding the lifespan of your tires, particularly those rated for 40,000 miles, doesn't have to be a guessing game. The longevity of your tires is influenced by many factors, including tread depth, tire pressure, the type of tire, your driving habits, and how diligently you maintain them.
Regular tire check-ups, dealing with uneven wear, maintaining proper pressure, and ensuring timely rotation are all critical steps to extending the life of your tires. Remember, your driving style and tire care practices can greatly help in squeezing out those extra miles from your tires. So, while your 40,000-mile tires may not always reach the ideal mark, with the right care and attention, they can definitely give you many safe and smooth miles on the road.
Good luck and happy motoring.