Driving smoothly and suddenly feeling a strange vibration can be unsettling. Irregular tire wear due to lack of proper tire maintenance can cause car shaking and vibrations. The journey to understanding your tires and how they affect your ride starts here.
Can Uneven Tire Wear Cause Vibration?

Yes, uneven tire wear can cause vibration in vehicles. This vibration often arises due to imbalances created by the irregular wear on the tire's surface.

Keep your tires balanced, wheels aligned, and tires properly inflated to prevent damaged tires that can cause vibrations.
In this article, we'll dive deep into the world of tire wear, exploring its symptoms, reasons behind it, and why regular tire maintenance is vital for a smoother, safer drive.
Let's take a closer look.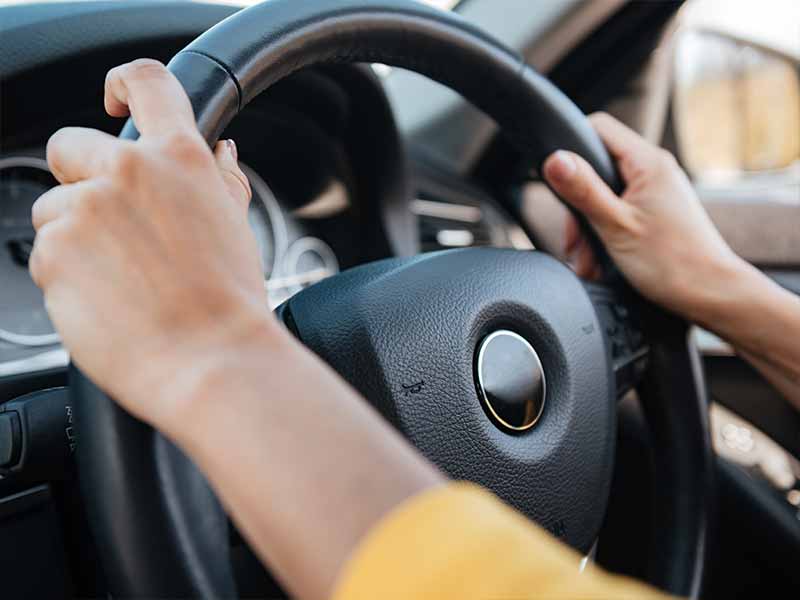 How Uneven Tire Wear Leads to Vibration
When tires wear unevenly, they lose their balanced distribution of weight and shape. This imbalance, especially at higher speeds, can cause the tire to rotate asymmetrically, leading to noticeable vibrations through the steering wheel or vehicle body.
The irregular contact between the unevenly worn tire and the road surface can further amplify these vibrations. Proper maintenance and regular checks are essential to prevent uneven wear and the associated vibrations, ensuring a smoother and safer driving experience.
Tire and Wheel Balancing
When tires wear unevenly, they can lose their balance. Out of balance tires will lead to irregular tire wear which in turn will cause more wear, road noise, and vibration.
Tire Imbalance: When one section of a tire is heavier or lighter than another, it can make the tire wobble when it spins.

Result: This wobble can turn into noticeable vibrations, especially as you speed up.
High-Speed vs Low-Speed 
The speed you're driving at can change how you feel those vibrations.
At High Speeds: Uneven tire wear might make your car feel like it's humming, buzzing, or even shaking.
At Low Speeds: You might feel more of a thump-thump rhythm, like your car is hopping a bit.
Steering Wheel Vibrations
Your steering wheel is like your car's communication device. You use to communicate where you want to go, and sometimes it gives you feedback.
Steering Wheel Vibrations: If you feel your steering wheel shaking, especially when you're just cruising along, it might be say, "Check your tires!" It's one of the first places where tire-related vibrations show up.
Tire Wear Patterns
You can learn a lot from how your tire wears. Different wear patterns mean different problems:
Center Wear: Could be from too much air in the tire.
Edge Wear: Maybe not enough air or maybe some misalignment issues.
Patchy Wear: Often a sign of a tire imbalance or suspension issues.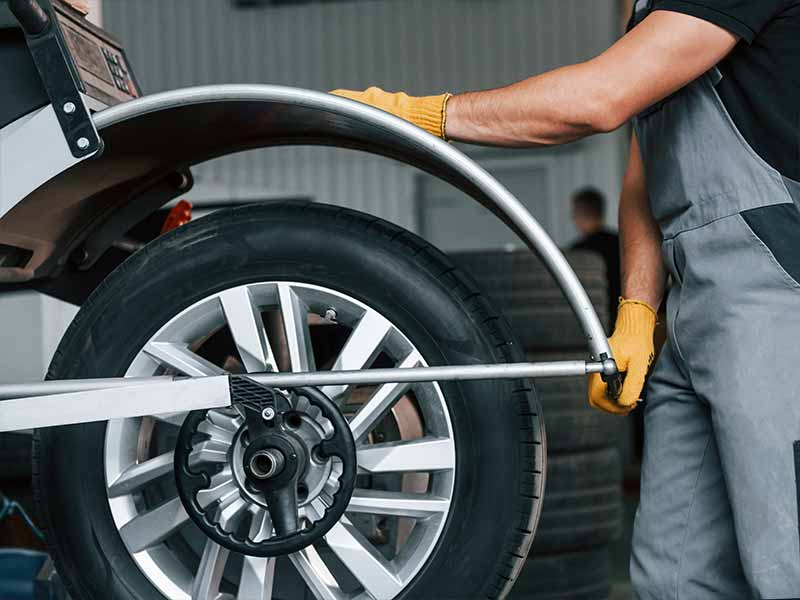 Other Causes of Vibrations in Cars
Tires aren't the only culprits when it comes to vibration and irregular tire wear. Let's look into some other reasons your car might be vibrating or shaking.
Unbalanced Wheels
We touched on this with tires, but wheels themselves play a big part. 
Out of Sync: Imagine trying to spin a plate that has a lump of clay on one side. It wobbles, right? A wheel that's not balanced does the same thing.
Rhythmic: Unbalanced wheels can cause a rhythmic thumping or a vibration in the steering wheel or seats. Vibrations due to unbalanced tires will seem to come and go at certain speeds.
Warped Brake Rotors
If you experience more vibration when braking, the issue may not be your tires but your brakes.
Brake Rotor: It's the part of your brake system that your brake pads clamp down on to slow your vehicle.
Warping: Over time, these rotors can warp from heat or wear, which means they're not perfectly flat anymore.
Pulsing: When you brake, the pads grip onto the warped rotor, causing a pulsing feeling in the brake pedal or even a shaking in the steering wheel.
Other Issues Beyond the Tires
While our main focus has been on tires and wheels, a car is a complex machine with many moving parts.
Suspension Issues: Your car's suspension system is like its cushion against the bumps of the road. Problems here can lead to a bumpy ride.
Engine Problems: A misfiring engine can cause the entire car to vibrate.
Worn-out Wheel Bearings: These little guys help parts rotate smoothly. When they wear out? You guessed it: vibrations.
Loose Parts: Sometimes, it's as simple as a loose piece underneath the car that's causing all that ruckus.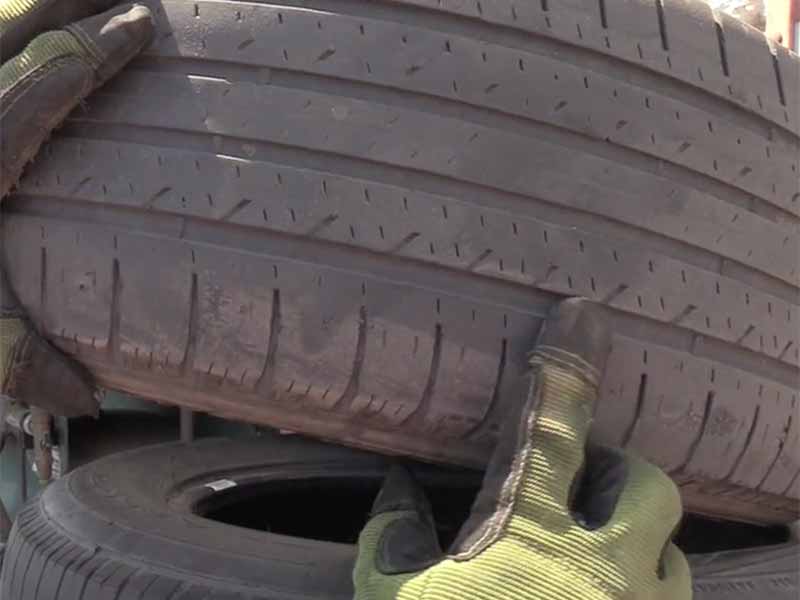 Symptoms of Uneven Tire Wear
Uneven tire wear can manifest in several ways, impacting both the performance and safety of a vehicle. Recognizing the signs of unevenly worn tires is essential for timely intervention and maintenance.
Vibration During Driving
Noticeable Shaking: Vibrations can be felt in the steering wheel, vehicle floor, or even the seats.
Speed Specific: These vibrations become more pronounced, especially at higher speeds.
Imbalance Issue: The primary cause is often the imbalance created by the uneven wear on the tire's surface.
Abnormal Tire Noise
Increased Volume: Noise levels can rise from the tires during driving.
Unfamiliar Sounds: Drivers might detect sounds that weren't previously noticeable.
Irregular Surface: The uneven tire surface leads to increased noise when making contact with the road.
Rapid or Patchy Tread Wear
Visual Clues: Certain areas of the tire tread may show accelerated wear.
Bald Patches: Parts of the tire may appear bald or have reduced tread depth.
Inconsistent Wear: The tire wear may appear patchy or uneven when visually compared to other areas.
Steering Issues
Pulling Sensation: The vehicle might consistently drift or pull to one side during driving.
Less Responsive: Steering might feel less accurate or stable than usual.
Contact Inconsistency: Uneven wear can hinder the tire's ability to maintain consistent contact with the road, leading to these steering issues.
Decreased Fuel Efficiency
More Frequent Refueling: The vehicle might require fuel more often than usual.
Increased Resistance: Unevenly worn tires can raise the rolling resistance.
Efficiency Drop: This resistance can lead to a noticeable reduction in the overall fuel efficiency of the vehicle.
Recognizing these symptoms can be crucial in ensuring that uneven tire wear is addressed promptly, resulting in a safer and more efficient driving experience.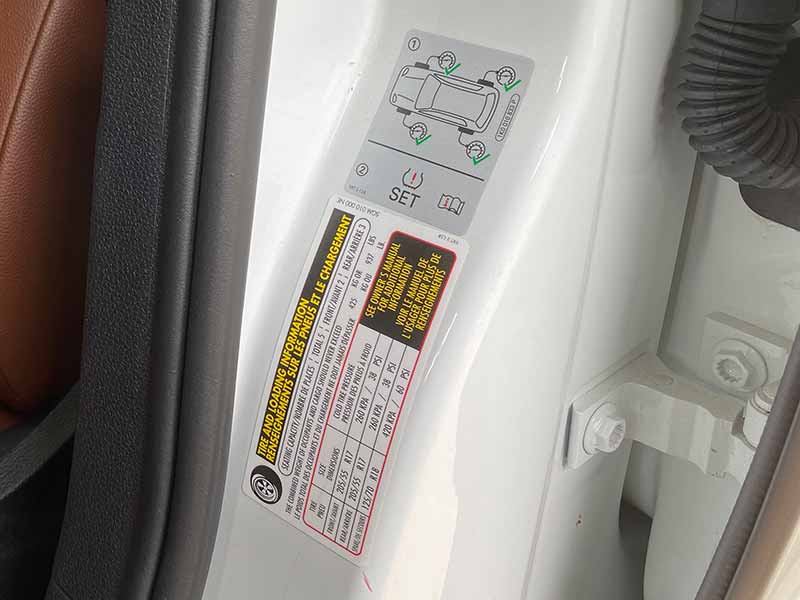 The Importance of Regular Tire Checks and Maintenance
Regular tire care is an essential aspect of vehicle maintenance. Ensuring your tires are in good condition can greatly enhance the performance, safety, and longevity of your vehicle.
Tire Balancing: Essential for a Smooth Ride
Tire balancing is the process of equalizing the weight distribution of the tire and wheel assembly. When tires are balanced:
Vibrations are minimized, which can lead to a more comfortable driving experience.
The lifespan of the tires can be extended, potentially leading to cost savings over time.
Proper Tire Inflation: Maintaining Optimal Pressure
Maintaining the right tire pressure is crucial for the health and performance of the tire.
Correct tire pressure ensures that tires wear evenly, which can extend their useful life.
Properly inflated tires can provide better traction, reducing the potential for accidents.
Maintaining the recommended tire pressure (found in the driver's door jamb or owner's manual) can improve fuel efficiency, offering potential cost savings.
Wheel Alignment: An Important Aspect of Tire Care
Wheel alignment is the process of adjusting the angles of the wheels so they are set to the car's specifications. Properly aligned wheels:
Ensure that tires wear evenly, which can extend their lifespan.
Provide a smoother driving experience.
Can improve fuel efficiency, which, in turn, can result in cost savings.
Resources
Below are some links you may find helpful when learning about tires
Final Thoughts
Understanding the intricacies of tire wear is essential for anyone who spends time behind the wheel. Uneven tire wear isn't just a cosmetic concern; it can lead to noticeable vibrations, potentially affecting your vehicle's performance and safety.
Regular tire maintenance and checks can help diagnose and rectify uneven wear before it becomes a more significant issue. By staying proactive in tire care, you not only ensure a smoother drive but also enhance the longevity and safety of your vehicle.
Good luck and happy motoring.