Ever looked at your tires and thought, "Why do they look like they're sprouting silver hairs?" Those "hairs" are actually metal wires, and they're not a good sign. If you're wondering how much driving time you have left with them, let's dive in.
How Long Can You Drive On Tires With Wire Showing?

Driving on tires with wire showing is extremely dangerous and should be avoided. The presence of visible wires signifies severe tire wear, posing a significant risk of tire failure or blowout.
In this article, we'll dive into the issue of driving on tires with wire showing. We'll cover why you see metal wires sticking out of your tire, what risks it involves, and how to handle the situation. We'll also share some essential tire care tips to prevent such wear and tear in the future.
Let's take a closer look.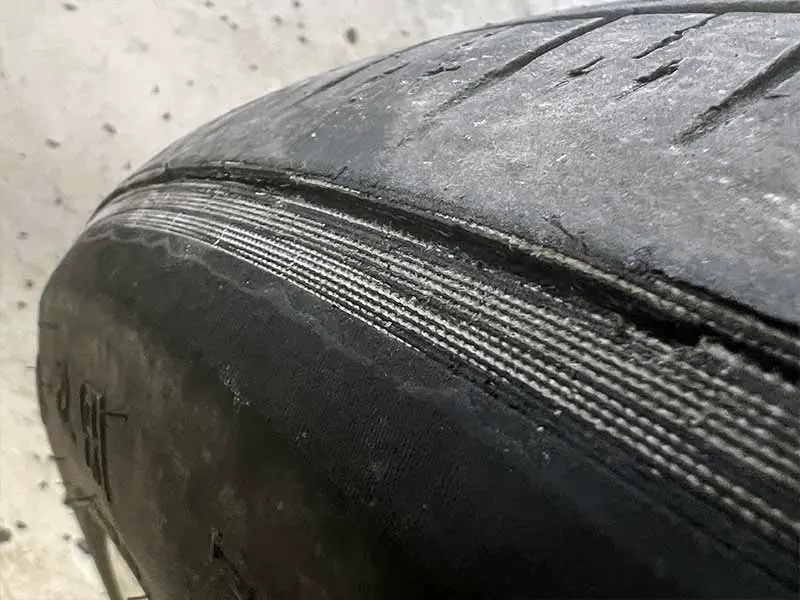 Understanding Your Tires: Construction and Wear
Let's take a moment to explore the fascinating world of your vehicle's tires. Despite being often overlooked, tires are incredibly complex and vital to your car or truck's performance, safety, and efficiency.
Anatomy of a Tire
Tires are not just rubber doughnuts; they're sophisticated pieces of technology crafted with care and precision. Here's what's going on beneath the surface:
Tread: This is the part of the tire that meets the road. It has patterns designed to grip the road in different weather conditions, and helps prevent hydroplaning by channeling water away. Keep an eye on the tread depth – the deeper, the better!
Sidewall: The side of the tire, between the tread and the bead. It displays important information like tire size and type, and when it was made. Sidewalls are tough, but not invincible. Keep them safe from curbs and sharp objects!
Bead: This is the inner edge of the tire that connects to the wheel rim. It's reinforced with strong steel cables, ensuring a snug and secure fit.
Belt: Beneath the tread are the belts, often made of steel wires. These add durability, stability, and help the tread maintain its shape, even at high speeds.
Carcass: This is the tire's body or skeleton. It's usually made of fabric cords (like polyester) coated in rubber. It gives your tire strength and flexibility.
Tire Wear: What Causes It?
Tire wear is like the natural aging process for your tire. Over time, the tread wears down and becomes thinner. A few things can speed up this process:
Driving Habits: If you're a fan of hard braking, rapid acceleration, or high-speed driving, your tires are going to wear out faster.
Road Conditions: Rough roads, potholes, curbs, and debris can all cause damage to your tires and increase wear.
Load: Overloading your vehicle puts extra stress on your tires and can accelerate wear.
Tire Pressure: This one's a biggie! Incorrect tire pressure (too high or too low) can lead to rapid and uneven tire wear. Keep your tires inflated to the proper tire pressure as recommended by your vehicle's manufacturer.
Wheel Alignment: Misaligned wheels can cause uneven tire wear. This means one part of your tire wears out faster than the rest. Regular alignment checks can help avoid this.
The Issue: Wire Showing on Tires
Now that we've peeled back the layers of a tire, it's time to tackle the heart of the matter: wires showing on your tires. This issue is a little more than just an "oops!" moment. Let's delve into what it really means.
Why Are There Wires in My Tire?
First things first, let's tackle the elephant in the room. Why are there wires in your tire? Well, remember when we talked about the bead and belt in your tire's construction? Those wires you see poking out from your tire are part of that construction. They're there to reinforce the tire and maintain its shape, particularly at high speeds.
So, Why Is Wire Sticking Out of My Tire?
Unfortunately, if you're seeing these wires, it's a sign your tire is excessively worn or damaged. This could be due to:
Excessive Tread Wear: If the tread wears down too much, the underlying layers, including those steel belts, can become exposed.
Damage: Impact from hitting potholes, curbs, sharp objects, or even due to a manufacturing defect, can cause damage leading to the wires becoming exposed.
Improper Inflation: Over-inflation can cause the tire to balloon out, putting extra pressure on the center of the tread, leading to quicker wear. On the flip side, under-inflation causes the tire's edges to bear the brunt of the wear.
If the wire is showing on the side of the tire, it's likely due to sidewall damage or under-inflation, causing the sidewalls to rub against the road or vehicle. If the wire is showing on the inside of the tire, it's typically due to a misalignment issue or suspension problem causing uneven tire wear.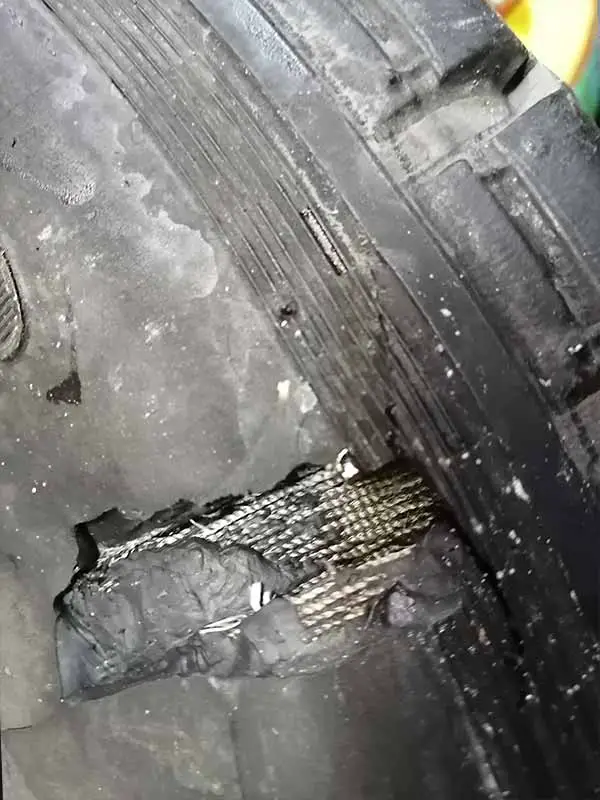 How Long Can You Drive on Tires with Wire Showing?
We've discussed why wire might be showing on your tires, and it's clear it's not a good sign. But how urgent is it? Can you drive on tires with wire showing? The short answer: not a good idea. Let's break it down further.
The Risks of Driving on Tires with Exposed Wire
Immediate Blowout: Exposed wires mean that your tire's structure is compromised. It's weaker and much more susceptible to failure. Even the slightest additional stress or minor impact could result in an immediate blowout.
Loss of Traction: The exposed wires indicate that your tire's tread is excessively worn, which means less traction on the road. This could lead to sliding, skidding, or losing control, especially in wet conditions.
Damage to Your Vehicle: Those exposed wires can cause more than just a flat tire. They can also cause damage to other parts of your vehicle, like your wheel rims or wheel wells.
Potential Legal Issues: Depending on where you live, driving on a tire with exposed wire could be against the law, as it falls below the minimum legal tread depth.
Fixing a Tire with Wire Showing: Is It Possible?
Now you're probably wondering, can I just patch it up? Unfortunately, once the steel belts in your tire are exposed, there's no safe way to repair it. The structural integrity of the tire is compromised. The only safe option is to replace the tire.
While it might seem like a costly option upfront, driving on a tire with exposed wires could end up costing you much more in the long run. It could lead to damage to your vehicle, cause an accident, or even result in a fine if it's deemed illegal in your area.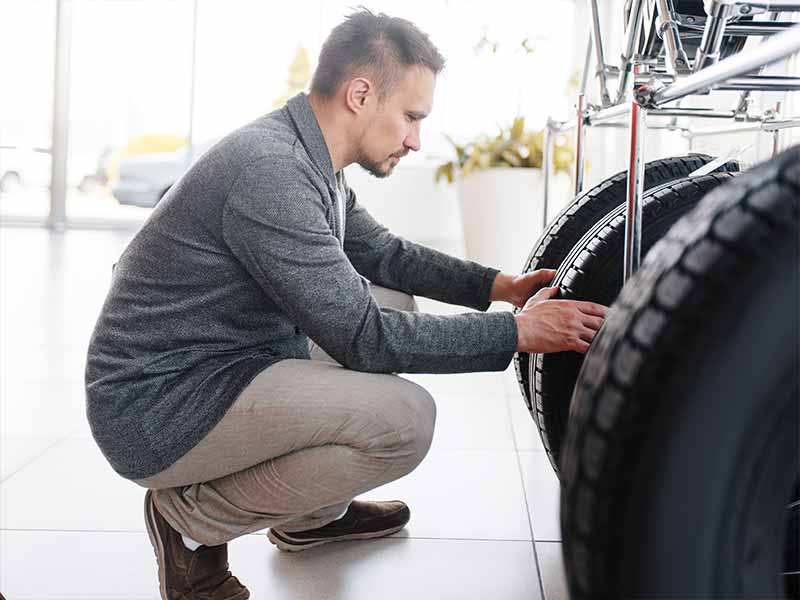 The Importance of Regular Tire Maintenance and Inspection
Okay, so you've now understood that seeing wires on your tires is not a good thing. But how can you prevent such a situation? It's all about regular tire maintenance and inspection. Let's dig deeper.
Regular Inspection
Visual inspections are your first line of defense against tire problems. Here's what to look out for:
Tread Depth: Your tire tread should never fall below 2/32 of an inch. This is the minimum legal tread depth in most places. You can easily check this with a penny. Just insert it into your tire tread with Lincoln's head facing down. If you can see all of Lincoln's head, your tread is too low.
Damage: Look for cuts, punctures, bulges, or objects embedded in the tire. Also, keep an eye out for those pesky wires sticking out.
Inflation: Check to see if your tires look underinflated or overinflated. They should look firm but not bulging.
Regular Maintenance
Aside from regular inspections, you should also perform regular maintenance on your tires. This includes:
Proper Inflation: Check your tire pressure at least once a month. Make sure to follow your vehicle manufacturer's recommended PSI (pounds per square inch) for optimal performance.
Rotation: Regular rotation ensures even wear on your tires, extending their lifespan. Generally, tires should be rotated every 5,000 to 8,000 miles.
Alignment: A misaligned vehicle can cause uneven wear on your tires, leading to problems down the road. It's recommended to have your alignment checked annually.
Balancing: If your tires aren't balanced properly, they could wear down unevenly. Have your tire balance checked when you get them rotated.
By following these steps, you can catch any potential tire issues early, before they turn into a serious problem.
Resources
Below are some links you may find helpful when learning about tires
Final Thoughts
Driving on tires with wire showing is a high-risk gamble you don't want to take. Now that you're aware of the dangers it poses, how it happens, and how to prevent it, the key takeaway is clear:
No amount of driving is safe on a tire with wire showing.
Take Immediate Action
The moment you notice wire poking out of your tire, consider it an urgent call to action. Here's your checklist:
Stop Driving: As tempting as it might be to push a little further, it's not worth the risk. Pull over as soon as you can do so safely.
Use Your Spare Tire: If you have a spare tire in your vehicle, now is the time to use it. Remember, your spare tire is only a temporary solution to get you to a repair shop. Don't rely on it for extended driving.
Contact a Professional: Arrange for your vehicle to be inspected by a professional as soon as possible. The only safe course of action is to replace the tire.
Stay Ahead of the Game
Prevention is the best defense against tires showing wires. Stay ahead of the game by taking good care of your tires:
Regular Inspection: Always keep an eye out for signs of wear and tear.
Proper Maintenance: Keep your tires properly inflated, and have them rotated, balanced, and aligned as per the manufacturer's recommendations.
By taking these measures, you're not just safeguarding your tires; you're ensuring your safety on the road. Remember, tires are your vehicle's only contact with the road – treat them with care!
Good luck and happy motoring.