Ever found yourself stranded on a road, staring at a flat tire and an untouched spare in your trunk, wondering about that mysterious "60 PSI" label? You're not alone—and there's more to it than meets the eye.
Why Do Spare Tires Have Higher PSI?

Spare tires, especially the compact "donut" types, have a higher PSI (usually around 60) to ensure they can safely support the vehicle's weight despite their smaller size.

This increased pressure provides stability and control for short-term use until the main tire is repaired or replaced.
In this article, we'll unpack the mystery behind the 60 PSI, explore the basics of tire pressure, bust common myths about spare tires, and offer crucial tips on safety and maintenance. Buckle up and get ready for an enlightening ride!
Let's take a closer look.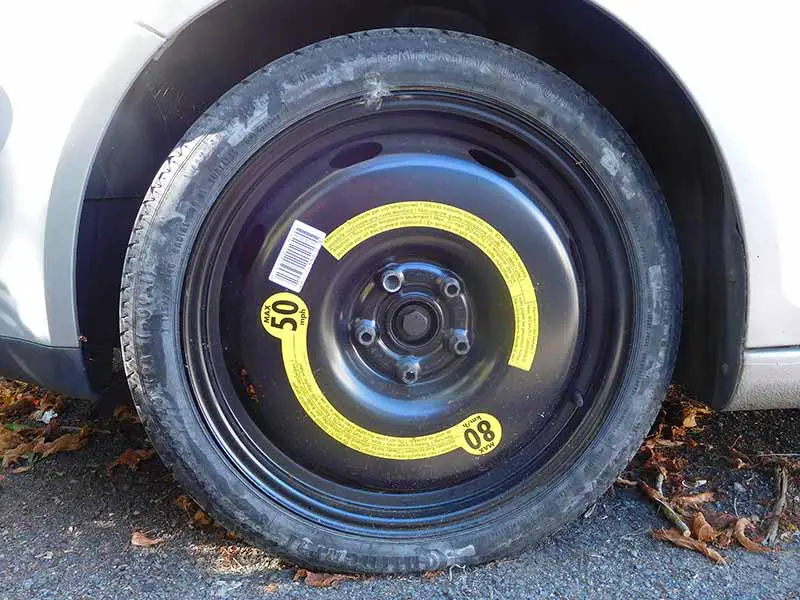 Spare Tires: Types and Differences
Hello again, road warriors! Now that we've covered the ins and outs of tire pressure, let's shift gears and talk about that often overlooked hero: the spare tire. Because, let's face it, without a reliable spare, you could end up stranded on the side of the road, waiting for a rescue.
Types of Spare Tires
Not all spares are created equal! There are mainly two types you might find chilling in the trunk of your car:
Donut Spare Tire (AKA Donut Tire):

Looks: Smaller and thinner than regular tires.
Purpose: These little guys are designed for short distances and to get you out of a jam.
Speed Limit: Typically, you shouldn't go over 50 mph on these.
Lifespan: Aim to replace it or get your flat tire fixed ASAP, ideally within 50 miles.

Full-Sized Spare Tires:

Looks: Just like your other tires!
Purpose: They can replace any of your regular tires and last just as long.
Speed Limit: Same as your other tires since it's basically a twin.
Lifespan: Just like a regular tire, but remember to check its PSI regularly too!
Why Do They Look So Different?
Great question! It's all about purpose and space:
Purpose of Donut Tires: They're like the flip-flops of the tire world. Quick, easy, but not for long treks. They're there to help you reach a nearby mechanic or your home without any fuss.
Space Savers: Donut tires are also…well, space savers! They're designed to fit snugly in your car's trunk without hogging all the space. Full-sized spares, while awesome, are bulkier and take up more room.
But, Why Not Just Use a Full-Sized Spare Always?
Weight: Full-sized spares are heavier, which might affect fuel efficiency.
Space: As mentioned, they can be a bit of a space hog.
Cost: They're pricier than their donut counterparts. For some, having a full-sized spare might be overkill, especially if they mostly drive in urban areas.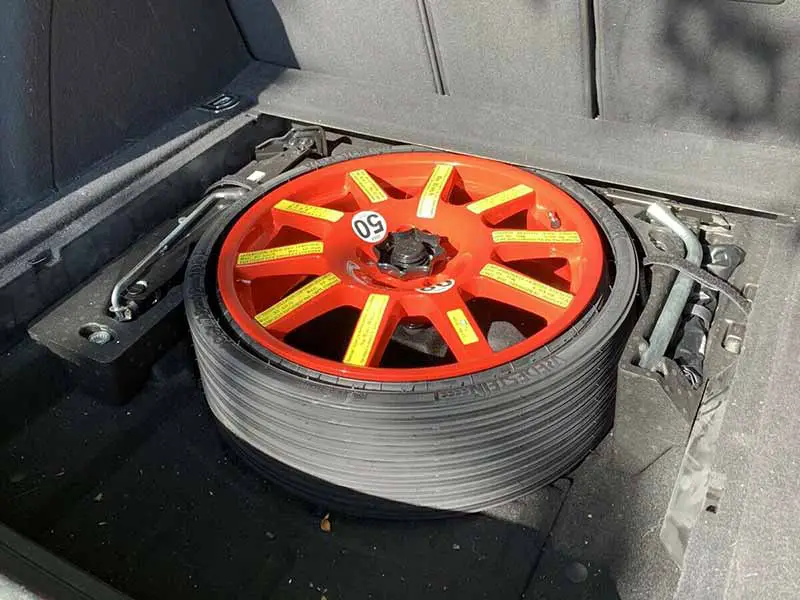 Why Spare Tires Have Higher PSI
Why do spare tires, especially those cute little donut tires, require more air pressure? Let's inflate our knowledge a bit and dive right in!
The Compact and Mighty Donut Spare Tire
You see, these aren't just your regular tires. They're the superheroes of the tire world, designed to step in during emergencies. But like every hero, they've got their quirks:
Smaller Size, Bigger Needs:

Size Matters: Due to their smaller size and different construction, donut spare tires need to be tough enough to support your car's weight. To do this, they need more air pressure or higher PSI.
Temporarily to the Rescue: Donuts are designed to be a temporary fix. With their increased air pressure, they can help you reach your destination or the nearest mechanic without a hitch.
Full-Sized Spare: The Unexpected Twist
Now, you might think, "If it's the same size as my other tires, shouldn't the PSI be the same too?" Good point! But here's the twist:
Storage Time: Full-sized spares might sit unused in your trunk for a loooong time. Over time, tires can lose some air. So, some folks inflate these spares a bit more to account for that slow air loss.
Always Check: Even if it's a full-sized spare, always check its PSI before using it. Just like milk, you wouldn't want to use it without giving it a quick check first, right?
Why Not Just Keep Regular PSI?
Safety First: Over-inflating regular tires can be dangerous. But for temporary spares, higher PSI is needed for safe driving.
Performance: Remember, these spares (especially donuts) aren't built like regular tires. To make sure they roll smoothly and keep you safe, they need that extra puff of air.
Checking and Adjusting Spare Tire Pressure
Let's get hands-on and chat about the 'how's. Because knowing is half the battle, and doing is…well, the other half!
The Often-Forgotten Checkup: Spare Tire Pressure
Yup, just because it's out of sight, doesn't mean it should be out of mind. Your spare tire needs some TLC too!
Do They Lose Air?: Oh, absolutely! Just like a balloon left out for too long, spare tires can lose air over time, even if they're just sitting pretty in the trunk.
Why Check?: Imagine this: You get a flat tire. You reach for your spare…only to find it's flat too. Total bummer, right? So, a quick check now and then is a real day-saver!
Get Familiar with the Tire Pressure Gauge
Remember our trusty friend from earlier? It's time for a brief recap.
How to Measure:

Pop off the cap from the tire's air valve.
Firmly press the gauge onto the valve. Wait for the hiss—that's the sound of success!
Take a peek at the gauge reading. There you have it, the tire's PSI!
On or Off the Car: When to Inflate?
One of the big questions out there: "Do you inflate a spare tire to 60 psi on or off the car?" Let's clear the air:
On-the-Car: If you're using the spare tire (say, you had a flat and replaced it with the spare), inflate it while it's on the car.
Off-the-Car: If you're just doing your routine checks, it's totally cool to inflate it while it's still in the trunk.
PSI Levels: The Golden Numbers
How Much Air?: Specifics can change based on the car and the tire, but here's a general idea:

Donut Tires: Often around 60 PSI, but always check the tire's label or your car's manual to be sure.
Full-sized Spare: It might be the same as your other tires, but again, a quick check of the manual won't hurt!
Just a Friendly Reminder…
Consistency is Key: Make tire-checking a monthly routine. It's like a quick health check-up but for your car.
Temperature Matters: Remember, mornings are your best friend when checking tire pressure. It's when tires are the most "honest" about their PSI.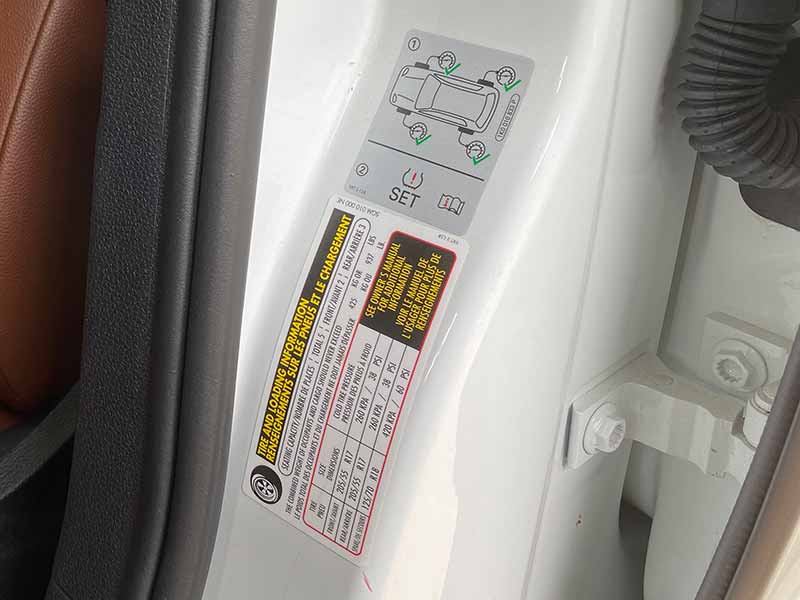 What's PSI and Why Should I Care?
PSI stands for Pounds per Square Inch. It's like the heartbeat for your tire. Imagine blowing up a balloon: too little air and it's floppy, too much and it might pop. Similarly, PSI tells you how much air is inside your tire.
The Right PSI Matters: Maintaining the correct PSI ensures:

Smoother rides
Longer tire lifespan
Better fuel efficiency
Increased safety on the road
Air Pressure in Tires
Air Pressure Balance: Your tires need just the right amount of air. If there's too much or too little, it can lead to problems. Let's break it down:

Under-Inflated Tires: These have not enough air. They can:

Wear out faster
Overheat easily
Make your car consume more gas

Over-Inflated Tires: These have too much air. They can:

Make rides bumpier
Be more prone to popping, like an overfilled balloon!
The Handy Tool: Tire Pressure Gauge
Ever wonder how you can measure the PSI of your tire? Enter the tire pressure gauge. It's a simple, user-friendly tool, and every car owner should have one.
How to Use It:

Remove the cap from your tire's air valve.
Place the gauge on the valve and press down until you hear a hissing sound.
Check the reading on the gauge – that's your tire's PSI!
Quick Tips For Keeping an Eye on Tire Pressure
Check Regularly: Just like you need regular check-ups, so do your tires. Ideally, check every month or before long trips.
Morning Checks Are Best: Tires give the most accurate PSI readings in the cooler morning temperatures, before the heat of the day and driving can affect them.
Not Just for Flat Tires: Even if your tire looks okay, its PSI might be off. Always double-check!
Resources
Below are some links you may find helpful when learning about tires
Final Thoughts
Spare tires, especially those compact "donuts," have a higher PSI to safely carry your vehicle's weight on their petite shoulders. It's not just about random numbers; it's about ensuring short-term stability and control on the road.
Regular checks and maintenance aren't just for your regular tires. Your spare—whether it's a donut or full-sized—deserves some love too. A well-maintained spare is a silent guardian, ensuring you're never truly stranded. So, next time you pop your trunk and spot that spare, you'll know the weighty responsibility it holds and the simple steps to keep it ready for action.
Good luck and happy motoring.