We've all been there: cruising down the highway, music playing, when suddenly… thump, thump, thump. The dreaded sound of a flat tire. But wait, do you even have a spare? And if not, what now?
Who Can Bring Me A Spare Tire?

There are too many different shapes and sizes of spare tire for it to be practical for someone to bring you one and be sure it will fit safely.

If you find yourself with a flat tire and no spare, your best options include seeking roadside assistance, getting to a safe location, and contacting a tow truck or nearby auto shop for help.
In this article, we'll dive deep into the importance of having a spare tire, immediate steps when faced with a flat, hunting down that replacement, exploring alternatives to traditional spares, and rounding off with some final pearls of tire wisdom.
Let's take a closer look.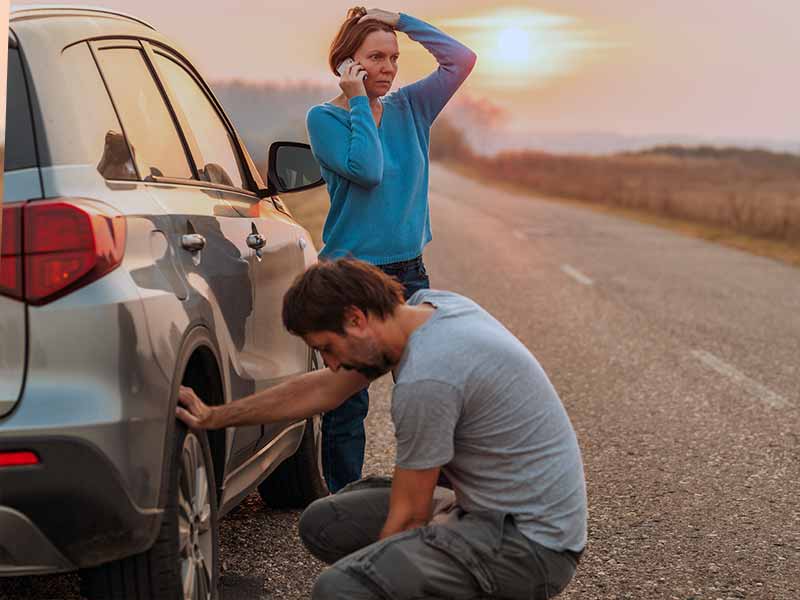 When There's No Spare: Immediate Steps
Having a damaged tire with no spare in sight might feel like you're a fish out of water. But don't panic! Here's a guide on what to do next, broken down into easy steps.
Get To Safety First
Before anything else, think safety. Tires can be replaced; you can't.
Pull Over: If you're on a busy road, gently steer your car to the side or a safe area, away from traffic.
Hazards On: Turn on your hazard lights, especially if it's dark or visibility is low.
Stay In The Car If Necessary: If you're on a highway or a busy road and feel it's unsafe to get out, stay in the car and call for help.
How Far Can I Go on That Flat?
Well, spoiler alert: not very far.
Damage Ahead: Driving on a flat can seriously damage the wheel, brake system, or suspension. That's a hefty repair bill waiting.
Lose Control: Flat tires make it harder to control your car, increasing the risk of accidents.
Run Flat Tires: If you have these, remember they can generally go for about 50 miles at a reduced speed. But if you're unsure, it's better to stop and check.
The Call for Backup
Being stranded without a spare isn't the end of the world – there are heroes waiting to assist!
Roadside Assistance: Whether it's through an AAA Membership or another service, they can assist with tire changes or towing.
Tow Trucks: If you're in a real pickle and can't get the tire fixed on the spot, these guys will tow you to a nearby garage. Just remember, there might be an additional fee.
Kind-hearted Drivers: Sometimes other drivers stop to help. It's like a highway version of neighbors bringing over sugar. Just ensure you feel safe and always trust your gut.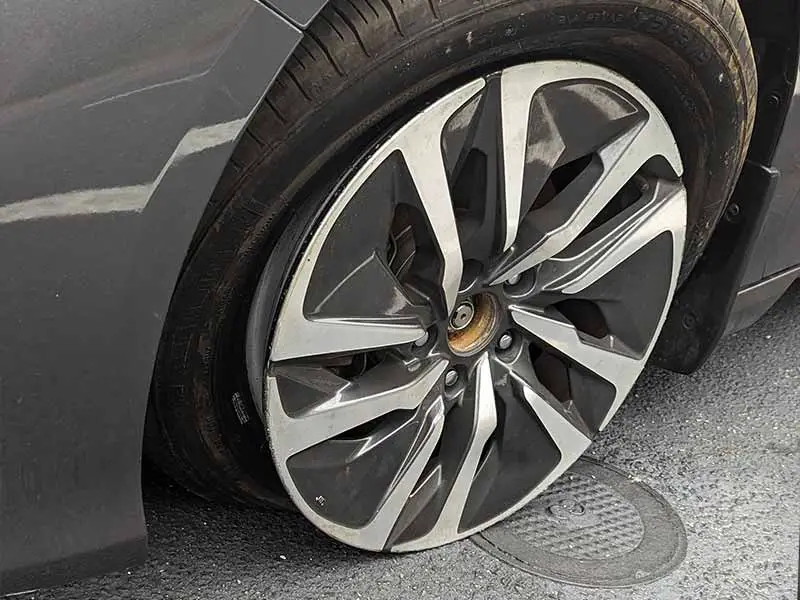 Roadside Assistance Plans: A Lifeline on the Road
There's a certain security in knowing that, should your car betray you in the middle of nowhere, a lifeline awaits. This is the promise of roadside assistance plans. But with so many options out there, which one should you go for? Let's dive into the realm of on-the-go help.
The Ever-Popular AAA
For many, when they hear "roadside assistance," they think of AAA (American Automobile Association). You may think you can have AAA bring you a spare, but as mentioned earlier, it's just not practical. They can offer towing, jumper cables, or handle the spare tire change or possible attempt a repair if you're not up to the task.
Coverage: AAA offers a range of services, from tire changes and jump-starts to fuel delivery and lockouts.
Membership Tiers: Depending on how much you're willing to pay annually, you can choose from Basic, Plus, and Premier memberships, each with its own set of benefits.
Travel Perks: Beyond just emergency assistance, AAA also offers members perks like travel guides, discounts, and more.
Limitations: While they're renowned and reliable, it's worth noting that AAA may have call-out limits depending on your membership tier.
New Car? Check Your Warranty
Owners of new cars or trucks, rejoice! Many manufacturers now provide complimentary roadside assistance during the vehicle's warranty period. This is especially true of for new vehicles that didn't come with a spare.
Duration: Typically, this coverage lasts as long as the vehicle's basic warranty, which is commonly 3 years or 36,000 miles, though it varies by manufacturer.
Services Offered: Most offer a pretty comprehensive range of services – from towing to minor mechanical repairs and even trip interruption benefits.
Cost: Here's the sweet part – it's usually included in the price of the car. But always double-check specifics with the dealer.
Limitations: It's often tied to the warranty duration. So, once that's up, you might want to consider a third-party plan or renew with the manufacturer.
Other Roadside Assistance Plan Options
While AAA and car manufacturers are giants in this realm, there are other players:
Insurance Providers: Many car insurance companies offer roadside assistance as an add-on for a nominal additional fee.
Credit Card Companies: Some premium credit cards include roadside assistance as a perk. It's worth checking the terms of your card.
Things to Consider
Before picking a plan, think about:
Frequency of Travel: If you're frequently on the road, a comprehensive plan might be best.
Vehicle Age: Older vehicles might require more frequent interventions.
Family Coverage: Some plans, like certain AAA tiers, extend coverage to all family members, not just the primary holder.
Geographical Reach: Ensure your provider can assist in all areas you frequently travel to.
In essence, roadside assistance plans serve as a safety net for drivers. Whether you opt for the extensive coverage of organizations like AAA or the built-in benefits from your vehicle manufacturer, the peace of mind these services offer is invaluable. Drive with confidence, knowing that help is just a call away.
Fix-A-Flat Example
Spare Tire Alternatives: What Are Your Options?
So, maybe you're not a fan of the traditional spare, or your car simply didn't come with one. No worries! Today's world offers a range of alternatives to keep you rolling. Let's dig into some of these cool (and very handy) options.
Tire Sealants
A quick fix for minor punctures:
How They Work:

Think of it as a band-aid for your tire. You squirt a sealant through the valve, and it patches up small holes from the inside.

Pros:

Compact and easy to store.
Quick solution to get you to a service station.

Cons:

Temporary fix.
Not ideal for larger punctures or sidewall damage.
Run Flat Tires
The name kinda gives it away:
How They Work:

Even after a puncture, these babies can keep you moving. They're designed to be driven on for a short distance even when they're flat.

Pros:

No immediate need to pull over in an unsafe area.
Can run for about 50 miles at reduced speeds.

Cons:

They can be pricier than standard tires.
Some drivers find them less comfortable due to their stiffer sidewalls.
Portable Tire Inflators and Compressors
Blow some life into that deflated tire:
How They Work:

These devices pump air back into your tire, helping you reach a nearby service station.

Pros:

Small and easy to store.
Extremely handing for regular tire maintenance.
Can be used for other inflatables like bikes or sports balls.

Cons:

Will only work for slow leaks.
Requires a power source, usually your car's 12-volt outlet.
Emergency Tire Plugs
A bit like an emergency patch:
How They Work:

They're rubber plugs that can be forced into the puncture and seal it temporarily.

Pros:

Compact and lightweight.
Good for situations where the internal damage is bigger than what a sealant can handle.

Cons:

Temporary solution.
While it can seal holes larger than a sealant can, it can't fix large punctures or sidewall damage.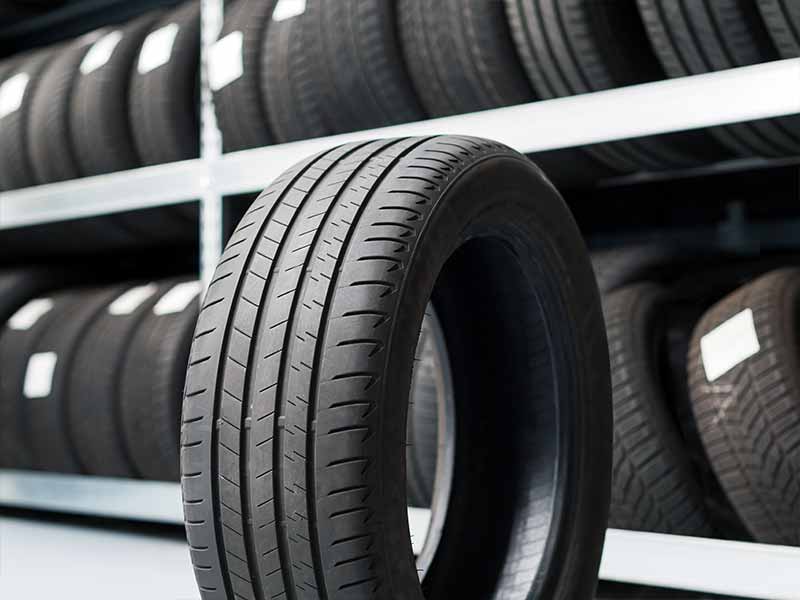 Where To Get A Spare Tire?
So, you've recognized the importance of having a spare tire. But the big question now is, where exactly do you get one? And once you have it, what else might you need to make use of it? Let's unpack all of this.
Essential Shopping List
Before you even start your search for the spare, it's crucial to know what companions it might need:
Jack: This tool helps lift your vehicle, allowing you to remove the flat tire and replace it with the spare.
Lug Wrench: Essential for removing and securing the lug nuts which hold your tire in place.
Storage Container: For any other tools you might acquire. A solid container keeps everything organized and within easy reach.
Top Places to Buy Spare Tires
Now, onto the main event:
Local Auto Shops: These are often the most straightforward spots. Experts here can guide you to the right spare for your vehicle.
Large Tire Retailers: Think of these as the "mega-malls" of tires. They offer a broad range and may have deals or bundles (like getting a tire + jack kit at a discount).
Online Marketplaces: Websites like Amazon or specific auto parts online stores can be gold mines. But make sure to double-check sizes and compatibility.
Local Salvage Yard: Buying an old full size wheel and putting a new tire on it to use as your vehicle's spare tire is a bargain option.
Considering Storage
Alright, you've got the spare. But…where do you put it?
Collapsible Spare: Some spares are designed to be compact and can be expanded when needed. These are great for vehicles without a designated spare storage space.
Trunk Storage: Some cars might allow for the spare to be stored in the trunk. However, this might eat up your luggage space.
External Mounts: If internal storage is a no-go, certain vehicles can be fitted with external mounts (think of how some SUVs have a spare on the back).
Home Storage: If all else fails, or if your car really doesn't have room, consider keeping a full-size spare at home. While not ideal for travel, in emergencies, a family member or friend could bring it to you.
Resources
Below are some links you may find helpful when learning about tires
Final Thoughts
Facing a flat tire without a spare in tow can indeed feel like a daunting curveball, but remember: you're never truly stranded.
Always ensure your vehicle is equipped with a spare tire or a suitable alternative, and familiarize yourself with basic tire maintenance. In case of emergencies, know that roadside assistance and tow truck services are there for the rescue.
Finally, consider modern alternatives like tire sealants and run flat tires, but always prioritize safety. By staying informed and prepared, you'll ensure smoother drives ahead, no matter the unexpected bumps on the road.
Good luck and happy motoring.