Did you know that nearly every driver will experience a flat tire at least once in their lifetime? It's true! That's why it's important to be prepared with the right spare tire.
What Spare Tire Fits My Car?

The spare tire that fits your car or truck can often be found listed in your vehicle owner's manual or sometimes on the tire information sticker in the driver's door jamb.

It's important to have the correct type and size spare tire for your vehicle to ensure safety, proper performance, and to prevent long-term damage.
In this article, we'll explore the different types of spare tires, why they're not one-size-fits-all, and how to find the perfect spare tire for your car or truck.
Let's take a closer look.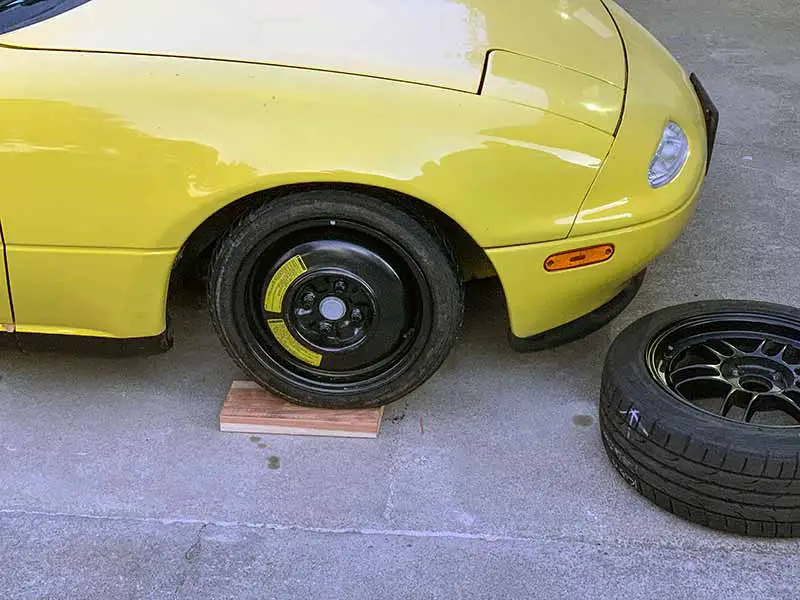 What Type Of Spare Tire Do I Need?
There are three main kinds: full-size spares, compact or "donut" spares, and run-flat tires. Don't worry. I'll explain each one so you can understand the differences.
Full-Size Spares
Full-size spare tires are just like the other tires on your vehicle. They have the same size and can be used as a regular tires if needed. The cool thing about full-size spares is that you can drive on them like a normal tire, and they won't affect your vehicle's performance. But they have a downside: they're big and heavy, which means they take up more space in your trunk and add extra weight to your car.
A full-size matching spare can also be used as part of the vehicle's tire rotation pattern, which ensures that you get your money's worth out of your full-size spare tire before it needs to be replaced due to age and dry rot.
Compact Or "Donut" Spares
A compact spare is a temporary spare tire and is always meant for temporary emergency use. Donut spares are smaller and lighter than full-size spares. They're called "donut" spares because they look like a donut, with their skinny appearance. 
There is even a type of donut tire called a folding temporary spare tire or collapsible temporary spare tire. These ultra-compact light tires are deflated and need an air pump to reinflate them.
A temporary spare tire will also have shallower tread depth which, when combined with the much narrower tread width, dramatically reduces traction compared to regular tires.
Donut spare tires are great because they don't take up much space and are easier to handle due to their lightweight construction. However, donut spares aren't meant for long drives or high speeds. They're just temporary spare tires to get you to a nearby tire shop so you can replace the damaged tire.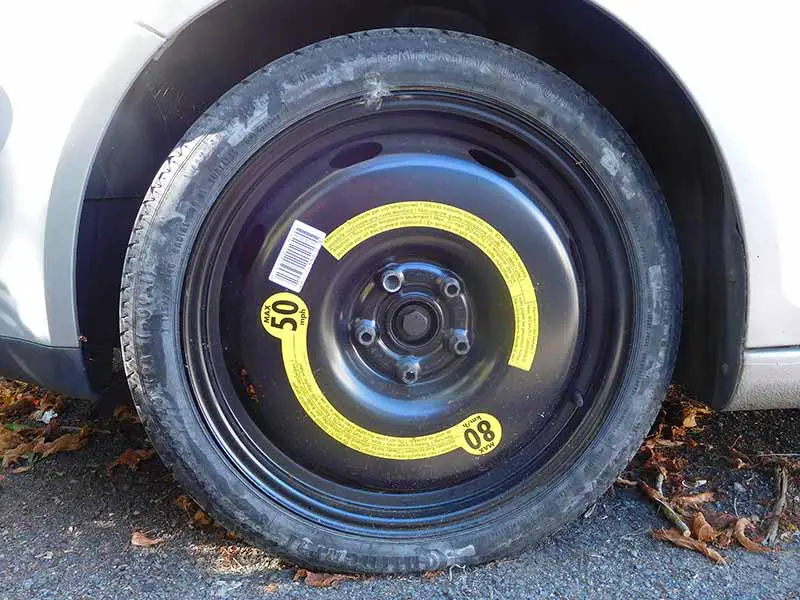 Run-Flat Tires
Now, run-flat tires are a bit different. They're not really spare tires, but they're worth mentioning. Run-flat tires are designed to keep working even if they get punctured. This means you can drive on them for a short distance, like 50 miles, and at a reduced speed, usually around 50 miles per hour, to get to a tire shop for help. The downside of run-flat tires is that they can be more expensive and might not provide the same comfortable ride as regular tires.
Are Spare Tires Universal?
Spare tires come in different sizes and types, and each vehicle has a specific kind that will fit just right. Let's look at some reasons why spare tires are not one-size-fits-all.
What Spare Tire Fits My Car?
There are a few measurements that make each spare tire unique to your vehicle:
Wheel Diameter
Section Width
Aspect Ratio
First, you've got the diameter, which is the distance across the tire from one side to the other. Then, there's the width, which is the measurement of how wide the tire is. And finally, there's the aspect ratio, which tells you how tall the tire is in relation to its width. All of these measurements need to match your vehicle's requirements, so the spare tire fits correctly and works as it should.
Differences In Bolt Patterns
Another reason why spare tires aren't universal is the bolt pattern. The bolt pattern is the arrangement of lug nuts or bolts that hold the tire onto your vehicle. Different cars and trucks have different numbers of lug nuts or bolts, as well as different spacing between them. If the bolt pattern on your spare tire doesn't match your vehicle, it won't fit, and you won't be able to use it.
How To Find The Right Spare Tire Size?
Here are some steps to help you figure out the right spare tire for your vehicle.
Check Your Owner's Manual
The first thing you should do is look in your car or truck's owner's manual. It's like a handy guidebook that comes with your vehicle and has all sorts of helpful information, including details about the right spare tire. It'll tell you the size and type of spare tire that's best for your vehicle. If you can't find your owner's manual, you might be able to find a digital version online.
Look For Information On The Driver's Door Jamb
Another place to find information about the right spare tire for your vehicle is on the driver's door jamb. There should be a sticker or label with important details, like the recommended tire size and pressure.
This tire information sticker will sometimes also include spare tire information, especially if your car or truck has a spare tire. If not, this information can help you figure out the correct spare tire size for your vehicle.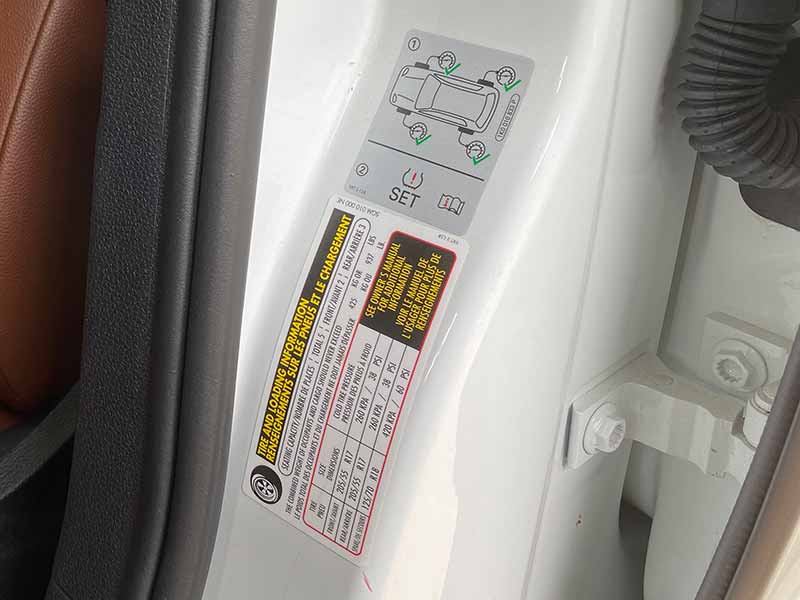 Ask A Professional At A Tire Shop
If you're still not sure what type of spare tire you need, it's a good idea to visit a tire shop and ask for help. The professionals there know a lot about tires and can help you find the right one for your car or truck. They can also check your current spare tire to make sure it's in good shape and fits your vehicle correctly.
Importance of Proper Spare Tire Use
Using the right spare tire and following some simple rules can help you stay safe on the road, keep your vehicle running smoothly, and avoid causing long-term problems.
Here are some key points to remember:
Safety Concerns
First and foremost, using the correct spare tire is crucial for your safety and the safety of others on the road. If you use the wrong size or type of spare tire, it could affect how your vehicle handles, making it harder to steer, brake, or accelerate. Plus, if the spare tire doesn't fit correctly, it could come loose while you're driving, which is definitely not a good situation!
Vehicle Performance
Using the right spare tire also helps your vehicle perform its best. If you're using a full-size spare, it should have the same size and type as your other tires, so your car or truck will drive just like it should. If you're using a compact spare or "donut," remember it's just a temporary fix. You should only drive on it for a short distance and at slower speeds until you can get your regular tire repaired or replaced.
Long-Term Effects On Your Vehicle
Driving on a spare tire that's the wrong size or type could cause extra wear and tear on your car or truck, like uneven tire wear or strain on the differential and other drivetrain components. This could lead to more expensive repairs down the road. The right spare tire and following the proper guidelines can help prevent long-term damage to your vehicle.
Resources
Below are some links you may find helpful when learning about tires
Final Thoughts
Now you know that spare tires aren't universal, and each car or truck needs its own specific type and size. By finding the correct spare tire for your vehicle, you'll be ready for any unexpected flat tire situation.
As the saying goes, "An ounce of prevention is worth a pound of cure." Being prepared and knowledgeable about spare tires can save you a lot of trouble down the road.
Good luck and happy motoring.