Ever wonder why your Tesla doesn't seem to drive as smoothly as it once did, or why you're not getting the same amazing range? The culprit might be right beneath you—your tires! Just like regular check-ups with your doctor keep you in top shape, your Tesla tires need a little TLC to keep your ride smooth and efficient.
Tesla Tire Rotation

Tesla recommends rotating tires every 6,250 miles or if tread depth varies by 2/32 of an inch, with a standard front-to-rear pattern. The x-pattern is preferred for all-wheel drive models unless the front and rear tires are different sizes.

The lug nut torque specification is 130 ft-lbs, and the TPMS system can be reset via the car's control panel under Controls > Service > Wheel & Tire Configuration > Tires.
In this article, we'll dive deep into the world of Tesla tire rotation, exploring its importance, how it varies by Tesla model, DIY steps for tire rotation, and tips for maintaining evenly worn tires.
Let's take a closer look.
What is Unique About Tesla Tire Rotation?
Tesla vehicles are known for their electric powertrains, which bring about unique considerations when it comes to tire rotation. Understanding these specifics can help you maintain your Tesla's performance and safety.
Electric Torque and Its Effect on Rear Tires
High Torque: Electric vehicles like Teslas produce a lot of torque instantly. This is different from gasoline cars, where torque builds up over time.
Rear Tires: This high torque often affects the rear tires more, especially in rear-wheel-drive (RWD) models, causing them to wear out faster.
Even Wear: To ensure even tire wear and maintain optimal performance, regular tire rotation is crucial.
Tesla Tire Rotation by Model
Different Tesla models have different drivetrains, which means the tire rotation pattern may vary. Here's a breakdown:
Tesla Model Y
Drivetrain: Available in rear-wheel drive (RWD) and all-wheel drive (AWD).
Rotation Pattern: Standard front-to-rear and rear-to-front without changing sides.
Special Note: For the AWD version, use the cross X rotation pattern.
Tesla Model 3
Drivetrain: Also available in RWD and AWD.
Rotation Pattern: Standard front-to-rear and rear-to-front without changing sides.
Special Note: Depending on the drivetrain bias, you may need to adjust the rotation pattern.
Tesla Model S
Drivetrain: Primarily all-wheel drive (AWD).
Rotation Pattern: Use the cross X rotation pattern.
Special Note: Given the high performance of some Model S variants, consider replacing all tires at once if worn sufficiently.
Tesla Model X
Drivetrain: All-wheel drive (AWD).
Rotation Pattern: Use the cross X rotation pattern.
Special Note: Due to the vehicle's weight, pay extra attention to tire pressure and wear.
When Should You Rotate Your Tesla Tires?
Knowing when to rotate your Tesla tires is crucial for maintaining optimal performance, efficiency, and safety. Unlike conventional cars, the electric torque in Tesla vehicles may cause more rapid tire wear, especially on the rear tires. Therefore, timing is everything.
Mileage Guidelines for Tesla Models
While there's no one-size-fits-all answer due to varying driving habits and conditions, Tesla generally recommends a tire rotation every 6,250 miles or if the tread depth difference is around 2/32 of an inch. The lug nut torque specification is 130 ft-lbs.
The Role of Tread Depth
One way to determine whether your Tesla tires need rotation is by checking the tread depth. The tread depth is the measurement of how deep the grooves in the tire are. Low tread depth means less grip on the road, which is a safety concern. Some tools to measure tread depth include:
Coin Test: Insert a penny into the tread with Lincoln's head upside down. If you can see all of Lincoln's head, it's time for a new tire.
Tread Depth Gauge: A more accurate tool that provides a numerical measurement.
Seasonal Considerations
In certain climates, you may also want to consider seasonal changes. For instance:
Winter: If you live in snowy or icy conditions, making sure your tires are evenly worn can be crucial for maintaining grip.
Summer: High temperatures can affect tire pressure and therefore tire wear, making rotations even more crucial.
Visual and Tactile Checks
Apart from tread depth, visual and tactile checks are also essential. If you notice uneven wear patterns or feel vibrations in the steering wheel, it's a good indicator that it's time for a rotation.
Consult Your Owner's Manual
Finally, the owner's manual of your Tesla vehicle will have detailed guidelines tailored specifically to your model. Always refer to it for the most accurate information.
Setting Reminders
It's easy to forget about tire rotation, so setting up a reminder on your phone or a calendar can be an excellent way to ensure you don't skip this crucial maintenance step. Some Tesla models even provide maintenance reminders on the dashboard.
Where Can You Get Tesla Tires Rotated?
When it's time to rotate the tires on your Tesla, you have multiple avenues to explore. Each option comes with its own set of pros and cons, but the key is to choose a service that aligns with your vehicle's needs and your personal preferences.
Tesla Service Center: The Official Route
One of the most straightforward options is to schedule an appointment at a Tesla service center. Here's why this might be a good choice:
Expertise: Tesla technicians are trained to handle the specific needs of Tesla vehicles.
Equipment: Tesla service centers have the appropriate tools to handle specialized tasks, like working with Tesla's unique lug nuts or specific torque settings.
Tesla Mobile Service: Convenience at Your Doorstep
Convenience: The technician comes to you, eliminating the need to go to the service center.
Limited Services: However, not all tire services may be available through the mobile service, depending on your location and the complexity of the task.
Third-Party Options: Beyond Tesla Service Centers
For those who don't live near a Tesla service center, third-party mechanics can be a good alternative. One popular option is Discount Tire. Key points include:
Cost-Effective: Usually cheaper than Tesla service centers.
Wider Availability: More locations than Tesla service centers.
Lack of Specialization: Mechanics may not be as familiar with Tesla-specific requirements.
Discount Tire: Free Rotation?
Many wonder if Discount Tire offers free rotations for Tesla vehicles. While Discount Tire often provides free tire rotation services, there might be conditions attached:
Tire Purchase: Free rotation might be a part of the deal when you buy new tires from them.
Service Package: It could also be free as part of a service package that includes other maintenance tasks.
DIY: Do It Yourself
While not recommended for everyone, rotating your own Tesla tires is an option if you have the right tools and expertise.
Cost Savings: No labor costs involved.
Time-Consuming: It will require a good amount of time and you must follow safety protocols.
Questions to Ask Before Choosing a Service
Before deciding where to get your Tesla tires rotated, here are some questions you might consider asking:
What's the price for a tire rotation?
Is the staff trained to handle Tesla vehicles?
How long will the service take?
Scheduling and Planning
Regardless of where you choose to get your Tesla tires rotated, it's advisable to schedule an appointment in advance. Some places may offer walk-in service, but an appointment will ensure that you're not waiting for hours.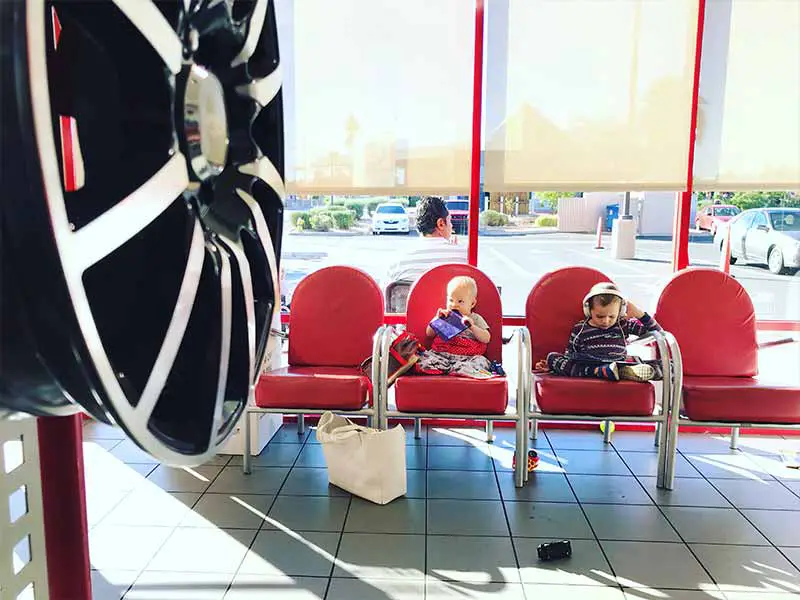 How Much Does Tesla Tire Rotation Cost?
The cost of rotating your Tesla tires isn't a fixed number; it can vary based on several factors. Some of these include your geographic location, the Tesla model you own, and where you choose to get the service done.
Tesla Service Center: The Premium Option
Getting your tires rotated at a Tesla Service Center is typically the most expensive option. Here are some things to consider:
Quality Assurance: You're paying for specialized knowledge and tools tailored for Tesla vehicles.
Price Range: Costs can vary, but you might expect to pay between $35 and $100 depending on your location and specific needs.
Tesla Mobile Service: The Price of Convenience
If you opt for Tesla's mobile service, the costs are generally in line with what you would pay at a Tesla service center. However:
Travel Fees: Some areas may incur additional travel fees, which will add to your total cost.
Third-Party Mechanic: A More Affordable Path?
Going to a third-party mechanic or a tire-specific service like Discount Tire is usually cheaper. Here's what you should know:
Budget-Friendly: Costs can range from as low as $20 to as high as $50.
Added Value: Some places offer package deals where the tire rotation is free if you purchase other services.
DIY Costs: Not Really Free
If you're considering rotating your own tires, remember that while you save on labor costs, you still need the right tools:
Torque Wrench: Essential for ensuring lug nuts are tightened to Tesla's specifications.
Jack Stands: Required for lifting the car safely.
Is It Ever Free from Tesla?
Tesla has previously offered service packages that included free tire rotations. However, these are generally for a limited time or are part of a more extensive service package. Always check the latest offers and terms before assuming any service is free.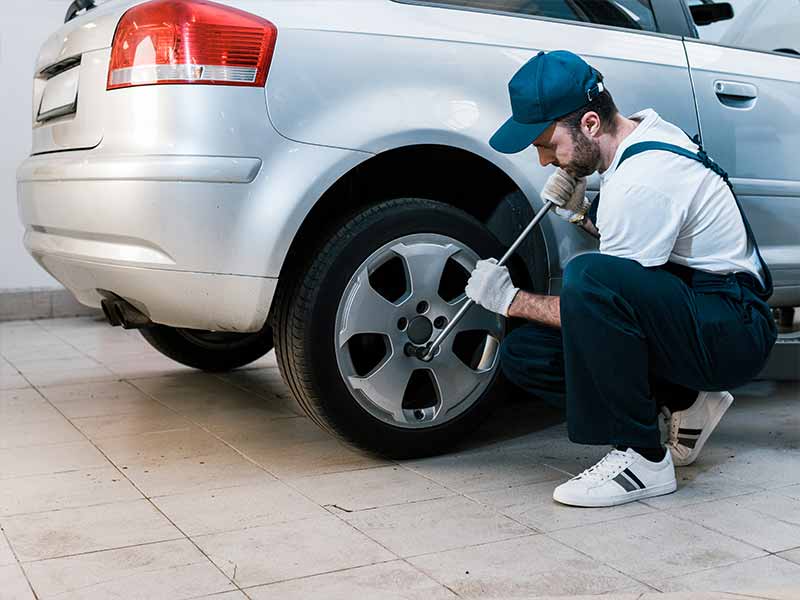 How to Perform a Tesla Tire Rotation: A Step-by-Step Guide
For those who are handy with tools and have some mechanical experience, performing a Tesla tire rotation at home can be a rewarding task. However, it's essential to understand that this isn't a job for everyone. You'll need specific tools and a thorough understanding of safety protocols.
Tools Required
Before you start, gather all the necessary tools and safety equipment. Here's a list to help you prepare:
Torque Wrench: To ensure the lug nuts are correctly tightened.
Jack Stands: To lift and secure the car safely.
Gloves: To protect your hands during the process.
Owner's Manual: For any Tesla-specific guidelines.
Step 1: Vehicle Preparation
Parking: Park your Tesla on a flat, stable surface.
Brake: Make sure to engage the parking brake.
Battery: For additional safety, you may want to turn off your Tesla.
Step 2: Loosening the Lug Nuts
Before lifting the car, slightly loosen the lug nuts on all four tires. It's easier to do this while the tires are still touching the ground.
Step 3: Lifting the Vehicle
Front or Rear First: Decide whether you'll start with the front or rear tires.
Jack Points: Locate the appropriate jack points under your Tesla, referring to the owner's manual for guidance.
Lifting: Use the jack stands to lift the vehicle safely.
Step 4: Remove and Rotate
Once the vehicle is secure on the jack stands:
Remove: Take off the lug nuts completely and remove the tires.
Rotate: Move the tires according to the rotation pattern suited for your Tesla model.
Step 5: Reattach and Tighten
Position: Place the rotated tires back on their new positions.
Lug Nuts: Hand-tighten the lug nuts before lowering the car.
Step 6: Final Tightening
Once the car is back on the ground:
Torque Wrench: Use a torque wrench to tighten the lug nuts to the specific torque settings mentioned in your owner's manual.
Torque Spec: Use a torque wrench set it to 130 ft-lbs. It's also recommended to retorque your wheels to 130 ft-lbs after a few hundred miles.
Step 7: Resetting the TPMS System
To update the tire pressure monitoring sensor locations you'll need to go into the service menu:
After rotating your tires, go to your Tesla's control panel.
Navigate to Controls > Service > Wheel & Tire Configuration > Tires.
Update your car's tire configuration. This will let the car know the tires have been rotated and will later warn you to rotate your tires after 6,250 miles.
Step 8: Double-Check Your Work
After you've completed the rotation:
Visual Inspection: Make sure everything looks secure.
Test Drive: Take a short drive to make sure everything feels stable.
What If You Encounter Problems?
If you encounter any issues or uncertainties during the process:
Consult Your Owner's Manual: Most likely, it will have the answer to your question.
Professional Help: When in doubt, it's always safer to consult a professional or take your Tesla to a service center.
Torque Wrench
How to Maintain Evenly Worn Tires on Your Tesla
Maintaining evenly worn tires on your Tesla is crucial for optimal driving performance and safety. Uneven tire wear can lead to reduced fuel efficiency, poor handling, and can even be a safety hazard.
Regularly Check Tire Pressure
Keeping an eye on tire pressure is a simple yet effective way to ensure that your tires wear evenly.
Frequency: Check your tire pressure at least once a month.
Consult Your Manual: Your Tesla owner's manual will provide the recommended tire pressure for your specific model.
Temperature Matters: Keep in mind that tire pressure can vary with temperature, so it's especially important to check during seasonal changes.
Rotate Tires on Schedule
Regularly rotating your four tires, whether you do it yourself or get it done at a Tesla service center, can significantly prolong their life.
Scheduling: Follow the recommended tire rotation schedule based on your Tesla model and driving conditions.
Front vs. Rear: Due to the weight distribution and mechanics of driving, front tires tend to wear out faster than rear tires. Regular rotation helps balance this wear.
Inspect Tread Depth: Know When It's Time for New Tires
The tread depth of your tires is a good indicator of when it's time to invest in new tires.
Legal Requirements: Most states have a minimum tread depth requirement, often around 2/32 of an inch.
Performance: Reduced tread depth can lead to reduced grip and increased stopping distances.
Investing in New Tires: Signs You Shouldn't Ignore
New tires can be a significant investment, but driving on worn-out tires can be dangerous. Here's when you should consider buying new tires:
Uneven Wear: If the wear on your tires is visibly uneven, despite regular rotations and pressure checks.
Age: Even if the tread depth seems fine, tires older than six years should be examined by a professional for potential replacement.
Resources
Below are some links you may find helpful when learning about tires
Final Thoughts
Taking proper care of your Tesla tires through regular rotations can significantly extend their life, improve your vehicle's performance, and even enhance safety.
It's crucial to understand the specific needs of your Tesla model, as the requirements for a Model S can differ from a Model 3 or Model X. Whether you decide to take on tire rotation as a DIY project or prefer to trust the professionals, maintaining regular tire checks and rotations should be a key part of your vehicle maintenance routine.
Good luck and happy motoring.