Picture this: You're driving down the road and suddenly, you hear that dreaded "thud" – you've got a flat tire.
What now? Should you repair it or replace it?
Tire Repair Vs Replace

You should repair a flat tire that is still in good condition and the damage is able to be safely repaired. If the tire is nearing the end of it's usable life or has other concerning issues it's best to replace it.
In this easy-to-follow guide, we'll discuss the factors to consider when deciding whether to repair or replace your tires, such as age, tread depth, and type of damage. Plus, we'll share some useful safety tips to keep your tires in top condition.
Let's take a closer look.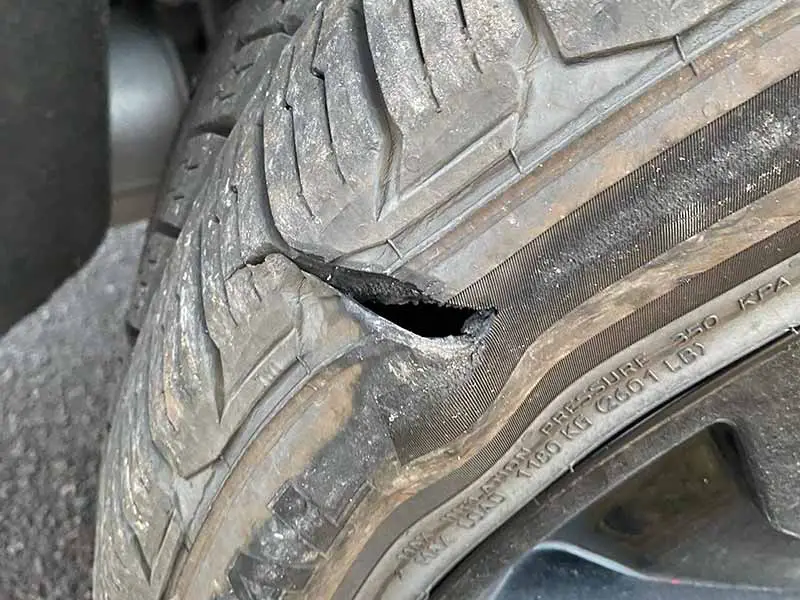 Factors To Consider
Here are some important factors to think about when deciding whether to repair or replace your a flat tire. It's super important to keep these factors in mind because they will help you make the best decision for your safety and your wallet.
Age Of The Tire
Did you know that tires have a "best before" date? No kidding! On average, tires last around six years. But, just like your favorite snack, they don't stay fresh forever. Exposure to the sun, temperature changes, and driving habits can all affect their lifespan.
Wondering how to spot an old tire? Look for these signs:
Cracks on the sidewall
Faded rubber
Bumpy or uneven wear
If you see any of these, it might be time to replace your tires.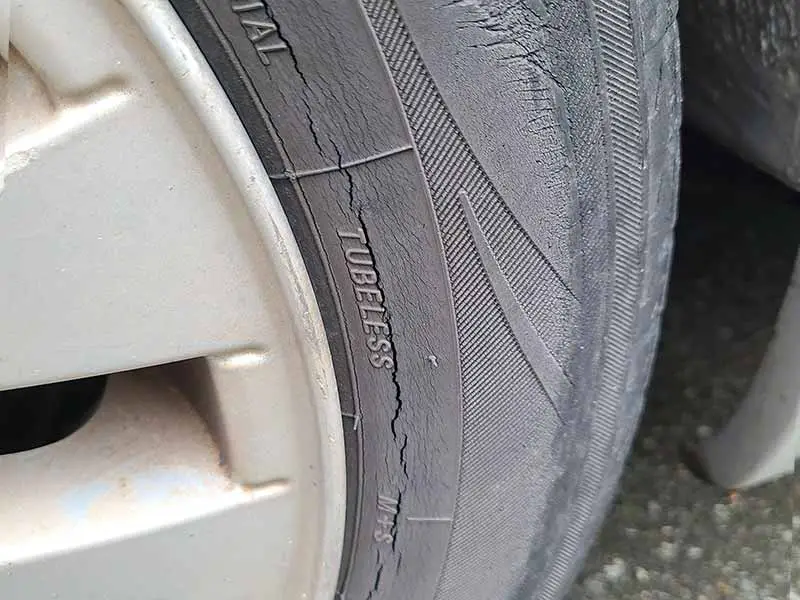 Tread Depth
Tread depth is super important because it helps your tires grip the road. A good grip means better control and a safer ride, especially in wet or slippery conditions.
No fancy tools needed here! Just grab a penny and do the "penny test." Insert the penny with Lincoln's head facing down into your tire's tread. If you can see all of Lincoln's head, it's time for new tires.
For safe driving, you should have at least 2/32 of an inch (1.6 millimeters) of tread depth. If you're below this, it's time to replace your tires. Better safe than sorry, right?
Type And Severity Of Damage
Punctures and cuts can happen to the best of us. If you've got a small puncture or cut in the tread area (up to 1/4 inch or 6 millimeters), it's usually repairable. If it's larger or on the sidewall, it's time to replace the tire.
Sidewall damage is bad news. If your tire's sidewall is damaged, it's not safe to drive on and can't be repaired. In this case, you'll need to replace the tire.
If your tires are wearing unevenly, it could mean there's a problem with alignment, balance, or inflation. While this may not require immediate replacement, you should get it checked out by a professional to avoid more serious problems down the road.
Tire Repair
Now that we've covered the factors to consider, let's dive into the world of tire repair. We'll discuss when repair is an option and walk you through some common repair methods. Plus, we'll touch on cost considerations so you can make an informed decision without breaking the bank.
When Repair Is An Option
If you've got a small puncture (up to 1/4 inch or 6 millimeters) in your tire's tread area, it can usually be repaired. The key here is to act fast! The quicker you address the problem, the better your chances are of a successful repair.
Not all tire damage is created equal. If the damage to your tire is within repairable limits, like a small puncture, minor cuts, or a slow leak, you can usually get it fixed. But remember, if the damage is more severe, replacing the tire may be your best bet.
Tire "No Repair" Zone
The "No Repair" Zone refers to areas of a tire that, if damaged, are deemed too risky or unsafe for repair. Generally, this includes the tire's sidewall and the outer edges of the tread, known as the shoulder. In these zones, the structure of the tire is more vulnerable, and damage in these areas can compromise its overall integrity.
Understanding the "No Repair" Zone is crucial for your safety on the road. Attempting to repair a tire with damage in this zone can lead to tire failure, which may cause serious accidents. Always prioritize safety over cost savings, and when in doubt, consult a professional for advice.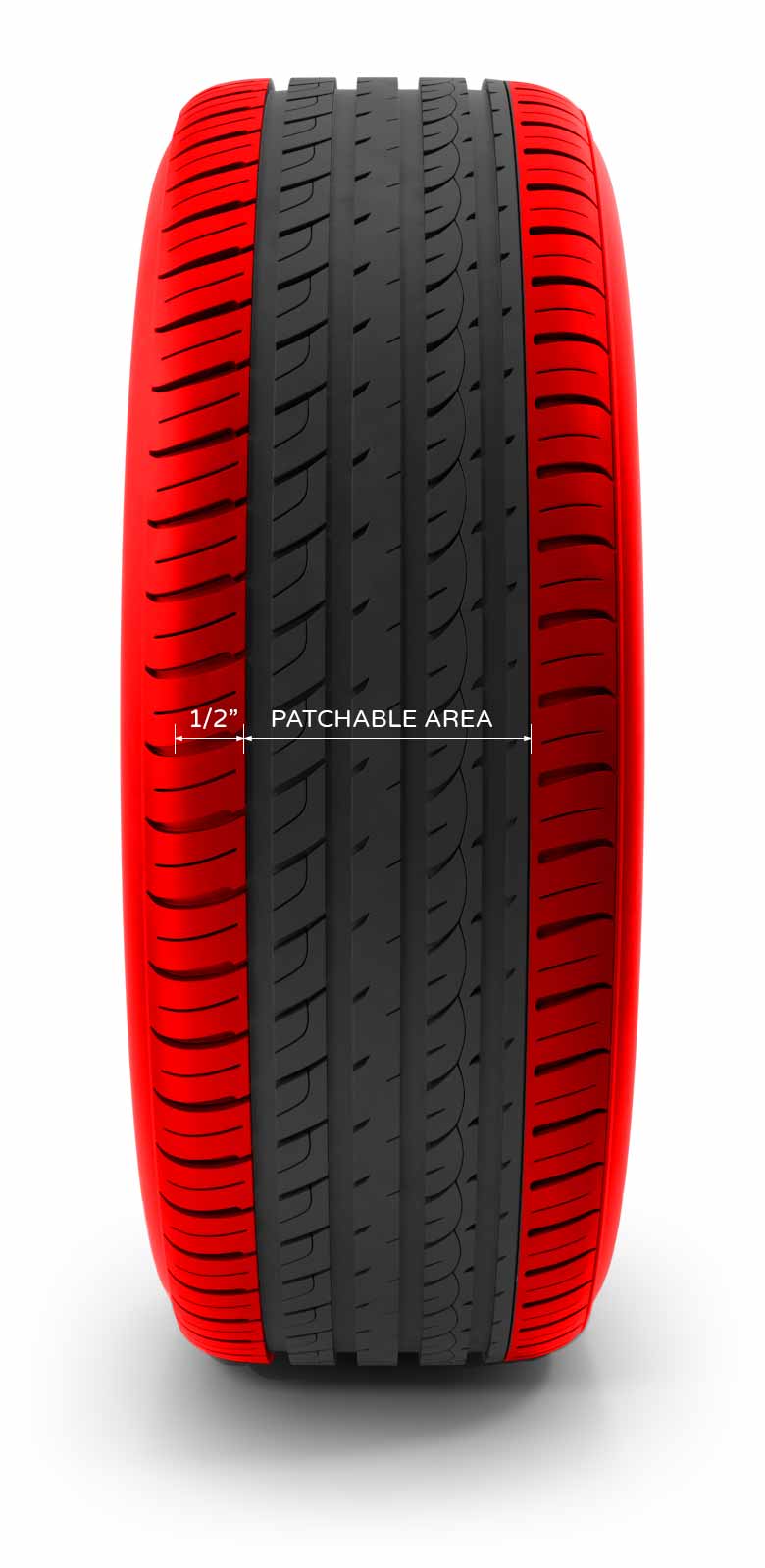 Repair Methods
The most common way to repair a tire is with a "plug and patch" technique. This involves sealing the puncture with a plug and then applying a patch to the inside of the tire for added strength. This combo helps keep the tire safe and sturdy for your future adventures.
Repairing a tire has its pros and cons. On the bright side, it's usually less expensive than buying a new tire and can prolong the life of your current tire. However, keep in mind that repairs aren't foolproof, and sometimes the damage may be too severe for a successful repair.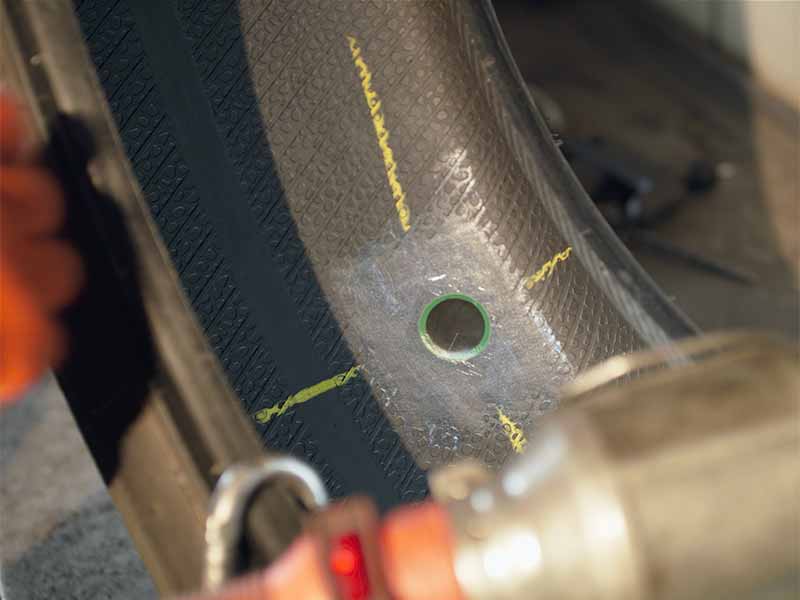 Repair Cost Considerations
When it comes to fixing a tire, the cost can vary depending on the type and extent of the damage. On average, a simple repair could cost you around $15 to $40. While this is cheaper than buying a new tire, it's important to consider if the repair will truly be enough to keep your tire safe and functional. If you're unsure, it's always a good idea to consult a professional.
Tire Replacement
Sometimes, a tire is simply beyond saving, and that's when you need to know your options. In this section, we'll talk about when replacement is necessary, how to choose the right new tires for your vehicle, and what you can expect in terms of cost.
When Replacement Is Necessary
Sometimes, a damaged tire just can't be saved. If your tire has severe damage like large tire punctures, a puncture in the shoulder of the tire, multiple punctures, deep cuts, or significant sidewall damage, it's time to say goodbye and get a new one. The same goes for tires that are bald or have reached the end of their safe tread depth.
If you've got a puncture or cut that's too big to be repaired (larger than 1/4 inch or 6 millimeters) or it's located in a tricky spot like the sidewall, you'll need to replace the tire. It's important to prioritize your safety, even if it means investing in a new tire.
Remember that "best before" date we talked about? If your tires are around six years old or showing signs of aging, it's time for a change. Old tires can pose a safety risk, so it's better to replace them before they cause any trouble.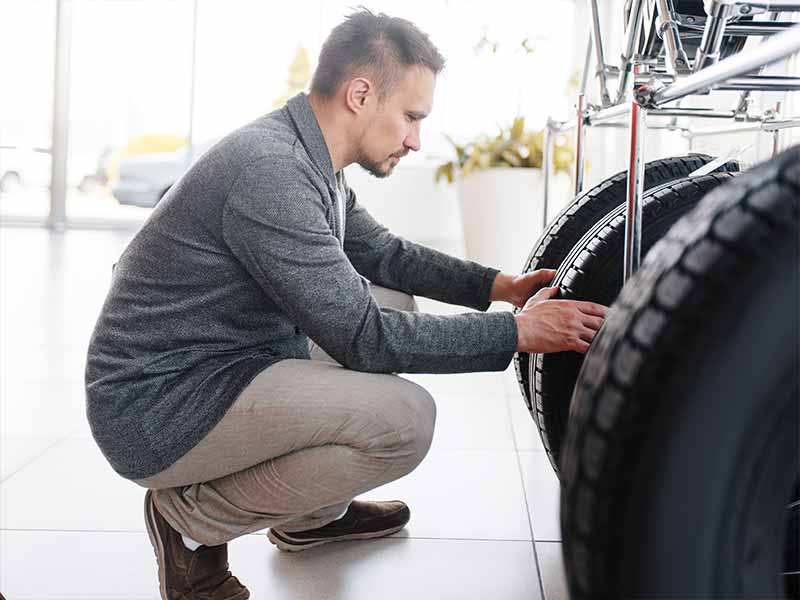 Choosing New Tires
When it's time for new tires, make sure to choose the right type for your vehicle. Different cars and trucks need different tires, so check your owner's manual or consult a professional to ensure you're getting the best fit.
Think about how you drive. Do you encounter lots of rain or snow? Are you a highway driver or a city slicker? The type of driving you do can affect which tires are best for you. Make sure to choose a tire that matches your needs and driving conditions.
Replacement Cost Considerations
Getting new tires can be a bit pricey, but it's an investment in your safety. The cost of replacing your tires can vary depending on factors like the type of tire, brand, and size. On average, you can expect to pay anywhere from $100 to $300 per tire. While it might seem steep, keep in mind that it's a small price to pay for peace of mind on the road.
Safety Tips
Get into the habit of giving your tires a good once-over every month or before long road trips. Look for signs of wear, damage, or anything that seems off. Regular inspections can help catch problems early and keep you safe on the road.
Your spare tire is just as important as the other four. Make sure to inspect it for wear, damage, and proper inflation, too. You never know when you'll need it!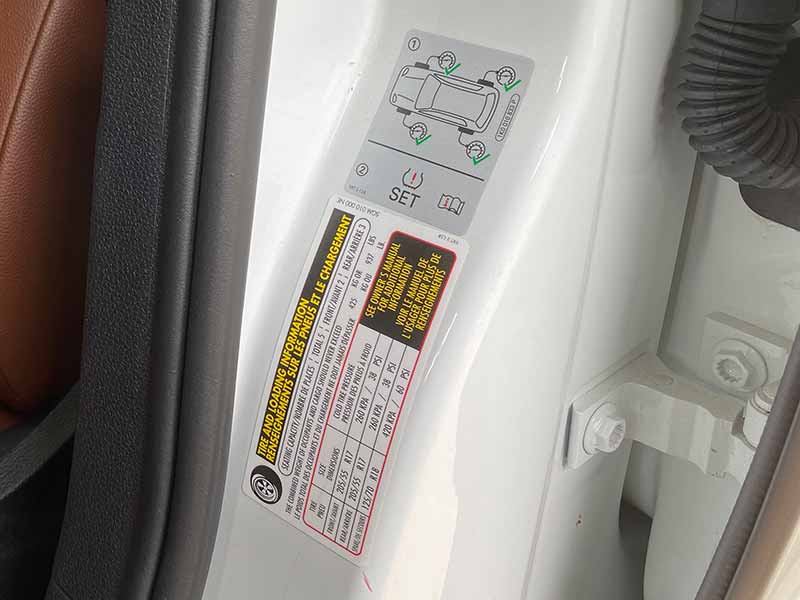 Proper Tire Maintenance
To keep your tires in tip-top shape, make sure to rotate and balance them every 10,000 miles. This helps ensure even wear and prolongs the life of your tires.
If your car feels like it's pulling to one side or your tires are wearing unevenly, it might be time for an alignment. Get it checked out by a pro to keep your tires wearing evenly and your car driving straight.
Proper tire pressure is super important for your safety and your car's performance. Check your tire pressure monthly and inflate or deflate them as needed. Your owner's manual or the sticker on the driver's side door jamb can tell you the ideal pressure for your tires.
Knowing When To Consult A Professional
If you're unsure about the state of your tires or whether you need repairs or replacements, don't hesitate to ask a professional. They're the experts and can help you make the best decision for your safety and wallet.
If something feels off or you suspect there might be an issue with your tires, it's better to be safe than sorry.
Resources
Below are some links you may find helpful when learning about tires
Final Thoughts
By taking into account factors like the age of the tire, tread depth, and type of damage, you can make informed decisions about a flat tire that will not only keep you safer on the road but also save you money in the long run.
Regularly inspecting your tires, maintaining proper inflation, and seeking professional advice when needed, you can stay ahead of potential problems and keep your ride smooth and safe.
Good luck and happy motoring.