You're cruising along, singing your favorite tune, when you suddenly feel it – that ominous thump-thump-thump of a flat tire. It's an experience most drivers know all too well, and it's one that can leave you wondering about the next steps. Should you patch it? Replace it? And more importantly, how much is it going to cost to patch that tire?
How Much Does It Cost To Patch A Tire?

Tire patch cost can vary, but generally, it hovers between $10 to $20. However, some service providers like Discount Tire, Les Schwab, and Belle Tire offer tire patching services for free.
In this article, we'll take you through the basics of a tire patch, explore the costs across different service providers, and even guide you through patching a tire at home.
We'll also delve into when you should (and shouldn't) patch a tire, how many patches a tire can handle, and how long a tire patch can last.
Let's take a closer look.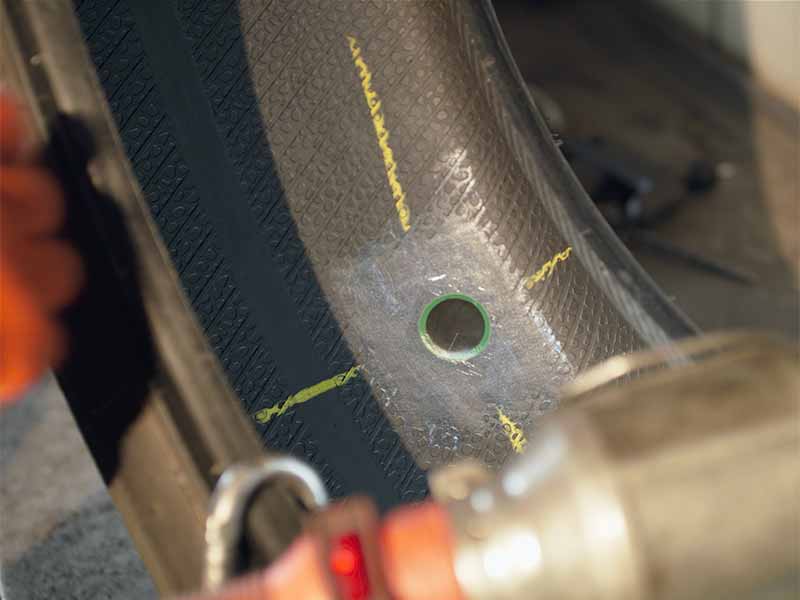 Cost of Tire Patching Across Different Service Providers
So, you've got a damaged tire and you're considering a tire patch. The next big question is, "Who's going to give you the best bang for your buck?" Well, let's take a look at a few major service providers and their tire patching services and costs.
Firestone
Firestone offers reliable tire repair services, and they typically charge between $10 and $20 to patch a tire. Remember, this range could vary based on how severe the tire damage is.
Discount Tire
If you're looking for a real bargain, Discount Tire is the place to go. They'll inspect your tire and, if a tire patch will do the trick, they'll fix it up for free. Can't beat that, right?
Mavis
Mavis is another popular choice for tire repair services. They charge $19.99 for standard tire repair and if you're sporting some fancy low-profile tires, the cost goes up a bit to $29.99.
Costco
Now, if you bought and had your tires installed at Costco, you're in luck because patching your flat tire will be free of charge. But, if your tires were originally installed somewhere else, there's still good news. Costco only charges a modest $10.99 fee for tire repair.
Goodyear
Goodyear is another big name in the tire industry. Their tire repair services start at $14.95, which is pretty affordable considering their longstanding reputation for quality.
Les Schwab
Les Schwab takes customer service to another level. They will patch, plug, or fix most repairable tires for free. That's right, they'll get you back on the road without reaching into your pocket.
Belle Tire
Last, but definitely not least, Belle Tire also offers tire patching services for free. They're committed to providing quality service and keeping their customers safe on the road.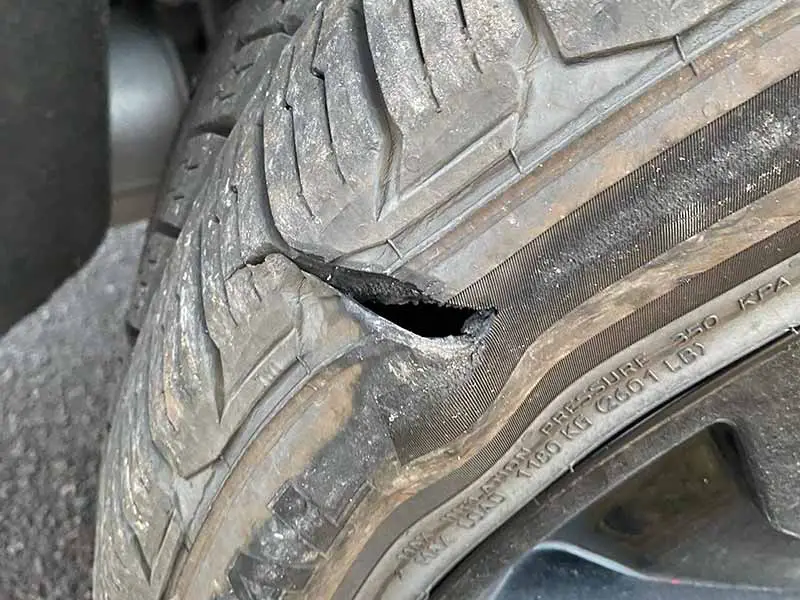 Understanding Tire Patches: The Basics
A tire patch is like the band-aid for your car's or truck's tire – but a lot stronger! It's a special adhesive piece that is applied to the inside of your tire when you've got a puncture, a slice, or any small injury that's causing air to escape.
So, why do we patch tires? Well, it's all about keeping you on the road safely and avoiding the cost of a brand-new tire when a simple fix will do the job.
The Tire Patching Process
Inspection: It all starts with a thorough inspection of your tire to find the trouble spot. This involves looking for any sharp objects stuck in the tire or signs of an air leak. And hey, sometimes it might turn out that you don't need a tire patch at all, maybe just a bit of air!
Remove and Prepare: If a tire patch is needed, the tire is removed from your vehicle. The area around the puncture is cleaned and roughened up a bit – this helps the tire patch stick better.
Apply the Tire Patch: Next, the patch is applied on the inside of the tire, covering the injury. This is done using a special tool to ensure it's secure and will hold air.
Seal and Test: Finally, a sealant is applied around the edges of the tire patch and the tire is re-inflated to test whether the patch is holding.
Safety and Worth of Patching a Tire
Is patching a tire safe? The answer is a resounding yes – as long as it's done properly and for the right kind of tire damage. It's critical to remember that not all tire injuries can or should be patched. If the damage is too severe, on the tire sidewall, or if the tire has been driven on while flat, it's time for a new tire.
Is patching a tire worth it? In most cases, it absolutely is. Patching a tire is a cost-effective way to extend the life of your tire without shelling out cash for a brand-new one. But remember, your safety comes first. If there's any doubt, consult with a tire professional.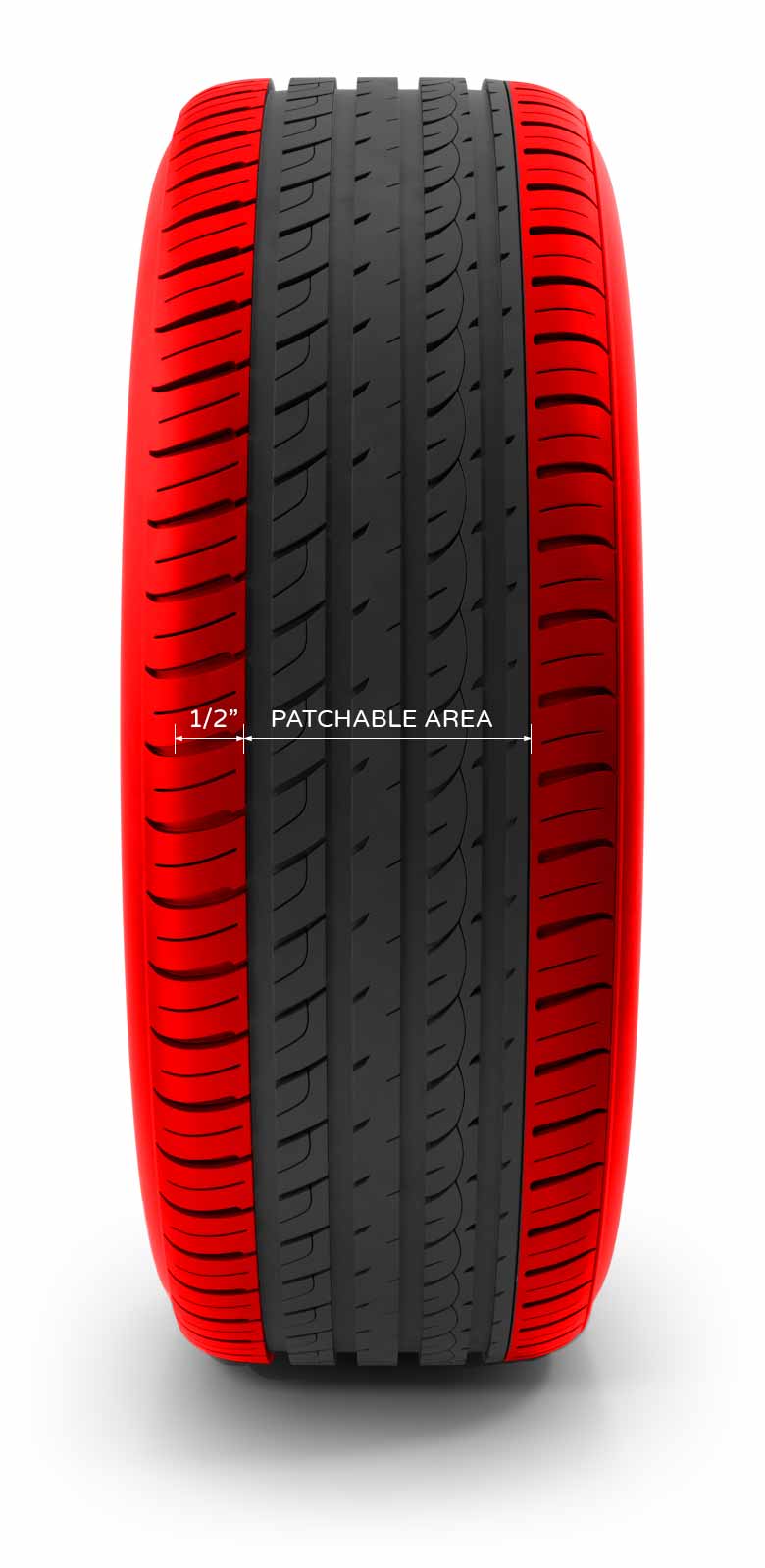 When Can A Tire Not Be Patched?
Alright, folks, let's tackle another important topic. While patching is a handy solution for many minor tire injuries, there are times when a tire patch just won't cut it. Let's delve into when a tire cannot be patched and why.
Proximity to the Sidewall
First things first, a tire can't be patched if the puncture is too close to the sidewall. The sidewall flexes a lot while driving, which can cause a patch in this area to loosen or fail. Generally, any puncture outside the central three-fourths of the tread, towards the shoulder of the tire, is considered too close to the sidewall for a safe patch.
Number of Patches
A tire can generally handle one to two patches, but any more than that, and it's time to start shopping for a new tire. Multiple patches compromise the structural integrity of the tire, increasing the risk of a blowout.
Size of the Hole
As for the size of the hole, most professionals agree that anything larger than 1/4 inch in diameter is too big to patch safely. Larger holes or cuts can weaken the tire structure, making it unsafe.
Driven on Flat
Did you not have a spare tire or tire sealant, or weren't able to wait for a tow truck and drove on your flat tire? If you did, it's likely you damaged it beyond repair. Driving on a flat tire can cause damage to the internal structure, making it impossible to get the tire patched. If you suspect you've driven on a flat tire, it's best to consult with a professional.
Run-Flat Tires
Run-flat tires are a type of tire designed to allow you to keep driving for a short distance after they go flat. However, this feature also means that they generally can't be patched. Driving on a flat run-flat tire can cause damage to the internal structure that a patch can't fix. Plus, the heat generated from driving on a flat can also make the tire unsafe.
Tread Depth And Tire Age
Tires that are at the end of their usable life, whether it's that the tread has been worn down to the wear bars or the age of the tire is to the point the tire is beginning to dry rot, shouldn't be patched. Your local tire shop will likely refuse to patch a tire if this is the case, for your safety.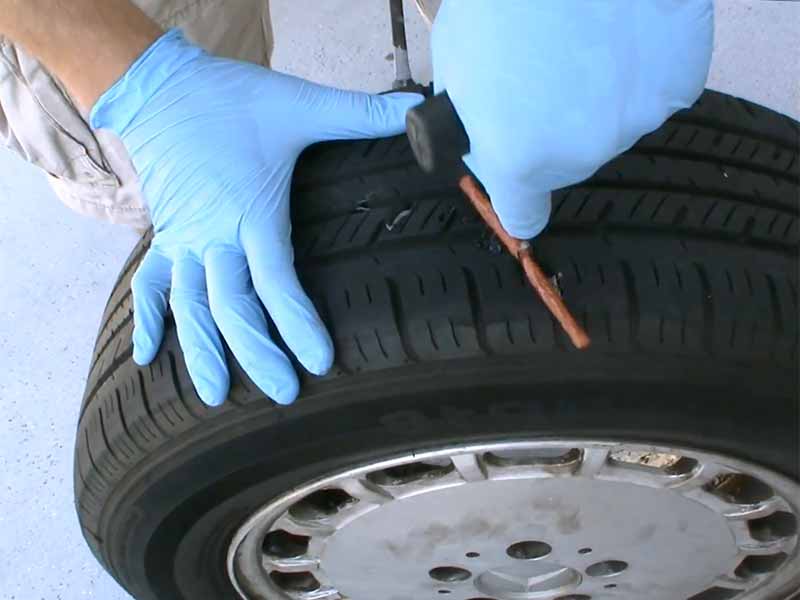 Do-It-Yourself Tire Patching
Okay, so what if you're a bit of a DIY enthusiast and you're thinking about patching that tire yourself? Well, with the right tools and a bit of patience, you might be able to handle a simple tire patch at home. Let's walk through the basics.
Tools Needed
Here's what you'll need:
A tire patch kit (You can find these at most auto parts stores)
A pair of pliers
A car jack and lug wrench
Soapy water and a spray bottle
A tire marker (optional)
Step-by-Step Guide to Patching a Tire
Locate the Puncture: Start by inflating your tire. Mix some soapy water and spray it on the tire. Look for bubbles forming – that's where your leak is. You can mark this spot with a tire marker if you have one.
Remove the Tire: Use your car jack and lug wrench to lift your car and remove the tire.
Prepare the Puncture: Use the pliers to remove any foreign object (like a nail) that might be stuck in the tire. Then, use the rasp tool from your patch kit to clean and roughen the area around the puncture.
Apply the Patch: Next, take the patch from your kit, peel off the backing, and press it firmly over the puncture.
Seal and Test: Apply the cement from your patch kit around the edges of the patch. Wait for it to dry, then re-inflate the tire. Spray some more soapy water on the patched area to make sure no bubbles form. If there are no bubbles, congrats! You've successfully patched your tire.
Remember, while doing it yourself can be a cost-effective and satisfying solution, it's not always the best option. Tire patching should only be done at home if the damage is minor and you're comfortable with the process. If there's any doubt, it's safer and smarter to take your tire to a professional. Always prioritize your safety on the road.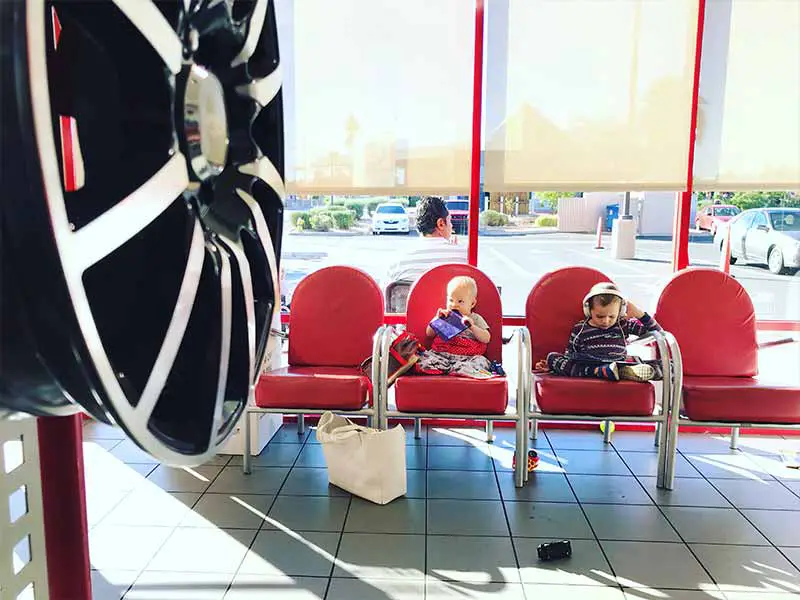 How Long Does It Take To Patch A Tire?
Good news, folks! Patching a tire doesn't usually eat up much of your day. But let's dive into a bit more detail, shall we?
Patching Time in a Professional Shop
If you're taking your tire to a professional shop, the patching process usually takes about 30 to 60 minutes. This includes the time it takes to inspect the tire, apply the patch, and test it to ensure it's safe.
Keep in mind, this is just the time for the repair itself. Depending on how busy the shop is, you might need to wait a bit before they can start working on your tire. And that's why it's always a good idea to call ahead or schedule an appointment.
DIY Patching Time
If you're going the DIY route, the time it takes can vary depending on your experience and skill level. If you're new to tire patching, it could take you an hour or more to get through the process. But as you get more familiar with it, you might be able to patch a tire in about 30 minutes.
Resources
Below are some links you may find helpful when learning about tires
Final Thoughts
We've come full circle from that initial jarring thump of a flat tire. You've now navigated through the ins and outs of tire patches, how to do it yourself, and even weighed the costs across different service providers. No more singing the flat tire blues!
Patching a tire is a viable solution, and can often save you a considerable amount of money. But remember, as cost-effective as a patch might be, it's not always the best option. Safety should always be your number one priority on the road.
Good luck and happy motoring.