Did you know that tire issues cause over 11,000 car accidents every year in the United States? That's a pretty shocking number, right? So, let's talk about something that might be happening to your own tires: a bulge, also known as a "tire bubble" or "knot."
How Long Can I Drive With A Bulge In My Tire?

Driving with a bulge in your tire can be extremely dangerous and should be avoided. If you notice a tire bubble, visit a tire professional immediately to have the damaged tire replaced and ensure your safety on the road.
In this article, we'll dive into the symptoms of a tire bulge, learn what causes them, and discuss how to fix the problem. We'll even talk about what to do if the tire bulging seems to magically disappear!
Let's take a closer look.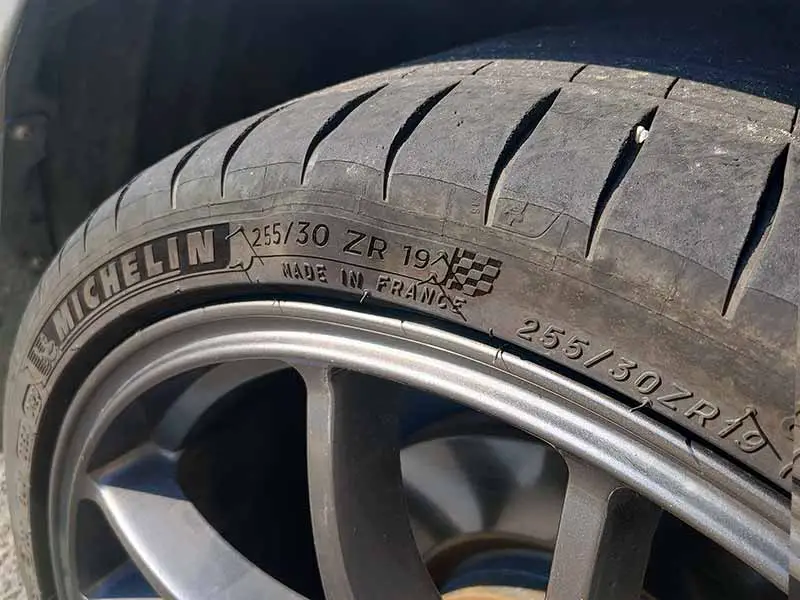 Symptoms Of A Bubble In A Tire
Here are some signs to look out for:
Bumpy Tire
When you take a look at your tire, you might notice a bump sticking out. This is a big clue that there's a bubble in your tire! It's not always easy to see, so you'll want to check your tires carefully.
Wobbly Ride
If you're driving along and feel like your car is bouncing or wobbling a bit, that might mean there's a bubble in one of your tires. It's like riding a bike with a flat tire – it just doesn't feel right!
Shaky Steering Wheel
Another sign of a tire bubble is when your steering wheel shakes or vibrates. This can happen because the tire isn't perfectly round anymore, and it's not rolling smoothly on the road.
Weird Tire Noises
If you hear a strange noise coming from your tire, like a thump or a hum, it could be a sign of tire bubbles. This noise happens because the tire isn't making even contact with the road, and that can create some funky sounds.
If you notice any of these symptoms, it's super important to get your tire checked out. Driving with tire bubbles can be dangerous, so don't wait too long! Your safety (and the safety of others on the road) is the top priority.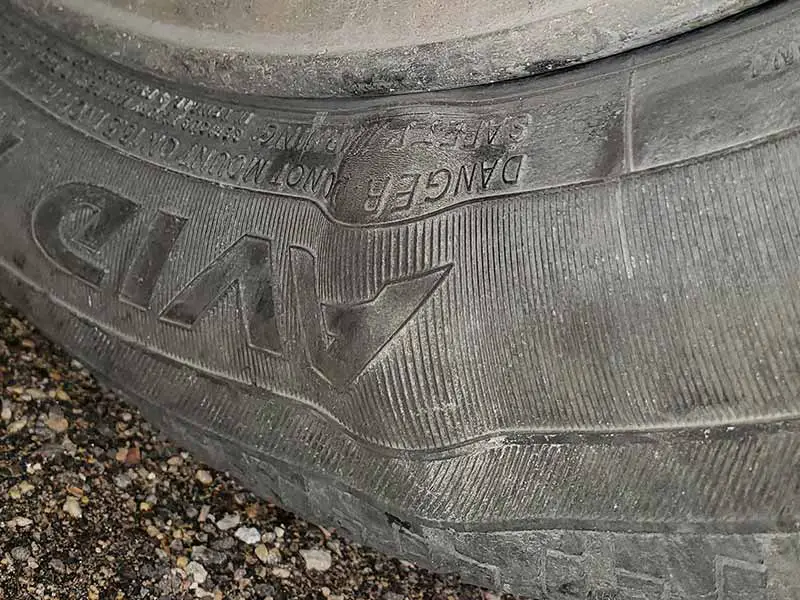 What Causes A Bulge In A Tire
It's important to know the reasons so that we can try to avoid them. So, here are some common causes of tire bulges:
Impact Damage
Sometimes, when you're driving, you might accidentally hit a pothole or a curb. Ouch! These sudden bumps can cause tire bubbles to form. The inside layers of the tire can get damaged, and air can sneak in between them, creating a bulge.
Manufacturing Defects
Nobody's perfect, not even tire-makers! Once in a while, a tire might not be made just right, and it can end up with a weak spot. This weak spot might turn into a bubble as the tire gets used.
Old, Worn-Out Tires
Over time, tires can become weak and worn out. When this happens, the tire's layers can start to separate, and a bulge might form. That's why it's super important to replace your tires when they get too old!
Wrong Air Pressure
Did you know that putting too much or too little air in your tires can cause a bulge? Yup, it's true! When your tires have the wrong air pressure, they can't handle the weight of your car properly. This can lead to weak spots and bulges.
Now that we know what causes tire bulges, we can take better care of our tires and prevent tire bubbles in the future. 
Remember to always check your tire pressure with a quality tire pressure gauge and replace old, worn-out tires. And, of course, be careful when driving to avoid hitting potholes and curbs!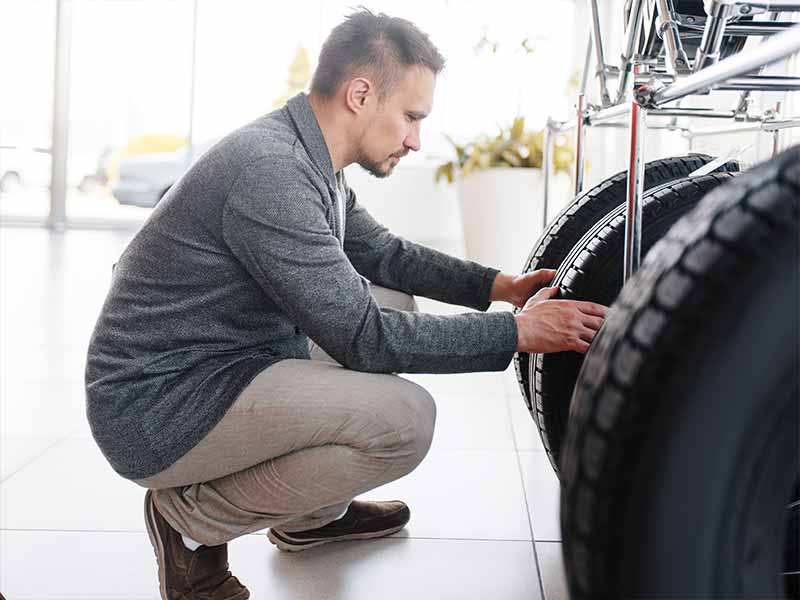 How To Fix A Bubble In A Tire
Fixing a tire bubble isn't something you can do at home, so let's talk about the steps you should take to get that tire back in shape:
Inspect The Tire
First things first, take a good look at your tire. Make sure you've identified the bubble and any other damage that might be hiding. This will help you explain the problem to a professional.
Swap With A Spare Tire
If you have a spare tire available, it's a good idea to swap out the damaged tire with the spare. This will help you avoid driving on the damaged tire and reduce the risk of an accident.
Visit A Tire Shop Or Mechanic
When it comes to fixing a tire bubble, you'll need the help of an expert. So, head on over to a local tire store or mechanic. They'll take a look at your tire and give you the best advice on how to fix it.
Replace The Damaged Tire
Unfortunately, tire bubbles or bulges can't be patched up like a flat tire. The only way to fix a tire with a bubble is to replace it. The tire shop or mechanic will help you choose the right replacement tire, whether it's a new one or a used one that's still in good shape.
Remember, it's super important to fix a tire bubble as soon as possible. Driving on a damaged tire can be dangerous, so don't take any chances.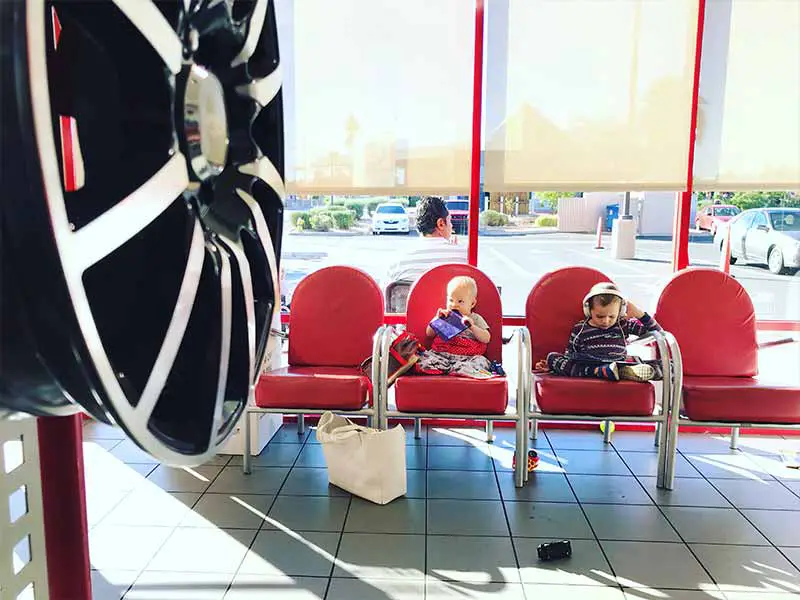 What If The Tire Bubble Went Away?
Sometimes, you might notice that a tire bubble seems to just disappear. Poof! It's gone! But does that mean your tire is all better? Let's talk about what to do if the tire bubble seems to go away:
Temporary Vs Permanent Tire Bulges
You see, not all tire bubbles are created equal. Some are temporary and can go away on their own, while others are permanent and won't disappear without a tire change. A temporary bubble might be caused by something like a small rock stuck between the tire and the rim. Once the rock is gone, the bubble might go away too. But if the bubble was caused by a weak spot in the tire or impact damage, it's likely a permanent issue.
Keep An Eye On Your Tire
If the tire bubble went away, it's still a good idea to keep a close eye on that tire. Make sure you check it regularly for any new signs of damage or other issues. Remember, it's always better to be safe than sorry!
Have A Tire Professional Inspect It
Even if the tire bubble seems to have vanished, it's a smart idea to visit a tire shop or mechanic for a check-up. They can inspect your tire and make sure everything is okay. They might even be able to tell you what caused the bubble in the first place and how to prevent it from happening again.
So, if your tire bubble went away, don't just assume everything is fine. Keep an eye on that tire and pay a visit to a tire professional to make sure it's really good to go.
Sidewall Bubble Vs Tread Separation
Before we wrap things up, let's talk about two different types of tire problems that you might come across: sidewall bubbles and tread separation. They can both be dangerous, but they're not the same thing. Let's learn how they're different and what you should do if you spot either of them.
Sidewall Bubble
A sidewall bubble, like we've talked about, is a bump or bulge on the side of your tire. It usually happens when the inner layers of the tire get damaged, and air gets trapped between them. This kind of problem can be caused by hitting a curb, driving over a pothole, or having a tire with a manufacturing defect.
Tread Separation
On the other hand, tread separation is when the tread (the part of the tire that touches the road) starts to come apart from the rest of the tire. This can happen when a tire gets old and worn out, or if there's a problem with the way the tire was made. Tread separation is super dangerous because it can cause your tire to suddenly lose grip on the road or even blow out!
So, what should you do if you spot a sidewall bubble or tire separation?
Don't Ignore It: If you see either of these problems on your tire, don't just hope they'll go away. Both sidewall bubbles and tread separation can lead to serious accidents if they're not taken care of.
Mount Your Spare Tire: If you have a spare tire available, you should swap out the damaged tire for the spare.
Have The Tire Replaced Immediately: Just like with tire bubbles, you'll want to visit a tire shop or mechanic if you see any signs of tread separation. They can help you figure out what's going on and what to do about it.
Resources
Below are some links you may find helpful when learning about tires
Final Thoughts
As we've learned, driving with tire bubbles can be super dangerous, so it's crucial to take action as soon as you notice any problems. Now that you know the symptoms, causes, and fixes, you're ready to tackle any tire issues that come your way.
Preventing tire bubbles is important since a tire bubble means the tire's structural integrity is no longer safe, and a tire blowout could happen at any moment. Avoid potholes, speed bumps, and curbs, and drive carefully.
Remember to check your tires regularly and be on the lookout for any bumps, wobbles, or strange noises. And don't forget – if you spot tire bubbles or any other issues, get help from a tire professional right away.
Good luck and happy motoring.