You've heard of Fix-a-Flat, the handy little can that promises to be your best friend during a tire puncture situation. But how exactly does it work? Can it be a permanent solution for your flat tire? These questions and more may be racing through your mind as you contemplate using Fix-a-Flat.
How Does Fix-A-Flat Work?

Fix-a-Flat works by injecting a liquid tire sealant along with air into your flat tire. The sealant seeks out and fills in the puncture, enabling your tire to hold enough air to safely reach a professional repair shop.
In this article, we'll explore the inner workings of Fix-a-Flat, how to use it, and the mechanics of how it seals your tire's punctures. We'll also discuss whether it provides a temporary or permanent fix, some additional considerations when using it, how to remove it from your tire, and finally, how many cans of Fix-a-Flat you might need.
Let's take a closer look.
Understanding The Components Of Fix-A-Flat
Hey there! You've got a tire with a puncture, and a can of Fix-a-Flat in your hand, right? Before we dive into how to use this magic-in-a-can, let's understand what's inside of it.
The Mighty Duo: Air and Sealant
Inside this handy can are two main components: a liquid tire sealant and a bit of compressed air. Let's break these down:
Liquid Tire Sealant: This is the superhero of the story! This sealant is a viscous (think really thick) liquid that's designed to flow into and seal up punctures in your tire. Imagine it as a super glue that's formulated to work specifically with your tire materials.
Compressed Air: The other hero, this helps to reinflate your tire. Now, it's not going to fill it up all the way like your local gas station air pump, but it's designed to provide just enough air to lift the rim off the ground. That means it gives you enough inflation to drive your vehicle to a safer spot or a repair shop.
Teamwork Makes The Dream Work
How do these two components work together? Well, it's a pretty neat process. When you press the button on the can, the compressed air does two jobs: it pushes the liquid sealant into your tire and simultaneously begins to inflate the tire.
Once the sealant is inside your tire, it moves around due to the spinning motion of your wheel. It seeks out the puncture (thanks to the escaping air) and clings to it. As it gets exposed to the outside air through the puncture, it hardens and seals up the hole. It's a bit like your body forming a scab on a cut – natural and impressive, right?
How To Use Fix-A-Flat
Okay, now that you're an expert on what's inside your can of Fix-a-Flat, let's get to the fun part – actually using it! While it's pretty easy, it's super important to do it right. Let's break it down step by step.
Step 1: Shake It Up
First things first, you'll want to give your Fix-a-Flat a good shake. It's like that can of paint; you need to mix up the contents to get it ready for action.
Step 2: Attach To Valve Stem
Next, you'll need to attach the can's hose to the valve stem of your tire. That's the little metal part sticking out from your tire where you'd normally fill it with air. Twist the hose on until it's secure.
Step 3: Stand Back And Press The Button
This is where the magic happens! Stand back and push the button on the can. You'll want to be careful and avoid getting any sealant on your skin or in your eyes. The can will start to release both the sealant and the air into your tire.
Step 4: Wait It Out
Now, you play the waiting game. It should take a few minutes for the Fix-a-Flat to do its thing and inflate your tire.
Step 5: Check The Pressure
Once you think it's inflated enough, check your tire pressure. You can use a tire gauge for this. If it's still too low, you might need another can. Remember, Fix-a-Flat isn't designed to inflate your tire fully, but enough to make it safe to drive a short distance.
And voila! You're done. Remember to drive slowly and carefully until you can get your tire to a professional for a permanent fix.
I Recommend Every Keep A Portable Air Compressor In Their Car Or Truck
The Mechanics Of Fix-A-Flat
Awesome job making it this far! Now that you know how to use Fix-a-Flat, you might be curious about what's happening inside your tire once the sealant goes in. Let's unravel that mystery.
Fix-A-Flat's Adventure In Your Tire
When you press that button on the can, the sealant and air are pushed into your tire. The sealant starts its journey around the inside of your tire, thanks to the spinning motion when you drive. It's like a brave explorer on a quest to find the source of the problem.
Spotting The Puncture
The sealant finds the puncture in your tire, thanks to the escaping air acting like a beacon. When the sealant reaches the puncture, it starts to fill in the hole, effectively blocking the escape route for the air. It's like a lifeguard plugging a leak in a swimming pool.
Harden Up, Soldier!
Here's where things get interesting. The sealant, after escaping through the puncture, is exposed to the outside air and begins to harden, effectively sealing up the puncture. You might be wondering, how long does it take for Fix-a-Flat to harden? Usually, it takes a few minutes, depending on the size of the puncture.
Ready To Roll?
So, can you drive on Fix-a-Flat right away? Yes, but with a few caveats. Firstly, you should drive carefully and at a slower speed than usual. The Fix-a-Flat solution is a temporary fix meant to get you to a professional repair shop. Also, remember that it doesn't fully inflate your tire, so your ride might not be as smooth as usual.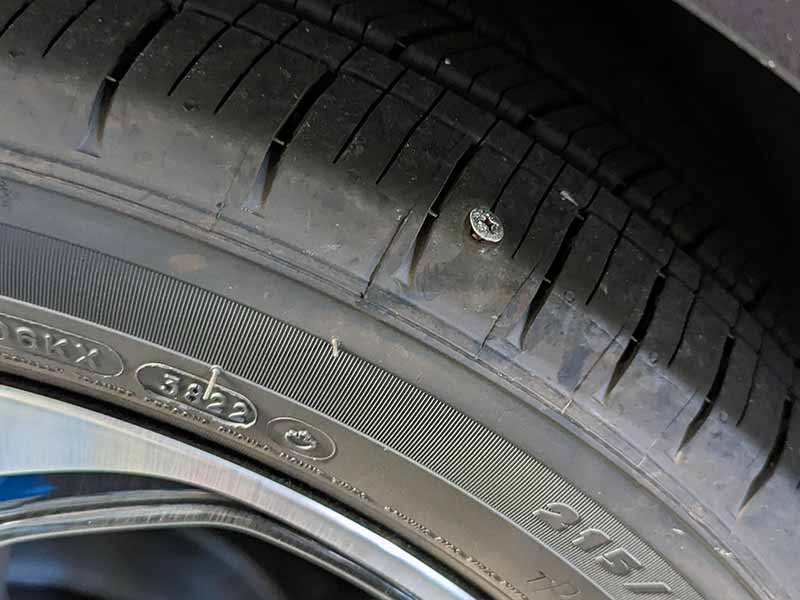 Temporary Vs. Permanent Fix
So, you've plugged that puncture and you're back on the road – great job! But now you might be wondering, "Is this Fix-a-Flat solution a long-term thing? Or do I still need to get my tire patched or replaced?" Let's dig into that.
Is Fix-a-Flat A Forever Fix?
First off, while Fix-a-Flat is great at what it does, it's important to know that it's intended as a temporary solution. Think of it like a bandage on a cut; it covers the wound and prevents it from getting worse, but you still need to see a doctor for a permanent fix.
The sealant hardens to plug up the hole, but this isn't as durable or stable as a professionally applied patch or a new tire. So, to answer the question, "Does Fix-a-Flat work permanently?" – not really. It's meant to get you out of a tough spot and buy you some time until you can get your tire professionally repaired or replaced.
How Long Does Fix-a-Flat Work?
So, how long will this band-aid solution last? It can vary depending on the size of the puncture and how much you're driving, but typically, Fix-a-Flat should hold up for a few days to a week. That's usually enough time to get to a repair shop.
Fix-a-Flat Vs. Tire Patch: Who Wins?
Now, you might be thinking, "Should I just get my tire patched, or is using Fix-a-Flat better?"
Here's the deal: If you can get your tire patched immediately after it's punctured, that's a better, more reliable solution. A professional patch is designed to be a permanent fix, unlike Fix-a-Flat.
However, if you're stuck on the side of the road, can't get to a repair shop quickly, or it's the middle of the night, then Fix-a-Flat is a great option. It's a solid temporary fix that can keep you rolling until you can get that tire patched.
Additional Considerations When Using Fix-A-Flat
Alright, tire troopers, we've covered a lot of ground so far, but there are a few more things you should know about using Fix-a-Flat. Let's dive into some extra considerations that could come up.
To Inflate or Not to Inflate
One common question is, "Can I put air in my tire after using Fix-a-Flat?" Yes, you certainly can! Remember, Fix-a-Flat only provides enough air to lift the rim off the ground, not fully inflate your tire. So, if you have access to an air pump after using Fix-a-Flat, feel free to top off your tire to its recommended pressure. Just make sure the sealant has had a chance to do its job first!
Is Fix-a-Flat A Tire's Best Friend Or Worst Nightmare?
Does Fix-a-Flat ruin tires? No, Fix-a-Flat is designed to be tire-friendly! It's intended to seal the puncture without damaging the tire. However, you should still get to a professional repair shop as soon as you can, because driving for a long time with Fix-a-Flat and a low tire pressure could potentially harm your tire.
How About Tire Sensors?
Now, does Fix-a-Flat ruin your tire sensors? Good news, it shouldn't! Fix-a-Flat is designed to be safe for tires and their sensors. Just make sure to tell the repair shop that you've used Fix-a-Flat, as they'll need to clean out the sealant before making a permanent repair.
Slow And Steady
Finally, does Fix-a-Flat work on slow leaks? Absolutely! Fix-a-Flat can seal up a leak whether it's a sudden puncture or a slow leak. Just remember, even if it's a slow leak, you should still get your tire checked out by a professional as soon as possible to prevent further issues.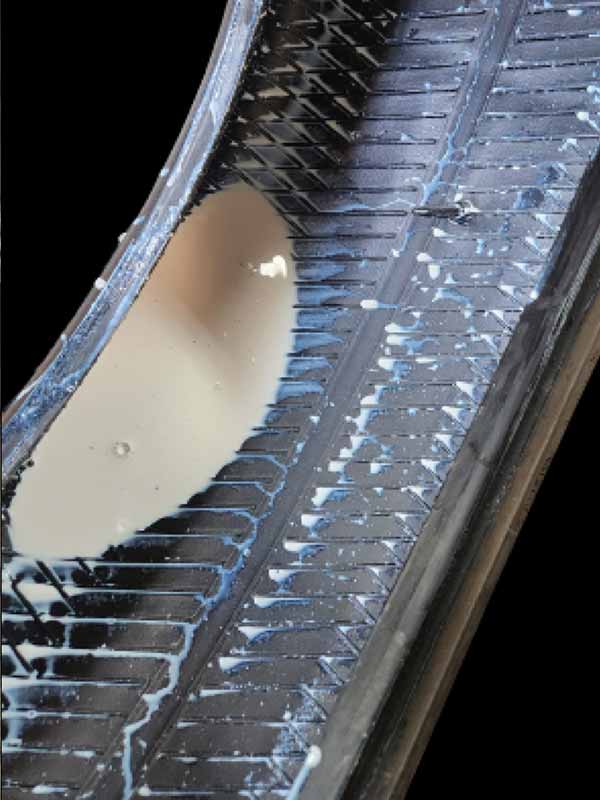 How To Remove Fix-A-Flat From Your Tire
Okay, tire wranglers, you've used Fix-a-Flat, made it to the repair shop, and now they need to patch your tire. But there's one problem – there's still Fix-a-Flat in there! So, how do you get it out? Let's take a look at the process.
Step 1: Inform The Professional
The first step is easy – let your tire repair professional know that you've used Fix-a-Flat. They'll need this information to prepare for the sealant inside the tire. It doesn't ruin the tire, but it does require some cleaning before a permanent repair can be made.
Step 2: Tire Deflation And Removal
The professional will begin by deflating your tire completely. This is to ensure all the air (and some of the sealant) is removed. Then, they'll remove the tire from the wheel using a machine.
Step 3: Sealant Removal
Once the tire is off the wheel, they'll use a tool to scrape out the hardened sealant. This could take some time and effort as they ensure all sealant residue is removed.
Step 4: Tire Cleaning
After the sealant is scraped off, they'll clean the inside of your tire with a special solution. This removes any remaining sealant and prepares the surface for the patch.
Step 5: Tire Repair Or Replacement
With your tire clean and ready, the professional can now apply a patch to the puncture or, if needed, replace the tire.
Resources
Below are some links you may find helpful when learning about tires
Final Thoughts
And there we have it, tire troopers! You're now armed with all the knowledge you need to face that flat tire with confidence.
The key takeaway? Fix-a-Flat is a great temporary solution that can seal up your tire's puncture and help you make your way to a professional repair shop. But remember, it's not a permanent fix. Always ensure you get your tire properly repaired or replaced to keep your ride smooth and safe.
Good luck and happy motoring.