Ever been cruising down the highway, windows down, only to be interrupted by a mysterious, nagging noise coming from your front tire? It's not just an annoyance—it could be a sign of a serious problem.
Front Tire Making Loud Noise When Driving

A front tire making a loud noise while driving can often result from uneven tire wear or even an object lodged in the tire due to a puncture. However, it's essential not to overlook the possibility of wheel bearing noise or worn CV joint sounds, as these are critical issues that demand immediate attention.
In this article, we'll delve deep into understanding different kinds of tire noises, explore their common causes, discuss other factors influencing these sounds, recommend proactive measures to prevent them, and guide you on when to seek professional help.
Let's take a closer look.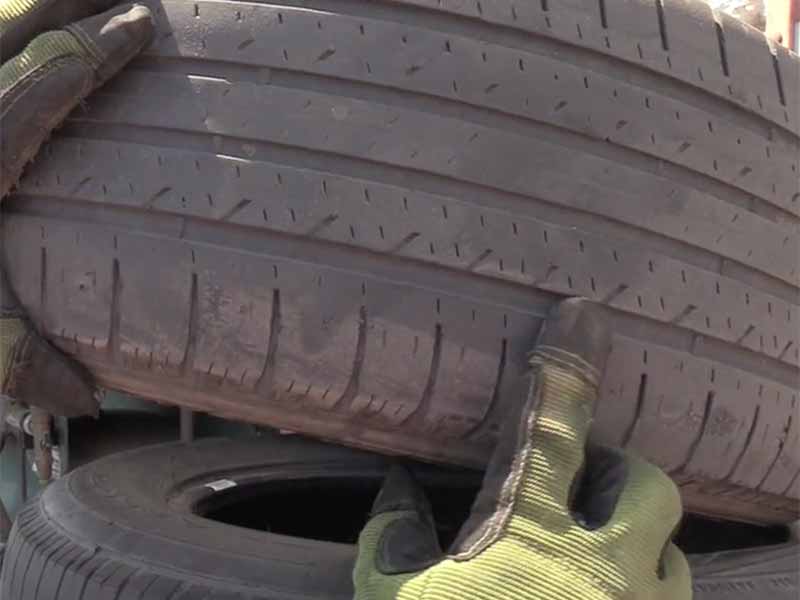 Understanding the Different Kinds of Tire Noises
Understanding the types of noises your tire makes can be crucial for determining the health and safety of your vehicle. Here, we delve into the common types of tire noises and what they signify.
"Womp Womp" Tire Noise
The "womp womp" noise is a low-frequency sound that often resembles the sound of a helicopter's blades when heard from a distance. It can be indicative of:
Uneven Tire Wear: One of the main causes for this noise.

Often a result of misalignment or imbalance.
Rotating the tires regularly can prevent this issue.

Tire Separation: A more severe issue.

This happens when the tire tread separates from the body of the tire.
If you hear this sound, it's a good idea to get your tires checked immediately.
General Noise from the Front Wheel
Various noises can emerge from the front wheel, and each might signify different issues:
Squealing: Often heard when taking sharp turns.

Can indicate under-inflated tires.
Might also suggest that the tread is wearing down.

Roaring: A continuous noise that gets louder with acceleration.

Possible tire tread damage or misalignment.
Could also be from a malfunctioning transmission.

Clicking: A repetitive noise that's more noticeable at low speeds.

Might indicate a problem with the CV joint or wheel bearing.
Wheel Bearing Noise vs. Tire Noise
It's essential to distinguish between wheel bearing noise and regular tire noise, as their causes and solutions can be different.
Wheel Bearing Noise

Typically sounds like a humming or growling.
Becomes louder as vehicle speed increases.
Might change or go away when turning.

Regular Tire Noise

Often a result of the tire tread pattern.
Can sound like humming, roaring, or whirring.
Might get louder on certain road surfaces or during specific driving conditions.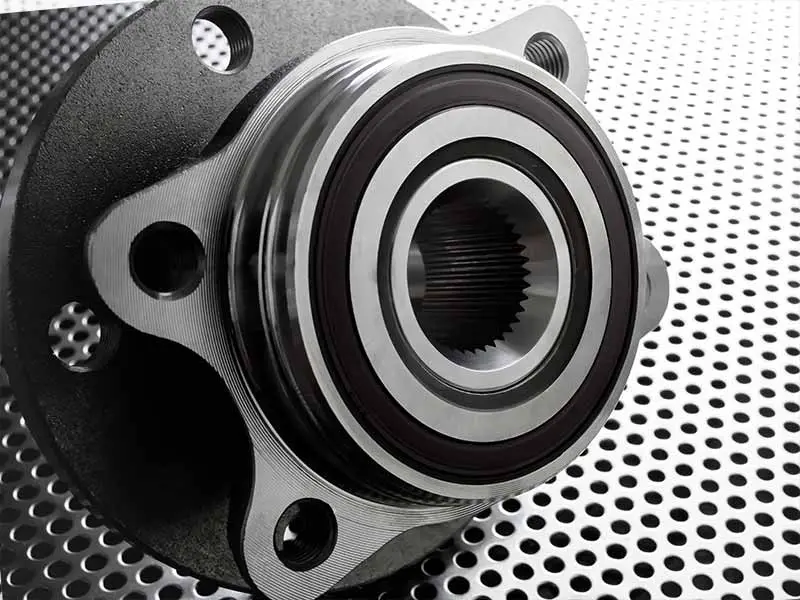 Common Causes of Loud Noise from Front Tires
Tires are essential for a safe driving experience. When they start making unusual noises, it's often an indicator of underlying issues. Understanding these causes can be crucial for ensuring road safety.
Wheel Bearing Issues
The wheel bearing allows the wheel to spin smoothly. When it's compromised, it can create distinct noises.
What is a Wheel Bearing?

A set of steel balls held together by a metal ring.
Helps reduce friction as the wheel spins.

Signs of a Bad Wheel Bearing

Grinding Noise: Often the first sign of a problem.

Heard when the car is moving, not just when accelerating.

Looseness: The wheel may feel loose when jacked up.
Vibration: A noticeable vibration that gets worse as the vehicle speeds up.
Addressing wheel bearing issues promptly ensures a smoother and safer drive.
CV Joint Noise
The CV (Constant Velocity) joint connects the drive shaft to the wheels, allowing the vehicle to maintain a constant speed.
Description of a CV Joint

Part of the drivetrain, transmitting power from the engine to the wheels.
Allows for flexibility when turning the wheels.

Symptoms of a Problematic CV Joint

Clicking or Popping Noises: Especially when turning.
Grease on the Edge of the Tire: A sign that the CV boot is leaking.
Vibration: Felt when accelerating.
Uneven Tire Wear and its Sounds
Tires wearing unevenly can be a major source of noise and indicate other problems.
Explanation of Uneven and Abnormal Tire Wear

Tires might show wear on one edge more than the other.
Patterns can indicate specific issues, like misalignment.

Effects of Improperly Aligned Tires

Tire Noise: Tires may produce a roaring sound.
Decreased Fuel Efficiency: Misaligned tires can reduce gas mileage.
Shortened Tire Lifespan: Tires wear out faster when not aligned properly.

Connection Between Tire Tread and Noise

Deep Tread: Can lead to humming or roaring sounds.
Worn-out Tread: Increases the risk of hydroplaning and might produce a squealing noise.
Tire Inflation Problems
Maintaining proper tire inflation is essential for safety and performance.
Importance of Proper Tire Inflation

Ensures even tire wear.
Maximizes fuel efficiency.
Reduces the risk of tire blowouts.

Dangers and Noises of Under-inflated Tires

Increased Rolling Resistance: Can lead to reduced fuel efficiency.
Excessive Heat: Heat buildup can cause tire failure.
Thumping Sounds: Especially noticeable at low speeds.

Over-inflated Tires

Reduced Traction: Tires might not grip the road as well.
Increased Wear in the Tire Center: Leads to uneven tire wear.
Other Factors Influencing Tire Noises
While the major culprits behind tire noises often relate directly to the tires or associated components, there are other factors at play. Recognizing and addressing these can lead to a quieter and more harmonious ride.
Lug Nuts
Lug nuts play a pivotal role in holding the wheels to the vehicle. If they're not secured adequately, you can experience several issues.
Role of Lug Nuts

They ensure the wheel stays attached to the hub.
Typically, each wheel will have 4 to 6 lug nuts.

Noises from Improperly Tightened Lug Nuts

Clicking or Popping: Often heard at lower speeds.
Rattling or Clunking: Especially if multiple lug nuts are loose.
Vibration: Felt throughout the vehicle, more noticeable at higher speeds.
It's crucial to tighten lug nuts to the manufacturer's recommended torque settings. Too tight can warp brake rotors, and too loose can risk the wheel coming off.
Steering Wheel-Related Noises
Your steering wheel is directly connected to the front wheels, which means some noises might be traced back to the steering system.
Connection Between the Steering Wheel and Tire Noises

The steering system interacts closely with the wheels, tires, and suspension.
Issues within the steering mechanism can affect or be affected by tire conditions.

Common Sounds Related to the Steering System

Groaning or Whining: Often when turning the wheel.

Could be due to low power steering fluid or a failing power steering pump.

Clicking or Clunking: Especially during turns.

Can be due to worn-out steering components or loose parts.

Squealing: Typically heard when starting the car and turning the steering wheel.

Often indicates a loose or worn-out belt in the power steering system.
In cases where steering noises are persistent, it's advisable to consult with a mechanic. Ensuring that your steering system is in top shape not only reduces noise but also guarantees a safer driving experience.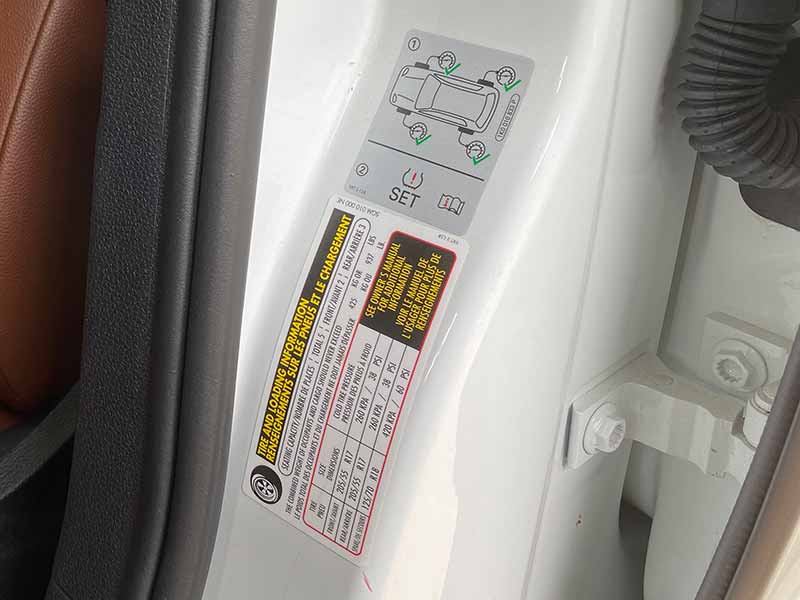 Proactive Measures to Prevent Tire Noises
Noise is more than just a minor inconvenience; it can be a sign of more significant underlying issues. To avoid these disturbances and maintain vehicle safety, proactive measures are crucial. Here's what you can do:
Regular Tire Checks
Routine inspections are your first line of defense against wear and tear that could lead to noisy complications.
Examine Tire Tread

Look for uneven wear patterns.
Ensure the tread is deep enough for safe driving (typically 2/32 of an inch is the minimum).

Check for Proper Inflation

Use a tire pressure gauge to measure.
Inflate according to the manufacturer's recommended levels, usually found inside the driver's door or in the vehicle manual.
Wheel Alignment
Regularly ensuring that your wheels are aligned can prevent uneven wear and related tire noises.
How Alignment Affects Tire Wear

Misaligned wheels can lead to rapid and uneven wear.
Proper alignment ensures optimal contact between the tire and the road.

Benefits of Proper Alignment

Quieter driving experience.
Longer-lasting tires.
Improved fuel efficiency.
Routine Maintenance
Beyond tires, other components play a role in the sounds your vehicle makes. Regularly inspecting and addressing minor problems can prevent bigger issues down the road.
Wheel Bearings and CV Joints

Listen for humming or clicking noises, respectively.
Replace when signs of wear or damage are evident.

Power Steering System

Ensure the fluid is at the recommended level.
Replace belts if they appear worn or cracked.

Lug Nuts

Check periodically to ensure they're tightened to the recommended torque.
Consider a professional tire rotation service which usually includes lug nut checks.
Resources
Below are some links you may find helpful when learning about tires
Final Thoughts
From the familiar "womp womp" tire noise to more alarming grinding sounds, the culprits can range from wheel bearings and CV joints to uneven tire wear or improper inflation. It's essential for drivers to recognize these noises, understand their causes, and take proactive measures, whether it's regular tire checks, alignments, or seeking professional assistance.
Good luck and happy motoring.