Flat tire? Again? We've all been there, right? You're ready to head out, but instead, you find yourself staring at a deflated tire, with a piece of glass or nail sticking out of it. It's frustrating, and it can even be scary, especially when you're far from home or help. But can you plug or patch the tire again?
Can You Plug A Tire Twice?

Yes, it is technically possible to plug or patch a tire twice, but it is not always recommended. It depends on how close the puncture is to the other repair and whether the damage is within the repairable area of the damaged tire.
In this article, we'll explore topics like understanding tire damage, comparing tire repair methods, discussing whether you can plug or patch a tire more than once, and more.
Let's take a closer look.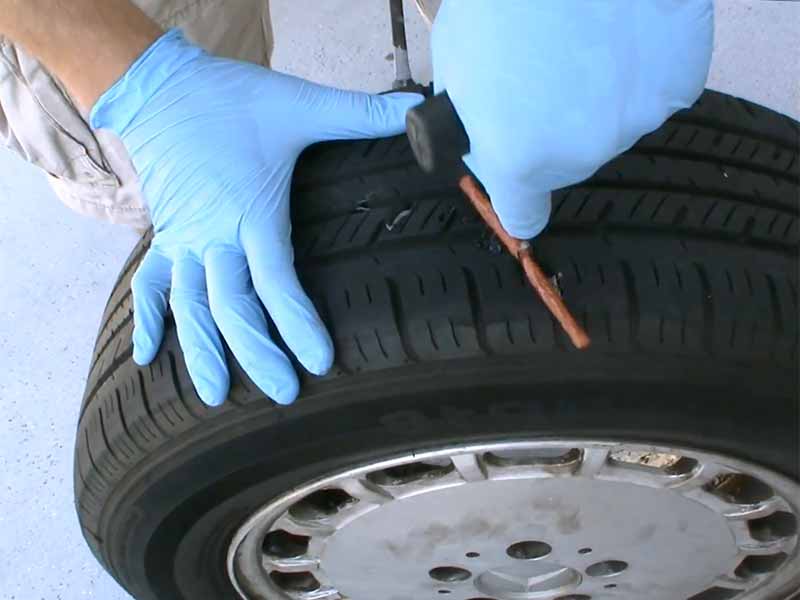 Understanding Tire Damage
Let's take a closer look at different types of tire damage and when a tire might be beyond repair.
Types Of Tire Damage
Tires can be damaged in many ways and understanding these different types can help you make the best decision about repairing or replacing them. Here are the three common types:
Punctures: These are the classic tire injuries. A sharp object like a nail, shard of glass, or a piece of metal on the road gets lodged in the tire. This usually leads to a slow leak, but a big enough puncture can cause a blowout.
Cuts: These are more severe than punctures. Think of them as tire wounds. They occur when a sharp object slices the tire. Cuts can be deep, affecting not just the outer layer (the tread) but the inside of the tire as well.
Severe Wear: Tires don't have to be physically harmed to be damaged. Simply driving on them wears them down over time. This wear can lead to bald spots, bulges, or thinning rubber which can seriously compromise the tire's safety and effectiveness.
When Is A Tire Unrepairable?
Not all injuries spell the end for a tire. Sometimes, with the right care (and by that, I mean repair), they can be back on the road. However, certain conditions make a tire unrepairable. Here are the most common ones:
Damage on the Sidewall or Shoulder: The sidewall is the side of the tire, and the shoulder is where the tread (the part of the tire that meets the road) and the sidewall meet. Damage in these areas is generally unrepairable. It's like trying to patch a hole in a balloon; it just won't hold.
Large Punctures or Cuts: If the hole from a puncture or the length of a cut is larger than 1/4 inch, it's usually too big to be safely repaired. The structural integrity of the tire has been compromised too much.
Severe Wear: If a tire is worn out to the point that the tread depth is 2/32 of an inch or less, it's time to replace the tire. Driving on severely worn tires is like skating on thin ice – it's not safe and you won't know you're in trouble until it's too late!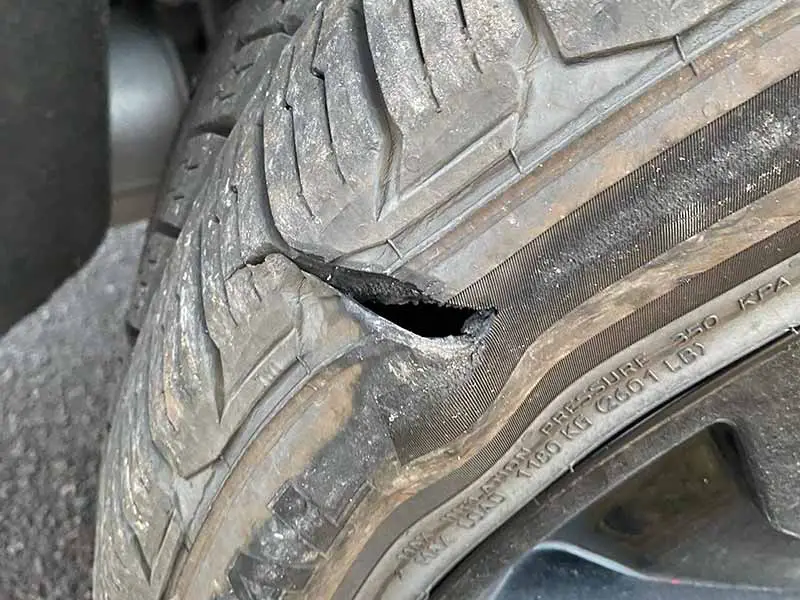 Tire Repair Methods
When it comes to fixing a punctured tire, there are two main contenders: plugging and patching. But what's the difference between them, and what does each process involve? Let's take a closer look.
The Plug Process
Think of plugging a tire like stopping a leak in a boat. You have a hole, and you need to fill it to stop the air (or water in our boat scenario) from getting out.
In the case of a tire plug, the technician starts by removing the offending object (like a nail or screw) from the tire. They then use a tool to clean and slightly enlarge the hole, making it fit for the plug. The plug, a sticky, rubbery compound, is coated with an adhesive and inserted into the hole.
The plug effectively fills the hole and seals it from the outside, preventing air from escaping. It's a quick process that can often be done without even removing the tire from your vehicle.
The Patch Process
Patching, on the other hand, is a bit more complex and involves repairing the tire from the inside out. Think of it as a proper medical procedure for your tire, with prep work, precise application, and healing time.
Once the technician determines that the tire is repairable, they start by removing the tire from the rim. They then inspect the damage from the inside and prepare the inner tire surfaces around the injury according to industry guidelines. This usually involves buffing the area to create a smooth, clean surface for the patch to adhere to.
The technician then applies an approved stem/patch along with a vulcanizing compound. This special compound reacts with the rubber of the tire and the patch to create a strong, airtight seal. The patch effectively seals the injury from the inside out, repairing the tire's inner liner and restoring its air retention capabilities.
It's important to note that patching a tire is typically a more durable and safer repair than plugging. However, it's also a more labor-intensive process, and thus, it usually costs more than plugging.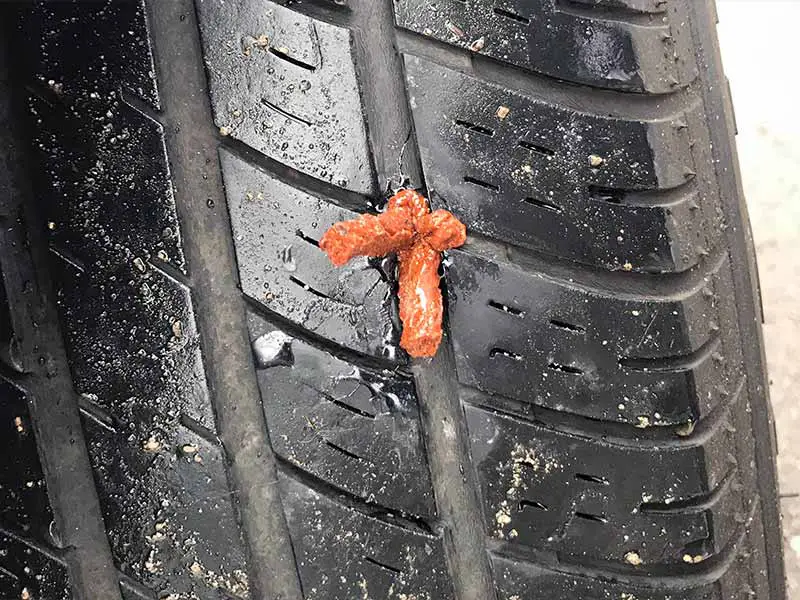 Can You Replug A Plugged Tire?
The short answer? Technically, yes. If the new puncture is not close to the existing plug, you can certainly add another plug to the tire. It's sort of like patching up different holes in a pair of jeans.
But hold on, it's not as simple as it seems.
The Risks Of Re-Plugging A Tire
Adding a second plug increases the risk of tire failure. The tire was not designed to hold multiple plugs, and adding more can compromise its structural integrity.
Think about our jeans analogy. A patched-up pair of jeans might hold up for a while, but it's not as durable as it was when it was new. Plus, if the patches are too close together, the fabric around them can become weak and tear.
Re-plugging a tire can have a similar effect. If the plugs are too close together, the tire may become weak and fail when you least expect it. And let's be real, a tire blowout at highway speed is not something you want to experience.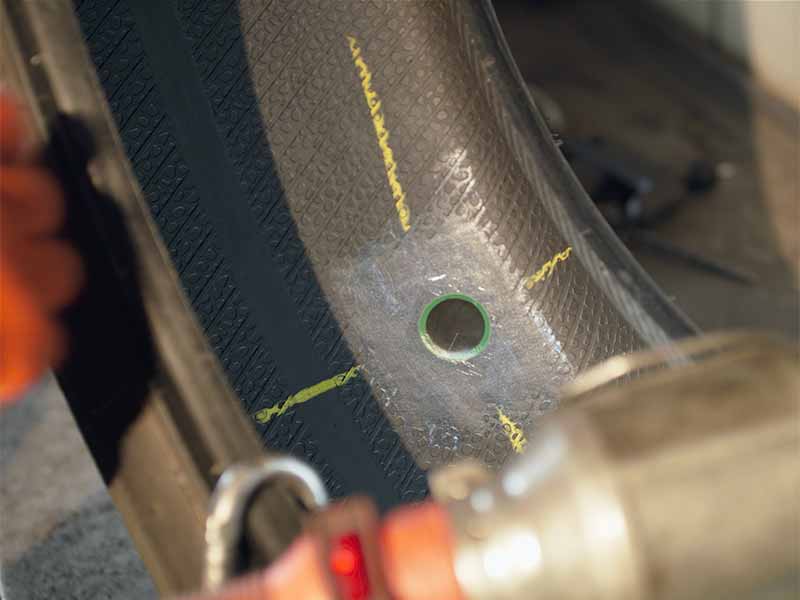 Can You Repatch A Patched Tire?
To put it simply, yes, you can patch a tire that has already been patched, as long as the new puncture is not too close to the existing patch. It's kind of like putting another bandage on a kid who's scraped both knees: each scrape gets its own bandage.
However, this comes with some serious caveats.
The Implications Of Repatching A Tire
Just like a kid with too many bandages might have trouble running, a tire with too many patches can struggle to perform properly. Patching a tire requires buffing away some of the tire's internal structure, which can weaken the tire if done too much.
Imagine having a bunch of bandages on one knee. It might become tough to bend it, right? Similarly, when you patch a tire more than once, especially in the same area, it can weaken the tire, making it more susceptible to further damage or blowouts.
The Risks Of Repatching A Tire
Repatching a tire isn't just about the risk of weakening it. There's also a risk that the patches may not fully seal the tire, especially if they're close together. The patches could interfere with each other, compromising their seal and leading to a slow leak or a flat tire.
So, even though you can technically patch a tire more than once, it's not always the best or safest option.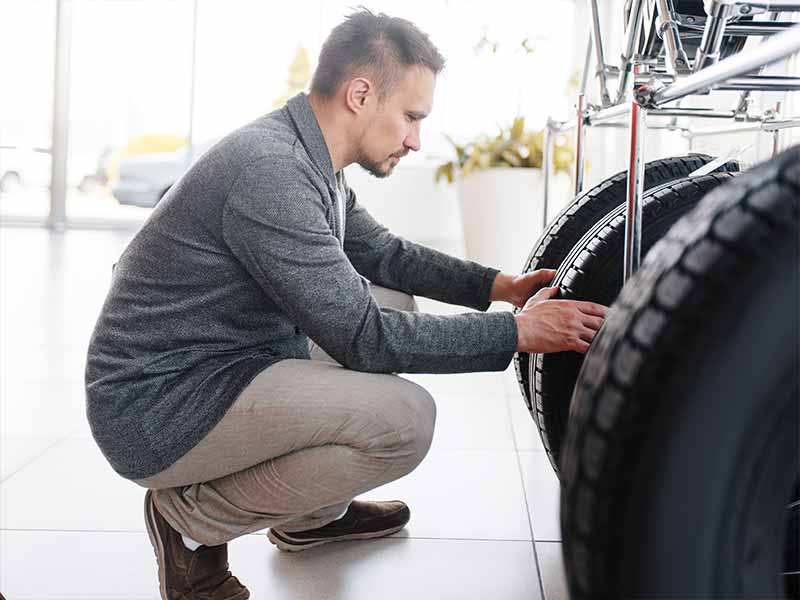 To Plug, Patch, Or Replace
There are a few important things to consider when deciding whether to plug, patch, or replace a tire:
Size and Location of the Damage: If the puncture or cut is small (less than 1/4 inch) and located on the tread, a plug or a patch might do the trick. If the damage is on the sidewall or the shoulder, or it's a large puncture or cut, replacement is usually the safest bet.
Number of Repairs: A tire that's been repaired more than once could be a ticking time bomb. Remember, too many plugs or patches can weaken the tire. So, if a tire has been repaired multiple times, it might be time to say goodbye and get a new one.
Age and Condition of the Tire: Even if a puncture can be repaired, an old or worn tire might not be worth it. Tires that are severely worn or older than six years should generally be replaced.
When To Replace Instead Of Repair
Sometimes, replacing a tire is the safest and most economical choice. Here are a few instances when you should consider buying a new tire:
The Damage Is Severe: If the tire has a large cut, a puncture larger than 1/4 inch, or damage to the sidewall or shoulder, it's usually beyond repair. Replacement is your best option.
The Tire Has Been Repaired Multiple Times: If a tire has been plugged or patched more than once, especially in the same or nearby locations, it's probably time for a new tire.
The Tire Is Old Or Worn Out: If the tire tread depth is 2/32 of an inch or less, or if the tire is more than six years old, it's generally safer to replace the tire even if the damage might be repairable.
The key here is to remember that safety comes first. When in doubt, it's better to replace a tire than risk driving on a questionable one. Sure, a new tire might cost more upfront, but the peace of mind it brings is priceless!
Resources
Below are some links you may find helpful when learning about tires
Final Thoughts
The key takeaway from our journey is that, yes, you can technically plug or patch a tire more than once. However, while it's technically possible, it's not always the safest route to take. Every additional plug or patch brings a risk, potentially compromising the integrity and performance of your tire.
But remember, there's more to tire repair than just plugging and patching. Size and location of the damage, the tire's condition, and the number of existing repairs are all crucial factors to consider. When in doubt, always consult with a tire professional who can assess the situation and advise the best course of action.
Good luck and happy motoring.