Ever hit the road feeling all's right, then spot that pesky tire warning light? The world of tires and proper tire pressure can be as mysterious. But fear not, we're about to unlock the enigma wrapped around your wheels.
Where To Find Tire Pressure On Tire Sidewalls

You won't find the recommended tire pressure on the tire sidewalls. Instead, the sidewall displays the tire's maximum pressure. Where to find the correct tire pressure for your vehicle is on a sticker in the door jamb or in the owner's manual.
In this article, we'll journey through the secret messages on tire sidewalls, decode the signs of low pressure, uncover the methods to measure and adjust it, and offer sage advice for those tricky tire predicaments.
Let's take a closer look.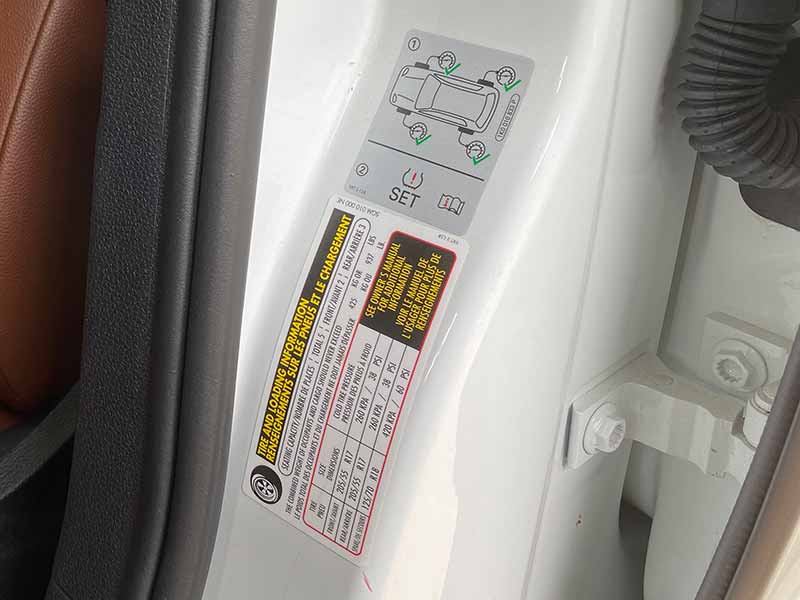 Understanding Tire Sidewalls
Tire sidewalls: you've seen them, you've touched them, but have you ever tried to read them? They're not the latest mystery novel, but they do have some intriguing info. Let's get to know them a little better.
What's On That Sidewall Anyway?
Tire sidewalls are like the ID cards for your tires. They have all sorts of letters, numbers, and symbols. So, let's break down some of the most common bits:
Size: This tells you the dimensions of your tire. It'll look something like "P215/65R15", where each part has its own meaning.
Maximum Load: A number that tells you the most weight the tire can safely carry.
Speed Rating: A letter that gives the maximum speed your tire can handle.
Traction & Temperature Grades: These tell you how well the tire grips the road and how it handles heat.
The Misleading PSI Mystery
Here's the fun part: one of those numbers is the maximum pressure the tire can handle, measured in "pounds per square inch" or PSI. This is NOT the recommended pressure for your daily drives! It's more like the "do not exceed" number. If you're looking for the ideal pressure, check your owner's manual or the placard on your vehicle's door edge.
Why Sidewall Info Might Trip You Up
Over-reliance: If you pump your tires based only on the sidewall's maximum PSI, you could end up with overinflated tires. That's bad news because:

It makes your tires wear out faster.
It might lead to a rougher ride.
It can reduce traction (think of it as less tire hugging the road).

Confusion: With so many numbers and letters, it's easy to mix things up. Remember, sidewall info is more about the tire's capabilities and less about how they best work with your unique car or truck.
Your Real Guide: The Owner's Manual
Your owner's manual is like the friendly librarian who knows where every book is. When you're lost in a sea of tire numbers, turn to it. It'll give you the correct PSI and other juicy tire details specific to your vehicle.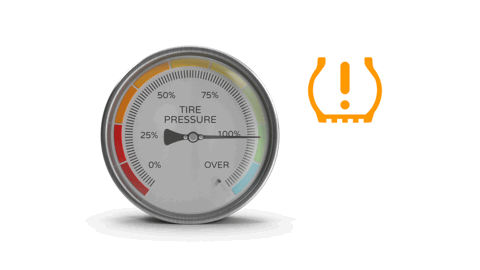 What Should My Tire Pressure Be?
Alright, pals, it's time to dive deep into the great tire pressure mystery. Buckle up!
PSI: What's That About?
PSI stands for "pounds per square inch," which sounds pretty technical, huh? But let's break it down:
Pounds: It's just a measure of pressure, like how hard you'd press a button to make your favorite song play.
Square Inch: Imagine a tiny square that's one inch by one inch. Now, the pressure (those pounds we talked about) is spread over that little square.
So, when we say a tire's PSI is, for example, 35, it means there's a pressure of 35 pounds for every inch of space inside of the tire.
Why is the Correct PSI a Big Deal?
Well, it's all about safety. Here's why:
Safety First: The right amount of air means your tires grip the road better. That's super important, especially when roads are wet or slick.
Save Money: Having the correct PSI can boost your car's fuel economy. That's less money at the pump!
Longer Lasting Tires: Tires wear out evenly and last longer when they're filled just right.
Sidewall's Maximum vs Proper Tire Inflation
Remember our chat about the tire sidewall? That PSI number on there? It's like a superhero's maximum power level. It's the tire's limit. But for everyday driving, your tire doesn't need to flex its muscles that hard.
Your daily PSI recommendation is often lower than the sidewall's maximum. That's why you should always:
Check the owner's manual or the placard on your vehicle's door edge for the correct PSI.
Avoid filling up your tires to the sidewall's maximum unless you're carrying a heavy load (and even then, be cautious!).
When the Seasons Change, So Might Your Air Pressure
A cool fact? Tires are affected by temperature:
In cold weather, tire pressure tends to drop.
When it's hot out, the pressure usually goes up.
So, always check the PSI when the seasons change, or if there's a sudden temperature swing.
How Do You Know Which Tire Has Low Pressure?
Ever been in that situation where one of your tires feels a bit "off"? No, your car isn't being moody; it's just trying to tell you something. Let's play detective and see how to spot a tire that's low on air.
The Visual Clues
Sometimes, just looking at your tires can tell you a story. Here's what to watch out for:
Flat Base: If your tire looks flatter at the bottom, like it's trying to be a pancake, it's likely low on air.
Bulging Sides: When the sides of a tire stick out more than usual, it's screaming, "I need air!"
The Tire Pressure Gauge
Now, while our eyes are pretty amazing, they're no match for a trusty tire pressure gauge. There are a couple of types to choose from:
Digital Tire Gauge: This one's all fancy and gives you a digital reading. It's accurate and easy to use.
Traditional Gauge: No batteries required here! It might look old-school, but it does the job.
To check the pressure:
Unscrew the valve cap (that little cap on your tire's valve stem).
Attach your gauge to the valve stem.
Read the pressure on the gauge.
Remember, always check the tire when it's cold for the most accurate reading. A good rule of thumb is to check in the morning before driving around.
The Feel of the Drive
When driving, trust your feelings. If the car:
Pulls to one side.
Feels wobbly or unsteady.
Has vibrations that remind you of a bad dance party.
…then you might have a tire running low on air.
Tire Pressure Monitoring Systems (TPMS)
Many modern cars come with a TPMS. It's like having a mini-assistant that tells you when a tire is low on pressure. If you see a dashboard light that looks like an exclamation mark inside a flat tire, that's your TPMS waving a red flag.
Milton Tire Pressure Gauge With Release Valve And Tread Depth Gauge
Checking and Adjusting Tire Pressure
Let's get our hands a little dirty, shall we? Keeping those tires at the right pressure is like making sure you're wearing shoes that fit just right. Too tight or too loose, and things get uncomfortable. So, here's how to ensure your car's "shoes" always fit perfectly.
The Best Time to Check Tire Pressure
Morning isn't just great for pancakes and coffee; it's the prime time to check tire pressure. Here's why:
Cold Tires = Accurate Reading: Tires that have rested overnight give the most accurate pressure reading.
Avoid checking after long drives: Heat from driving can increase the pressure and give you a misleading number.
Steps to Check Your Tire Pressure
Get Ready with Your Tools: Whether it's a digital tire gauge or a traditional one, have it handy.
Locate the Valve Stem: It's that little protruding thing on your tire. Unscrew the valve cap and keep it safe.
Press and Read: Place your gauge on the valve stem and press. Note the reading.
Compare with Recommended PSI: Check your owner's manual or the placard on your vehicle's door edge. How does your reading stack up?
Valve Cap: Don't forget to put the valve caps back on the valve stems to protect them from weather and road debris.
Adjusting Tire Pressure
If your tire feels like it partied too hard (overinflated) or too soft (underinflated), it's time to adjust:
Too High? Release some air. Press the inner part of the valve stem with your gauge or a small tool, and you'll hear the hiss of escaping air. Check frequently until you hit the sweet spot.
Too Low? Time to pump it up! Use an air compressor. They're available at:

Home (if you have one)
Gas stations (often coin-operated, so keep some change handy)
When filling, go slow. It's easy to add air, but releasing it takes more time.
Front and Rear Tires
Did you know? Sometimes, the front and rear tires might have different recommended pressures. Here's why:
Weight Differences: Engines are heavy! Front tires (especially in front-engine cars) might need to handle more weight.
Performance: Some cars are designed with different front and rear pressures for optimal handling.
So, always check recommendations for both sets.
Overinflation
Overinflated tires are like balloons ready to pop:
Rough Ride: Feel every bump? Overinflated tires don't absorb shocks well.
Wear and Tear: They wear out faster, especially in the center.
Safety Risk: They could burst, especially in hot weather or at high speeds.
Resources
Below are some links you may find helpful when learning about tires
Final Thoughts
Remember, the tire sidewall is a guide to essential information, though not the recommended air pressure for your tires. For the recommended tire pressure, your car's door jamb or owner's manual is your best friend. And when those unexpected tire troubles arise, whether it's a suspicious hiss or a dubious vibration, don't hesitate to lean on the expertise of a qualified tire professional. With these insights in hand, you're more than ready to hit the road with confidence.
Good luck and happy motoring.