Imagine you're cruising down the highway, singing along to your favorite tunes, when suddenly—BANG! Your tire blows out. Your heart races, your palms sweat, and your car starts to swerve. What do you do? 
Knowing the right steps to take in this nerve-wracking situation could be the difference between a minor inconvenience and a life-threatening event.
What To Do If Your Tire Blows Out

Grip the steering wheel firmly.
Avoid sudden braking and gradually slow down.
Safely move to the side of the road.
Turn on your hazard lights.
Assess the damage to decide on the next steps.
In this article, we'll delve into understanding what a tire blowout is, why it happens, and how to prevent it. We'll also guide you through the immediate actions to take during a blowout, what to do if you're on a highway or don't have a spare tire, and how to handle the situation after the blowout.
Let's take a closer look.
Understanding the Basics of a Tire Blowout
A tire blowout is a sudden and rapid loss of air pressure in your tire. It's not the same as a flat tire, which deflates more slowly and is usually less dangerous. A blowout can happen when you're driving, and it can make you lose control of your vehicle if you're not careful.
Flat Tire: A slow leak that causes the tire to lose air over time.
Blowout: A quick and sudden loss of air, often accompanied by a loud noise.
Causes of Tire Blowouts
Understanding why blowouts happen can help you prevent them. Here are some common reasons:
Underinflated Tires: Not enough air in the tire makes it flex more, which can cause it to heat up and blow out.
Overloaded Vehicle: Too much weight on the tire can also cause it to blow.
Damaged Roads: Potholes or debris can harm the tire and lead to a blowout.
Worn-Out Tires: Old or damaged tires are more likely to blow out.
Why Proper Tire Maintenance is Crucial
Keeping your tires in good shape is the best way to prevent a blowout. Here's how you can do it:
Check Tire Pressure Regularly
Use a tire pressure gauge to check the air pressure.
The correct pressure for your tires is usually listed in your vehicle's manual or on a sticker inside the driver's door.
Check the pressure when the tires are cold for the most accurate reading.
Inspect Tires for Damage
Look for cuts, cracks, or bulges in the rubber.
Check the tread depth to make sure it's not too worn out.
Rotate your tires regularly to ensure even wear.
Don't Overload Your Vehicle
Know your vehicle's maximum load capacity.
Overloading puts extra stress on your tires, which can lead to a blowout.
Keep an Eye on Road Conditions
Try to avoid potholes, debris, and other hazards that can damage your tires.
What To Do During a Blowout
When a tire blowout happens, your first instinct might be to panic. However, it's crucial to stay as calm as possible and follow these steps to regain control of your vehicle.
Hold the Steering Wheel Firmly
Grip the steering wheel with both hands.
Keep your hands at the 9 o'clock and 3 o'clock positions for better control.
Don't Make Sudden Moves
Resist the urge to slam on the brakes.
Avoid making sharp turns, as this could make you lose control of your vehicle.
Gradually Slow Down
Take your foot off the gas pedal.
Allow the vehicle to slow down naturally before applying the brakes gently.
If You're on the Highway
Being on a busy highway during a tire blowout can be particularly dangerous. Here's what to do:
Turn On Your Hazard Lights
Immediately activate your hazard lights to alert other drivers that you're having an issue.
Move to the Side of the Road
Signal and carefully move to the shoulder or another safe area away from traffic.
Try to stop on a flat surface to make changing the tire easier.
Stay Inside the Vehicle
It's safer to stay inside your vehicle until you're sure it's safe to exit.
If you must exit, do so carefully and stay clear of oncoming traffic.
If You Don't Have a Spare
Sometimes you might find yourself without a spare tire. In such cases, you have a few options:
Call for Help
Use your phone to call roadside assistance or a tow truck.
If you don't have a phone, flag down another driver for assistance.
Use a Tire Repair Kit
Some vehicles come with a tire repair kit that can temporarily fix small punctures.
Follow the instructions carefully to apply the sealant and re-inflate the tire.
Contact Your Insurance
Some insurance policies offer roadside assistance as part of their coverage.
Check your policy or call your insurance company to see if this service is available to you.
Front Tire vs. Rear Tire Blowout
When a tire blowout occurs, the vehicle's behavior can vary significantly depending on whether it's a front or rear tire that has failed. Understanding these differences can help you react more effectively to regain control of your vehicle.
Front Tire Blowout
A blowout in one of the front tires is often more immediately noticeable and can be more challenging to manage. Here's what you might experience:
Steering Difficulty: The steering wheel may become hard to control, pulling strongly in the direction of the blown tire.
Vibration: You'll likely feel a strong vibration in the steering wheel.
Immediate Response Needed: Quick but smooth actions are crucial. Firmly grip the steering wheel to maintain your lane and avoid sudden turns.
How to Handle a Front Tire Blowout
Keep a firm grip on the steering wheel.
Allow the vehicle to slow down naturally; avoid slamming the brakes.
Steer gently to maintain your lane.
Once at a slower speed, carefully move to the side of the road.
Rear Tire Blowout
A rear tire blowout can be deceptive because the initial symptoms might be less dramatic, but it can lead to severe consequences if not handled correctly.
Fishtailing: The vehicle may start to "fishtail," swinging back and forth.
Less Steering Impact: Unlike a front tire blowout, the steering wheel may not pull as strongly.
Potential for Oversteer: If you turn too sharply while trying to control a rear tire blowout, you risk spinning the vehicle.
How to Handle a Rear Tire Blowout
Keep a firm grip on the steering wheel.
Steer straight; resist the urge to correct the fishtailing by turning the steering wheel too much.
Allow the vehicle to slow down naturally.
Once at a slower speed, move to the side of the road.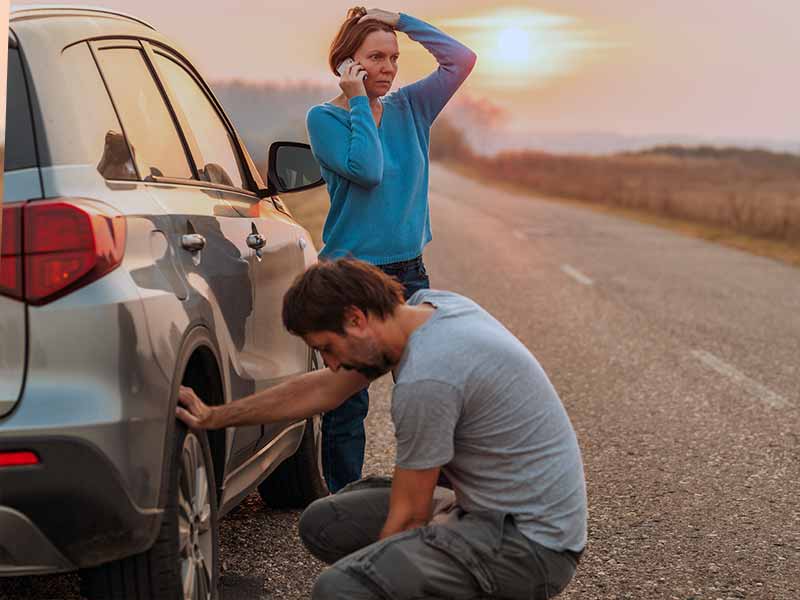 What To Do After the Blowout
Once you've safely pulled over and are out of harm's way, it's time to assess the damage to your vehicle. This is an important step before deciding what to do next.
Inspect the Blown Tire
Carefully look at the tire that blew out.
Determine if it's completely deflated or if it has suffered severe damage like tears or punctures.
Check Other Tires
While you're at it, inspect the other tires for any signs of damage or low air pressure.
This can help you decide if you need to replace more than one tire.
Examine the Vehicle
Check for any other damage to your vehicle, such as to the wheel well or undercarriage.
Make sure no other parts are compromised, which could lead to further issues.
Who to Call and What to Do Next
After assessing the damage, you'll need to decide on your next steps. Here are some options:
Roadside Assistance or Tow Truck
If you have a spare tire and the tools to change it, you can do so yourself.
If not, call for roadside assistance or a tow truck to take your vehicle to a repair shop.
Contact Your Insurance Company
Depending on your coverage, your insurance may cover some or all of the costs related to the blowout.
Call your insurance company to report the incident and inquire about your coverage options.
Arrange for Transportation
If your vehicle needs to be towed, you'll also need a way to get yourself and any passengers to a safe location.
Consider calling a friend, family member, or a ride-share service.
Repair or Replace the Tire
Once you're at a repair shop, you'll need to decide whether to repair the blown tire or replace it.
The mechanic can help you make this decision based on the extent of the damage.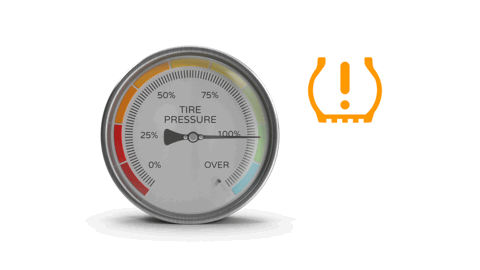 Importance of Tire Pressure Monitoring Systems
Tire Pressure Monitoring Systems (TPMS) are invaluable tools in maintaining your vehicle's safety and performance. These systems alert you when the air pressure in one or more of your tires falls below a safe level. However, while TPMS is a helpful feature, it's not a substitute for regular tire maintenance.
Pay Attention to the TPMS Warning Light
When the TPMS warning light illuminates on your dashboard, it's a sign that at least one of your tires is underinflated. This is an immediate call to action:
Don't Ignore It: An illuminated TPMS light is not something to be ignored or postponed.
Check All Tires: Even if the light indicates one tire, it's a good practice to check all of them.
Take Immediate Action: Inflate the underinflated tire(s) as soon as possible to the recommended tire pressure.
Replace Faulty TPMS Sensors
Like any other electronic component, TPMS sensors can fail over time. If you notice that the TPMS light is behaving erratically or staying on even after you've inflated the tires, you may have a faulty sensor.
Consult a Mechanic: If you suspect a faulty TPMS sensor, consult a qualified mechanic for a proper diagnosis and replacement.
Regular Inspection: Make it a habit to have the TPMS sensors inspected during routine vehicle maintenance.
TPMS Doesn't Replace Regular Checks
It's important to note that TPMS is not a catch-all solution for tire maintenance. The system only activates a warning when the air pressure in a tire drops by 25% below the vehicle manufacturer's recommended level. This means:
Late Warning: By the time the TPMS light comes on, the tire is already significantly underinflated.
Not for Slow Leaks: TPMS is less effective for slow leaks, which may not trigger the warning light until the tire is dangerously low.
Manual Checks Are Crucial: Regularly using a tire pressure gauge to check your tires is still the most reliable method to ensure they are properly inflated.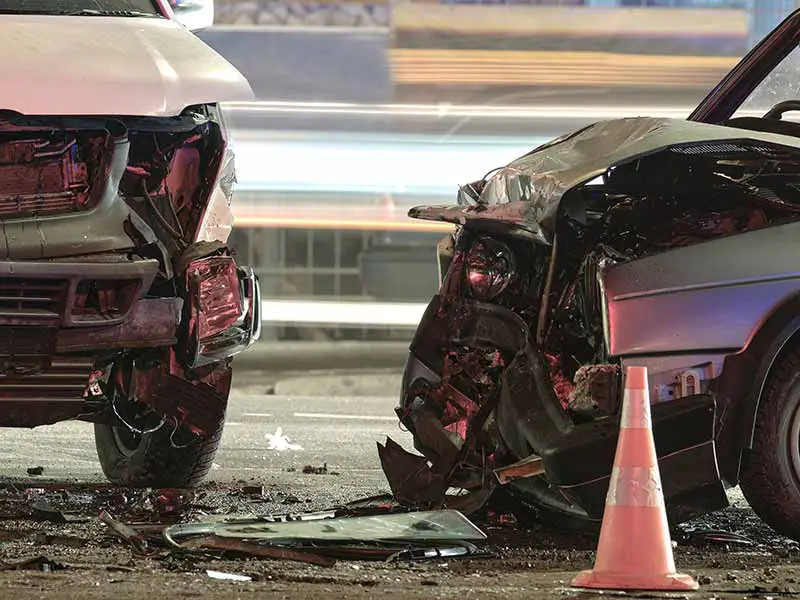 Car Insurance and Tire Blowouts
When it comes to tire blowouts, many people wonder if their car insurance will cover the costs of repair or replacement. The answer largely depends on your specific insurance policy, the circumstances of the blowout, and whether other damages or injuries occurred as a result.
Types of Coverage
Different types of car insurance coverage may apply to tire blowouts:
Comprehensive Coverage: If your tire blowout was caused by an external factor like hitting a pothole or debris on the road, comprehensive coverage might cover the costs.
Collision Coverage: If the blowout led to an accident with another vehicle or object, collision coverage could come into play.
Liability Coverage: If your blowout causes damage to another person's property or injury to someone else, your liability coverage will likely cover those costs.
When Insurance May Not Apply
It's important to note that regular wear and tear is generally not covered by car insurance. If your tire blew out due to lack of maintenance, age, or general wear, you're likely on your own for the costs.
Deductibles: Even if your insurance does cover the blowout, you'll usually have to pay a deductible.
Rate Increases: Making a claim for a tire blowout could potentially increase your future insurance premiums.
Roadside Assistance
Some insurance policies offer optional roadside assistance, which can be a lifesaver in the event of a tire blowout. This service can provide:
Emergency tire changes
Towing to a nearby repair facility
Other emergency services
Check Your Policy
Read the Fine Print: Always read your insurance policy carefully to understand what is and isn't covered.
Consult Your Insurance Agent: When in doubt, a quick call to your insurance agent can clarify how your coverage applies to tire blowouts.
Resources
Below are some links you may find helpful when learning about tires
Final Thoughts
Tire blowouts can be terrifying, but being prepared and knowing what to do can make all the difference. The key takeaways are to maintain your tires properly by regularly checking their pressure and condition, and to stay calm and take controlled actions if a blowout occurs. 
Whether you're dealing with the immediate aftermath or assessing the damage, having a plan will help you navigate this stressful event more safely. Remember, the best way to handle a tire blowout is to take steps to prevent it in the first place.
Good luck and happy motoring.