Knowing the proper tire pressure can be the difference between a smooth, fuel-efficient journey and a potential roadside breakdown.
Don't leave it up to guesswork!
What Should My Tire Pressure Be?

The correct tire pressure for your vehicle can usually be found on a sticker in the driver's door jamb. It typically ranges from 30 to 35 PSI for most passenger cars and trucks but varies based on vehicle load and tire type.
In this article, we'll dive into the fascinating world of tire pressure, understanding its significance, how to find and measure it, the dangers of incorrect pressure, and the effects of seasonal changes. We'll also discuss the ideal tire pressure for various vehicle types like sedans, SUVs, and trucks.
Let's take a closer look.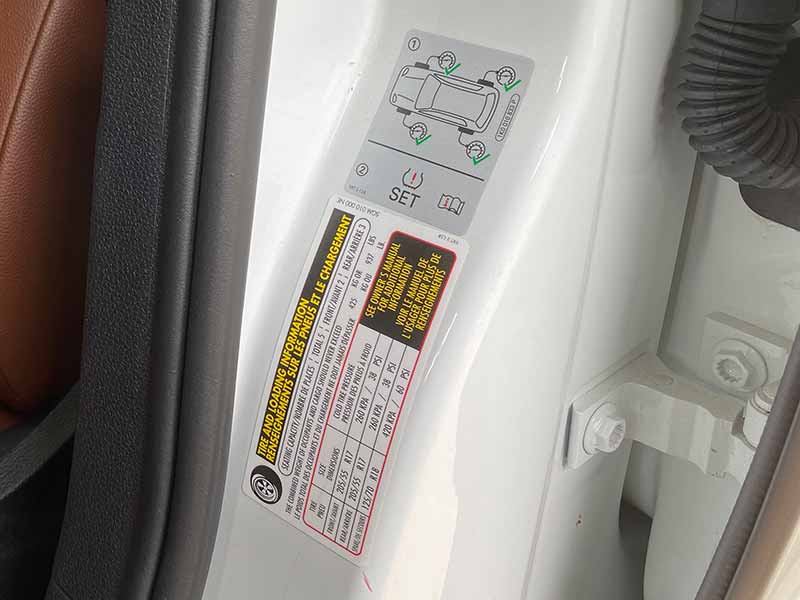 Understanding Tire Pressure
Tire pressure is simply the amount of air in your tires. And this isn't just any old air, it's air under pressure – measured in PSI, which stands for "Pounds per Square Inch". So when we talk about the correct tire pressure, we're really talking about how much air is packed into your tires and how hard that air is pushing against the insides of them.
Now you might be thinking, "Okay, got it, but why is this important?" Great question! Here's the deal:
Better Gas Mileage: Your car's engine doesn't have to work as hard when your tires are at the right pressure. This means less gas gets used up, and you can go further on a single tank. Pretty cool, right?
Safer Driving: Correct tire pressure gives you better control over your vehicle. It helps your car grip the road more effectively, making it safer to drive, especially in tricky conditions like rain or snow.
Longer Lasting Tires: Tires with the right pressure last longer. Too much pressure (overinflated) or too little (underinflated) and your tires can wear out more quickly or even get damaged.
Maintaining the right tire pressure is all about balance. Think of it like a basketball game. If the ball is overinflated, it'll bounce too much and be hard to control. If it's underinflated, it won't bounce enough and is also difficult to control, just in a different way. But if the ball is inflated just right, it will perform the best.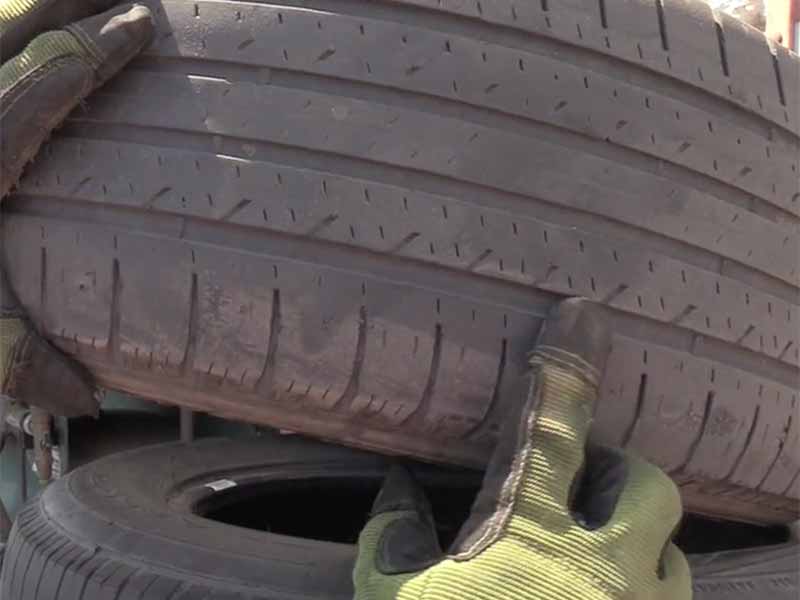 Correct Air Pressure for Cars, Trucks, & SUVs
Have you noticed that little sticker or plate on the inside edge of your driver's door? That's your "Tire Pressure Information Sticker". Pretty cool name, huh? It's like a cheat sheet provided by the folks who built your car.
This sticker tells you the ideal tire pressure for your car's tires when they're cold, which simply means they haven't been driven on for a few hours. It's measured in PSI (remember, that's Pounds per Square Inch).
Here's what you need to know about different types of vehicles:
SUVs: These big guys usually need a tire pressure between 30 and 35 PSI. But remember, always check your sticker!
Sedans: These cars are often a bit lower. Look for something between 30 and 35 PSI, but again, the sticker is your friend.
Trucks: Trucks can vary a lot depending on their size and what they're designed to do, but usually, the tire pressure is between 35 and 45 PSI. Check that sticker to be sure!
These are general ranges and your car's actual ideal tire pressure could be different. That's why the sticker in your car is so important – it's tailored to your specific vehicle.
How to Check Tire Pressure
Here's what you'll need: a tire pressure gauge. You can find these at any auto parts store and they're not expensive. There are different types, but a basic one will do just fine.
Tire Pressure Gauge w/Tread Depth Gauge
Ready to get started? Here's your step-by-step guide:
Buy a Tire Pressure Gauge: As we mentioned, you can find these in any auto parts store. If you're feeling fancy, some even come with digital readouts!
Wait for Your Tires to Cool Down: Tires heat up when you drive, which can increase the pressure inside them. For an accurate reading, it's best to check the pressure when your tires are 'cold,' or haven't been driven on for a few hours.
Find the Valve Cap: Look at the outside of your tire. You'll see a little cap on it. That's the valve cap. Remove it and put it somewhere safe where it won't get lost.
Use the Gauge: Push the pressure gauge onto the valve stem (the thing you just took the cap off of). If you're using a manual gauge, a little rod will pop out of the bottom to give you the pressure reading.
Read the Pressure: On a manual gauge, the number where the rod stops is your tire pressure. On a digital gauge, the number will display on the screen.
Compare to the Recommended Pressure: Remember that handy-dandy sticker we talked about? Now's the time to check it out again. If your tire pressure matches the number on that sticker, you're good to go! If not, you'll need to adjust the pressure.
To maintain proper tire pressure, it's recommended that you check tire pressure every month.
Understanding Max Tire Pressure
Remember when we said the tire pressure is like the air in a basketball? Well, max tire pressure is like the maximum amount of air the basketball can hold before it's at risk of popping. In the same way, max tire pressure is the absolute highest amount of air pressure your tire can handle. It's a limit you don't want to cross.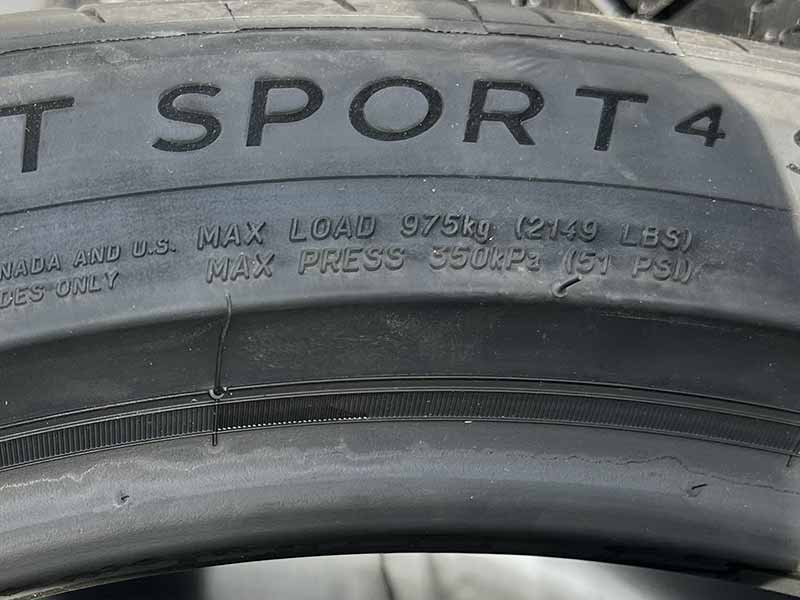 Here's the thing: the maximum tire pressure is not the same as the recommended tire pressure.
Maximum Tire Pressure: This is the most air your tire can handle. It's usually written on the side of your tire. It's a bit like the speed limit on a road – you can go that fast, but it's not always safe or necessary to do so.
Recommended Tire Pressure: This is the air pressure that the people who made your car think is best for most driving conditions. It's like the perfect speed to travel at – not too slow, not too fast, but just right. You find this number on the sticker inside your driver's door.
But how close to the max psi should your tires be? Good question! It's best to stick to the recommended tire pressure on your vehicle's sticker. The maximum tire pressure is more of a safety limit to ensure the tire doesn't burst under too much pressure.
Risks of Incorrect Tire Pressure
Let's dive into the risks of having too much or too little air in your tires:
Underinflated Tires
Underinflated means there's not enough air in your tires. It's like having a sad, limp balloon. Here's why it's a problem:
Poor Fuel Efficiency: Underinflated tires make your engine work harder, which uses more gas. That's bad news for your wallet and the environment!
Worn-Out Tires: Underinflated tires don't distribute weight evenly, so some parts wear out faster than others. This means you'll need to replace your tires sooner, which can be pretty expensive.
Reduced Control: Tires with low pressure can make your vehicle harder to handle. It's especially risky in bad weather when you need all the control you can get!
Overinflated Tires
Overinflated means there's too much air in your tires. It's like a balloon that's about to burst. Here's why that's no good:
Bumpy Ride: Overinflated tires don't cushion bumps in the road very well. That means a less comfortable ride for you and your passengers.
Wear and Tear: Like underinflated tires, overinflated tires also wear unevenly. The middle part of the tire will wear out faster because it's taking on more of the vehicle's weight.
Risk of Popping: Overinflated tires are more likely to get damaged by potholes or debris in the road. A burst tire can be scary, not to mention dangerous!
In terms of how low or high your tire pressure can go, there's no one-size-fits-all answer. But as a general rule, if your tire pressure is more than 5 PSI below the recommended level, it's too low. If it's more than 5 PSI above the recommended level, it's too high.
I Recommend Every Keep A Portable Air Compressor In Their Car Or Truck
Resources
Below are some links you may find helpful when learning about tires
Final Thoughts
We've journeyed together into the often overlooked but incredibly crucial world of tire pressure. We've learned that just like us needing the right balance in life, our car tires too seek that perfect balance of air pressure to give us a safe, smooth ride.
The key takeaway from this adventure? Always stick to the recommended tire pressure found on that handy sticker inside your driver's door jamb. It's like the secret recipe to keep your tires happy, your ride comfortable, and your wallet a little fuller.
Good luck and happy motoring.