Imagine you're about to embark on a long road trip, and as you're about to leave, you notice one of your tires looks a bit flat. Would you know the signs to look for, the risks involved, or even how to check the tire pressure?
Under Inflated Tires Symptoms

Underinflated tires can lead to reduced road grip, increased fuel consumption, and a higher risk of tire blowouts. It's essential to regularly check and maintain the proper tire pressure for optimal vehicle performance and safety.
In this article, we'll delve deep into the importance of proper tire pressure, understand the role of the Tire Pressure Monitoring System (TPMS), recognize the symptoms of underinflated tires, learn how to check tire pressure, and explore the risks of driving with underinflated tires.
Let's take a closer look.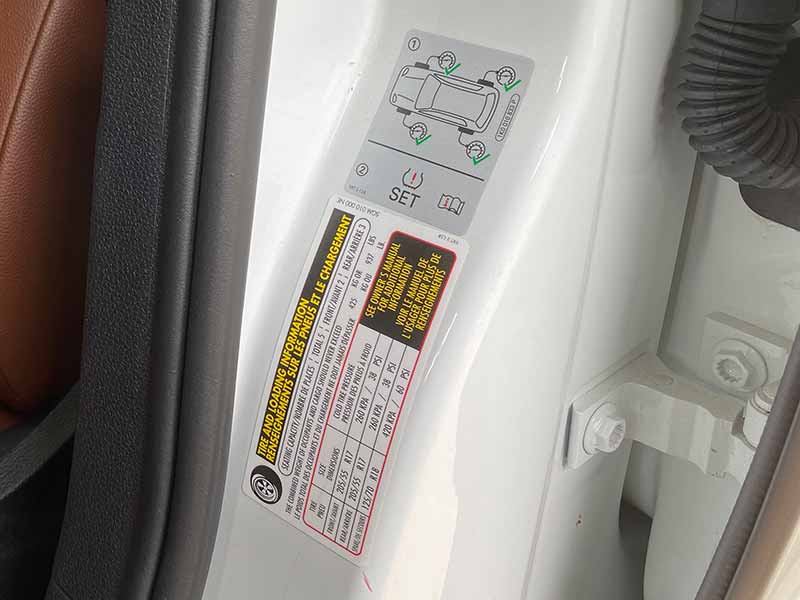 Importance of Proper Air Pressure
Maintaining the right amount of air in your tires is more important than you might think. It's not just about making sure your tires look full and round. Proper air pressure affects how your car drives, how long your tires last, and even how much gas you use.
Why Air Pressure Matters
Safety First: Tires with the right amount of air grip the road better. This means your car can stop quicker and turn more easily. When tires don't have enough air, they can get too hot and might even burst while you're driving. I've seen this happen, and it's scary. Always make sure your tires have the right air pressure to stay safe on the road.
Save Money on Gas: Cars with properly inflated tires use less gas. When tires are low on air, they drag on the road. This makes your car work harder and use more gas.
Longer Lasting Tires: Tires wear out more evenly when they have the right amount of air. If they're low on air, the edges of the tire wear out faster. On the other hand, too much air means the middle of the tire wears out quicker. I always tell folks, think of your tires like shoes. If they don't fit right, they wear out faster.
How to Keep the Right Air Pressure
Check Regularly: It's a good habit to check your tire pressure at least once a month. You can use a simple tool called a tire pressure gauge. It's easy to use and doesn't cost much.
Fill Up When Needed: If you find out your tires need more air, fill them up at a gas station. Most stations have air pumps. Some might charge a small fee, but it's worth it to keep your tires in good shape.
Don't Overfill: Just as too little air is bad, too much air can be a problem too. Always fill your tires to the number recommended in your car's manual or on the sticker inside your car door.
Recognizing the Symptoms of Underinflated Tires
Tires are a crucial part of your car, and they need the right amount of air to work their best. But how can you tell if they're low on air? Here are some signs to watch out for and what they mean.
Common Signs Your Tires Might Be Low on Air
Tires Look Flat: This one might seem obvious, but if a tire looks flatter than the others or squished against the road, it's probably low on air.
Car Pulls to One Side: If you're driving straight but your car seems to pull to the left or right, one of your tires might be low. I've had this happen to me, and it's a clear sign something's off.
Vibrations While Driving: If you feel unusual vibrations in the steering wheel or through the car's floor, it could be due to an underinflated tire.
Tire Noise: Tires that are low on air can make a different sound on the road, often louder or like a humming noise.
Why These Symptoms Happen
Less Air Means Less Cushion: Tires with less air can't cushion against the bumps and rough spots on the road as well. This can lead to vibrations or a rougher ride.
Uneven Contact with the Road: When a tire is low on air, it doesn't touch the road evenly. This can cause the car to pull to one side or make different noises.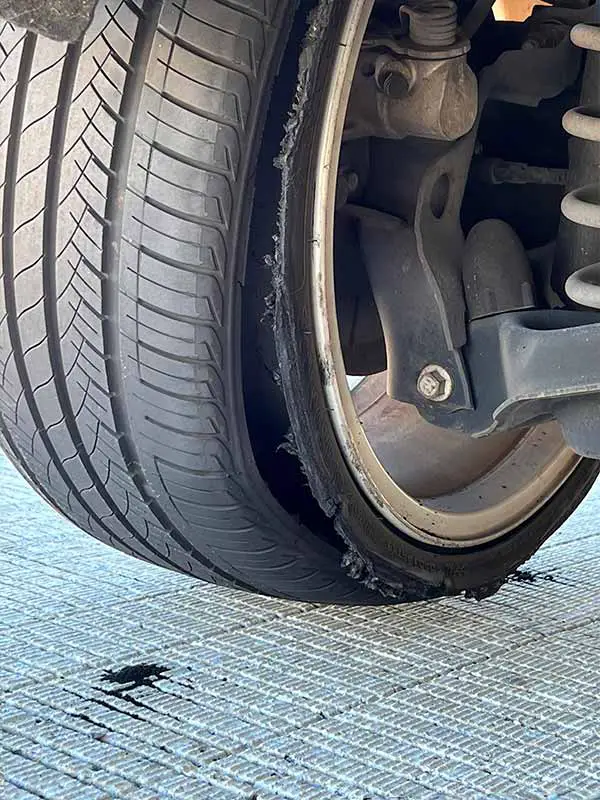 Risks of Driving with Underinflated Tires
Driving with tires that don't have enough air might not seem like a big deal, but it can lead to some serious problems. Here's what you need to know about the risks of underinflated tires.
Safety Concerns
Reduced Grip on the Road: Tires with low air pressure can't grip the road as well. This means your car might slide or skid, especially on wet roads.
Increased Chance of a Blowout: When tires are low on air, they can get too hot. This heat can weaken the tire and lead to a sudden blowout. I've seen more than one car lose control on the highway because of this, and it's not a situation anyone wants to be in.
Harder to Steer and Stop: Underinflated tires can make your car feel sluggish. It might take longer to stop, and steering can feel heavy.
Impact on Your Wallet
More Trips to the Gas Station: Tires that are low on air make your car work harder. This means you'll burn more gas and need to fill up more often.
Shorter Tire Lifespan: Tires wear out faster when they're not properly inflated. Instead of getting many years out of your tires, you might need to replace them sooner.
Wear and Tear on Your Car
Uneven Tire Wear: When tires don't have enough air, they don't sit evenly on the road. This can cause some parts of the tire to wear out faster than others.
Strain on the Suspension: Your car's suspension system is designed to work with tires that are properly inflated. Driving with low tire pressure can put extra strain on this system.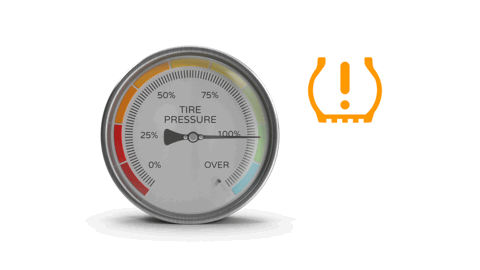 Understanding the Tire Pressure Monitoring System (TPMS)
The Tire Pressure Monitoring System, often called TPMS, is a special system in your car that keeps an eye on your tire pressure for you. It's like having a little helper that tells you when your tires need more air.
What is TPMS and How Does It Work?
A Helpful Warning System: TPMS is designed to alert you when the air pressure in one or more of your tires is too low. If you've ever seen a light on your dashboard that looks like an exclamation mark inside a tire, that's the TPMS warning you.
Sensors in Your Tires: Each tire has a small sensor inside it. This sensor measures the air pressure. If the air pressure drops below a certain level, the sensor sends a signal to your car's computer, which then turns on the TPMS light.
Why TPMS is Important
Safety: One of the main reasons cars have TPMS is for safety. Driving with low tire pressure can be dangerous. The TPMS light is a way for your car to tell you, "Hey, something's not right. Please check it out."
Preventing Damage: Tires that are low on air can wear out faster and might even get damaged. The TPMS helps you catch this problem before it gets worse.
Better Performance: Your car drives best when the tires have the right amount of air. The TPMS helps make sure that's always the case.
What to Do When the TPMS Light Comes On
Don't Panic: The light is there to help you, not to scare you. It's a reminder to check your tires.
Check All Your Tires: Even if just one tire is low, it's a good idea to check them all. I've been in situations where one tire was visibly low, but upon checking, another tire was also starting to get low.
Fill Up as Needed: If any of your tires are low on air, fill them up to the recommended level. You can find this number in your car's manual or on the sticker inside your car door.
Visit a Mechanic: If the TPMS light stays on after you've filled your tires, or if it comes on often, it might be time to see a mechanic. There could be a small leak or another issue with your tires.
Craftsman V20 Inflator Portable Air Compressor
How to Check Tire Pressure
Checking the air pressure in your tires is a simple task, but it's essential for your safety and the health of your tires. Here's a step-by-step guide to help you do it right.
Tools You'll Need
Tire Pressure Gauge: This is a small tool that measures the amount of air in your tires. There are different types, but the most common ones are stick-type and digital gauges.
Steps to Check Your Tire Pressure
Wait for the Right Time: It's best to check tire pressure when your tires are cold. This means you haven't driven on them for at least three hours. I've found that checking them first thing in the morning gives the most accurate reading.
Find the Recommended Pressure: Before you check, you need to know the right amount of air for your tires. This number is usually in your car's manual or on a sticker inside the driver's side door.
Remove the Valve Cap: On your tire, there's a small cap on the valve. Unscrew it and set it aside where you won't lose it.
Place the Gauge on the Valve: Push the end of the tire pressure gauge onto the valve. You might hear a short hiss of air, but that's normal.
Read the Pressure: If you're using a stick-type gauge, a small stick will pop out of the other end. The number where it stops is your tire's pressure. If you're using a digital gauge, the number will show up on the screen.
Fill or Release Air if Needed: If your tire's pressure is below the recommended number, you'll need to add air. If it's above, you'll need to let some air out.
Replace the Valve Cap: Once you're done, make sure to screw the valve cap back on tightly.
A Few Things to Keep in Mind
Check All Four Tires: Even if one tire looks fine, it's a good idea to check all four. Sometimes, a tire can be low on air even if it looks normal.
Don't Forget the Spare: If your car has a spare tire, it's a good idea to check its pressure from time to time as well.
Consistency is Key: Tires can lose a little air over time, even if there's no leak. That's why I always suggest checking your tire pressure at least once a month.
Resources
Below are some links you may find helpful when learning about tires
Final Thoughts
Ensuring your tires are properly inflated is a simple yet crucial step in vehicle maintenance. Not only does it guarantee a smoother and more fuel-efficient drive, but it also significantly reduces the risk of accidents due to tire blowouts or reduced grip. 
By understanding the signs of underinflation and regularly checking tire pressure, drivers can ensure a safer journey, prolong the lifespan of their tires, and even save money on fuel.
Good luck and happy motoring.